Voting Now Open for Toyota One Hit Wonder
September 13th, 2011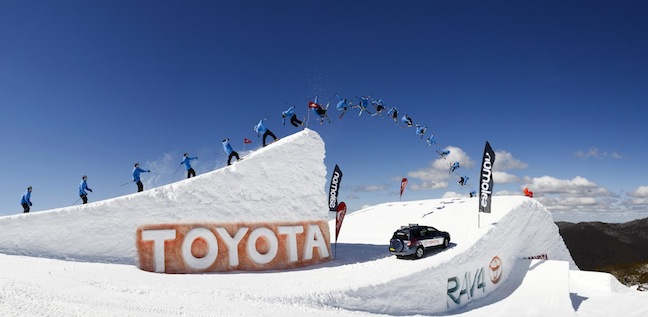 Nixon Peer Performance award winner and youngest One Hit Wonder competitor Jesse Houghton. Image:: Jordan Sell
Toyota One Hit Wonder
With the final curtain call on an awe-inspiring week of big-air style at Thredbo Resort, the competing athletes breathed a collective sigh of relief as the final day of shooting wrapped and there was only a Schuss Bar after party left to conquer.
During the week-long event we saw tricks from some of the world's best freeskiers with only a few casualties – Chris Laker sustaining a shoulder injury after a triple cork attempt on day two and Elias Ambuhl still lost over the Tasman Sea.
The athletes have all selected their final 'One Hit' tricks including;
double cork 1440 tail grab by Gus Kenworthy (USA),
switch double cork 1080 safety to truck driver by Jossi Wells (NZL),
double cork 1080 with a tweaked mute grab by Chris Laker (USA) before his injury,
switch 1260 mute to tail grab by Joss Christensen (USA),
cork 900 tail grab by Jerome Lambert (FRA),
switch double cork 1440 by Bobby Brown (USA),
double cork 1260 shifty by Jordon Houghton (NSW),
720 mute grab by Anna Segal (VIC),
switch double 1440 mute grab by Joe Schuster (CAN),
double front flip superman by youngster Jesse Houghton (NSW).
Just as we predicted Aussie Anna Segal was on point against the guys, landing her first ever 900 and stepping up her ambition with every hit over the monster jump.
However, it was Jesse Houghton who bagged the NIXON Peer Performance Award, presented at the after party as voted by his fellow competitors. The consensus among the crew was that the youngest competitor left his quiet personality in the boot room when he guinea-pigged the jump on the first day, and continued to unleash a myriad of both technical and crowd pleasing tricks throughout the week.
"Last year I said it was the best jump I'd ever hit, but this year's 100-footer killed it. I'm stoked to be voted rider of the week by the best in our sport – it's a pretty big honour," said Jesse.
Jesse takes home a $659 NIXON 51-30 watch, but is still in contention for the major cash prize.
It's now up to YOU, the public, to get online and vote at www.onehitwonderevent.com for your single favorite athlete's trick. The athlete with most votes will take home $10,000 in cash – the biggest first place prize on the Australian Alpine event calendar.
And what's better than awarding someone else the grand prize? Each member of the public who votes will also go into the draw to win the 'Ultimate Winter Package' worth over $10,000. This includes an all-expenses-paid holiday for two to Hakuba Japan, staying at the luxurious Phoenix Hotel, a complete Salomon ski or snowboard package, Von Zipper eyewear, plus a GE DV1 HD Waterproof & Shockproof Video Camera to film the entire trip.
Event videos at www.onehitwonderevent.com
Thredbo forecasts,
snow reports and
live snow cams.