What Goes On Inside A Snow Glove – A Handy Guide
August 9th, 2019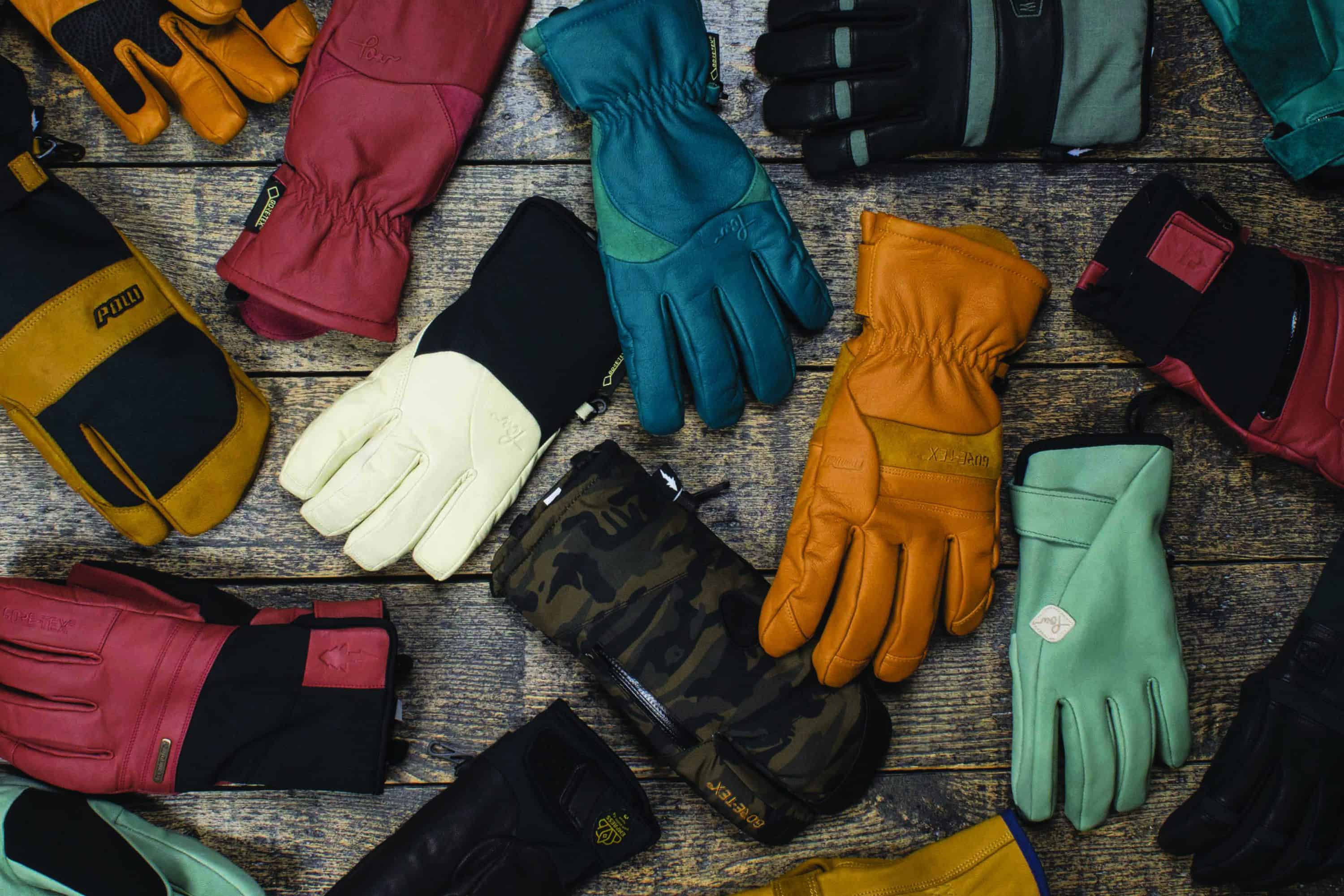 Snowboard and ski gloves come in all shapes, sizes and colours but there are a few things to look out for before making a purchase. Photo:: POW Gloves
Mountainwatch | Matt Wiseman
Whether you prefer to snowboard or ski with all five fingers at your disposal, or would rather ride around the mountain like a crab, there is plenty more going on in the world of snow gloves, than the ol glove versus mitten debate.
I personally enjoy the best of both worlds with a 'trigger' (sometimes called a 'lobster') mitten, which are so versatile; I managed to write this entire article with a pair on… Here's the proof.
But I digress. The point of the following is to help you understand what exactly goes into a ski glove that is 'built to last'. For that, we took POW gloves as our case study. This particular brand, coming out of the Pacific Northwest and based at the foot of Mt Baker, makes 'built to last' their raison d'être and they've been specialising solely in quality snow hand wear for the last 15 years.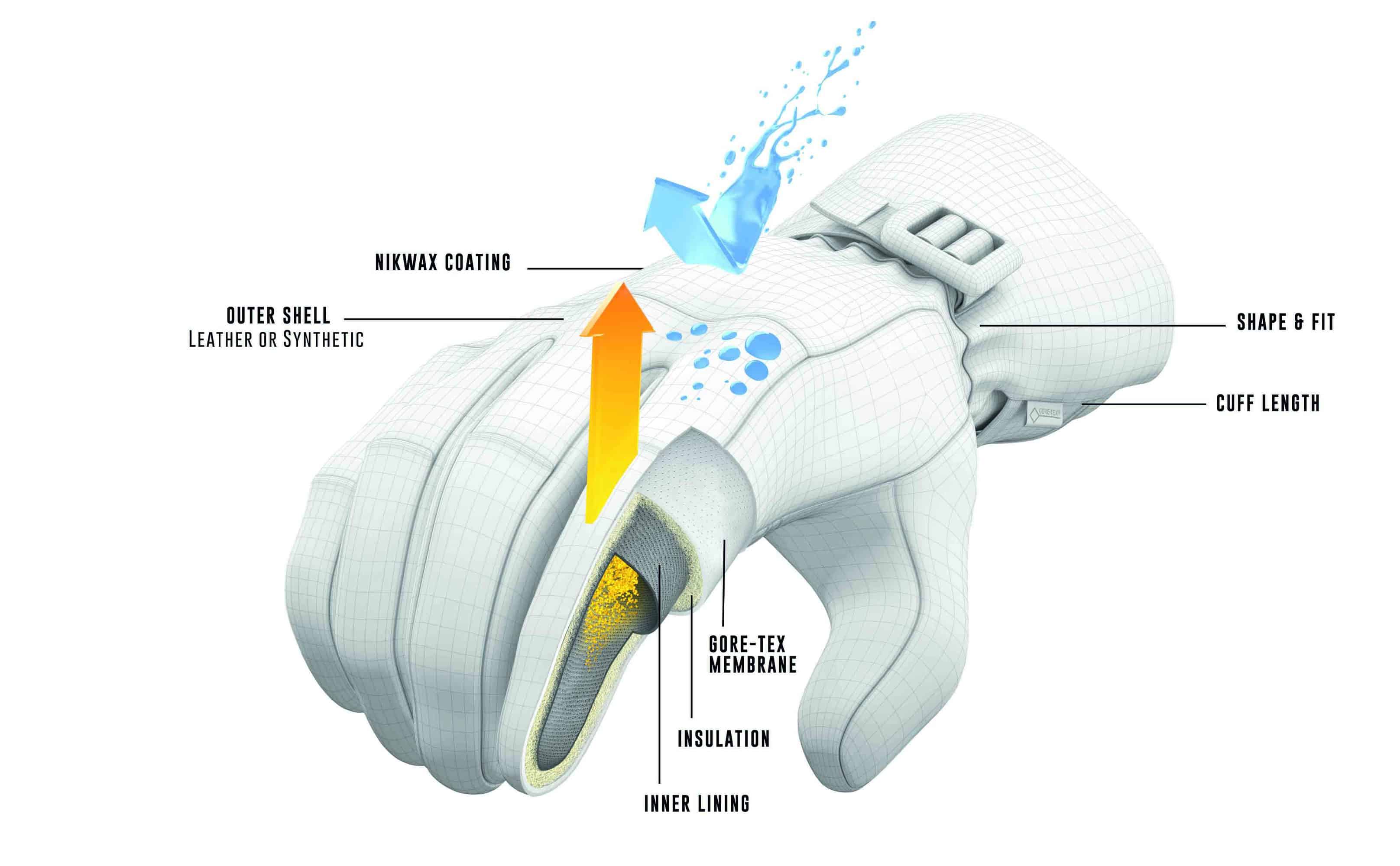 Once you've decided between a glove, a mitten or a happy 'trigger' medium. The first thing you'll note is the outer shell….
Outer Shell:
With outer shells, you typically have a choice between a synthetic or leather material, and our advice is the extra cash for the latter is well worth it.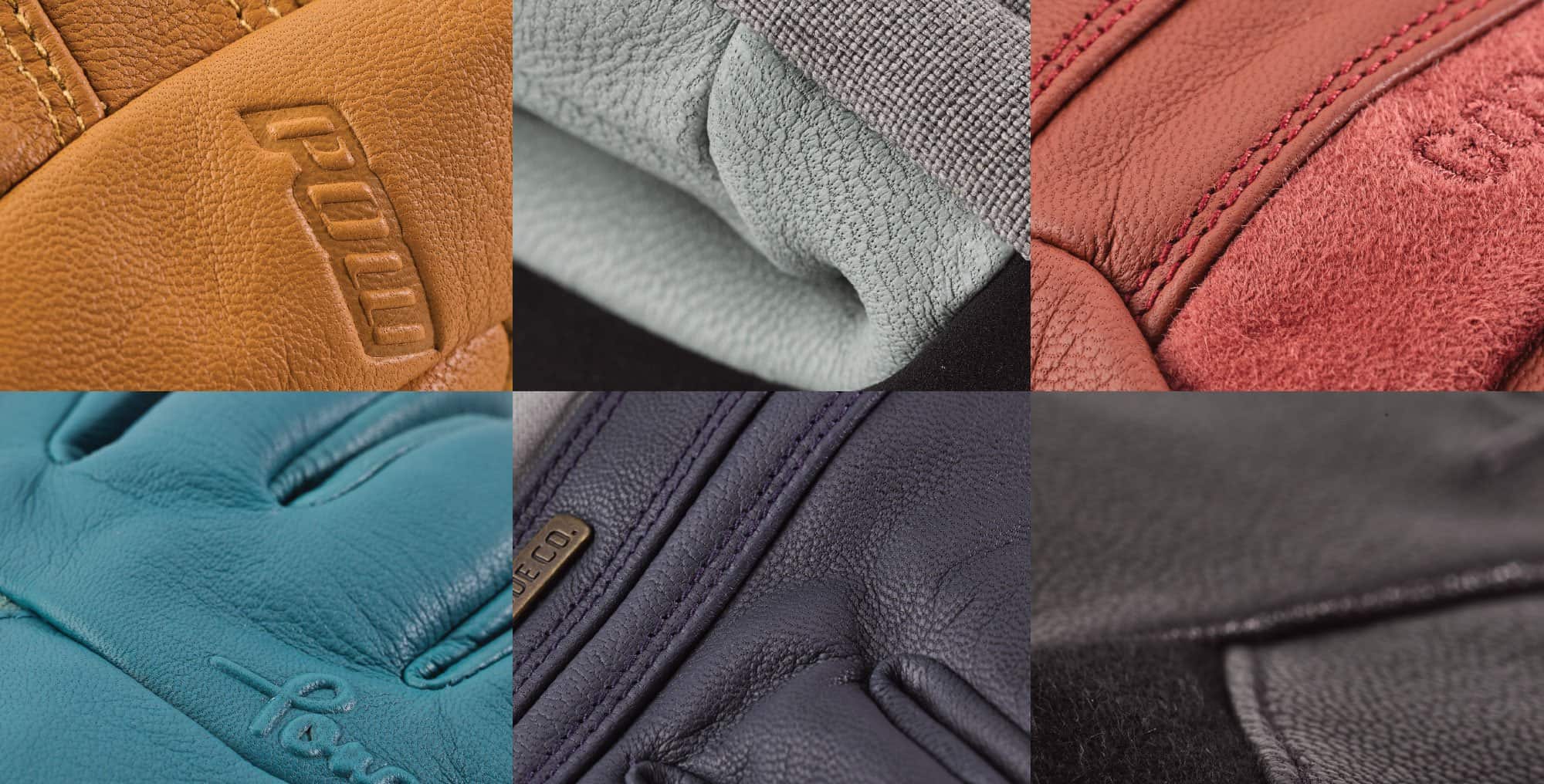 Leather is the tried-and-true material of most of high-end gloves and mittens. Although it takes a little longer for a leather glove to dry out when soaking wet, this tends to be a rare event when they're looked after and their durability is unrivalled by synthetics.
Not all leather's were created equal though. Common kinds include: Deerskin, the softest and most dexterous by virtue of being the thinnest; Pigskin, tough but rigid, found in more inexpensive gloves; Cowhide, the toughest but at the cost of softness and dexterity, also of varying quality; and Goatskin, the highest quality leather glove material which balances toughness, softness and dexterity the best.
Most high-end glove companies, including POW are going to be working with goatskin in their premium leather gloves as it is durable and naturally water-resistant.
When looked after with something like a NikWax coating or other leather waterproofing treatment, these kinds of gloves can last a very, very long time.

LEATHER EXAMPLES: Left to right: Leather Stealth GTX Glove 'Auburn', Women's Empress GTX Mitt 'Jade' and the leather/synthetic mix August Short Trigger Mitt 'Buckhorn Brown'.

SYNTHETIC EXAMPLES: Synthetic gloves can show off some bolder graphics, as evidenced in POW Gloves 'artist series'. Left to right: Handicrafter Mitt 'Bitten', Tallac Mitt 'Black' and Falon Mitt 'Magic Forest'.
Nikwax Coating:
The unsung hero of waterproofing, Nikwax treatments coat both fabric and leather fibres with a network of elastic water-repellent molecules and could not come more highly recommended by us.
The hydrophobic wax can flex and move with the fabric and leather fibres, maintaining breathability and causing water to bead rather than absorb.
For a closer look at caring for your gloves see here.
GORE-TEX Technologies:
The crown jewel of the snow world, GORE-TEX has been used commercially in skiwear since 1976 and even helped man get to the moon in 1981. If it's good enough for a space suit, you can be sure it's good enough for a snow glove but the innovation in Gore Technologies didn't stop there.
The latest development sees GORE-TEX inserts, which can be tailored to your needs. POW Gloves use two different types of GORE-TEX technology. GORE-WARM as the name suggests, is for those who feel the cold and want that extra waterproof/windproof GORE membrane. Whilst GORE-ACTIVE tech has an inner lining, membrane and outer layer system that prioritise breathability, making it suited for anything from spring riding to intensive ski touring.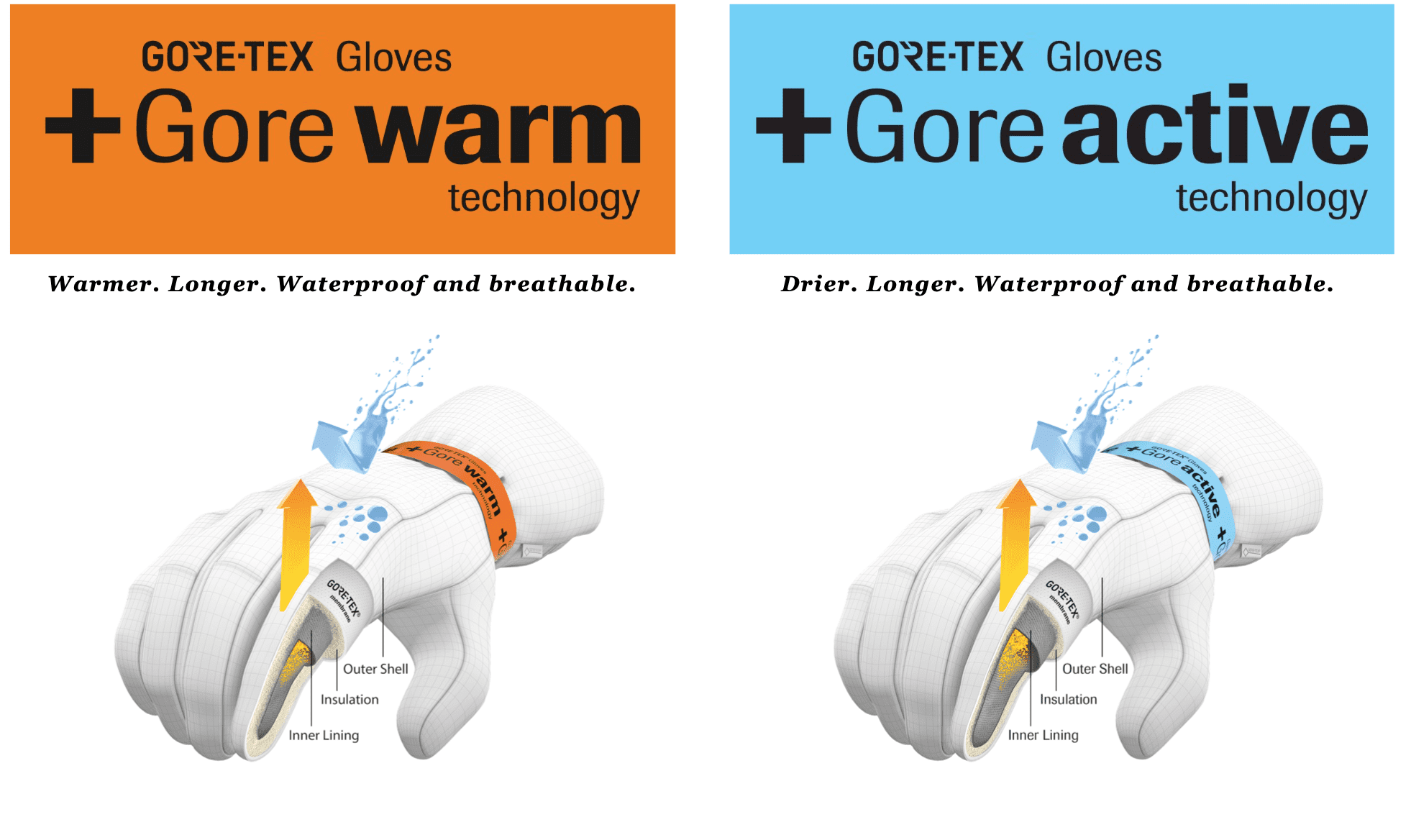 Palm:
The palm of a glove can see some extra attention to detail, and for good reason, as it is typically the part of the glove that gets the most use – especially true for skiers gripping poles or anyone making snowballs…
As such, the palms may be made of various materials, such as leather, synthetic leather, or an Amara with grip print, all of which add the dexterity and durability needed.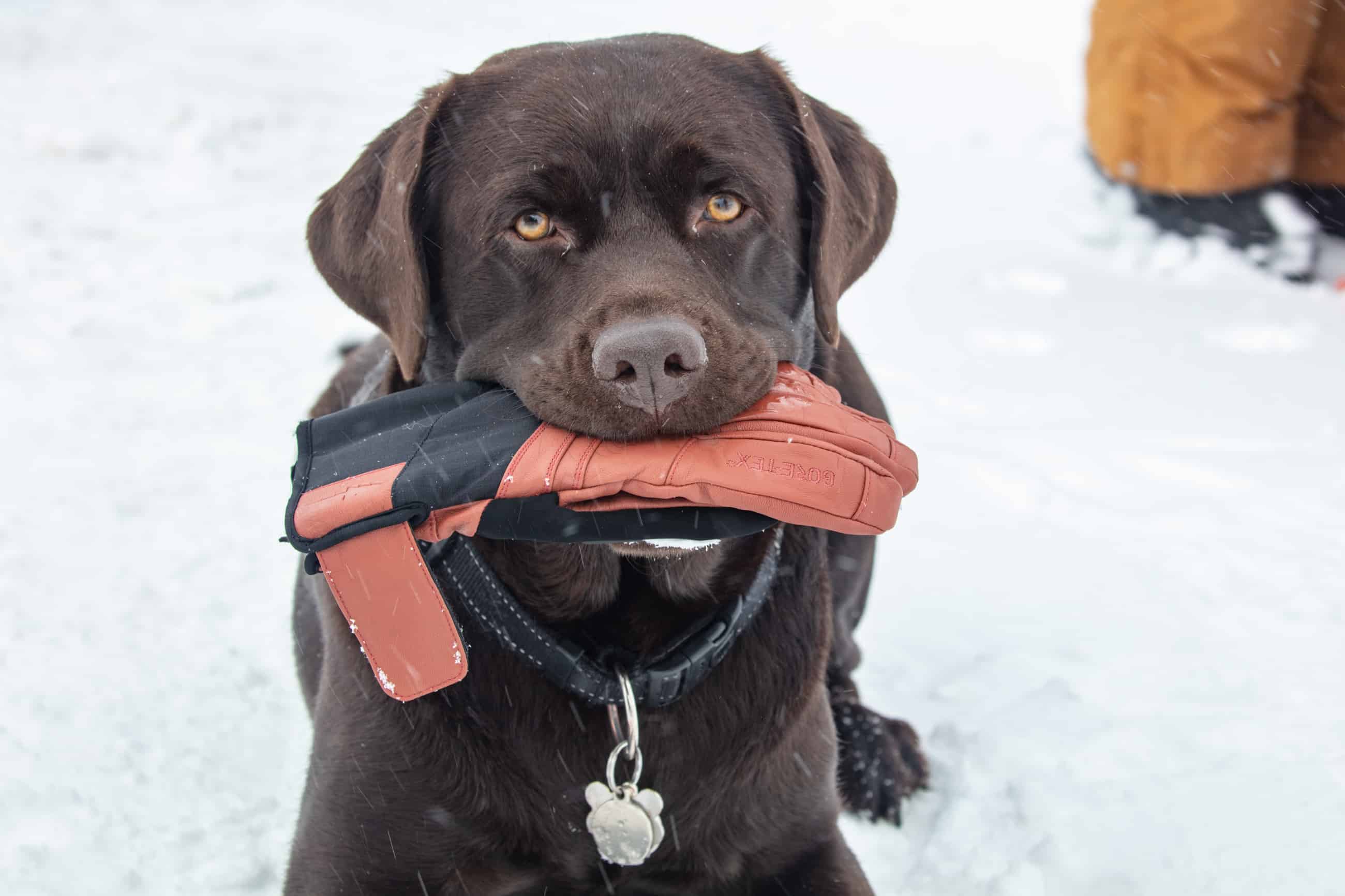 Insulation:
Getting a pair of gloves with the appropriate amount of insulation is crucial to their performance.
As a general rule, the correct amount of insulation should keep your digits warm without restricting circulation, dexterity or fit. What amount of insulation this will be, will depend on a number of variables including your personal circulatory tendencies – whether you run hot/cold – where you do the majority of your riding and whether you like to pair your gloves with a removable inner lining.
Thinsulate lining provides warmth without the typical bulk with its low profile fill. Whilst, Primaloft Gold Insulation is arguably the insulation benchmark and is said to maintain 96% of warmth even when wet.
Membrane:
Speaking of wet gloves, the difference between wet gloves and wet hands can often come down to the quality of membrane used within. GORE-TEX membranes are once again at the forefront of waterproofing tech, however they're also a worthy investment for their breathability, given the main cause of glove moisture is actually your own perspiration. So keep an eye out for the kind of membrane used in any prospective glove purchase.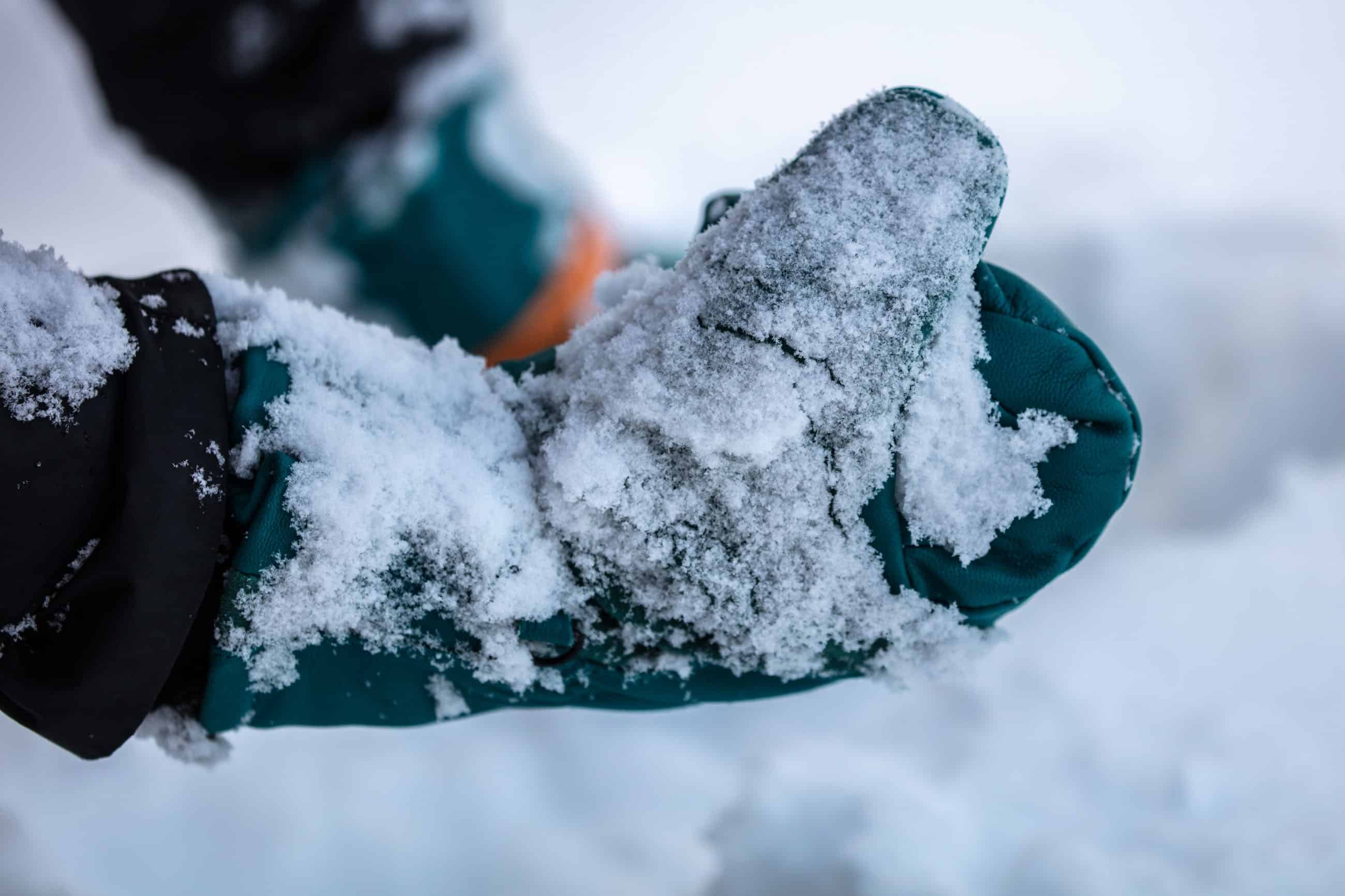 Inner Lining/Removable Liner:
The lining is the layer of material that separates the gloves membrane from your skin. As the only 'on-skin' component of a glove, it is designed to increase both comfort and warmth. These can come in many forms, for example, POW Gloves can come with a removable 'Poly-Pro Liner', a merino wool liner or a polyester micro-fleece liner, all of which have their own appeals and range in cost.
It's worth thinking about whether you're happy with the traditional 'sewn-in fixed liner' or prefer the versatility of a removable liner, which as well as being able to remove for warmer spring riding etc., also happens to dry far quicker for obvious reasons. Many liners these days are also touch screen compatible.

Left to right: Polypro liner in green and gold and a merino liner.
Other considerations:
Cuff Length:
Cuff length is very much a personal preference when choosing gloves or mittens, with typically a gauntlet style long forearm or a short, under the jacket option.
Either way, if your jacket has wrist straps you'll be able to avoid snow and moisture getting in.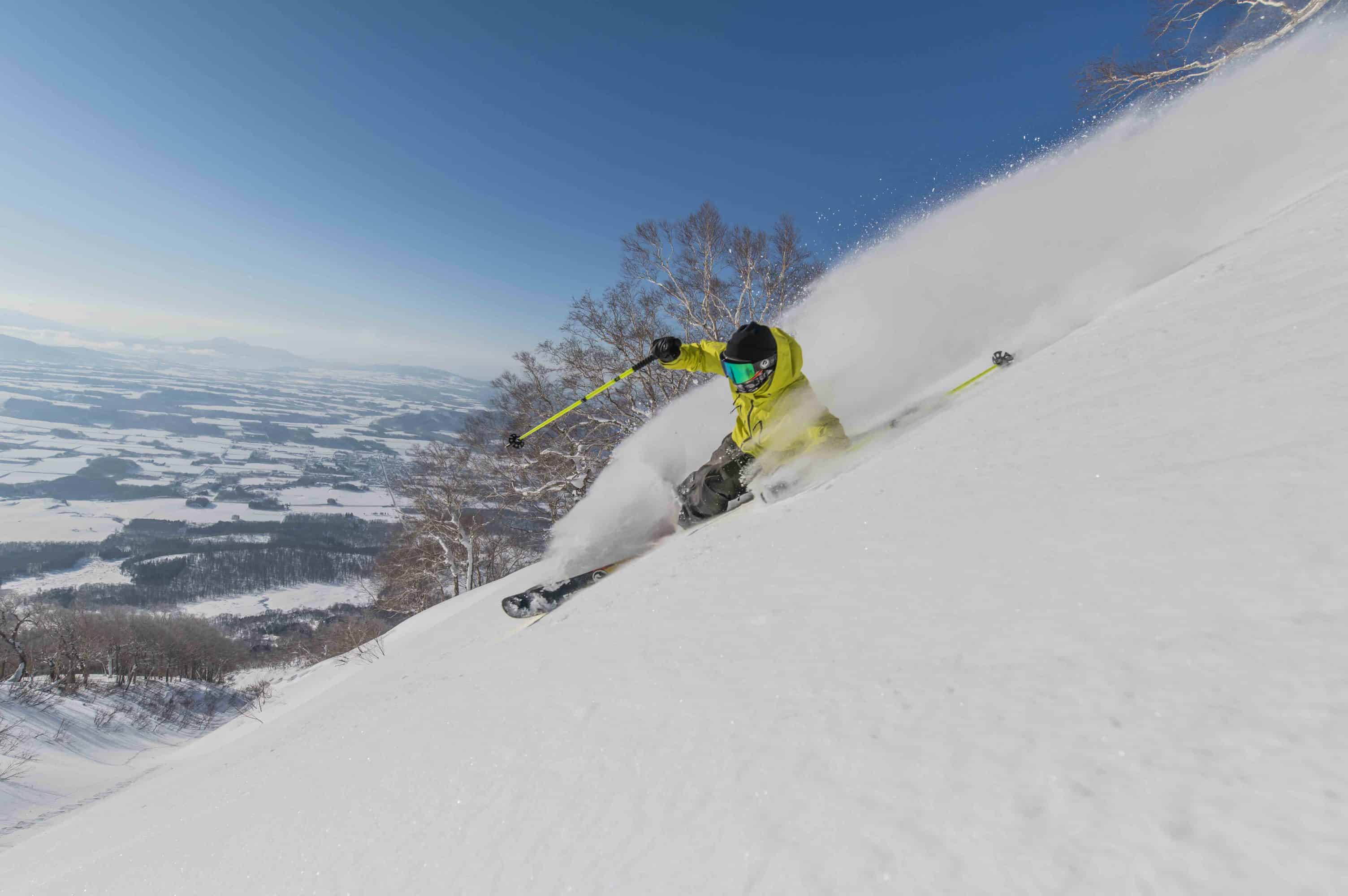 Size & Fit:
While cuff length is a choice, getting the right size and fit from a glove or mitt is a must. If you've got the wrong size glove on, your dexterity, circulation and comfort will be significantly compromised.
According to POW Gloves, "A properly fitting glove should fit snugly and allow enough room at the end of outstretched fingers for you to pinch about a quarter of an inch of fabric."
Wrist Leashes: 
Question: What's worse than a glove that doesn't fit?
Answer: A glove that you dropped halfway up the chairlift…
Glove leashes, wrist leashes, retention straps – whatever you want to call them – are the best things since sliced bread in my opinion. Once you get used to having them, you'll certainly know when you don't… As your glove will be in the bushes and you'll still be on the chairlift.
They're also good at preventing glove theft as pictured below…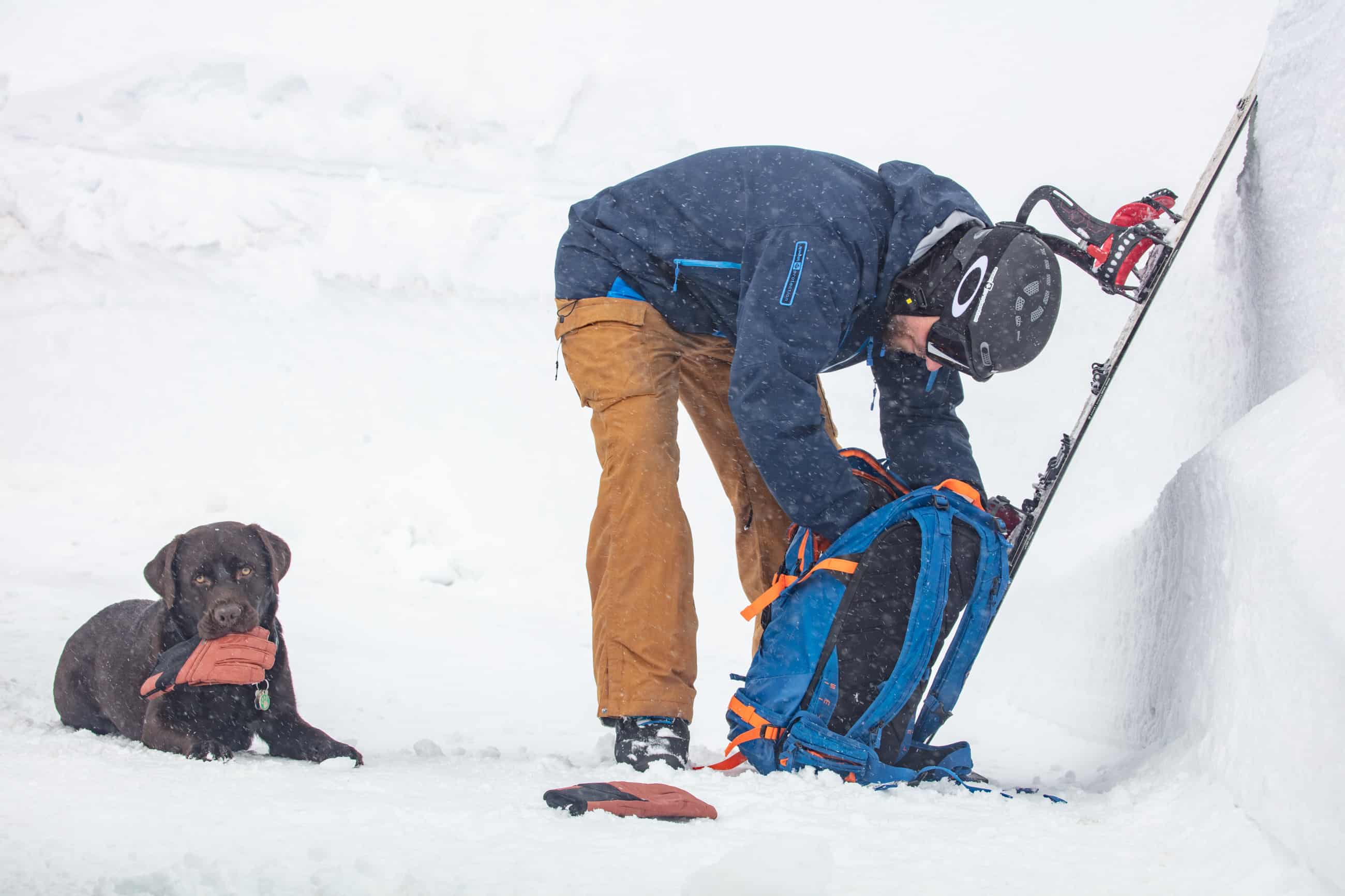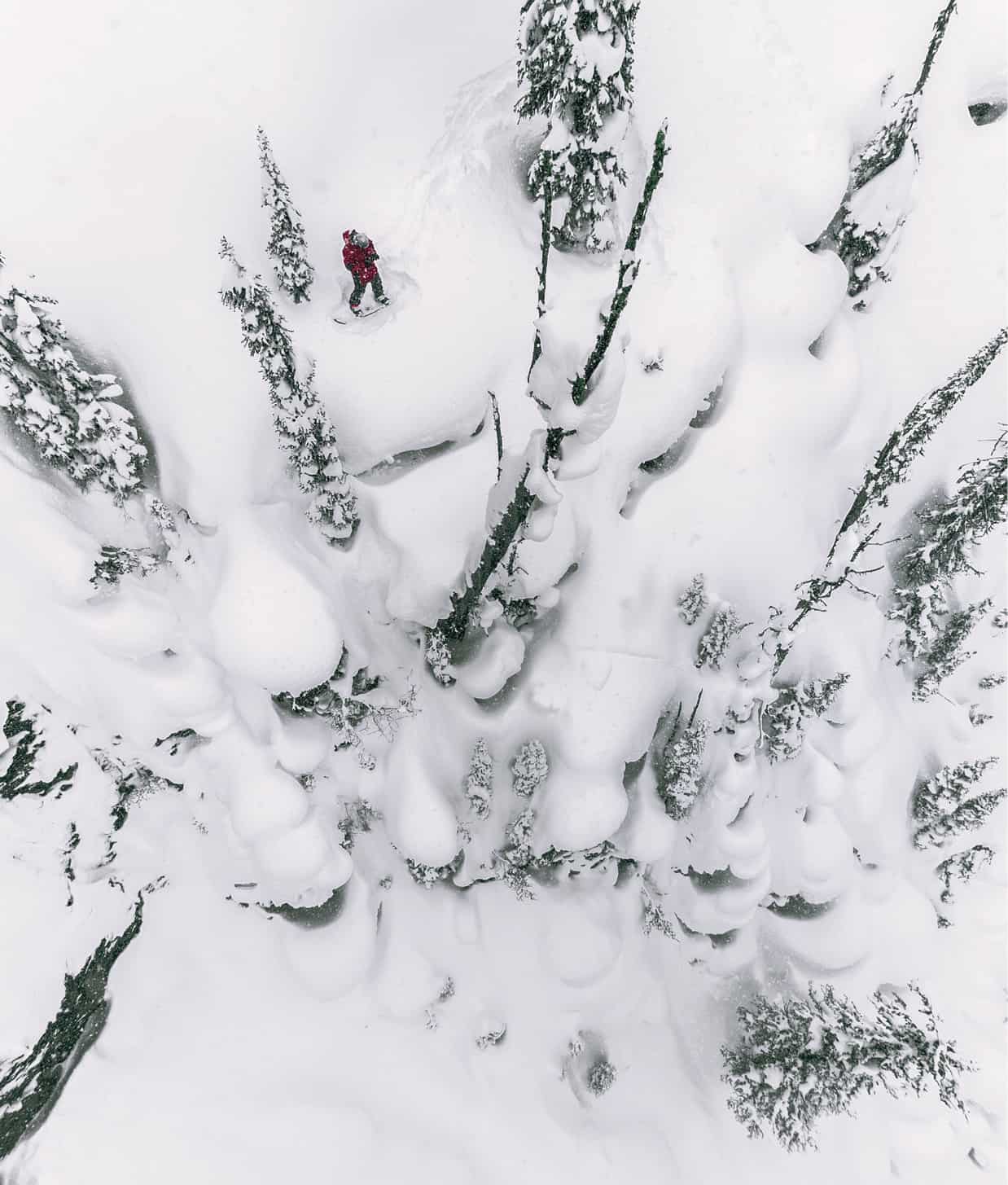 Editor's Note: This article was written in collaboration with POW Gloves.