Whistler Micro Adventures
February 5th, 2018
It doesn't have to be a massive expedition to have some fun in the BC Backcountry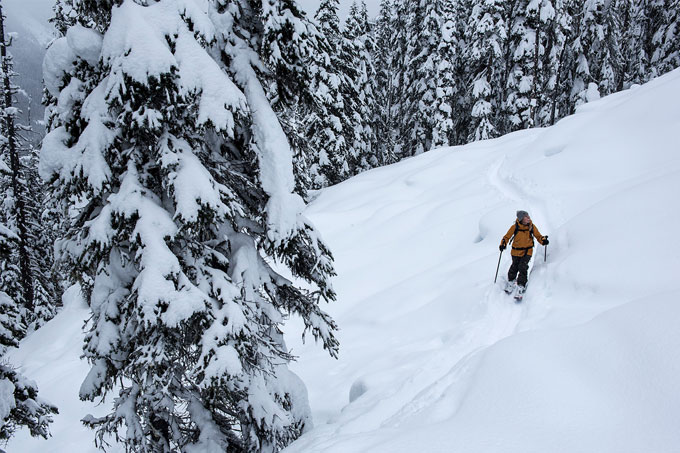 Anna scoping some lines during the skin above the tree line. Photo: Guy Fattal
Mountainwatch | Anna Segal
One of my favourite things about living in Whistler is the access to countless opportunities to find adventure. But, not all of these have to be mega-missions. The micro-adventures are where it's at! I'm talking day trips, or even an afternoon of exploring new terrain.
After a massive snowfall last week, temps began to rise, and inversely related, my motivation to ride the resort fell. My appetite for pow was still strong, but I knew I would have to go hunting if I wanted to feel satiated before leaving for Europe. I rallied a small crew – mu usual ski buddy, plus ex-Canadian Olympic ski racer, MP Prefontaine, and Israeli ski photographer Guy Fattal.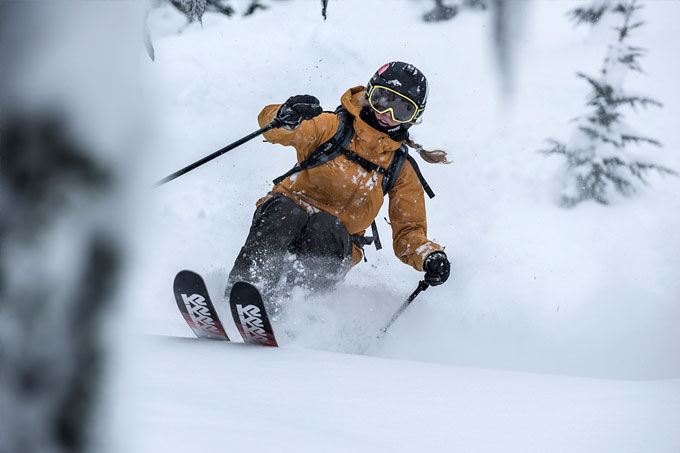 The higher you go, the lighter the snow. Anna reaping the rewards of "earning your turns". Photo: Guy Fattal
We decided on a quick day trip into Duffey Lake Provincial Park (aka The Duffey). Located 70kms north of Whistler, just past Pemberton, the winding Duffey Lake Road connects the Coast Mountains to the Interior of BC through a scenic mountain pass. It also serves as access to some of the best ski touring terrain in the area. You can opt for a multi-day quest, lugging food, water and bedding up into one of the many mountain huts, or you can bust out a day trip – setting out early, leaving late and cramming in as much skiing as possible. We opted for the later.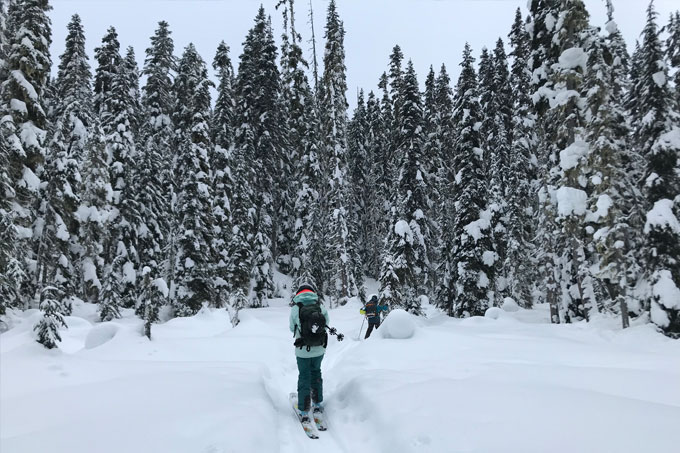 Ski Buddy about to enter the magic forest. Photos: Anna Segal
After an hour on a crunchy, punchy skin track, our skiing expectations were low. The high freezing levels seemed to have wreaked havoc on the snow conditions. We all joked that it was more of a 'fitness' ski, yet a much better way to spend the day rather than staring at a computer screen. As we hit around 1500 metres, the rain-drenched snow began to take shape and to our surprise by 1700 metres we were surrounded by 40-50cm of untracked freshies all to ourselves. After a celebratory slice of last night's pizza, skins were ripped and we pow turned and pillow-popped our way back down to the freezing line.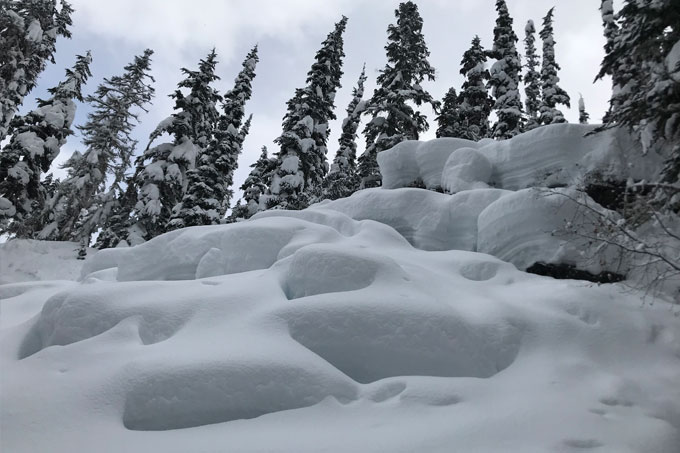 A pillow line like this, far above the freezing level, is the end goal. Photo: Anna Segal
A day later, while sitting on a flight heading full throttle towards France, I'm reminiscing this unexpected gem of a day. I've always enjoyed traveling to find adventure in far off places, but there's something to be said for taking a look closer to home. Often, I'm so focused on trying to plan out big bucket-list type trips, that I've often not appreciated the potential for adventure in my own backyard. On return to Whistler, it's something that I've pledged to improve upon.