Winter Is Back – Huge Snowfalls Forecast
September 23rd, 2009
Australia and NZ are about to get hit with possibly the snow storm of the season when a series of storms roll in late this week. They could drop up to 60-70cms of snow across the mountain peaks.
Australia
2 cold fronts rushing up from the deep south west will hit the Victorian and NSW Snowy Mountains hard by Friday and flow well into late Saturday.
If freezing levels co-operate we could see up to 50cms at higher elevations on Friday night followed by another 20-30cms on Saturday. Freezing levels will drop lower on Saturday, which will see snow down to lower elevations accompanied by strong winds.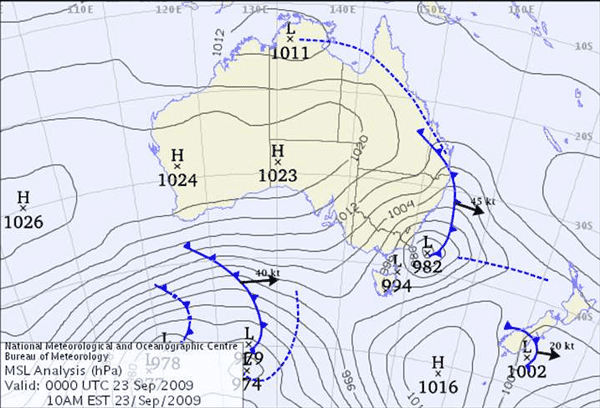 Above: The BOM Synoptic chart at 10am Wednesday morning shows two fronts developing south of the Great Australian Bite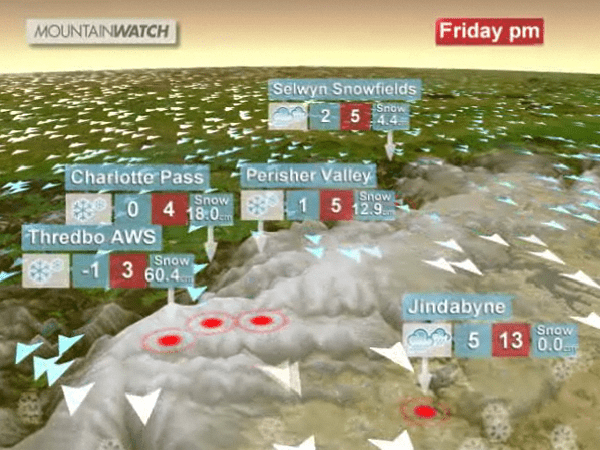 Above: A screen grab from the Mountainwatch "3-Day Video Forecast" shows significant snowfalls due across the Snowy's on Friday
Click here for the Thredbo forecast page the NSW 3-Day Video Forecast.
New Zealand
The storm that whipped up clouds of orange dust in central Australia and deposited it across Sydney and Brisbane on Tuesday will make its way to NZ over the coming days. By Friday we should see it making a major impact on the South Island, particularly in the Canterbury Mountains where over 50cms of snow is forecast at Mount Hutt.
Click here for the Mt Hutt Forecast page and to watch the NZ 3-Day Video Forecast.
With only 2 weekends left before the official closing weekend (Oct 5) the storms are providing the perfect ending to the season and a chance to enjoy one last powder day before the summer takes hold. Don't forget, end of season cheap lift tickets and accommodation deals are just another reason to make it down this weekend
Thredbo forecasts,
snow reports and
live snow cams.