WORLD HELI CHALLENGE FORECAST – Clear Skies Coming
August 29th, 2011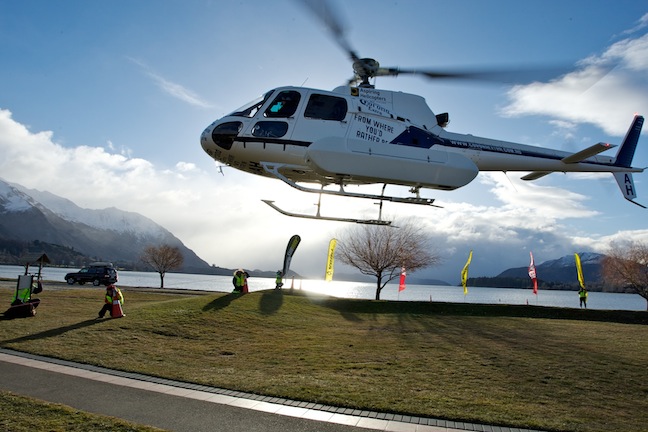 At the media launch in Wanaka. Image:: Harro
World Heli Challenge
WORLD HELI CHALLENGE FORECAST FOR MT ASPIRING NATIONAL PARK – Thursday 28 July 2011
By The Grasshopper – Mountainwatch.com Alpine Meteorologist
ORGANISER'S NOTE: Conditions depending, the freestyle day will take place Sunday 31 July. This will be the first competition day of the 2011 World Heli Challenge
Summary:
Well it's all gone to plan the last couple of days with strong winds about and some serious weather due to hit the WHC terrain on Friday before rapidly clearing on Saturday.
But a high pressure system that was teasing us with the possibility of three to four days of clear skies and light winds is acting a little more coy. The models now have it a bit further north, which is going to allow a bit more weather to encroach on Fiordland – and the kicker is going to be how far north and how far inland that rain and cloud travel.
The forecast into next week is still looking very promising, but there's now just a little bit more to think about. It wouldn't be NZ if the weather wasn't keeping us guessing, but it looks like the WHC organisers will have the luxury of waiting for ideal conditions.
Synoptic Outlook:
We will see very strong westerlies early on Friday as a low pressure system rockets in from the south-west on a collision course with the South Island. The centre is due to clip Southland Friday afternoon before heading north-east. That's going to suck moderate to heavy snow over the national park from mid-morning that will start to clear in the evening with a south-west change.
The winds will swing southerly and ease right off during Saturday morning as a high pressure system in the Tasman pushes a ridge of high pressure onto the lower half of the South Island which should ensure clear skies and light winds.
Unfortunately, that ridge is now forecast to be weaker and lie further north than was expected yesterday, and that looks like it will allow a NW flow to develop over Fiordland during Sunday. This should see cloud and some coastal rain for the fiords, but at the moment I can't see any of this making it far enough north or far enough inland to affect the WHC terrain.
Monday is a similar story: A ridge of high pressure lies across the North Island and top of the South Island, while a north-westerly flow encroaches on the bottom of the South Island.
Friday 29 July:
Armageddon basically. Well not quite that bad, but we'll see very strong westerly winds, moderate to heavy snow for the WHC terrain, and a clearing SW change in the evening. Freezing levels of around 1800m will fall to around 1100m by evening.
Saturday 30 July:
Skies clearing and winds easing to light southerly, providing a good opportunity to assess the terrain for the fun and games ahead.
Freezing levels are due to rise rapidly, and then stabilise around 1900m. Hopefully they will remain low enough to keep the freeze on the WHC terrain.
Sunday 31 July:
As I flagged above, there could be cloud and light showers pushing onto Fiordland in a north-west flow, but I can't see any of this making it to the Makarora Valley. Freezing levels look like they will behave, remaining at or below the 2000m mark. Winds look like they will be light westerlies, if anything. I would pick this as an excellent candidate for the Extreme Day of the WHC.
Monday 1 August:
A similar day to Sunday. But with a stronger NW flow encroaching further north, the likelihood of cloud and showers on the coast west of the national park is high. Will any of this make it over? Put a gun to my head and I would still say maybe, but I'm not a local and this is a question for someone who's seen this all happen dozens of times before.
Winds will be a bit stronger today, maybe around the 25km/h gusting 40km/h at the 2000m mark. Freezing levels will fall to a comforting 1800m.
Extended Synoptic Outlook:
All this fussing about Sunday and Monday is possibly not so important, as Tuesday and Wednesday are also looking promising. Atmospheric pressures are forecast to gradually rise and winds to ease right off. Some models are even suggesting an easterly flow on Wednesday and Thursday if the centre of the high pressure system crosses the country.