WORLD HELI CHALLENGE FORECAST – Heavy Wind and Snow Expected
April 27th, 2011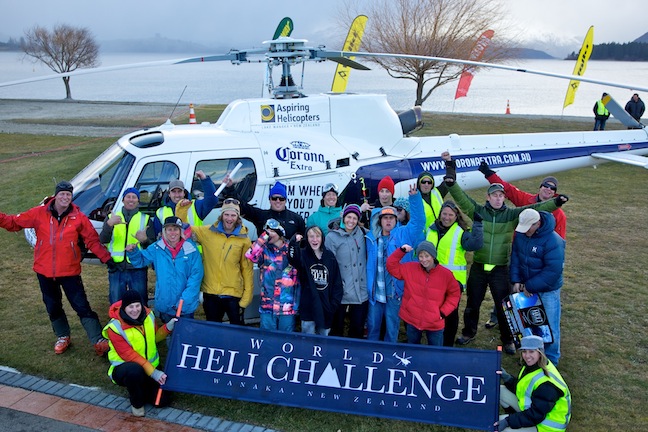 At the WHC launch day, 26 July. Image:: Harro
World Heli Challenge Forecast | The Grasshopper
WORLD HELI CHALLENGE FORECAST FOR MT ASPIRING NATIONAL PARK – 27 July
Summary:
Everyone is amping up for the World Heli Challenge and as always there's a chance the weather will play a big part. In fact it's already getting in on the act, with that extreme cold snap earlier this week temporarily shutting down airports across the South Island.
Each afternoon we'll be providing you with updates of the weather forecast for Mt Aspiring National Park, with a detailed look at the next four days, and a sneak peak at five to seven days ahead.
On Wednesday the weather played out pretty much as expected, with westerlies, cloud, and I'm assuming a touch of light snow around the national park. There's still reason to be confident about the weather from Saturday onwards – with a high pressure system arriving right on cue, and begging to be taken advantage of.
Synoptic Outlook:
Thursday will see westerlies continue over the national park, along with cloud and snow to low levels. Things will get pretty hairy early Friday as a low pressure system approaches from the south-west and slams into the South Island, bringing very strong winds and heavy snow to the WHC terrain, and rain to Wanaka.
A high pressure system that extends a ridge over the southern half of the South Island on Saturday morning looks very promising in terms of clear skies and light southerly winds.
Thursday 28 July:
Strong to gale westerlies, cloud and light rain, falling as snow above about 1100m
Friday 29 July:
Crazy strong gale westerlies developing during the morning, gusting to 120km/h about exposed areas. Heavy rain at times, falling as heavy snow above about 700m. A south-west change and clearing skies in the evening.
Saturday 30 July:
Mostly clear skies – with light to moderate southerly winds, blowing at 20 to 30km/h at 2000m. Should be good for at least assessing avalanche danger from Friday's snow and scoping out the terrain.
Sunday 31 July:
Fine with light winds, blowing at about 12km/h at 2000m.
Synoptic Outlook:
Monday is also looking darn good as that high pressure system edges closer. I wonder whether there's potential for valley fog, given the clear skies and overnight cooling, but hopefully the air wont be moist enough. At some point on Tuesday and Wednesday we would expect north-westerlies and a bit of cloud, but I expect that high to show some backbone and hold on for a while.