World Heli Challenge Kicks off on the Shores of Lake Wanaka
July 25th, 2011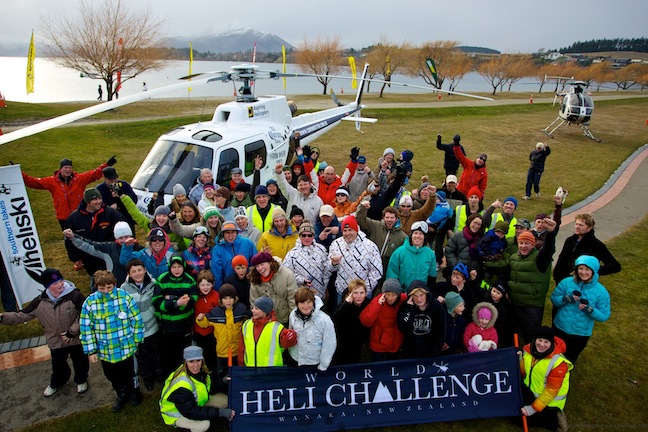 The WHC crew 2011. Image:: Harro
World Heli Challenge
The 2011 World Heli Challenge kicked off today with a media launch at Lake Wanaka where athletes, event organisers, media and the general public gathered to watch two of Aspiring Helicopters birds fly across the lake and land on the foreshore just opposite Pembroke Park.
Kids took the opportunity to mingle with some of their idols including Chris Booth (Australia), Ben Schmitt (USA), Iris Lazzareschi (USA), Rachel Sheidow (Australia), Tori Beattie (Australia) and Will Bromelski (USA) and Young Guns Lyon Farrell (NZ/USA) and Hank Bilous (NZ). They all left with autographed World Heli Challenge posters.
Almost as if planned, skies clouded over just as the event started with a light snow falling, which prevented the planned helicopter flight up to the top of Mt. Roy. "No problem," said event founder Tony Harrington. "Snow is a good thing."
Everyone else agreed that snow was appropriate for this event.
"This is just the beginning of what promises to be a spectacular two week event," said Harrington. "With snow in the forecast early next week, we should have two amazing ski days."
Next on the World Heli Challenge calendar is the SOS Launch Party which will be held tomorrow evening at Snow Park and includes night riding with the World Heli Challenge athletes, live acoustic music in the Woolshed, a silent auction and film footage from Warren Miller's Intervention and highlight footage from past World Heli Challenge events. Public is welcome to attend this event with $10 from every ticket going to SOS Outreach.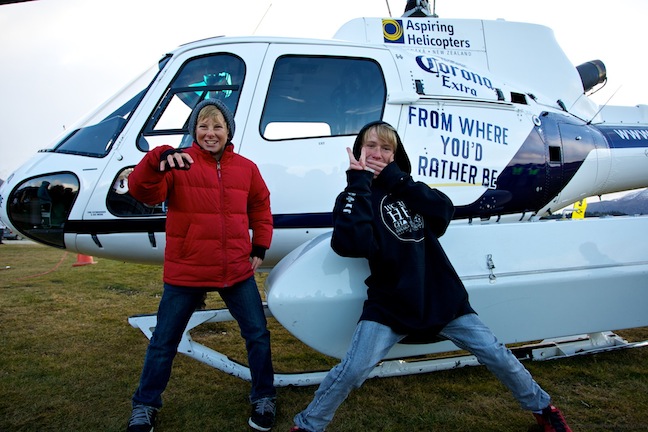 12 year old Lyon Farrell from Maui who won the snowboard "Young Gun" and 13year old skier Hank Bilous. Image:: Harro