World Heli Challenge teams getting it done at Mt Cook
September 15th, 2014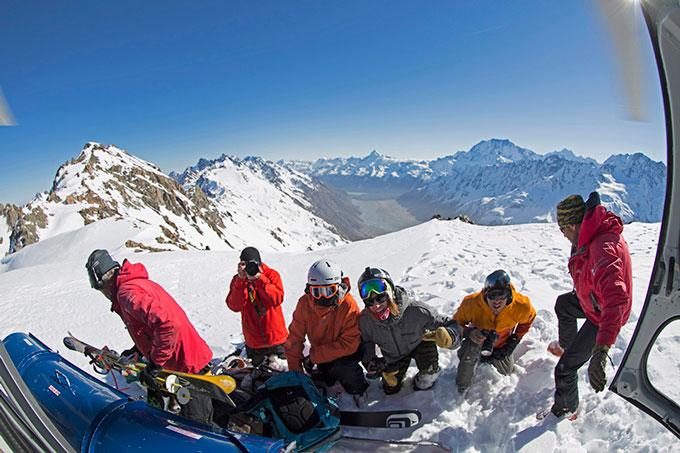 Heli's, steeps, cameras. You do the math. Image:: Supplied
If you were given a week of free heliskiing in New Zealand with a chance to win $10,000, and all you had to do was make a video about your experience, what story would you tell? That's the decision facing two teams of skiers and snowboarders duelling it out this week at Aoraki/Mt Cook.
Event director Tony "Harro" Harrington explains, "The World Heli Challenge tests the athletes in New Zealand's biggest mountains, but this year that's just the beginning. This year they must also work with their filmer to create an inspiring short film they can show the world. For the first time in the event's history, it's not the athletes' performances alone that will determine the winner, but the short film they create together. It truly is a team event and it's going to make some incredible viewing."
The two teams are "Team Vacation" from USA/Canada with skiers Essex Prescott and Dylan Siggers filmed by Leo Zuckerman, and "Team Mates" consisting of Jake Koia (Queenstown NZ) and Australia's Ryan Tiene, with Mitchell Ayers filming. The teams qualified for the World Heli Challenge by submitting an entry into the 'Call Up'. "Team Vacation" received the highest number of public votes and "Team Mates" was voted best entry by an expert panel.
Now they are busy having the week of their lives in New Zealand and in the chase to win the ultimate prize.
Harro is thrilled with the world-first event concept so far: "It's an innovative new format for us, and when you bring together awesome terrain like this, add in helicopters, talented skiers and boarders, a healthy dose of competitive spirit and the stunning backdrop of the Mackenzie district you can't really go wrong."
With two heli skiing and boarding days and a day at Lake Ohau ski field already under their belt, Team Mates and Team Vacation are now more than halfway through the Challenge. "It's already been one hell of an adventure, the guys have been really going for it up there and working hard on their edits," says Harro. And, with a promising weather window this weekend, the teams may bag a further and final day of heli-accessed action on Sunday 14 September.
Both teams submit their final edits in just a couple of days and the winners will be announced at a public screening of the films at The Find Bar in Queenstown on Thursday 18 September from 8pm.