World Snow Wrap – Winter Kicks Off In The Northern Hemisphere
November 1st, 2018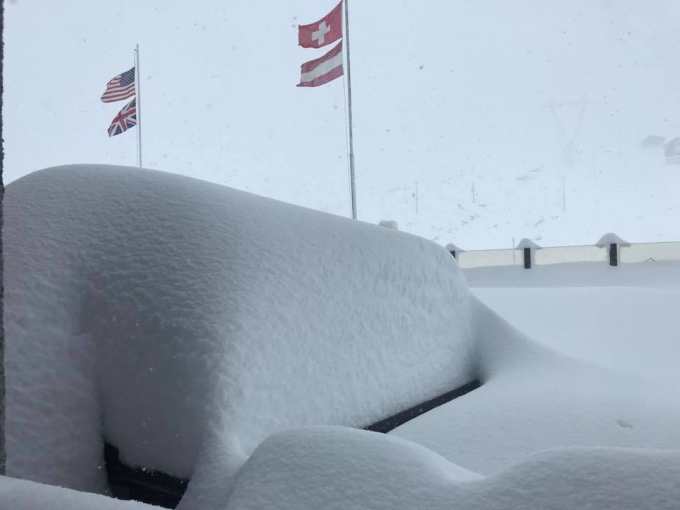 Mountainwatch | World Snow Wrap
The Alps have been dumped on, good snowfalls in the Rockies and the first snowfall in Japan.
Winter is starting to arrive in the northern hemisphere with snow falling during the past week in North America, Europe and Japan. The biggest falls have been in Europe with parts of the Alps receiving a metre of snow in 72 hours followed by another 50-70cms on Oct 29 and more snow is expected over the next few days. The totals are hitting the two metre mark in the higher resorts, a number of which are already open and more resorts are set to open soon.
While this early season snow is great news for most European resorts, it is not good news for the Stomping Grounds camps in Saas Fee, with the second session currently on hold due to the consistent snowfalls.  For Stomping Grounds director Charles Beckinsale, it is a frustrating situation.
"We got 1.8m up here in 24 hours and there's no end in sight," Charles told Mountainwatch. "The heli can't bomb for avalanche control until the weather clears and we can't take the cats out for a re-build until that happens. We wrap up on Friday and the way it's looking we won't get in another day's riding. It's brutal."
It looks like things will calm down in Europe over the weekend, but more storms are due in North America after 10-25cms in the Northern Rockies earlier this week. Those storms are also tracking through Canada with interior BC and Alberta due for good snowfalls this weekend. Japan also received some snow with 5cms down to base level in Niseko.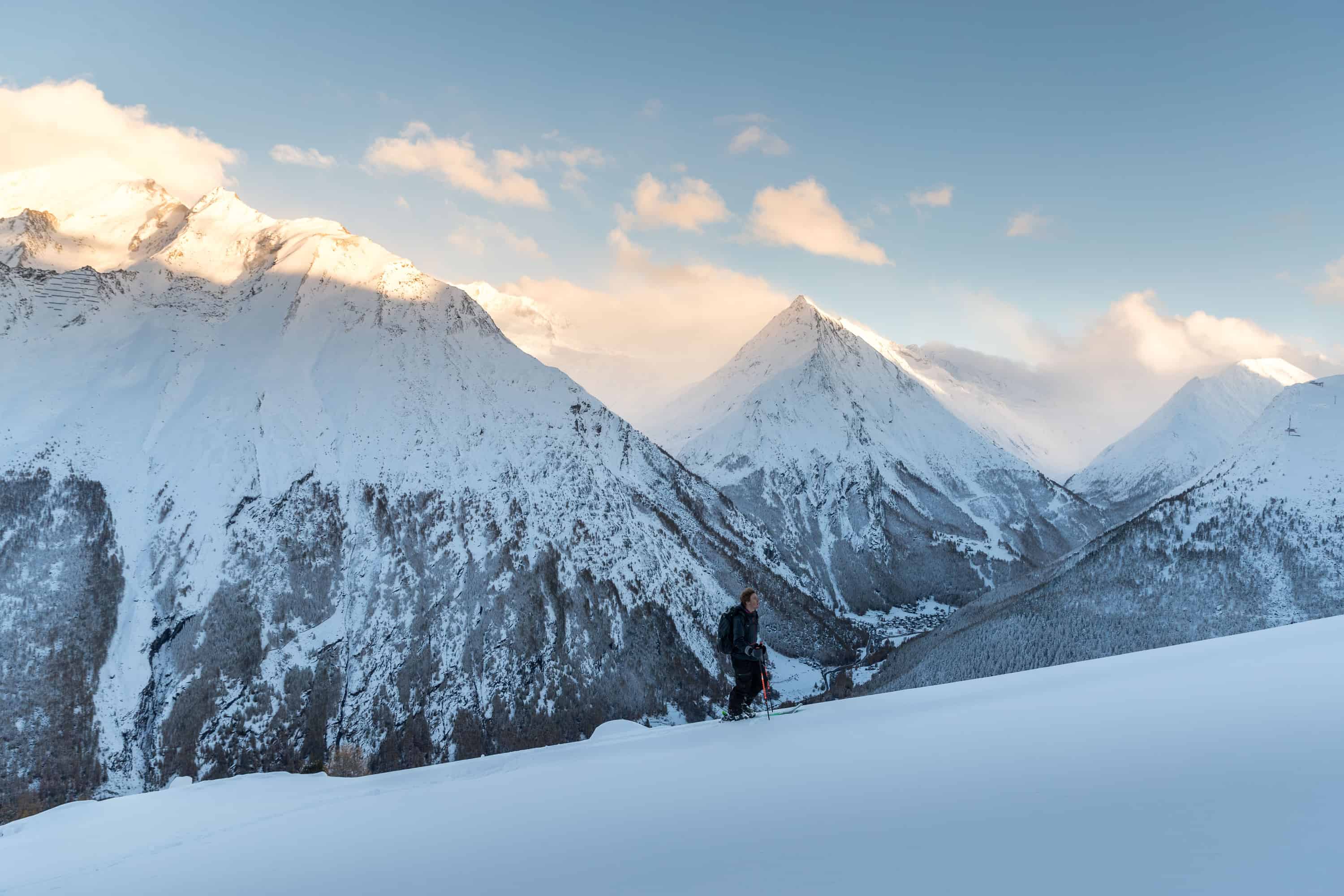 EUROPE
After a warm, dry summer, the weather in the Alp's changed significantly over the past week with heavy snow, rain at times, followed by more big snowfalls. The snow has been heaviest in Italy with falls of 1.5 to two metres, with open resorts such as Cervinia, Val Salenas reporting deep snow. In France Tignes is the only resort open while Val Thorens has had good falls and is due to open in mid-November.  North of the border, Switzerland also received the full brunt of the storm and as we reported in the intro, Saas Fee has had 1.75cms. More resorts are due to open this weekend with Verbier opening on November 2 with Davos and Andermatt also opening this weekend. Light snowfalls are set to continue over the weekend before finer weather next week.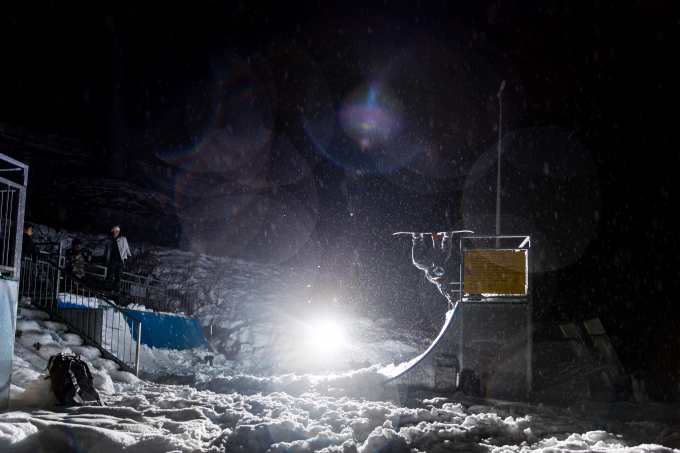 USA
Snowfalls in mid-October and good snowmaking conditions resulted in a few resorts opening in Colorado with Arapahoe basin and Loveland underway for the winter while Wolf Creek is currently open on weekends only. A storm earlier this week dropped 30cms across the Northern Rockies with snow falling in resorts in Montana, Idaho and Wyoming with Big Sky Montana topping the count. The Colorado resorts also had some decent falls with saw 15 -20cms form Monday to Wednesday, Breckinridge 28cms.  Good snowfalls are expected again over in the Rockies over the next few days the next few days with 25-40cms by Monday.  At this stage, most resorts in the western states have scheduled opening days for late November, but that could change of the storm window stays open. No snow yet in the Sierras, but the Californian resorts have been making snow and usually have some lifts open by late November.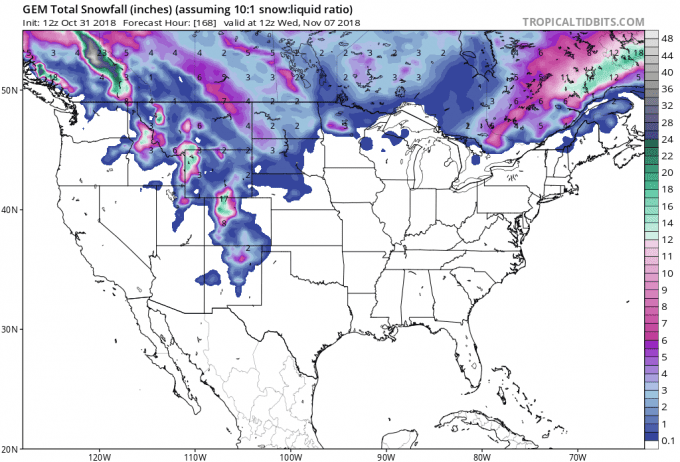 CANADA
Some snow earlier this week left a dusting of a few centimetres across the British Columbia resorts and more is forecast over the next few days.  Rain will turn to snow in Whistler and Big White on the weekend with heavier falls on Saturday night. The forecast is for warmer conditions in the interior with mild temps and rain before light snowfalls early Sunday for Revelstoke and Kicking Horse. In Alberta Lake Louise and Sunshine should see good snowfalls on Friday afternoon with light snow falls continuing over the weekend. At this stage Lake Louise and Nakiska are opening next week on November 9. Whistler Blackcomb's opening day is November 21 while Big White and Sun Peaks are scheduled for Nov 22.  Most other resorts are scheduled for the last week of November or the first week of December.
JAPAN
Not much happening with just some snowfalls over the past week in Niseko and other parts of Hokkaido leaving around 5cms at base level.  There's no snow in the forecast with just a dusting due next weekend but, as we all know, once the storms start arriving the snow totals build quickly.  The opening dates for Japanese resorts are when there is snow, but officially, Niseko is November 23, Furano is November 28 and Hakuba is Dec 8.
SUMMARY
Well, winter has definitely hit in parts of the North American with the consistent storms forecast for the Rockies this week, adding to last week's snowfalls, building the base for the late November openings scheduled for a number of resorts. Canada has a similar scenario while the tap has yet to be turned on in japan. The European Alps, however, have seen significant snow over the past week and some resorts are opening on a healthy base from one big storm. It is early days, and we'll keep you up to date with regular World Snow Wraps over the next six months.
 WHERE WE WOULD LIKE TO BE THIS WEEK
Simple, after all this snow the European Alps is the place to be and given Verbier, one of the world's great ski resorts, is opening this weekend that is where we'd be heading if we could.