PHOTO EXHIBITION – Lets Get It On Showcases Big Mountain Photography
August 15th, 2011
Big mountain photography and alpine landscapes are celebrated in the Lets Get It On Exhibition. Image: Jeff Curtes
Photo Exhibition
Mountainwatch and Transfer Snowboard Magazine have collaborated with the Camera Club to create Lets Get It On, an exhibition of top shelf big mountain and alpine landscape photography launching this Thursday 18 August at the Camera Club's bar and gallery inside the Beach Road Hotel, Bondi.
Featuring images captured by some of our planets leading snowboard lensmen, Lets Get It On presents an unpretentious journey into the high altitude adventures of Jeff Curtes, Jake McBride, Dan Himbrechts, Alex Roberts, Andrew Fawcett, Vaughan Brookfield and Sven de Monoski amongst other exhibiting photographers.
"Like an intimate fireside moment, Lets Get it On delivers a deeply sensual affair of alpine-inspired landscape photography. From big mountain vistas to deep backcountry adventures, here is a cold smoked exhibition that's guaranteed to get your mojo cook'n!" Darryl Nichols, The Camera Club.
The exhibition is the fifth installment in its ongoing series of community-minded photographic exhibitions from the community-based gallery that's dedicated to celebrating creativity through camera-related pursuits.
"These are some of the most dominant mountain photographers in both the Australian and the international the snow industry," says. Damon Hayler, two time Winter Olympic snowboarder. "If you've picked up a snow magazine in the last decade, you have for sure seen some of their incredible work."
"This talented underworld sect of global sifters who stink like Jagermeister and sport frozen index fingers are the types who motivate us to do what we do at Transfer. There are photographers, but then there are the image makers – these are the ones that inspire us with a click of their finger and evoke a new perception – it's going to be inspirational to see their images come to life in large format prints, don't miss it," Comments Russell Holt, Mountainwatch and Transfer Magazine.
One of the most acclaimed of these photographers is Jeff Curtes, who will be exhibiting alongside a stable of impressive frozen-fingered friends. "The SNOWBOARDING blows your mind…eyes wide open as progression happens through the lens day after day, year after year. But without a doubt, it's the MOUNTAINS…the moments within our ever humbling natural world, that takes your breath away and makes you feel more alive, smaller, and more peacefully quiet than anything anyone could imagine. Places, peaks, powder…oh, and the light…the things that make this, the best job in the world. Long after the catalog is finished, the magazine printed, the tricks done and outdone, these are the ones that I keep with me forever," Says Curtes.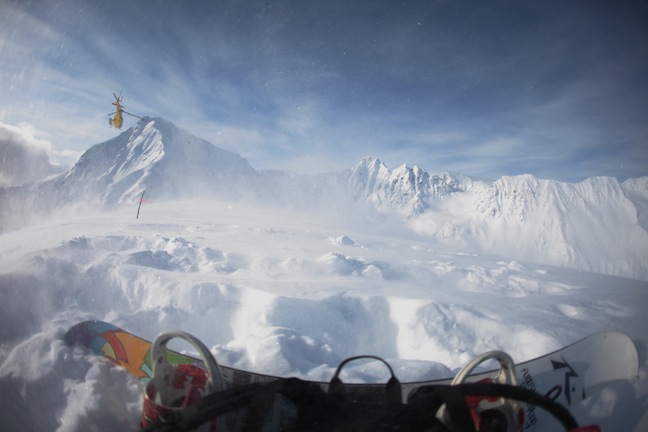 The world as Jake McBride sees it. Image:: Jake McBride
Photographer's Thoughts
Vaughan Brookfield
what draws you to alpine and big mountain photography?
Being out in the wilderness and in extreme situations with amazing athletes that push themselves.
The images of yours features in the exhibition, how do feel they represent what big mountain and alpine landscape photography is all about?
They have a feeling and familiarity that portray the alpine environment in a way I think people can relate to .
How do you see Transfer embodying the spirit of big mountain and alpine landscape photography?
Transfer is a great publication, with a fresh perspective. They have created content that inspires the readers.
Andrew Fawcett
For a long time now I've had a close association with the alpine landscape which has always provided such a spectacular backdrop to the
riders I shoot on various photography assignments. But I have often found while on snow action shoots that the landscape has a way of drawing my attention away from the riders and demanding centre stage. This collection of impromptu shots is my response to the calm wonderment, awe and respect I felt for the landscape during those stolen moments. The alpine landscape in all its enormity can be a tricky client to capture, but i hope I have managed to convey to some extent the incredible natural perfection of this silent witness.