TRAVEL CHILE – Luxury in The Andes at PORTILLO
September 27th, 2011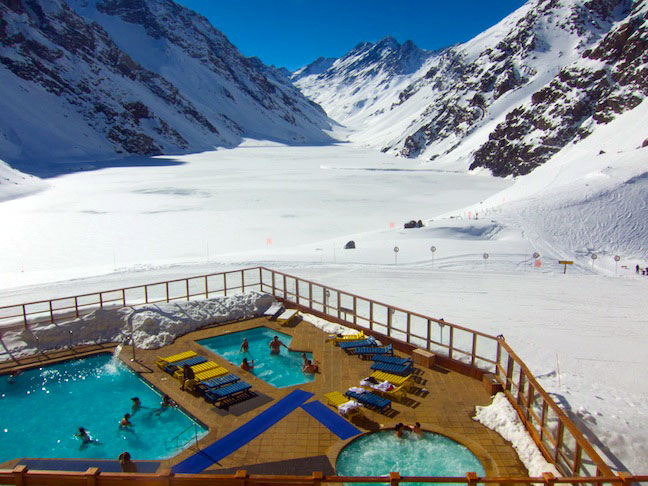 "Insert epic quote here"
Skiing Portillo | Chris Booth
Travel can be roughly divided into two categories: holidays and experiences. Holidays are easy to find, most of them can be bought online, have simple directions and come at a price that is reasonable for the services offered. Holidays are what most people encounter when they travel. They are planned, pleasant, punctual and prefabricated. Experiences are something else. Rarely straightforward, often complicated and frequently difficult, experiences shock and delight at every turn.
To an Aussie skier, travelling to South America to ski makes no sense. Why would you travel across the world, paying boat loads of cash, eating plane food, being jetlagged, the whole lot, to go skiing in the southern hemisphere? With our Aussie resorts and New Zealand's fields just a few hours away, a South American ski trip is irrational, illogical and by comparison, indulgent. But it might just be the best thing you'll ever do. Why? Because it's an experience.
Chile is one of those magnificently gifted countries that is at once harsh and inspiring, holding the bulk of the Andes – the world's longest and second highest continental mountain range – within its borders. With its capital city of Santiago located at about the same latitude as Sydney, the climate feels strangely familiar when you arrive. The sun is hot on your skin, the landscape is sunburnt, it feels like t-shirt weather. But a quick glance skyward to the 6,000m snow-capped peaks that tower above the city lets you know that Santiago is a rather misleading prelude to the real Chile. Indeed, seeing epic mountains in the reflection of glassed office buildings is a bizarre and welcome distraction to the chaotic Santiago traffic, as one makes their way north to the country's most unique ski resort – Portillo.
Located 160 kilometers (just over two hours drive) from Santiago, at an elevation of 4020m, Portillo's 12 lifts give skiers access to around 1000m of vertical amongst arguably the most breathtaking mountains in Latin America. In short, Portillo has terrain.
After a windy drive through wine country, your arrival in Portillo is unforgettable: the altitude hits you immediately, your lungs fill with cold mountain air that fails to give breath. You feel the lack of oxygen. The immensity hits you next, as you are struck by enormous, imposing peaks that rise up around you, defying your sense of scope. You recalculate then look again, it makes no difference, it feels hostile, almost brutish. Then you notice the hotel. Nestled against the Laguna del Inca between two dark peaks, looking up the valley towards Argentine border, Hotel Portillo is an alpine manifestation of old-world charm, complete with dark wooded interior, cave a vins and a bell-boy who operates the elevator. The remoteness of the Andes mountains juxtaposes harshly against the leather-bound luxury of the hotel, like monogrammed Louis Vuitton suitcases on safari. It's a dramatic celebration of bourgeois achievement and strongly references the elitism from which our sport is born. And, with outdoor heated pools, gym, cinema, basketball court, climbing wall, bistro, restaurant, après bar and nightclub all contained within the hotel, it's a bit like staying on the boat from the Life Aquatic.
Where the hell had I brought myself to? I thought, looking out across the frozen waterfront from my Chesterfield sofa, as I helped myself to afternoon tea. Hotel Portillo looks and feels monstrously unaffordable, but here's the fun part, it's not.
Our powerful Aussie dollar makes pesos cost peanuts, meaning we can enjoy places like Portillo at prices never before possible. Prices well-below those found at home or in NZ. In addition, all-inclusive pricing (as much as I hate this model) also helps to deliver value, and if nothing else, let's you know what you're in for from the beginning. But I don't want this article to be about prices, that's not the point. The point is that if you want a holiday – one of those pleasant planned trips – ski the USA, Japan or New Zealand. But if you want an experience, go to Portillo.
Now, I just need to figure out how to be there on a powder day.