TRAVEL INDIA – A Ski Bums Guide To Gulmarg
January 23rd, 2013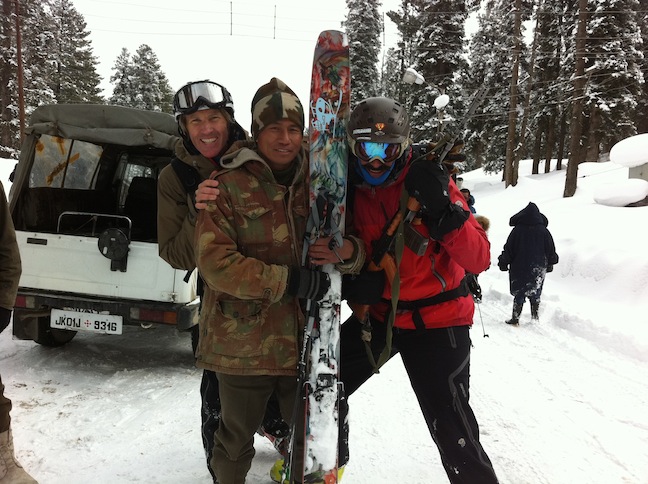 A couple of Bill's clients posing with the local security forces
Mountainwatch | Sam Leitch
If your thinking of going to Gulmarg then Bill Barker's tour operation "Bills Trips" is the best option. Guides Bill and Sam Dunlop will take you safely through the best aspects of the vast terrain to be picked up from beautiful, isolated Kashmiri villages. And the best part is you won't have to worry about anything but enjoying the powder, snow monkeys and Himalayan vibes. But if you wanna do it the ski bum way here is the lowdown.
Is it Ok to go, and when?
Yes. It used to be sketchy due to the Pakistan India conflict but it has been safe for tourists for the last six years or so. International tourists have been visiting Srinagar and Dal Lake in unprecedented numbers during last summer. For skiing go in January or February. It's a lot further south than most ski areas so the season is a bit shorter. It's an amazing cultural experience to visit Kashmir. A night on a houseboat in Srinagar is like going back in time as you listen to the prayers of a mosque and watch the city go dark around glassy Dal Lake.
Is it as cheap as they say?
The cheapest accommodation is $20 to $30 a night for a wood burning bhukari heated room. Extra people in the room only costs a few dollars more. Facilities will be basic with intermittent power and hot water. You might experience the occasional electric shock in your bathroom. The motels closer to the Gondola base fill up first. But there are endless options still within walking/skinning distance. Many places have wireless internet. At posh Hotel Highland Park you can live like a king for $100 a night.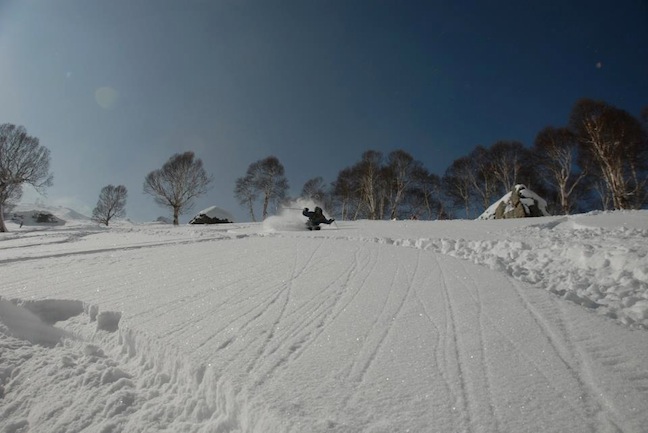 Finding some pow in Paper Trees
You can get a meal of curry chicken, rice, paratha bread and dhal for $5. Riding the Gondola is complicated with different options for the first and second phase and also for the new chairlift. It's approximately $6 for the lower phase and $8 for the upper. Typically most people fit in about three full laps a day
Can you get alcohol?
Yes. Kashmir is Muslim with locals preferring hash to alchohol. But Gulmarg has succumbed to western influence and you can get a beer in most places. Cigarettes only cost a dollar a pack. Unbelievably you can also bring your own bottle of spirits to some bars and just buy the soft drink!. In Srinagar you can buy bottles of whisky or rum for only $6 a bottle through hidden backstreet holes in the wall. Just ask a taxi driver where. A bunch of kiwi boys last season purchased a hundred bottles before hitting Gulmarg for six weeks!
Unfortunately for potheads there is no weed in Gulmarg just lots of hash. The Kashmiris openly enjoy it. We smoked it through a hookah at wild parties in bars organised by the party loving Russians. Yep the Russians. Russians flock to Gulmarg because its cheap and you can smoke cigarettes in your hotel dining room during breakfast. They are more likely to have a GoPro than a transceiver and tend to be surly. However their parties are insane and many a western ski bum has met a future bride eager to escape the drudgery and alcohol abuse of her homeland.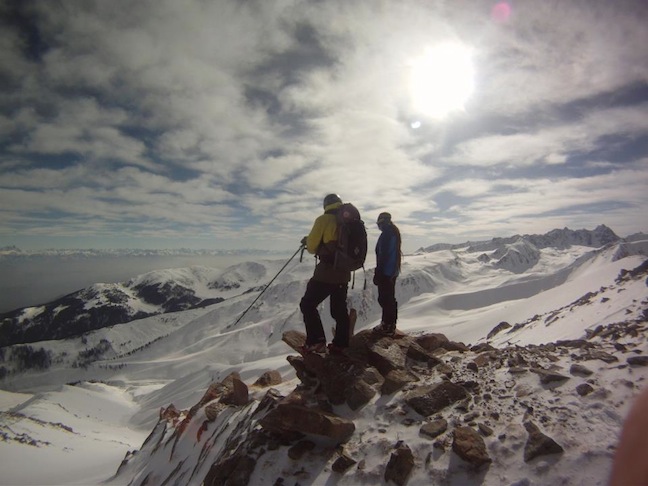 Sam Dunlop and Bill scoping lines in the backcountry
Most importantly what do you need to know about the riding?
Gondola accessed backcountry in the style of Chamonix and La Grave but with lower angle fun terrain. However, be warned, the upper phase is closed a lot more than you might expect during and after storms. After you get bored with the low angle tree skiing under the lower phase team up with others and hire a taxi that fits six for only $40 for the day and get them to pick you from laps down to the many villages below Gulmarg.
The Gulmarg village is at 2600 masl. When the upper phase is open you will have locals touting as guides. If you are considering this option be very careful that the guide is registered with the Gulmarg Snow Safety guide bureau administrated by American head of Patrol Brian Newman. Otherwise you might be paying someone that knows less than you. If the Gulmarg Snow Safety website is recommending that you do not venture out of the controlled area take heed. Gulmarg tends to have an extremely volatile and avalanche prone snowpack due to its latitude.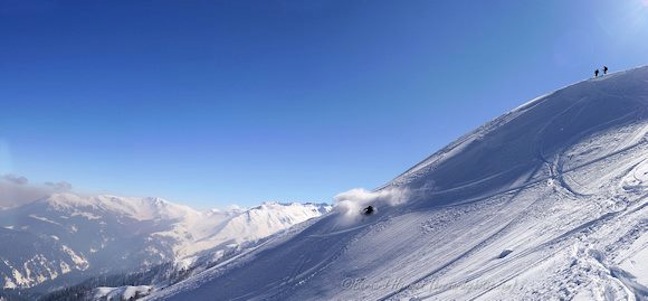 Bill dropping in
And the terrain?
Massive but not super steep. You are more likely to encounter danger from avalanches than exposure or getting cliffed out. Bring your fat skis or a long snowboard. The pow is pretty deep and there are plenty of flat spots to get through. The weather patterns in Jan/Feb seem to be solid 1 metre plus dumps followed by a week or so of sun.
The Gondola was built for sightseeing not skiing and as a result the Indians neglected to clean up the industrial debris leftover from the construction. Be carefull not to eviscerate your bowel on sharp metal junk. Be careful of barbed wire in the trees.
There is a heli-ski operation is town run by local playboy Billa Bakshi. The pilot and guides are kiwis that work to western standards and protocols so if you've got the cash go for it.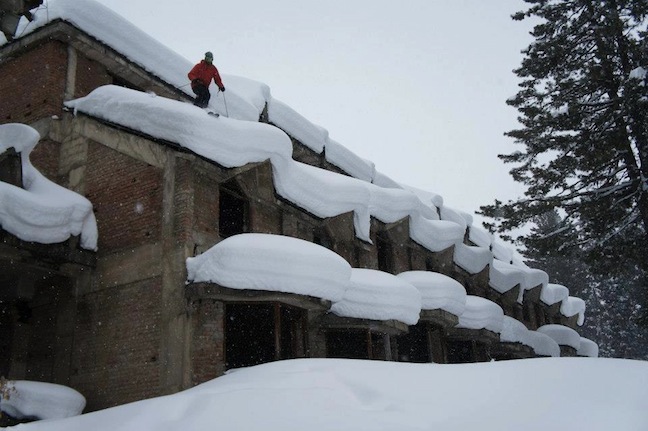 Sam getting inventive on a down day!
Obviously after reading this you can tell Gulmarg is somewhere for people who need to be able to assess and manage risk in the backcountry. However do not let that deter you if you are a mid level rider. The terrain in the controlled area is pretty friendly. And guiding is available. A skiing holiday can be enjoyed on a budget and your money will go to a beautiful and appreciative community. The unexpected reward of a skiing holiday to Kashmir is the exposure to such an exotic culture and open friendly people.