TRAVEL JAPAN – Ja-Powder at its Finest
September 15th, 2011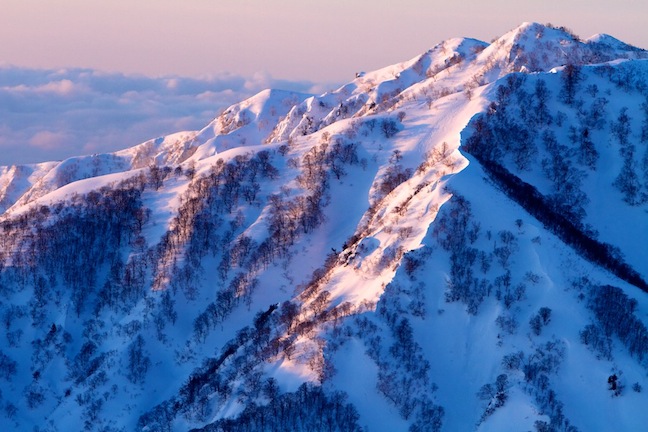 Dawn, Hakuba Valley. Image:: Chris Hocking
Riding Hakuba | Tom Bjorksten
Japan is a nation in recovery. The island nation situated on the most active earthquake belt in the world experienced the world's 5th largest earthquake recorded since 1900 on the 11th of March 2011. This killed over 20,000 people, and caused one the biggest nuclear scares in the world since the Chernobyl disaster in 1986.
The global response to this disaster has been strong, with varying scales of aid reaching Japan in the aftermath of the earthquake. These range from the UN delivering food and the US government providing military assistance, to Australians creating a 'Warm Clothes for Japan' facebook page and sending over a truckload of clothes. How can you help? On a micro scale we can all do our bit with a ski trip to Japan, helping the Japanese economy recover while at the same time experiencing those deep powder turns we all crave.
One valley in Japan that is beginning to break the well-established trend of Australians heading to Hokkaido is the Hakuba valley located in Nagano, deep within the Japanese Alps. Like almost every resort in Japan, the Hakuba ski resorts boast a double-digit annual snowfall figure (in metres), steep terrain, easily accessed backcountry and enough terrain park features to keep the freestylers happy. These joys can be found in and around Hakuba's 10 ski resorts which collectively lay claim to 200 runs and 139 lifts.
What sets Hakuba apart is the infrastructure that enables a trouble free holiday, yet the region still retains that traditional Japanese feel. An example of the excellent facilities available in Hakuba is the fact that Happo-one, widely regarded as the best ski resort in Japan, was host to a number of events including the ski-jumping in the 1998 Winter Olympics. This infrastructure and culture present has led to a number of new developments in the area, making Hakuba even more appealing to the Australian tourist market.
The attention the Hakuba ski resorts have been receiving in snow media in the lead up to the northern winter have been increasing exponentially, with the icing on the cake being the One Hit Wonder TV special by Tim Myers and featuring Steve Lee being filmed in Hakuba. Along with this increased awareness that highlights Hakuba's incredible terrain, new developments such as the Phoenix hotel are driving Australians to the region. The Phoenix hotel offers boutique western style accommodation for the 2011/2012 season, with brand new studio apartments. Phoenix is also partnering with Steve Lee, three-time Australian Olympian, to take avid skiers and snowboarders on breathtaking backcountry tours within the Hakuba region.
Another unique experience that Hakuba offers is a day trip to the world famous snow monkeys, which can be seen frolicking in a steaming thermal pool surrounded by below freezing temperatures. Combine this with 2 hours snowmobiling in Shiga Kogen in a closed ski resort and you will have one truly unforgettable day.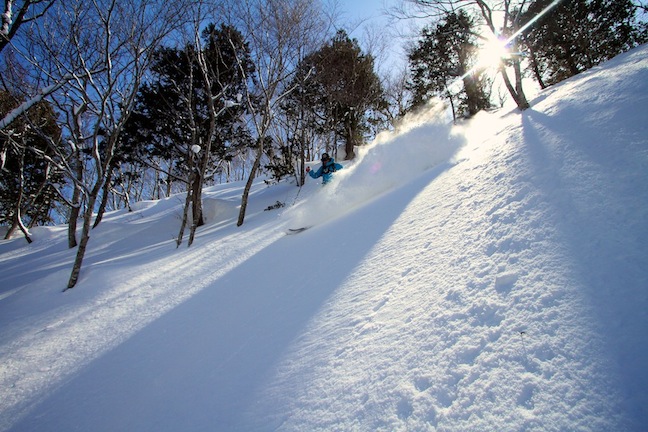 Steve Lee, Happo One. Image:: Chris Hocking
Getting there:
Liquid Snow Tours offer fully inclusive packages from Australia with a current special for Mountainwatch readers including;
Return flights from Australian capital cities to Tokyo
4 day non consecutive JR rail pass
7 nights accommodation at The Lab Hakuba
Hot breakfasts daily
5 days multi resort lift passes including shuttle buses to those resorts not within walking distance
Access to an in-resort host
2 nights accommodation in a 3.5 star Tokyo hotel
All this for $1999 + airline taxes of approx $600. For details on how to book see: Ski Resorts Japan
The snowmobiling and snow monkey day trip can be purchased as an add-on to this Liquid Snow Tours package.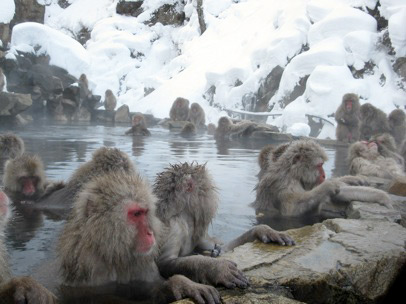 The famous Japanese snow monkeys enjoying the thermal pools in the Jigokudani Monkey Park.