2018-2019 North American Snow Season Outlook – December update
December 24th, 2018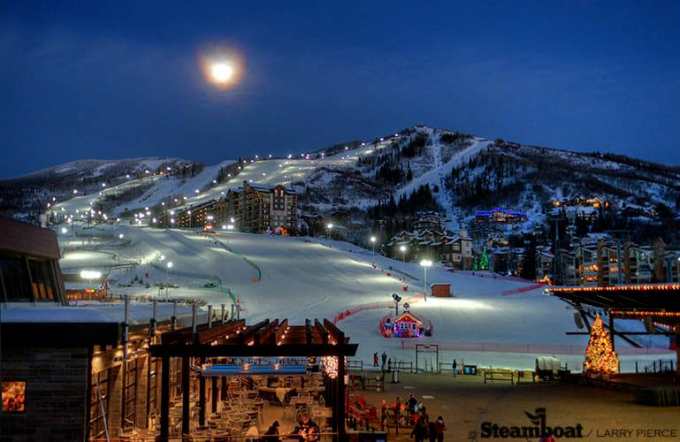 Mountainwatch | Grasshopper
Models suggest El Nino will show up with good snowfalls down south and less up north.
 The silly season is upon us. I'm not talking about what gets shoppers frantically dashing about in malls, bagging up Christmas bargains. I'm talking about what gets you fellow powderhounds rabidly craving the white stuff. You can't help it; it's so addictive. But have you been naughty or nice this year? Is Santa bringing you snow or coal? Let's sneak under the Christmas tree to inspect what the big fella has brought us.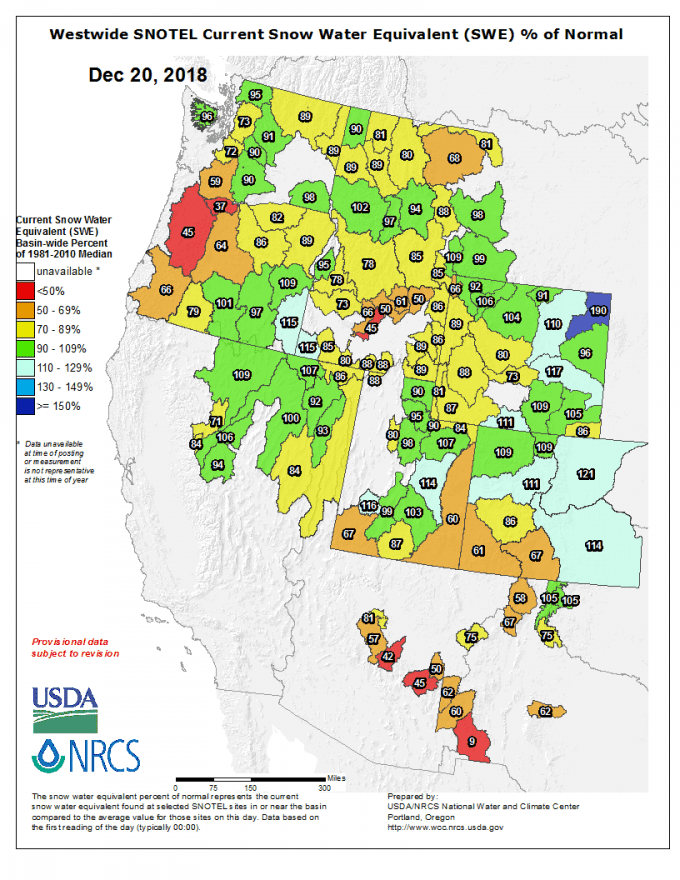 Since my previous outlook a month ago, the Sierras have gone from zero to hero, thanks to storms coming off the Pacific during the last week of November. Mammoth reported several days where 25-40cm of fresh powder fell, and since then has had another several dustings in the 5-15cm range. Snow depths for the Sierras are now around about average for this time of year, and another decent storm is due over the Christmas period, things are starting to get very silly there indeed.
The Cascades and Coast Mountains of Canada were also looking poorly, but have since then played catch-up and snow depths are sitting at average or just below. At the time of writing, it is snowing heavily over Whistler which has reported a base of 220cm after 175cm fell in the past week. It's mesmerising watching the time lapse of snow steadily climbing up the measuring stake.
After a great start in the Rockies, things have slowed down a little with plenty of green and yellow showing on our chart, indicating snow depths are around average or a little under. Parts of Colorado are still riding the high off early season snowfalls and depths there are still above average. However, folks there are in for a special treat, because a low will take a more southerly route during the days after Christmas and will spread Christmas joy over the southern half of the American Rockies. That's December pretty much covered, so let's look further ahead to the months of January, February and March to see who's on Santa's list.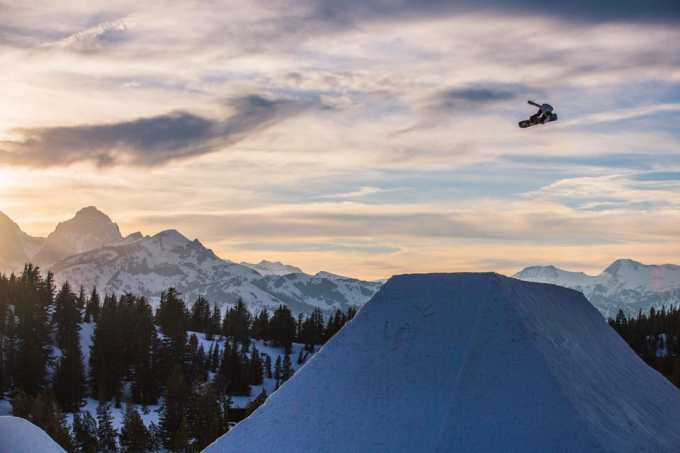 El Nino struggling
Tropical waters over the Pacific Ocean have been simmering away above El Nino thresholds for some time now. However, we're deemed to still be in the neutral phase of ENSO as the atmosphere hasn't yet given El Nino the nod. A full-blown El Nino requires the ocean and atmosphere to be married up, and thus reinforce each other. Atmospheric variables from the past couple of weeks, such as cloudiness and trade wind anomalies, hint that the atmosphere may finally be starting to react. However, the longer the atmosphere holds off the harder it is for El Nino to become established and there is no record of one developing in January. Regardless, tropical waters are expected to remain above El Nino thresholds throughout the northern hemisphere winter and as you will see NOAA are pinning their seasonal forecasts on it's influence.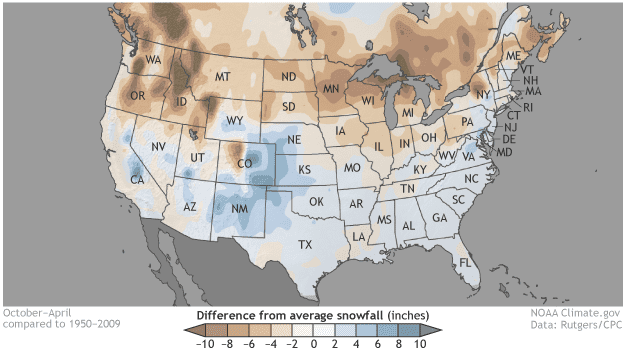 As I mentioned in my previous outlook, El Nino has a tendency to shift the storm track further south, meaning that the southern states of America are cooler and receive more precipitation, equating to more snow for the Sierra Nevada and parts of the southern half of the American Rockies. The outcome for everywhere else is a warmer, drier and less snowy vista, especially for Canadians. These are statistical findings of course, but in reality year-to-year anomalies can look much different to this. The relationship is even weaker and more varied during weak or moderate El Nino phases.
Climate models still looking El Nino-ish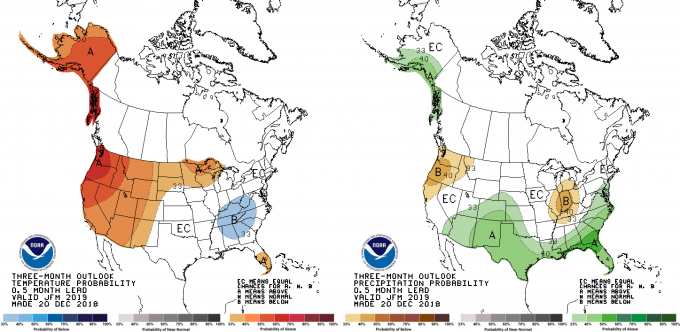 The forecast from NOAA and the Meteorological Service of Canada (MSC) for the next three months looks very El Ninoesque and little has changed since their previous forecast for the period December through February, except that the Pacific Crest looks a little drier. There is now an equal chance for above and below average precipitation in the southern Sierras and we're likely to have less over the northern Sierras and Cascades. The southern half of the American Rockies stand a good chance to be wetter/snowier, while the rest of the Rockies, including the Canadian portion, as well as the Coast Mountains, aren't more likely to swing one way or the other. Temperatures are still expected to be warm over the west, especially over the Cascades.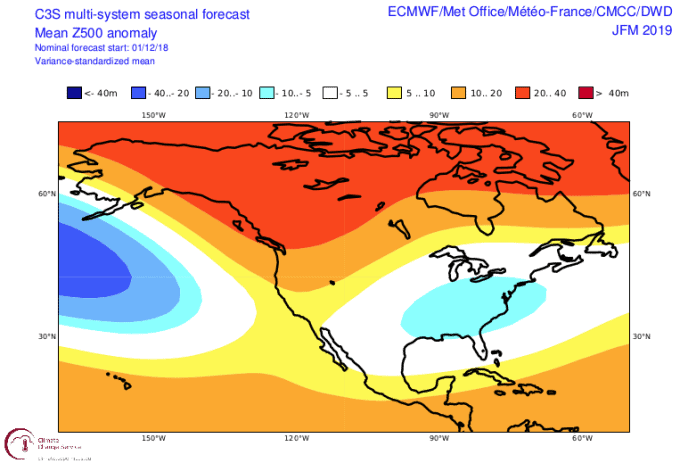 It's not only NOAA and MSC rocking the El Nino vibe; every climate model I surveyed supported the idea of a southward shift in the storm action, which is typical of an El Nino. It is also unanimous that the west will be warmer, likely in part due to warm sea surface temperatures along the west coast and in the Gulf of Alaska, however models vary a little concerning precipitation in the Sierras; some want average amounts, others want above average. NOAA's CFS model goes one step further by forecasting January will be wetter/snowier in the Sierras, but a smidgeon dry throughout the Rockies.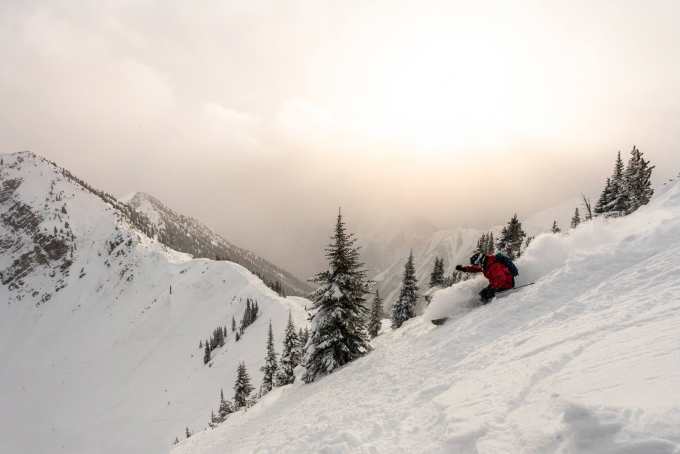 Summary
After good snowfalls between now and the New Year, the remainder of the season should end up looking a little El Nino-like. That's the way the odds are stacked, however, we're only face with a mild El Nino so we can't expect the extreme case. Similar to my previous outlook, I'm picking January through March will see average or above snowfalls for the Sierras and southern half of the American Rockies, while most other areas will receive a little less than usual.  A couple of other factors that I haven't mentioned for brevity are lining up a period of good snowfalls in the latter half of January and possibly the start of February. It's a long shot but worth crossing our ski poles for. Despite what the overall season ends up looking like, you can be rest assured that snowfalls will come to your town. So you better not pout and you better not cry, otherwise you might just get a lump of coal.
Hopefully I have got you dreaming of a white Christmas. I'll update this outlook in the middle of January. In the meantime, be sure to cheek out my weekly forecasts for both North America and Japan issued every Thursday. If you've got a different theory on what's going to happen this winter, or just want to provide feedback, then please hit me up on Facebook.
Merry Christmas!