2019 New Zealand Snow Season Outlook – August Update
August 5th, 2019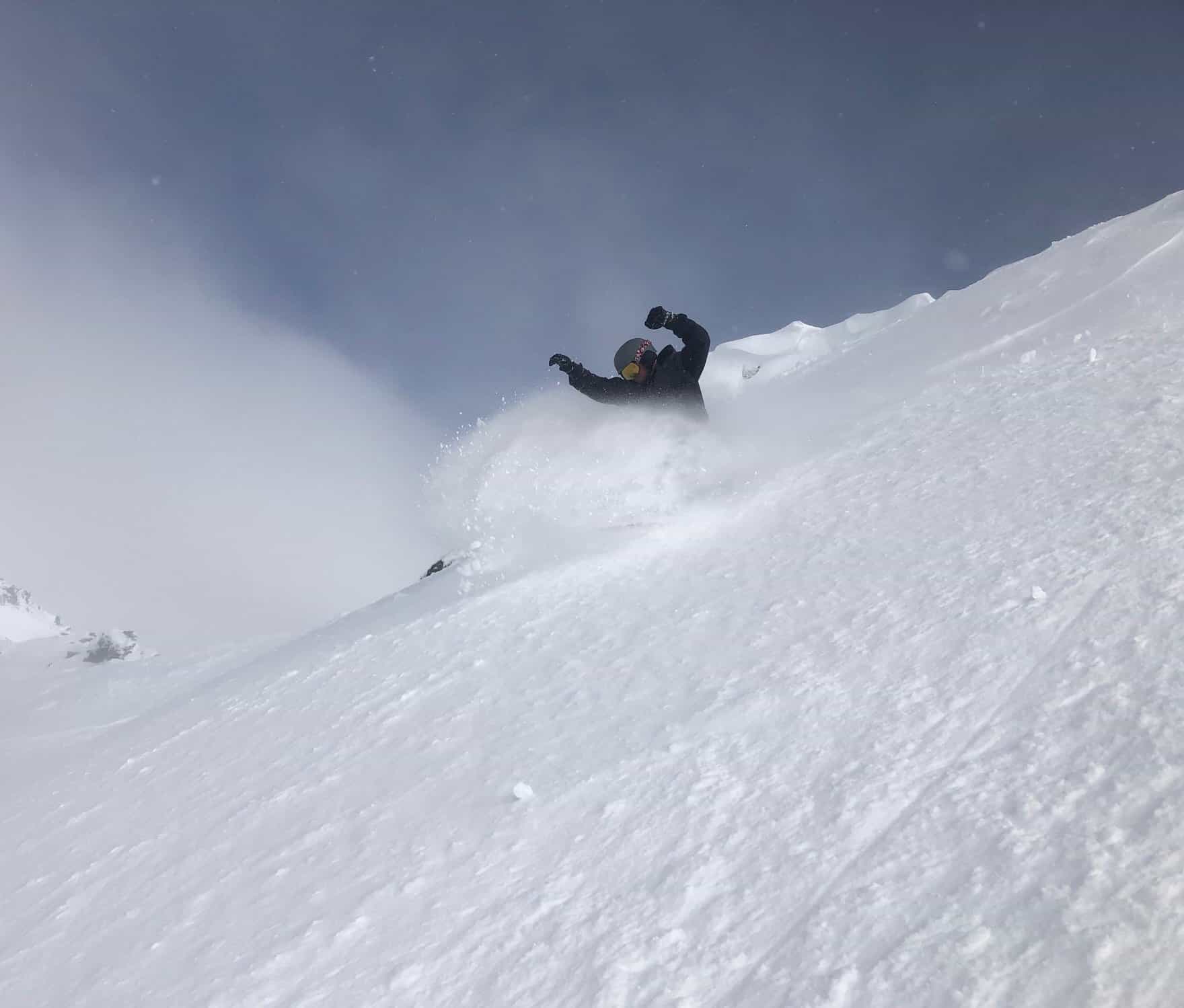 Mountainwatch | The Grasshopper
NZ STILL LOOKING GOOD FOR A BACK END BONANZA
 August in the Alps of Aotearoa has been ushered into the world with a blanket of knee-deep powder. With more snow still to come during this storm cycle, which will see the Southern Annular Mode (SAM) plummet to near record low levels, 'early season' conditions will be blasted into history.
Despite a prolonged storm cycle during July, snowfalls were insufficient to break out of 'early season' conditions that had a hold of many ski fields, limiting off-piste terrain and requiring snow guns to make up the shortfall. Temperatures ran warmer than average in a dominant west to northwesterly flow, which saw snow pile up along the Main Divide, but less falling further east on ski fields.
That is, until the last two days of the month, when we saw that 'Pocket Rocket' of a storm buzz through and drop 20-40cm of high quality powder. Since then, two more installments of powder – the second of which is still underway as I write – have taken the weekly total to about 30-50cm on the South Island, and up to a whopping one metre  on Ruapehu.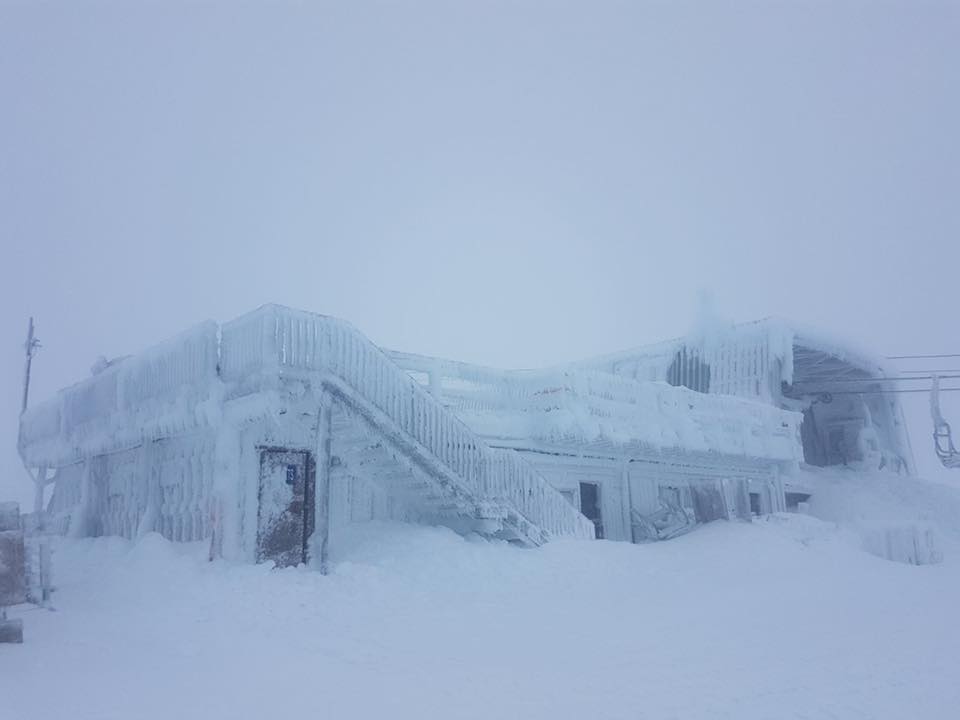 Later this week: milder northwesterlies, numerous fronts, copious amounts of snow, and some rain. All of this leading up to the passing of a monstrous low, which will perhaps give the Aussie Alps the biggest dump of their season, followed by another round of cold southwesterlies and more snow. Great, that takes us to mid August.
In the previous NZ outlook, I floated the idea of a back-end bonanza, where upon reaching the halfway mark, snowfalls this season would go from sub-par, to average or above. Thankfully, this storm cycle is going someway into saving my bacon. Beyond this, however, signs are still looking favourable for a great second half to the season.
El Nino is toast, but models nice and stormy
Apart from warm waters over central parts of the tropical Pacific, this fledgling El Nino is pretty much toasted. A lot of NZ ski fields can benefit from an El Nino, but any influence it may be having is expected to wane over the coming months.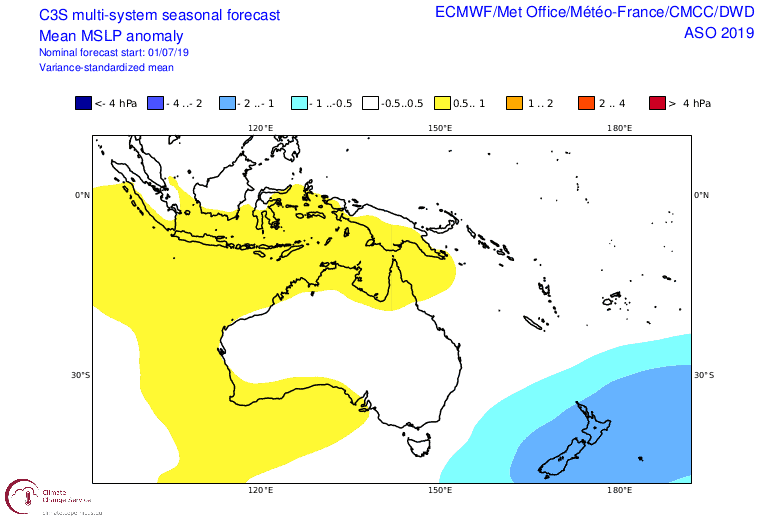 Despite this, climate models expect the remainder of August, September, and October to remain unsettled. More so than usual, cold storms will flow up over New Zealand from the Southern Ocean, with an anomalous west to southwest flow during August. Heading into spring, we could see low pressure favouring the area east of the country, suggesting more winds from the south through to the east.
These airflows are reflected in projected precipitation and temperature patterns.
Colder temperatures over the country should warm to average or above as we head into spring. This makes sense regardless of airflow patterns, as sea surface temperatures surrounding New Zealand are still mostly running warmer than average. Meanwhile, wetter/snowier conditions for the Southern Lakes and Ruapehu could dry to average or below mean precipitation levels. Canterbury, on the other hand should trend towards a wetter spring.
Average or above snowfalls is what we'll be saying
 At this stage, it's fair to say New Zealand slopes have shed their early season coats and are now sitting cosy in a thicker, downier one. There's still a wee way to go before we can call say that snowfalls are average or above. But plenty of storm action through this back half of the season will make up for the first half, and then we should be saying exactly that.
That's all I can say folks, keep checking out my daily forecasts for the latest and greatest weather info on Aotearoa's Alps. If you've got a different theory on what's going to happen this winter, or just want to provide feedback, then please hit me up on the discussion below. Or you can follow me on Facebook.