2023-2024 Japanese Snow Season Outlook – Grasshopper's November Update
November 16th, 2023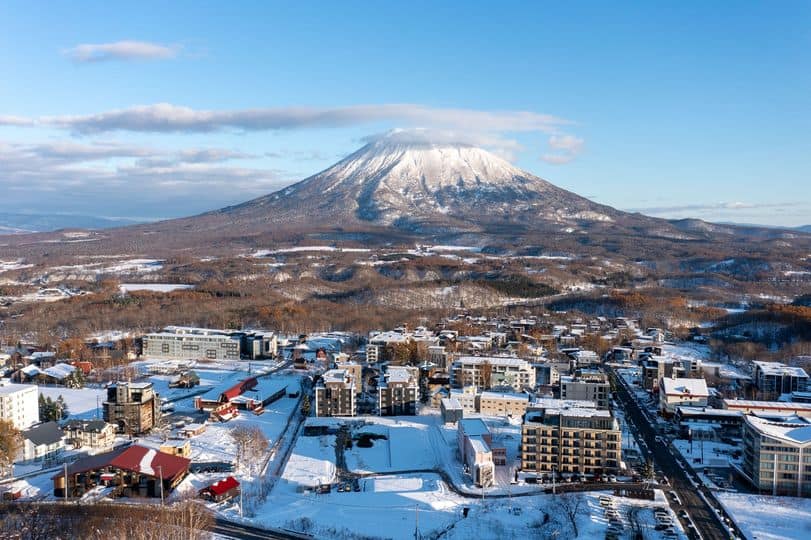 Mountainwatch | The Grasshopper
First North America, then Europe, and now Japan is on the map after the first proper snowstorm of the season came through earlier this week. Reports on the ground are few and far between this early in the game, but it was Japan's northern island, Hokkaido, that was treated to a nice early season dump of around 25-65cm.
All of a sudden, it's looking like winter there. Temperatures were a little warmer on Honshu where just a sprinkling made it to the base areas of some resorts, while several centimetres look's to have fallen higher up.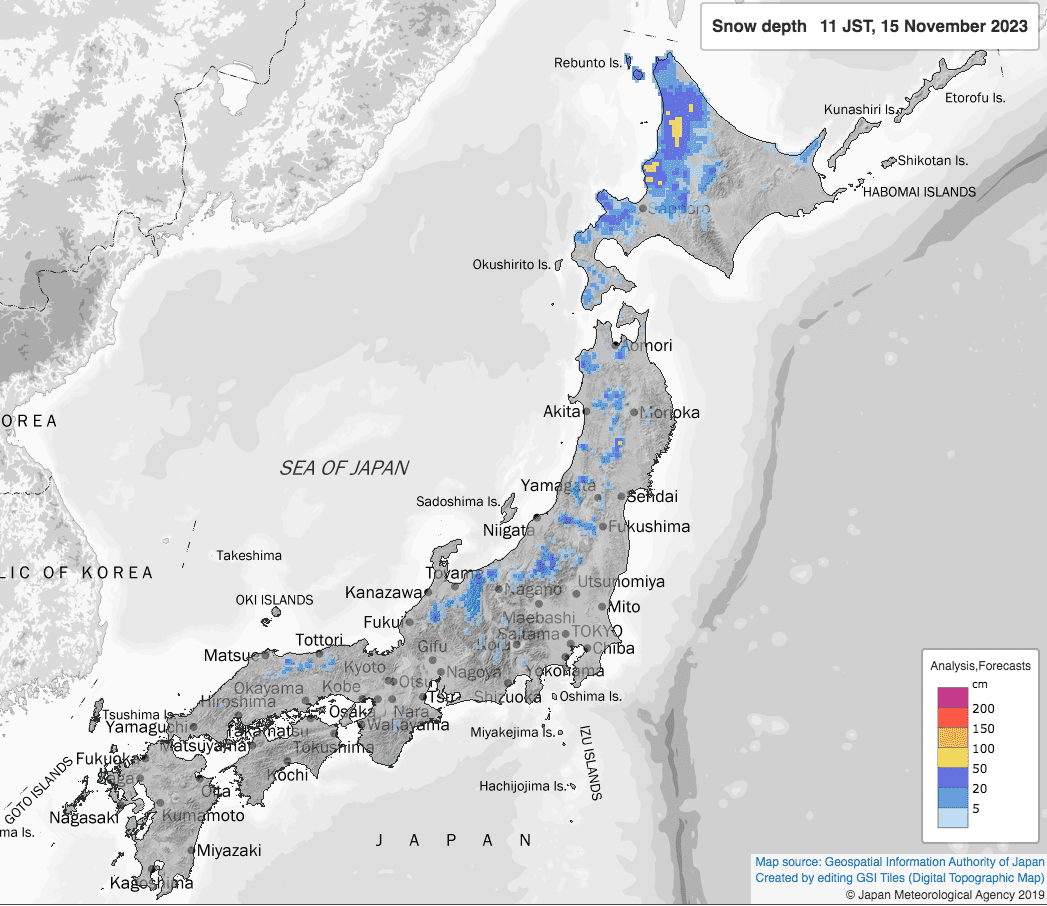 With just over a quarter of Japanese resorts aiming to open late November through early December, these early snowstorms are worth their weight in Yen, however, it's luck of the draw as to whether they'll stick. It's an anxious and fickle time as the Japow Machine coughs and splutters before really kicking into gear mid-late December when the bulk of resorts usually open.
As if to validate our fears, a whole heap of rain will wash through on Friday, causing significant damage to, if not decimating, this valuable early snowpack. However, remedial snowfall over the weekend and Monday could see up to 30-40cm falling on the upper slopes of the Hakuba resorts, however snow levels will fluctuate and there'll also be plenty of rain and slush mixed in on the mid-low levels. Elsewhere on Honshu and on Hokkaido, between 5-20cm should also fall at high elevations.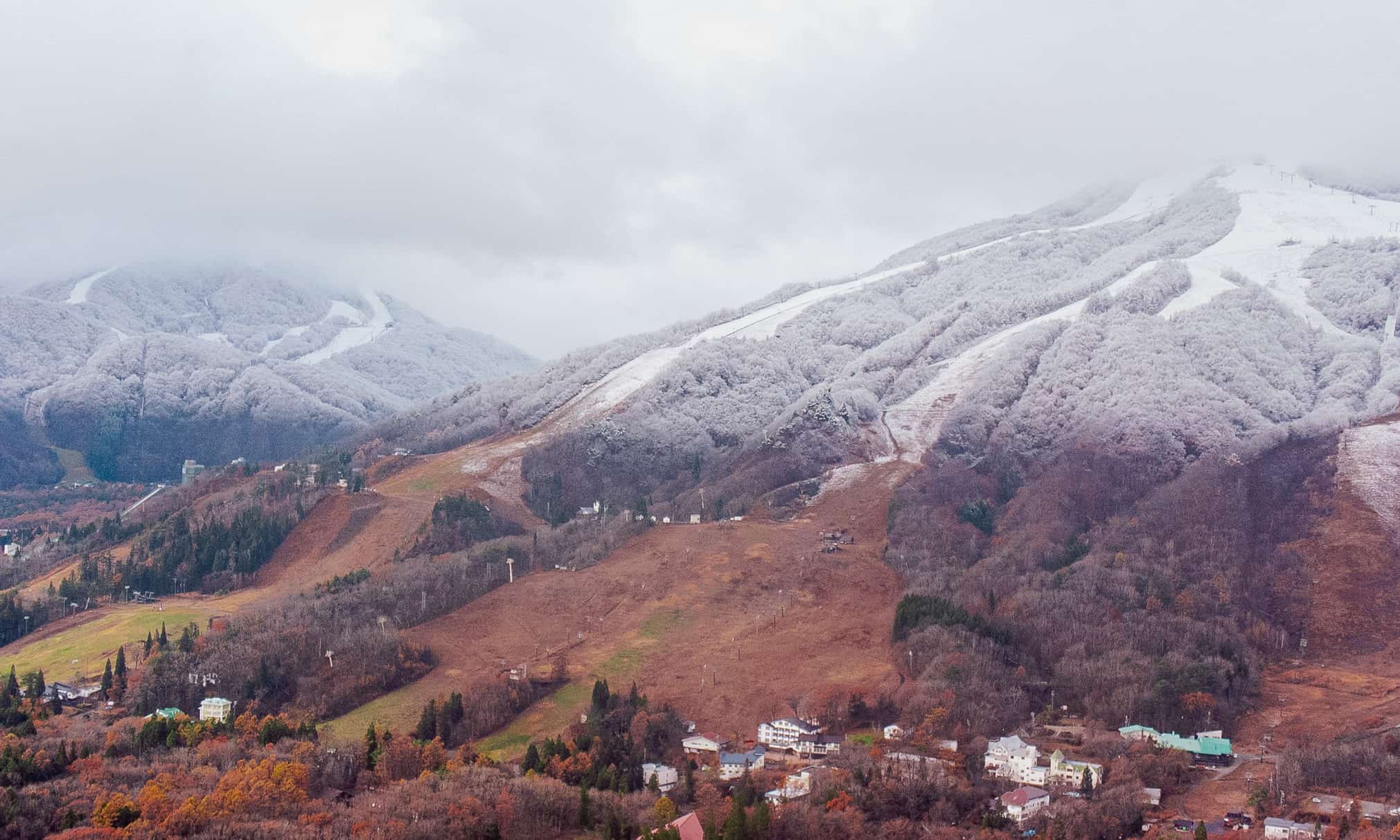 Models are hinting that the next big storm is likely to hit next Friday (24th Nov) or next weekend. There could be a couple or more days of action and temperatures are looking nice and Arctic, so it could be a real doozie, which will set things up nicely if it comes to fruition. More snow is possible later next week too, the final week of November, but we're getting into the mystical realm here, so we'll have to wait closer to the time before making any calls.
Climate drivers and seasonal models: still reminiscent of 2015-2016
Looking further ahead to the meat n' bones of the season, our main driver of climate variation in Japan, the ENSO, is now firmly in strong El Nino territory. Further warming over the next couple of months could see it reach very-strong thresholds. The stronger the El Nino, the more likely we'll see it's greasy finger prints on our charts.
Additionally, the Indian Ocean is also going through its own version of a strong El Nino. The BOM's latest figure for the Indian Ocean Dipole (IOD) index is +1.55°C above average, which is the second strongest IOD since records began in 2001. The IOD may affect early season snowfalls before likely breaking down during January.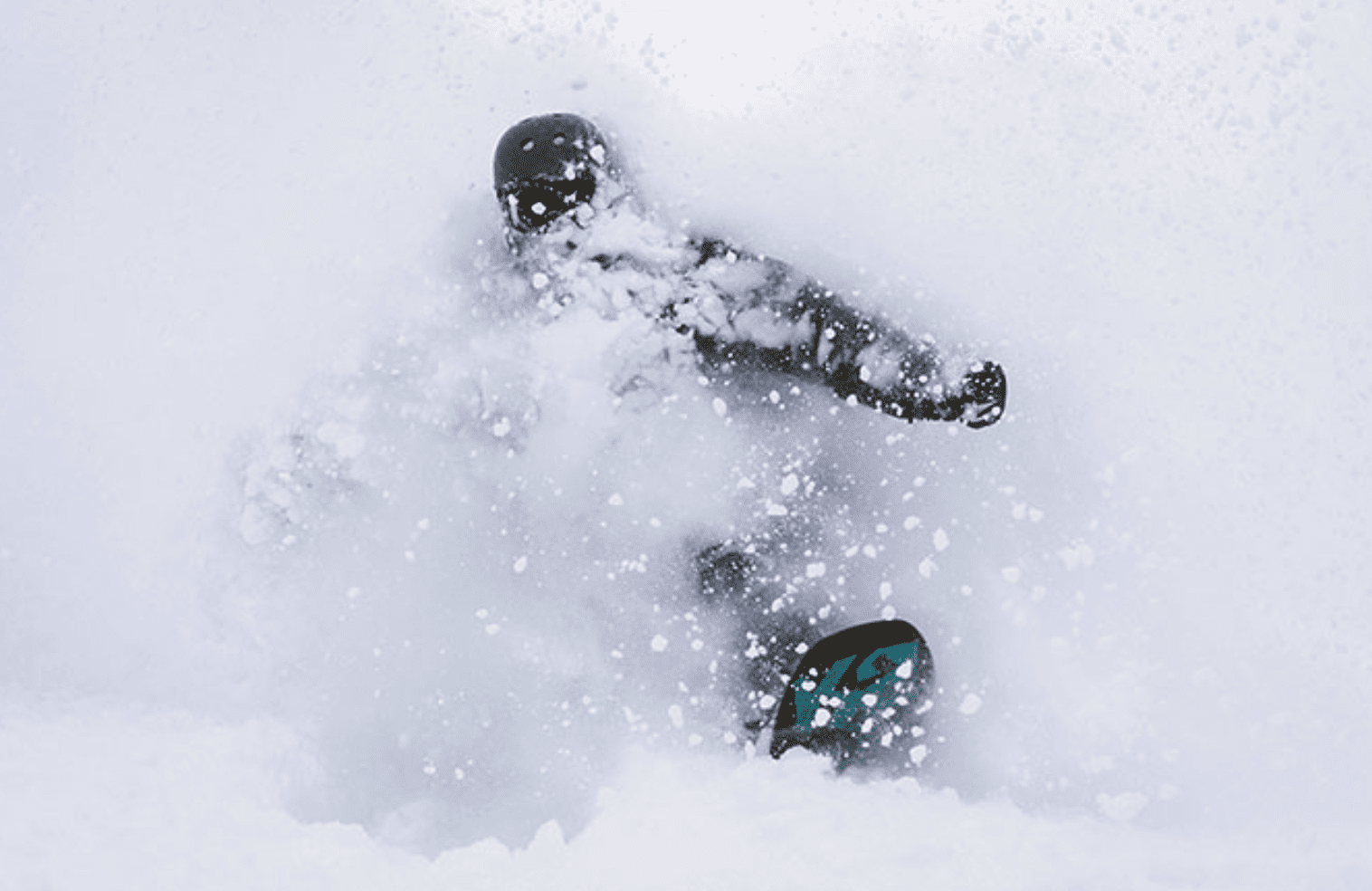 As I explained in the previous Japanese Outlook, both El Nino and a positive IOD can work in tandem to supress the East Asian Winter Monsoon (EAWM) by reducing convection around the Maritime Continent. A weak EAWM is linked to less snowfall, particularly on Honshu, due to a reduction in those crucial northwest winds reaching Japan.
And it's this last point that I wanted to delve into, because, while seasonal models have been all greased up and rolled in El Nino crumbs, on closer inspection they are also forecasting an increase in northwest winds over Hokkaido and northern Honshu. The reasons for this appears to be due to a strengthened Aleutian Low, causing an increase in winds circling in a giant anti-clockwise fashion over the north Pacific, as shown in the image below.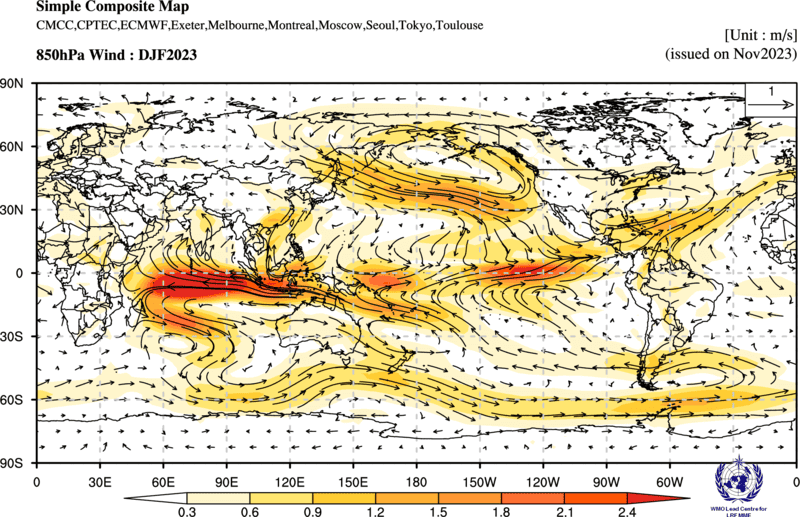 It turns out this is a normal thing, that during El Nino events the Aleutian low tends to be stronger than usual. It has to do with lengthening and strengthening of the subtropical jet over the Pacific – like it has just had a good Pilates workout.
Stronger northwest winds! Doesn't that mean more snow?
Well, yeah, maybe for Hokkaido and northern Honshu it does. Remember the 2015-2016 season? As I mentioned in the previous outlook, that was a very-strong El Nino event and Hokkaido and northern Honshu overall had average or above snowfall, while there was below average for central Honshu.
Well, the Aleutian low was super strong that season, which lead to stronger westerlies (zonal winds) over Hokkaido. Westerlies were close to average over Honshu, but here there were also stronger southerlies (meridional winds), which brought warmer airmasses (850hPa temperatures) from subtropical climes. Southerlies were also a touch stronger over Hokkaido, but airmasses fortunately remained about average.

So, to wrap this big baby up, the story is basically the same from last month, except I give Hokkaido a few more bonus points towards average or above snowfalls this season. As I attempted to explain above, this is because models and climate drivers are reminiscent of that 2015-2016 season where stronger westerlies may have provided the goods for Hokkaido.
Central Honshu is most likely to receive less than average snow this season, with warmer winds and rain out of the southwest showing up more than usual. Northern Honshu could go either way, but has a good chance for average snowfall.
Remember, the above discussion is talking about averages over the course of a season, which you and I know, it's more often about timing. A little more or less snow here and there isn't likely to spoil the saké. Plus, seasonal models and climate drivers quite often don't go to plan; they're only dealing with perhaps up to 10-20% of variation, leaving the rest up to luck, which is only reasonably forecastable out to 7-10 days. So be sure to keep on top of things with my weekly forecasts starting mid-December.
Grasshopper