2023 Season Wrap – The Good, the Bad and the Ugly
September 29th, 2023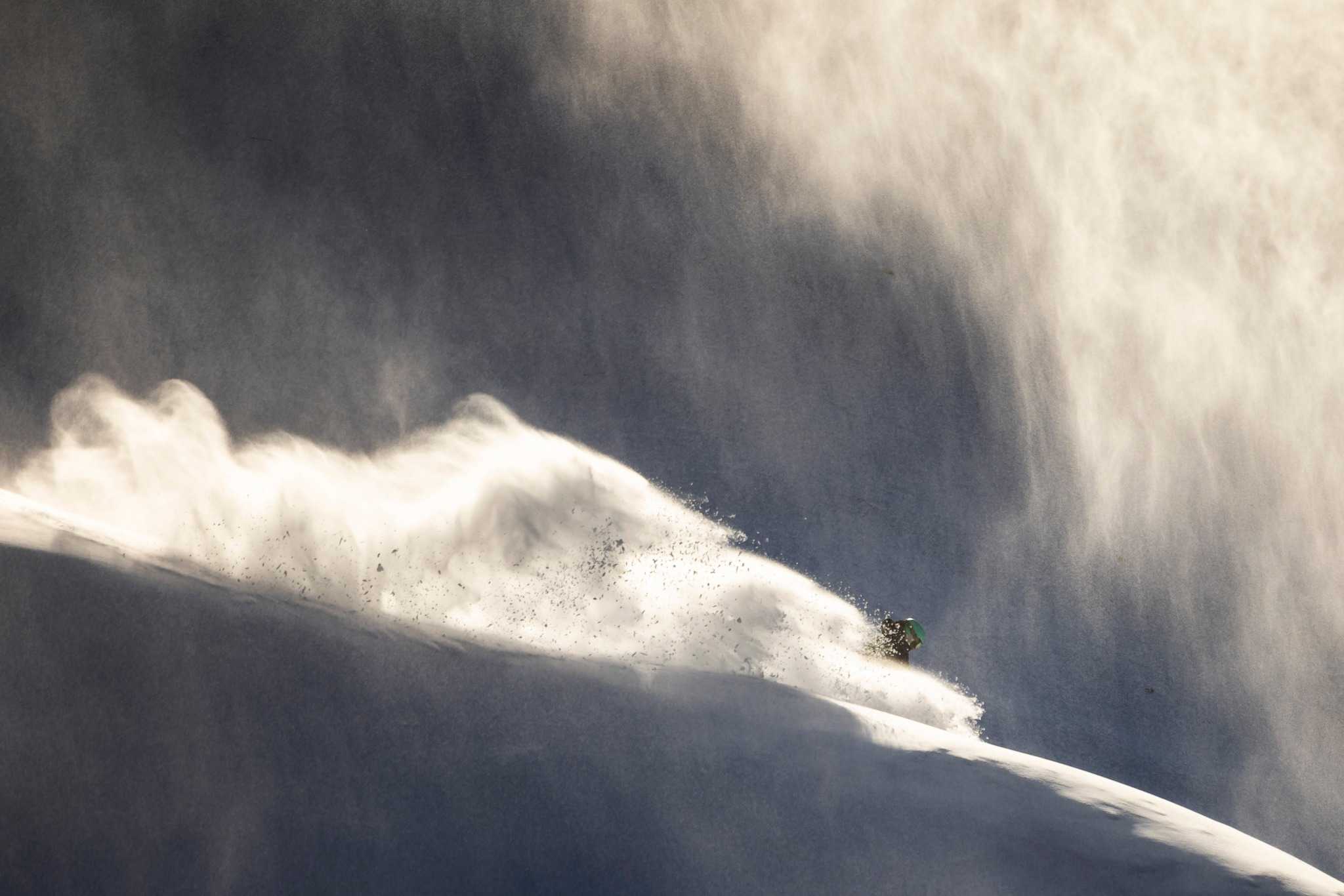 Mountainwatch | Reggae Elliss
The last lifts stopped spinning for the 2023 season few days ago when Perisher closed on Monday, the first time that at least one resort hasn't made the October long weekend in a long, long time. This coming weekend is usually the closing weekend and the resorts like to go out with a bang, like last year, with pond skims, grand final parties and fun spring snow.
Not this year, a season that went out with a whimper, ending two weeks early for most resorts thanks to a low snow year, above average temps and hot northwest winds and the fastest meltdown in memory.
So, how to summarise the 2023 season? Given the slow start, early finish, three-week ice age during July, spring temps and hardly any snow in August and summer temps in September it's fair to say, as far as the snow totals and snow quality goes, the 2023 season was pretty bad.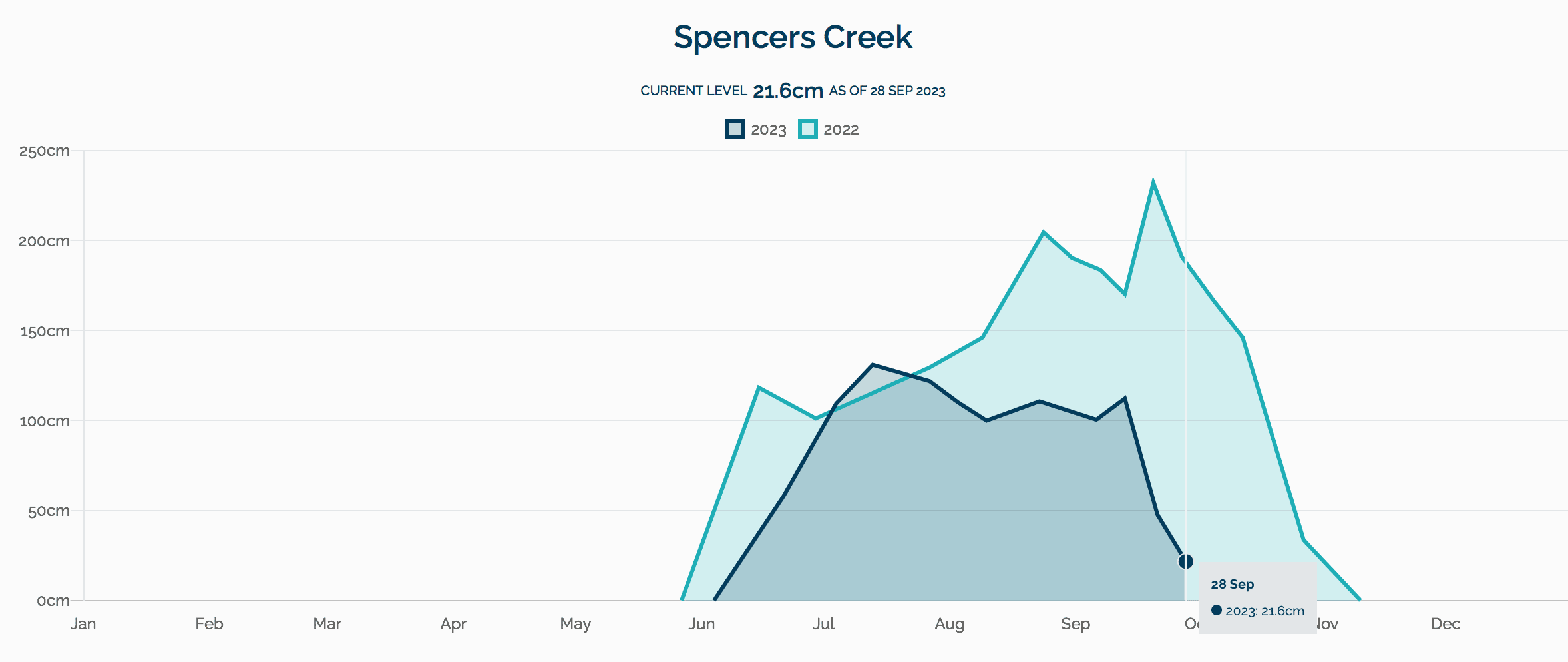 How bad? Well, Snowy Hydro's snow depth at Spencers Creek peaked at 131cms on July 13th, the lowest reading since 2006's 85.1cms, but not far below the 148cms of 2015. Also, in most winters the peak snow depth is reached in August or September and this year, for the second time since 2014, it peaked in July, the last being in 2021 when it reached 183cms in late July. Yesterday's reading came in 21.6cms, down from 112.3cms two weeks ago, a good illustration of this year's early and rapid snow melt.
For meteorologists like our own Grasshopper, the lean snowfalls this winter weren't a surprise as pre-season outlooks were indicating a developing El Nino which means dryer and warmer weather.  In the May update of his season outlook the Grasshopper wrote that: "There's a reasonable chance we'll reach El Nino thresholds in June, if not, then most likely during July. From then onwards, El Nino is expected to build to a moderate strength, possibly even reaching "strong" thresholds by the end of the season. "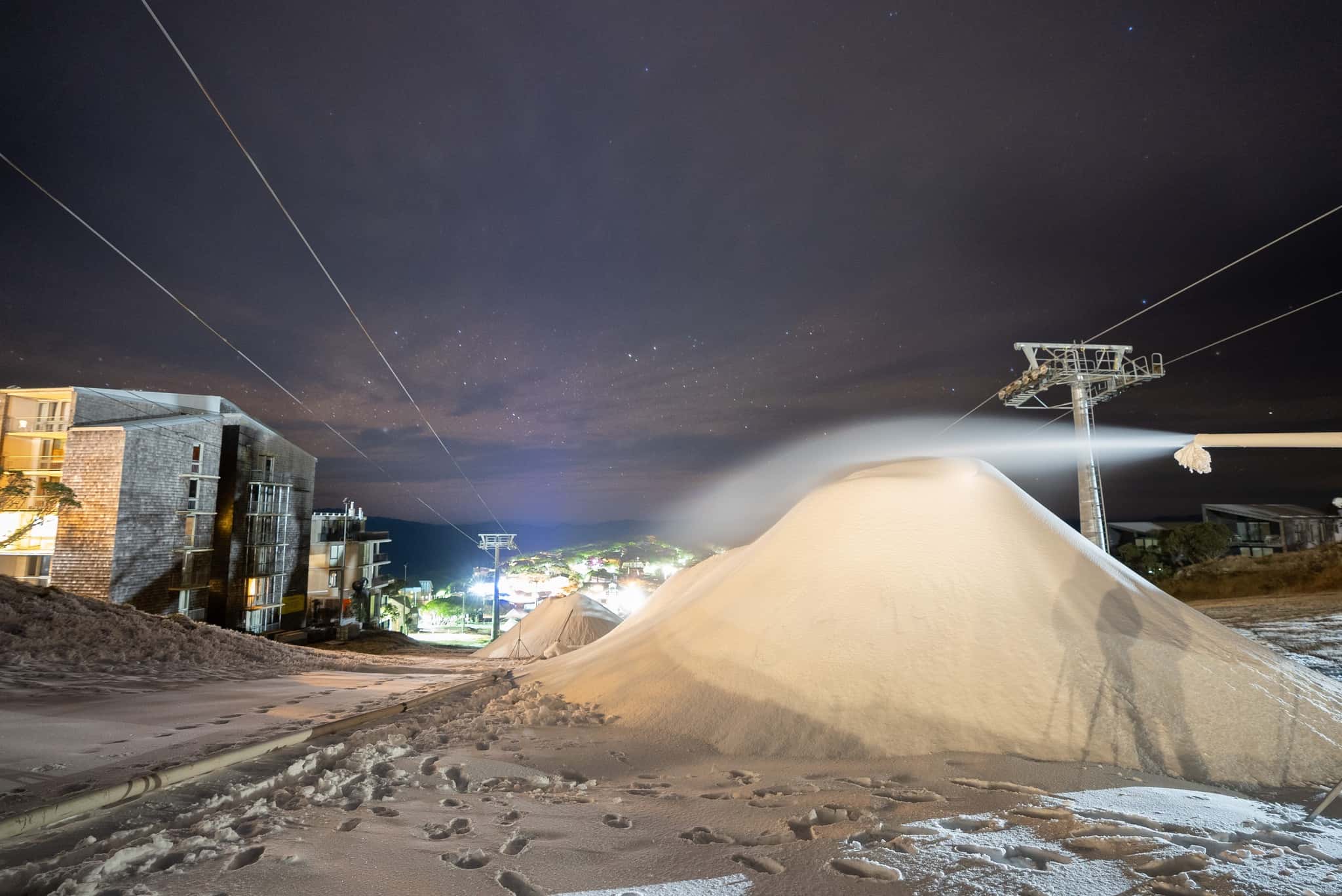 A lack of pre-season natural snow and minimal snowmaking thanks to warms temps in May resulted in only Buller and Perisher having any lifts spinning for "official" opening day on Saturday June 10th, Buller with Bourke St open while Perisher had half a T-bar open on Front Valley. However, that is not unusual, and it was a typically fun opening long weekend, more about socialising than skiing or snowboarding, the resorts celebrating the start of the season with a live music, fireworks a lot of fun. And there was snow in the forecast.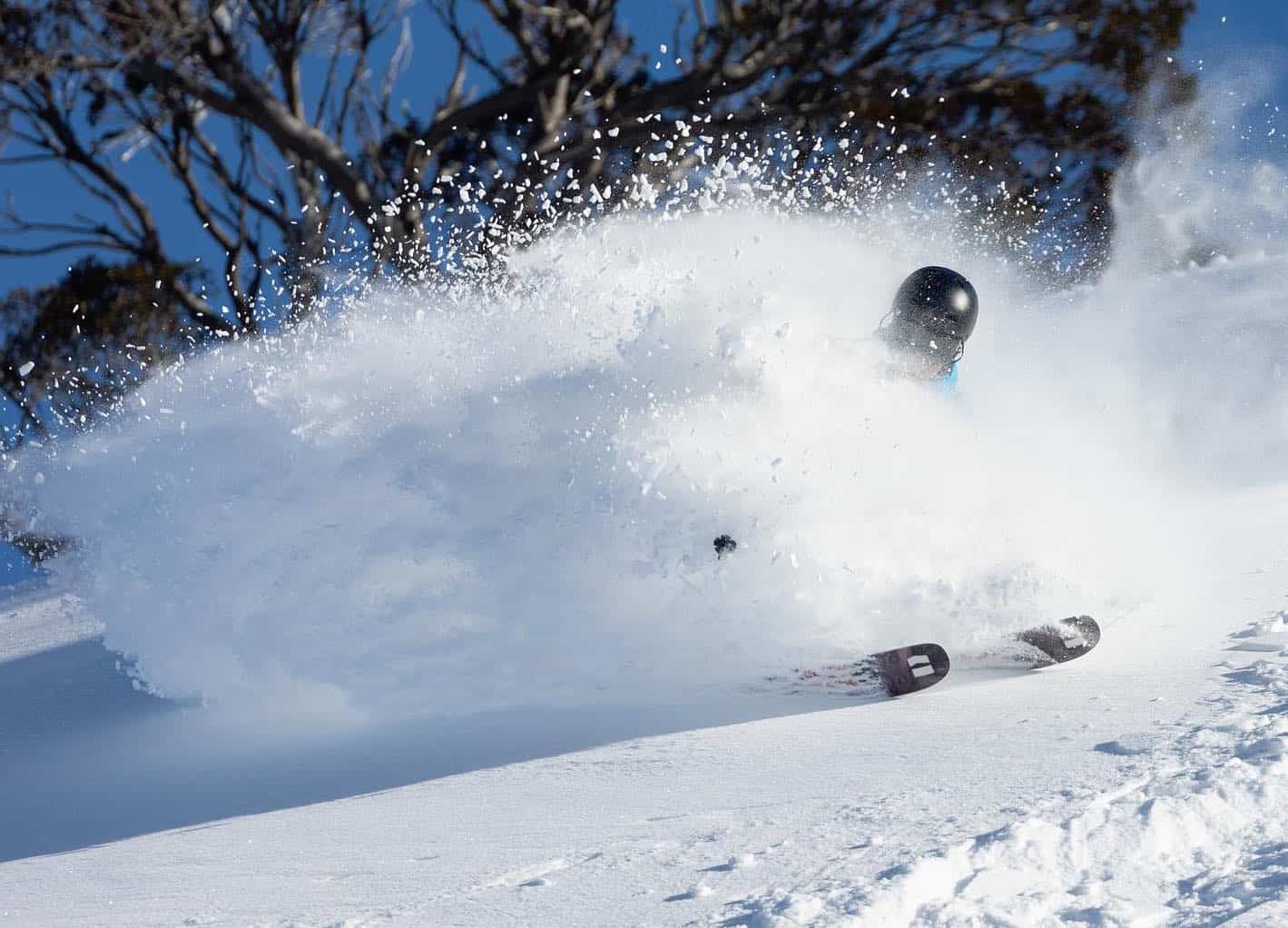 The first cold front of the season came in on Tuesday after the opening weekend, June 13th, with strong WNW winds and 10-15cms falling above 1600 metres, enough for Falls Creek and Hotham to open on June 16th.  That was followed by another 30-35cms on June 19th-20th, the accompanying cold temps ensuring quality dry snow which, as it turns out, was some of the lightest snow of the season. Thredbo opened on June 20th and in some great news for the snow industry, Selwyn, which had been closed since the 2019/20 summer bushfires opened lifts on June 23rd.
Then a series of cold fronts delivered daily snowfalls of 10-15cms, Thredbo, Charlotte Pass, Falls Creek and Hotham picking up totals in the range from 55-80cms from June 22-27. Buller missed out on the snow on a couple of days and received 22cms during that period while Mt Baw Baw received 16cms. Selwyn Snow resort, which is further north also picked up 20+cms.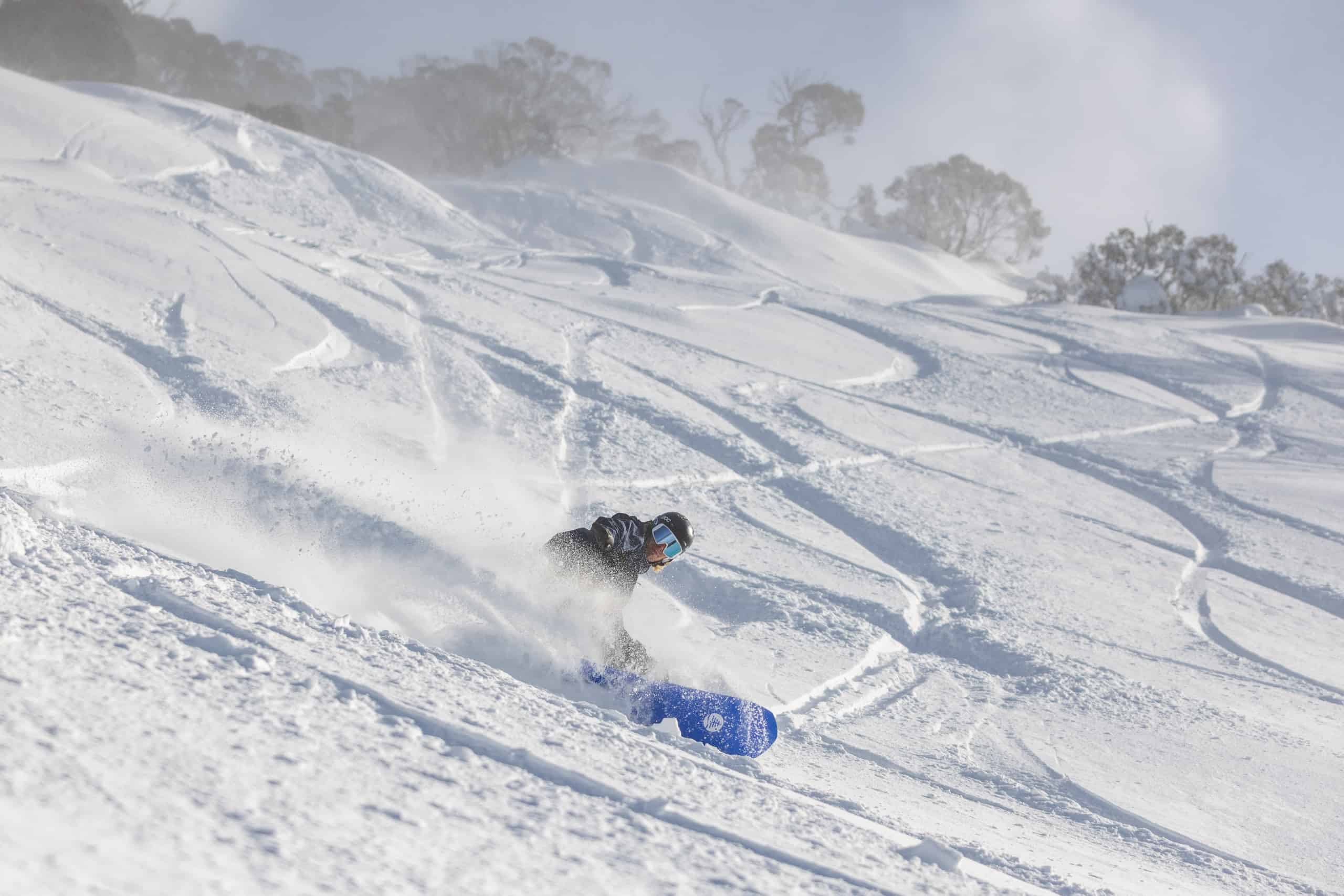 There were some good days during that week with a couple of good powder days off piste and perfect corduroy on the groomed runs. It was also great timing, allowing the resorts to open more lifts and terrain by the time school holidays were in full swing, with close to 70% of terrain open on a mid-mountain base of 60-80cms.
The first week of July saw a mixed bag of weather with some drizzle on July 5th ahead of a strong system cold front which due the following weekend.  In his forecast on July 7th the Grasshopper was calling "the snow storm of the season lined up to dump a whole heap of powder on us during Saturday. With additional light snowfall either side during Friday and Sunday, we're looking at accumulations of 25-50cm."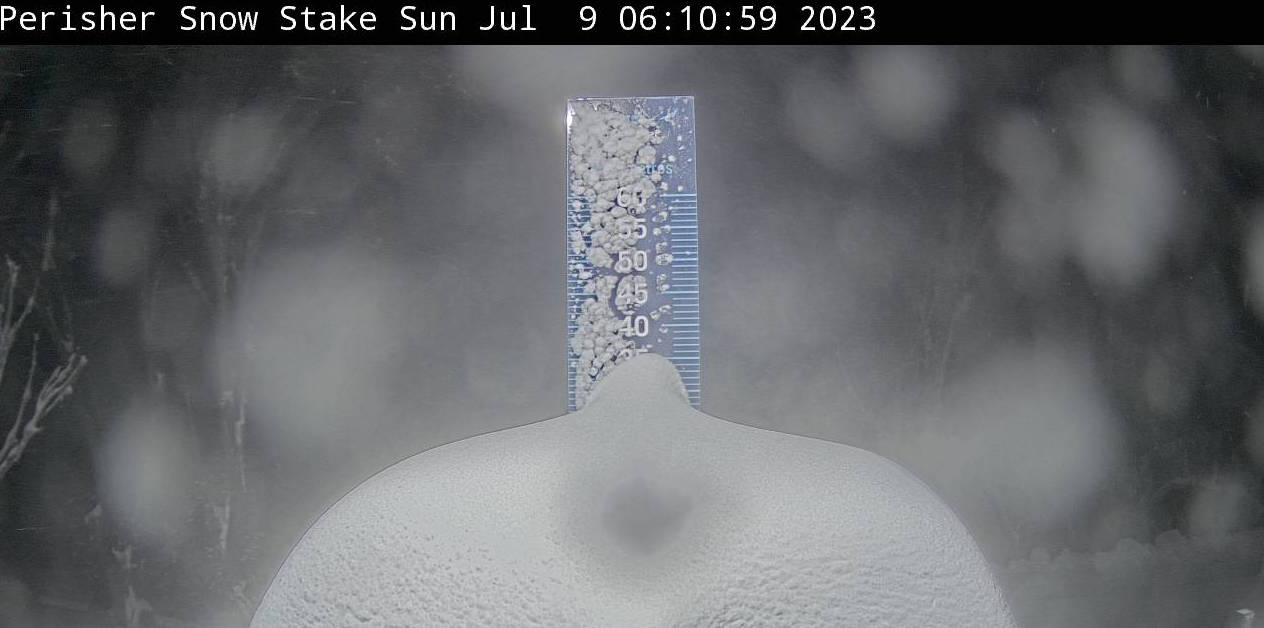 The main storm hit on Saturday July 8th with gusty WNW winds blowing a lot of snow around with heavy falls at times and total of 25cms during the day. Not a day for the fair-weather skiers, but it was a classic storm day and for me, one of the best days of the season with boot-deep light powder and constant refills.
There was another 15cms overnight, but the last round of snow was wet, borderline drizzle and the weather cleared just before dawn, leaving a frozen wind-packed surface crust that made it very hard going off piste, not the bluebird powder day some were anticipating. The best description I heard for the snow that day was that it was "aggressively mediocre." However, the snow totals were solid, the storm dropping 48cms over a three-day period.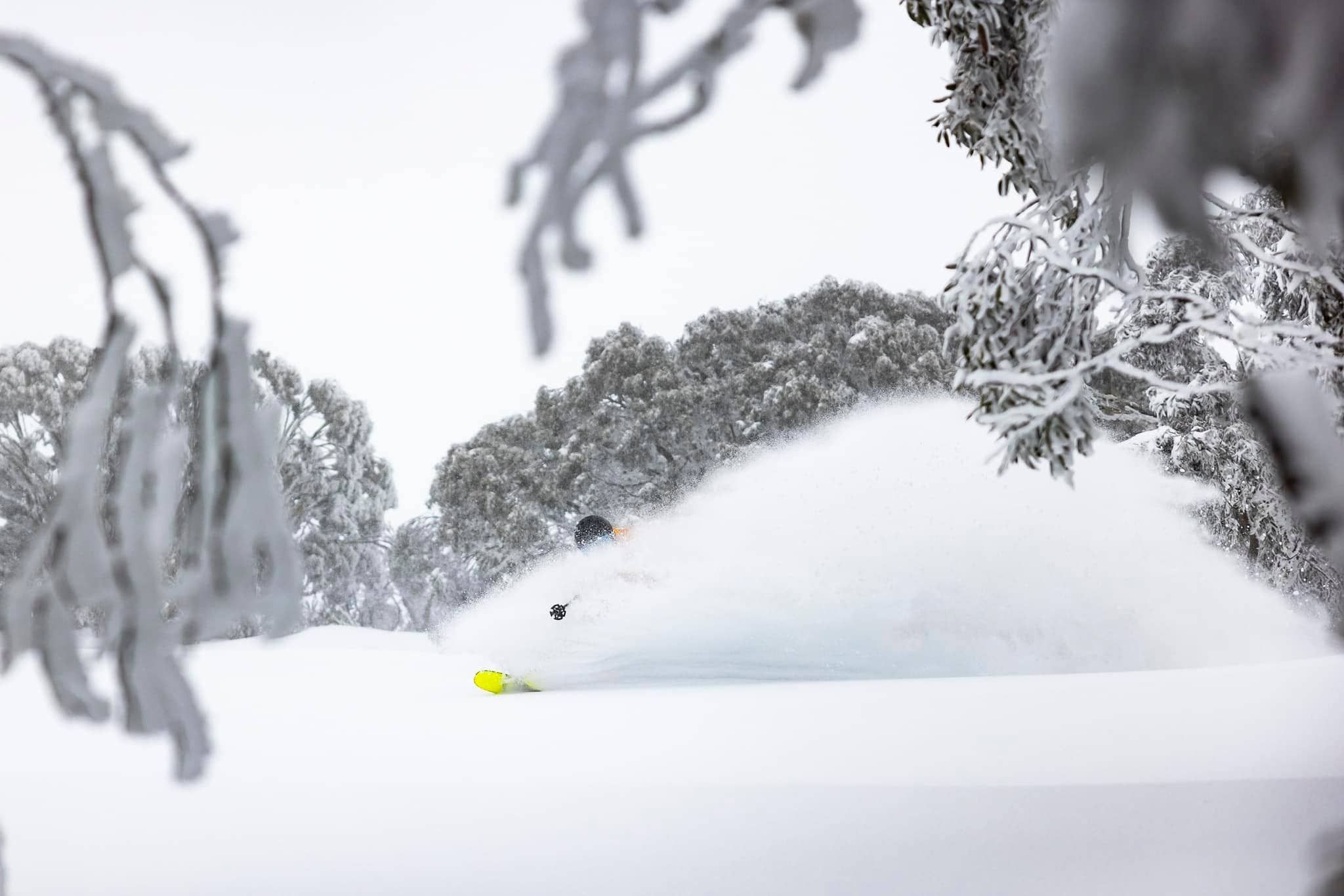 Sunday's wet snow then copped a deep freeze and the rest of July was mainly dry and clear with warm temps resulting in only a few nights of snowmaking.  The cover stayed firm for the rest of the month, weeks of frozen unrideable coral reef off piste with hard-packed groomers on piste.
It may have been the longest run of on-piste only skiing I can remember but given many people who buy lift tickets in Australia prefer to stay on piste and the weather was pleasant, most visitors during mid-July were pretty happy. There were also a few snowmaking nights that created some nice corduroy for some early turns while the terrain parks were also in great shape with plenty of sunny days during the weeks-long run of fine weather.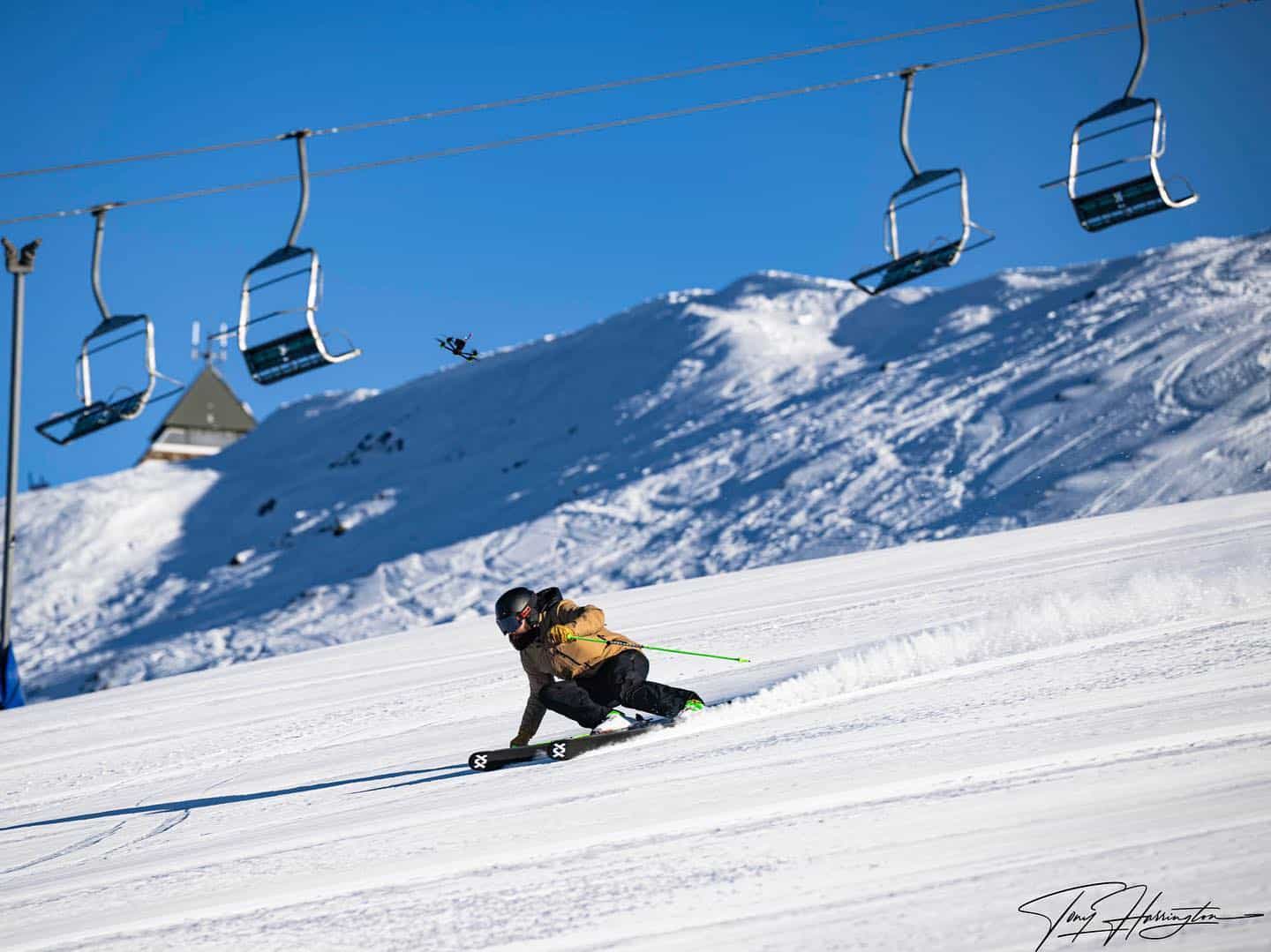 It may have been the longest run of on-piste only skiing I can remember but given many people who buy lift tickets in Australia prefer to stay on piste and the weather was pleasant, most visitors during mid-July were pretty happy. There were also a few snowmaking nights that created some nice corduroy for some early turns while the terrain parks were also in great shape with plenty of sunny days during the weeks-long run of fine weather.
However, there was a slow but steady decline in the snow pack during the back half of July and while a warm cold front with howling northwest winds dropped a few centimetres of snow above 1700 metres on July 28th, but 15-20mm of rain at lower elevations.
At the end of the first week of August, the snow depth at Spencers Creek was around a metre but remember that's at an elevation of 1800m and the base at lower elevations in Perisher, Charlottes and Thredbo was less and the snowpack was pretty fragile. The natural snow depth in the Victorian resorts was also very low for the start of August – Mt Buller with 27cms, Hotham 54cms and Falls Creek 55cms.
Unfortunately, the lack of snowmaking during the back half of July and a couple of rain events forced Selwyn to suspend lift operations at the end of July. It reopened again a few weeks later on August 19, but only for a couple of days on minimal terrain before another wet front washed out the cover.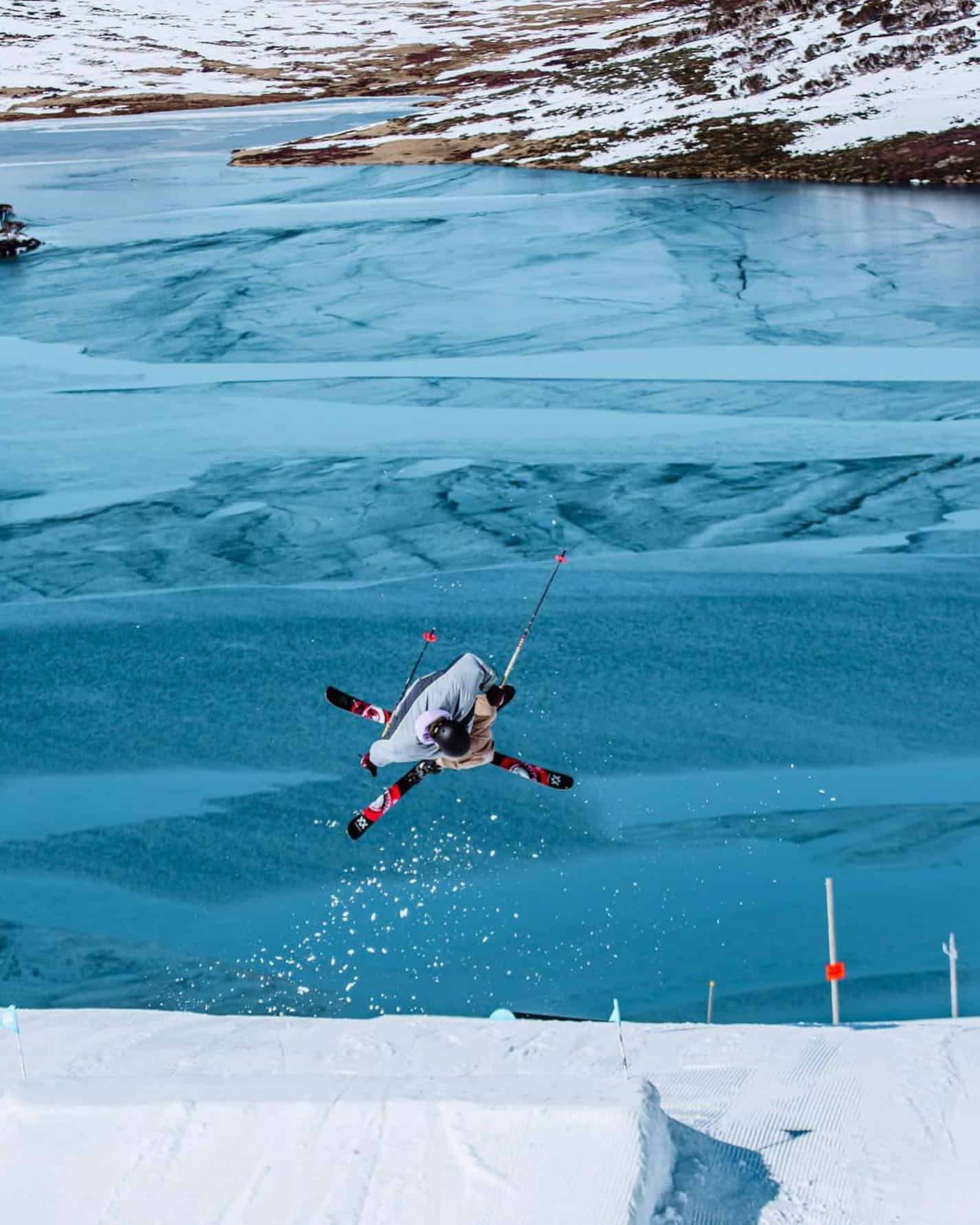 Obviously, the pre-season predictions of a warmer than average winter had come to fruition, the Grasshopper reporting in his August season update that ,  "Daytime temperatures were generally 1.5-2℃ above average in the mountains through July and the first two weeks of August. For Perisher Valley, it was the warmest July in terms of both daytime maximums and overnight minimums in at least 13 years. Sydney had its warmest July in 164 years of records."
That trend continued for the rest of August although we did receive a small 5-10cm top ups August 10th and while it wasn't huge, it was enough to ensure some fun turns off piste and there were also a few good days in the backcountry. We then had another 10-15cms August 18th-20th and with temps down at -5, Saturday August 19th was a good day.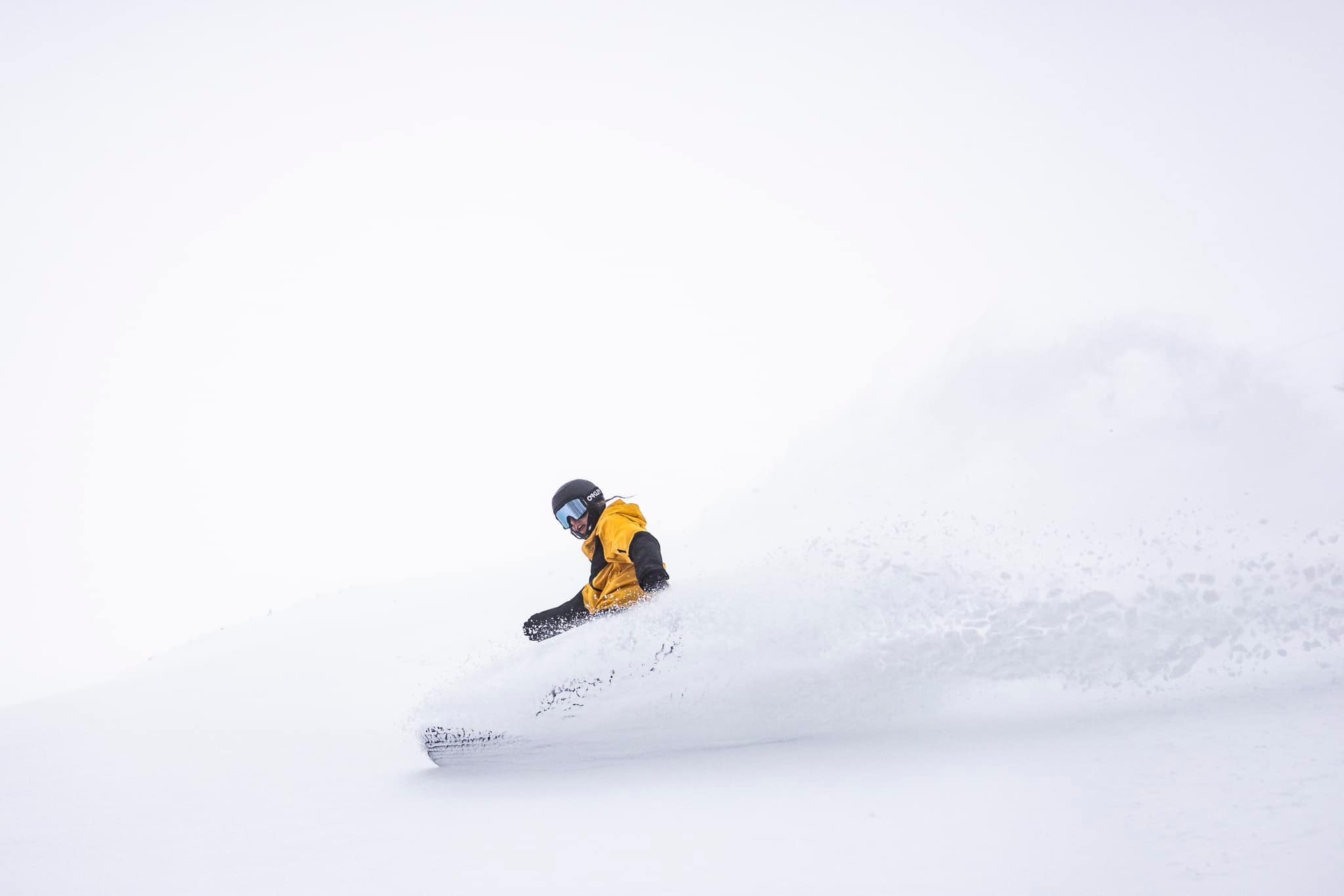 The snow depth at Spencers Creek climbed back to 110cms on August 23rd but the snow totals of just 25cms for the month it was the driest August in a long while. The month closed out with strong warm northwest winds and dawn temps at +4 to +6 degrees which resulted in an accelerated snow melt at lower elevations and on flatter, exposed areas, forcing the resorts to close some lifts and terrain.
By this stage Buller had already lost its northside terrain and it was getting patchy at the bottom of the open runs, forcing the cancellation of the national interschools event which was scheduled for September 5-10. The general comment was the cover in the resorts was looking more like the first week of October than early September.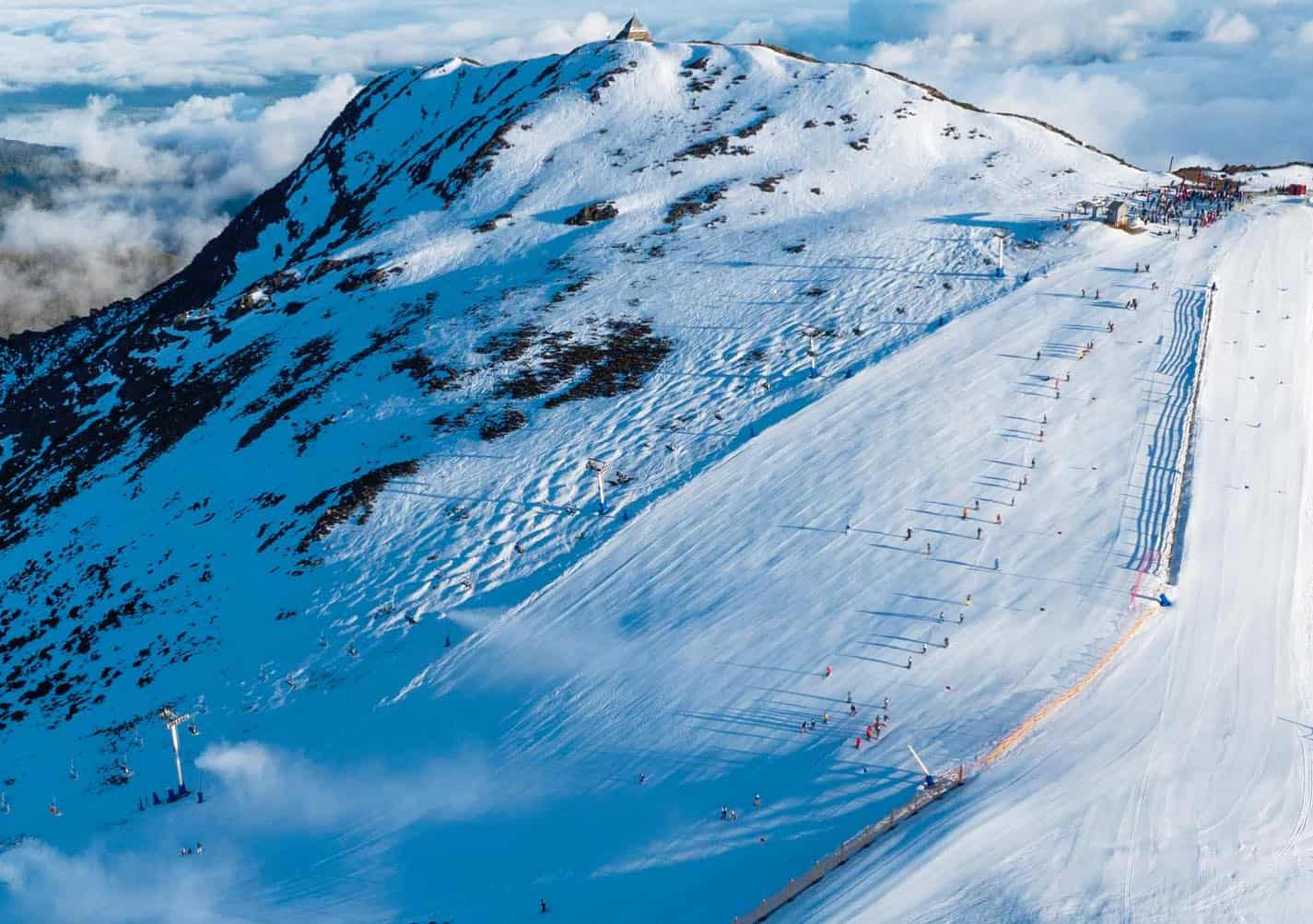 Falls had already lost the Summit and Selwyn was closed for the season. Perisher closed Smiggins on August 30, then Guthega and Blue Cow weren't far behind, closing on September 3rd. Hotham closed Heavenly Valley on August 31st and Thredbo closed the Supertrail on September 4th.  Mt Baw Baw, which had been operating on a minimal cover for the second half of August also closed on September 3rd.
Typically for this season and a case of too little too late, the forecast was for a storm set to hit on Friday, September 8th which the Grasshopper pointed out could be "the biggest snowstorm to hit the Aussie Alps since early July".
After a round of heavy rain in Thursday night the storm hit on Friday with full on blizzard conditions, wind-hold and 25cms of snow, setting up a fun, powder morning at higher elevations on September 9th  Cold maintained that quality winter-like snow for the next few days and the skiing was great while those who ventured into the backcountry were rewarded with a couple of the best days of the year.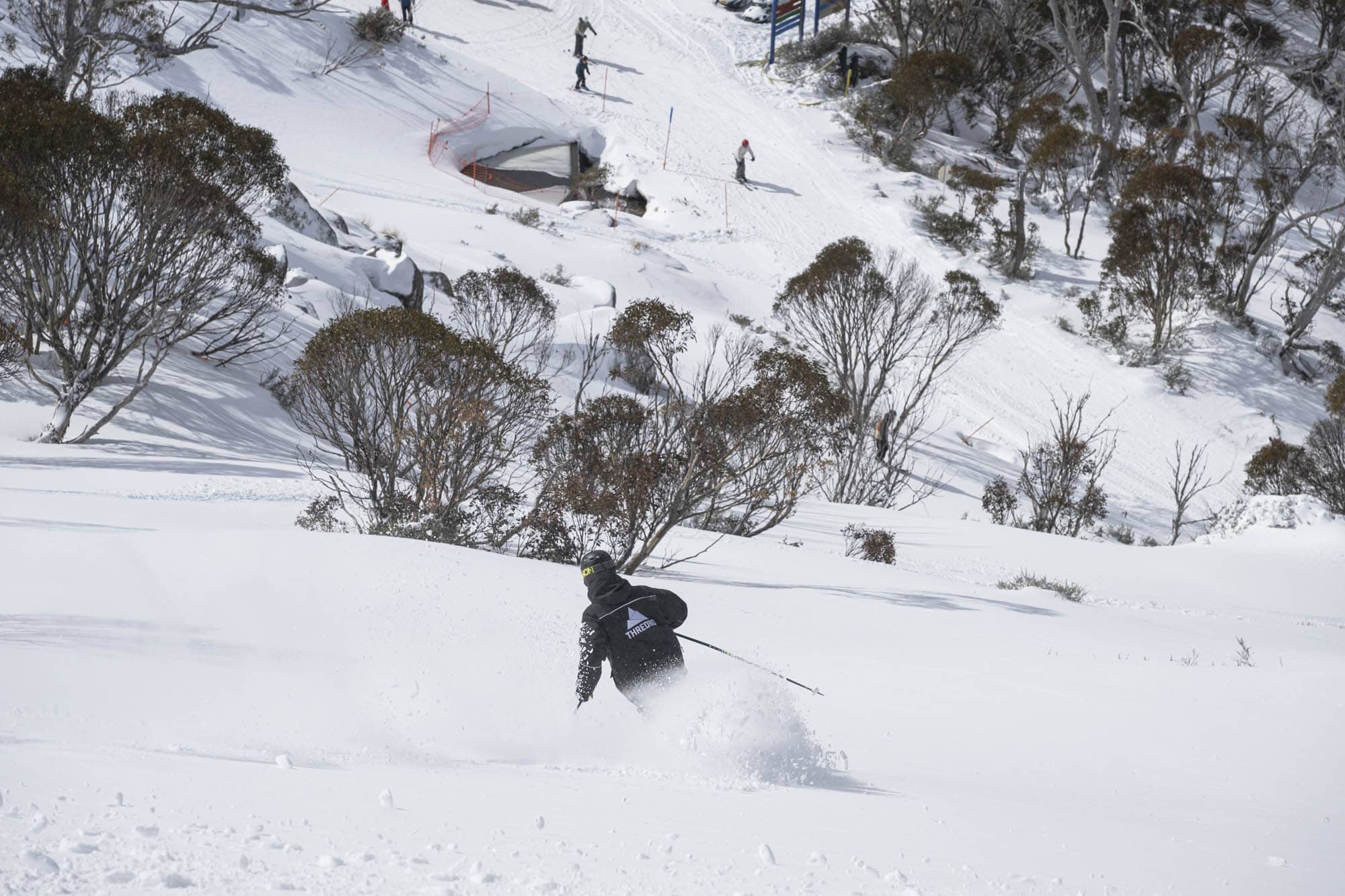 The temps climbed on the following Wednesday and when I filed my snow report on Thursday Sept 14th the temp at the top of Thredbo at 6am was 10.7 degrees. Hairdryer north west winds picked up that afternoon and blew all night and then around the clock for the next for the next few days.
I spoke to one of the groomers in Thredbo early on the morning of the 15th and he reckoned they'd lost 50% of the snow cover on the upper mountain in 24 hours and it got worse by the day. Thredbo remained on wind-hold across the weekend, and the snow melted so quickly the resort never had the chance to re-open  officially closing lifts on Monday Septmber 18. Hotham and Buller also closed September 17 while Falls managed to keep going to the 20th, leaving Perisher the last resort standing.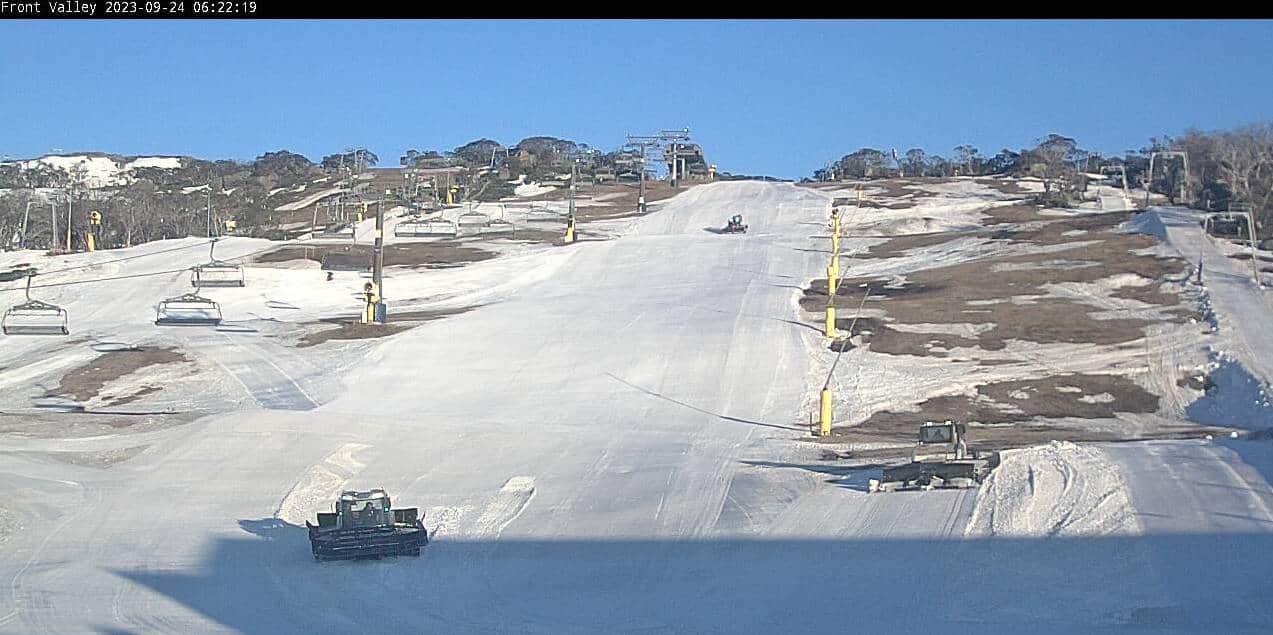 Perisher put in a massive effort, using the snow from the terrain park jumps to keep Front Valley and the Leichhardt loop open for another week. It was a valiant effort, lifts finally closing four days ago on September 25th.
And that was it. 2023 season was over. Now while the stats on snowfalls and base depth point to a poor season, there were some definite highlights and if you were there at the right time, plenty of fun days, both on and off the hill. As usually it was all about timing – and a bit of luck!
A big thanks to the mountain operations departments in all the resorts who did an amazing job, especially the groomers and snowmakers who kept as much terrain open for as long as possible in adverse conditions. Overall, it was a short and not so sweet season – bring on 2024.