A Season of Highs and Lows – 2015 Wrap Up – Snow Journal
October 2nd, 2015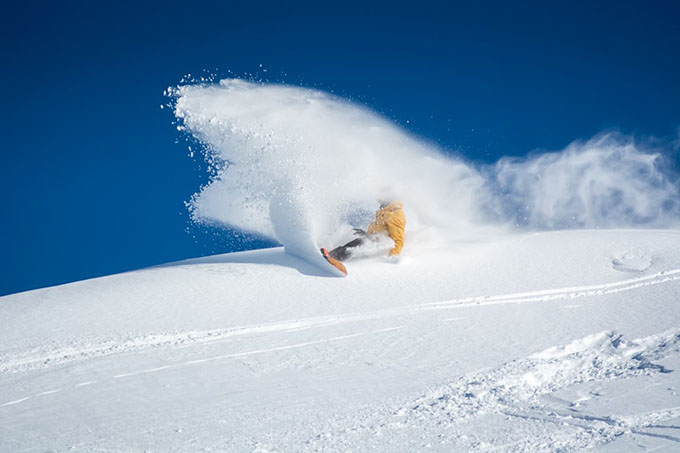 Nate Johnstone buries his tail in some late-July perfection Image:: Supplied
Mountainwatch | Reggae Elliss
It's the last day of September today and I just had another great morning of spring skiing. Most people I have spoken to seem to agree, this is the best late season we've had in years, overnight freezes have been ensuring that quality snow is on offer every morning.
There's only a few days left before the last lifts close in Australia for 2015, Perisher and Thredbo will have lifts spinning until 4.15pm on Oct 5, Falls Creek shuts on Oct 4, while Hotham and Buller pulled up stumps last weekend.
WATCH NOW: Reggae's Video Wrap-Up
Please enable Javascript to watch this video
The smaller resorts closed a few weeks ago, Selwyn due to a lack of snow, but Charlotte Pass and Baw Baw shut with a pretty good base, sticking to their timetable and closing on Sept 13.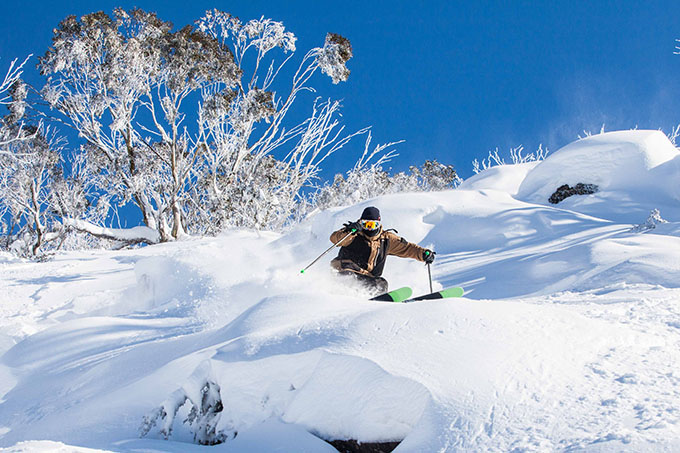 July 17 in Thredbo was perfect. Blue sky, no wind and plenty of pow. Image:: Thredbo
After a slow start, it has turned into a pretty good winter with a six-week period from mid-July to late August where we had consistently cold temperatures and plenty of squeaky winter snow.
We also had minimal rain during that period. As they say, the difference between a good season and a poor season in Australia is 1.5ºC.
Just like in 2014, the pre-season talk was about the developing El Nino and how it would affect the snow season. In 2014, The Grasshopper spoke of the "Wrong'un" version of an El Nino, which resulted in good snowfalls from late June until the end of July. I'll let him explain: "I've been calling these El Nino's Wrong'uns for the last couple of years because they spin the other way. Instead of a big high-pressure anomaly, during June to August we see a large area of lower pressure sitting just south of the continent. This will mean heaps of frontal activity. Loads of cold air. Plenty of snow."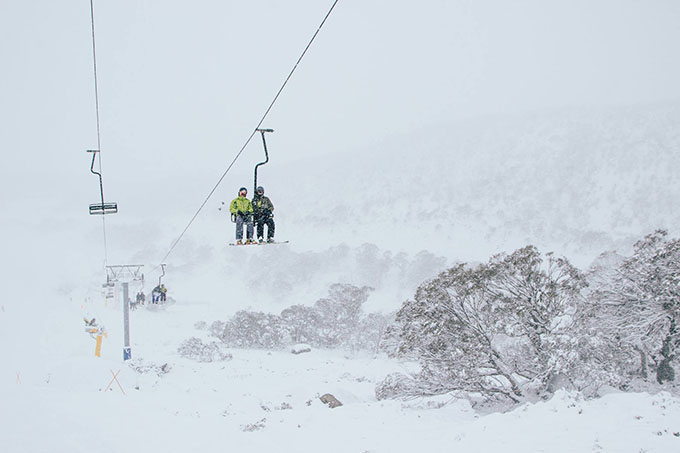 By July 20 more and more terrain was beginning to open. Image:: Perisher
Of course the second half of 2014 was dominated by "classic" El Nino weather patterns and it hardly snowed at all, the 2014 August became known as one of the worst ever for snowfall.
Hence the fears about how this season would pan out.
After a solid 20cm snowfall on the first day of winter, June 1, which was five days before the opening weekend, optimism was high that we could see another "Wrong'un" El Nino develop. That snowfall and some good snowmaking nights in the two weeks leading into the season saw all resorts in Australia open some lifts for day one of the season on June 6, the first time that has happened in five or six years,
However, the optimism was short-lived. A series of high-pressure systems dominated for the next six weeks and June passed by without another snowfall. There were a couple of systems that looked like they were going to deliver some real snow, but they were pushed south by a dominant high-pressure system, missing us but crossing the Tasman and giving New Zealand some significant falls in June.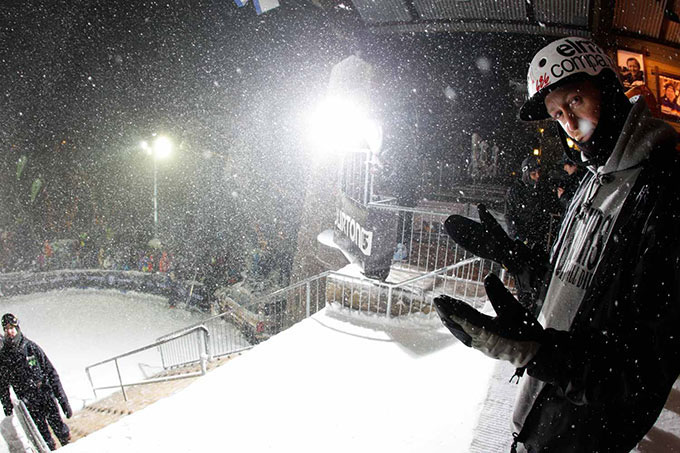 As per tradition, a raging snowstorm hit the Burton Cattlemans event in Mt Buller just in time for the kick-off Image:: Robbie Warden
El Nino was starting to bite.
Fortunately, there was minimal rain during June and cold enough nights for the snowmakers to maintain the cover on the limited open runs. The pressure was on with school holidays starting on June 26, and for the first week it was all about snowmaking while the groomers did a good job, with some excellent on-piste skiing available each morning. Nevertheless, it was getting depressing having to write the same sentence in the snow report each morning: "Good skiing and boarding on a limited man-made cover."
A weak cold front finally delivered some snow on July 2, only about 5-10cm, but it raised everyone's spirits and helped to get a bit more terrain open.
However, by the third and final week of school holidays, when everyone was more than a little jaded with the lack of snow, The Grasshopper saw a glimmer of hope. It looked like the high-pressure systems were going to stall over central Australia, allowing a few fronts to sneak up underneath from the southwest with potential for good snowfalls the following weekend. Sure enough, it started snowing on Thursday, July 10 with a few centimetres overnight. A stronger front came through the next night, dropping another 10-15cm on Saturday evening. By Sunday morning the school holiday crowds were packing cars for the return journey home, leaving behind 20cm of fresh snow. Ouch.
"It was not only the best day in a year, but also one of the best days I've ever had here."
On Monday morning July 13, we'd had another 15cm overnight with a 25cm total in the past 24 hours, taking the total to 50cm across the weekend. That was the start of a good week with light snow, excellent skiing and most resorts openined more terrain each day. By July 17, a total of 105cm had fallen in a week, and the base cracked half a metre for the first time this winter. Another strong storm came through on the weekend of July 25-26, and while the wind was howling and visibility was poor, the snow was excellent. Those who braved the blizzard condition enjoyed the best two days of the season so far.
Over 45cm fell across the weekend in the NSW resorts and Monday 27 July was the first time the call of "the day of the season" was made. In my morning Thredbo snow report, I said the following: "I can see the top of the mountain now, and it looks incredible. Best day since last July. It is going to be an awesome day, enjoy it.
As it turned out, I wasn't wrong. The snow was deep, fresh, and light with a layer of dry wind-blown on top and some of the prime off-piste areas were unbelievable. It was not only the best day in a year but also one of the best days I've ever had here.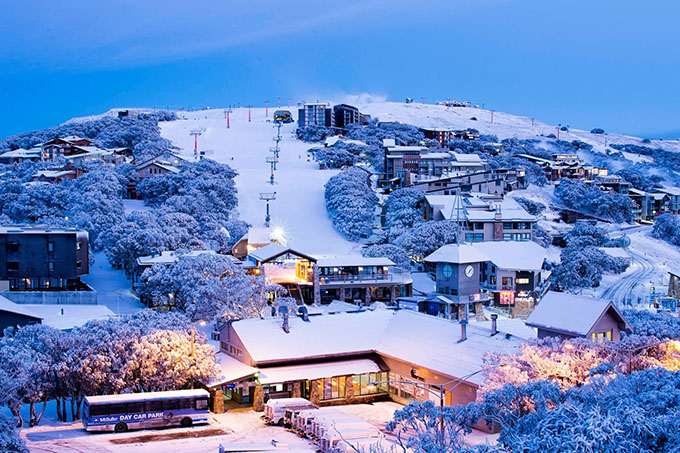 By July 12, Mt Buller was transformed. Image:: Mt Buller
By this stage, the NSW resorts had all lifts and close to 100% of terrain open and Falls and Hotham weren't far behind. Buller hadn't received the same amount of snow but was still travelling OK with 20 lifts and 70% of terrain open in the first week of August.
The first half of August kept things turning on with a mix of snowmaking and a couple of smaller storm dropping 5-10cm of snow. It stayed cold, and the snowmakers had some big nights at full capacity and the natural snow stayed dry and the snow was excellent on and off piste. Unlike last August, there were also quite a few days with moderate to strong winds, predominantly out of the WNW. This is the perfect wind direction for Thredbo as it blows in a lot of snow from the Main Range, and it turned on a few afternoons of perfect light windblown pow.
By mid-August, the highs were starting to dominate, and the cold fronts were moving south again. On August 20, the Snow Hydro's snow depth reading at Spencer Creek was 135cms, 30cms less than the same time in 2014 and 50cm less than in 2013. The snow pack was vulnerable, but then the Grasshopper called potential for a decent fall out of the southeast. Notoriously hard to forecast, these systems can be fickle, but this one was on the money, dropping 30-40cm of wet snow overnight on August 24. The NSW resorts fared best out of this, Falls and Hotham only getting 7cm while Buller missed out all altogether.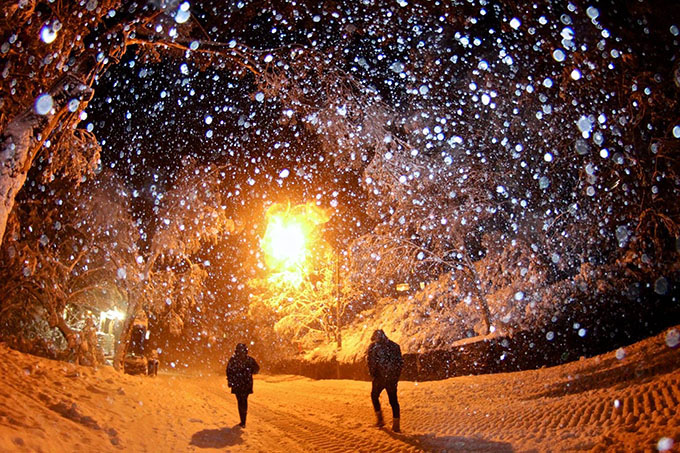 Once that first front rolled through in early July, Falls Creek was looking like a winter wonderland in no time. Image:: Hocking
As it turned out, this big fall set things up for the good September we've enjoyed, the cover was added to by a top up on September 3 and then the 10-15cm we had last week over a three day period when freezing winter weather made a welcome return.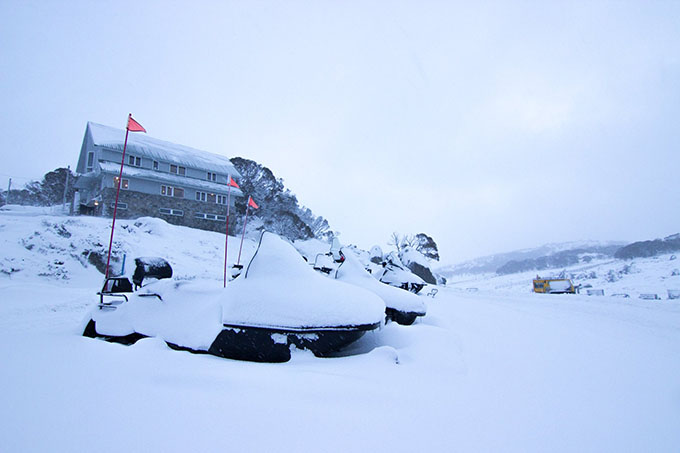 Skiers in Perisher will wave goodbye to winter this coming Monday October 6 Image:: Perisher
This closing weekend is going to be anything but wintery, with a max temp of 16º forecast for Perisher Valley in Saturday and Sunday. Still, it should be cold enough for the snow to set up each night, meaning spring snow for the first few hours in the morning. So if you're keen there's still time for a few more turns before the long, long eight months of summer kick in.