AUSSIE WEEKLY SNOW JOURNAL – Farewell Winter
August 31st, 2011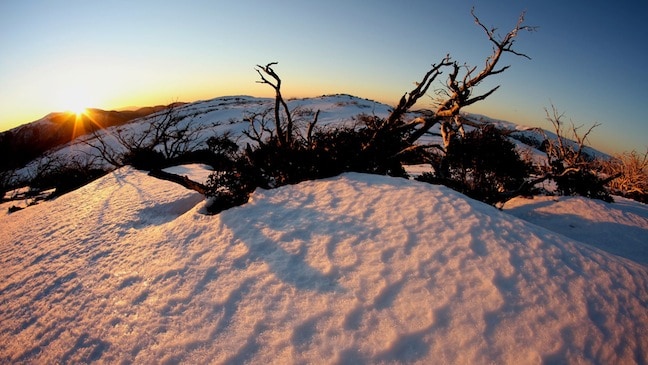 Stunning Sunset in Falls Image::Courtesy of Falls Creek
Aussie Weekly Snow Journal | Alex Horvath
It is fair to say that right now, the mountains are hurting… Today marked the official last day of winter and it is obvious that Mother Nature is certainly letting us know all about it! The warm spell and dry weather that has been dominating for the last two weeks or so is not looking like letting up.
The melt-freeze cycles that are occurring each day/night is keeping the snow pack preserved in areas that are lucky enough to be kept shaded away from the solar burn. The snow pack is tending between firm ice in the morning through to spring time corn snow that is most definitely fun in its own right.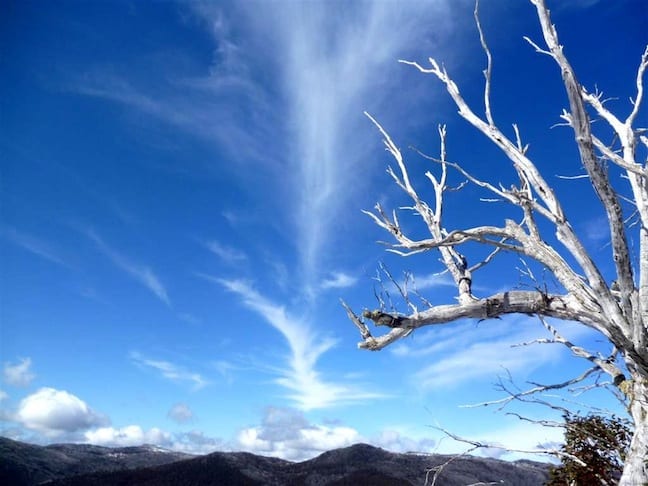 Lots of this in Thredbo this week Image::Courtesy of Thredbo
Unfortunately any slopes that sit on a northerly aspect or anything close are going through a "fade to brown" as the sunlight starved alpine vegetation is being exposed, certainly not something we want to see at the end of August.
All resorts really are focusing on squeezing the last few drops through those snowmaking systems whenever possible. I think that the current level of snowmaking technology that the Aussie resorts have paid top dollar for will ensure that we are skiing right through to the October long weekend. For now though I am keeping an eye pretty firmly on the sky and watching for those grey clouds to once again bring us a good dose of the white stuff we all live for.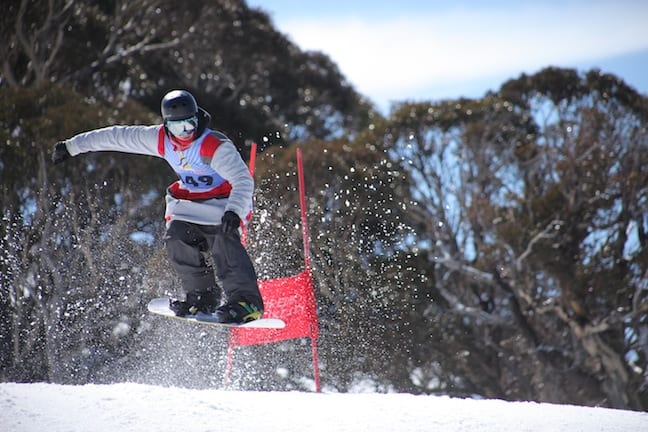 Jake Shanahan on his way to winning the Unigames Boardercross on Tuesday Image::Courtesy of Chris Nemes
Weather for the remainder of the week
A repeat of the last few weeks by the look of it, clear skies, sunshine, mild temperatures during the night as the heat escapes through the lack of cloud cover associated with the high pressures. Winds look to be light across the period. The thing to watch over the next few days is what will happen when the monster high moves over toward NZ. At this stage The Grasshopper has ear marked Wednesday and Thursday as the days for some possible activity but this is still a long way out and will be carefully monitored.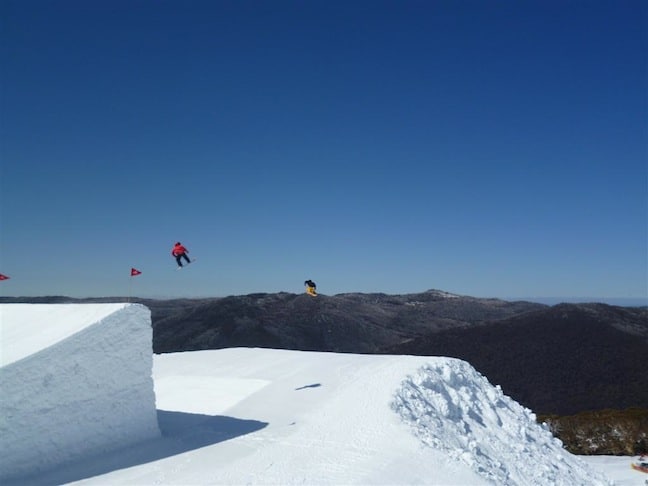 Tor Lundstrom and friend check the speed on the 95ft One Hit Wonder Jump Image::Courtesy of Thredbo
Resort breakdown
NSW
Perisher The highlight at Perisher for the next few days will be getting out nice and early to take advantage of grooming and snowmaking. The parks are in great shape so it is a good time for learning and progression!
Thredbo is doing a great job maintaining the top to bottom access with snowmaking. Grooming is making for some awesome supertrail speed runs before things soften up. Afternoons are best spent slashing slush in between beer stops.
Charlotte Pass Everything ticking along well up high in Charlottes, again get out early to enjoy the best conditions. Some crew who have been hiking out back in the last few days have reported favourably. Charlotte Pass is a perfect spot to use as a start point on a backcountry mission.
VIC
Falls Creek Hard and fast early thanks to all the melt/freezes, the ruined castle park is in great shape with some awesome features.
Hotham Surprise surprise its going to be sunny, warm and firm early in Hotham. Head high for the best snow quality, probably best to stick to on-piste until we get some more snow.
Mt Buller Man made areas are sitting on around 60cms of snow now so definitely some snow loss happening. Word is that the SoO Airtime boys are building something cool up on the summit so could be worth scoping that out.
Make the most of the sunshine over the next week if you are heading out for a ski, if its not snowing at least it isn't raining! The sunshine is certainly strong so don't forget your sun safety!
Perisher forecasts,
snow reports and
live snow cams.
Falls Creek forecasts,
snow reports and
live snow cams.
Mount Buller forecasts,
snow reports and
live snow cams.
Charlotte Pass forecasts,
snow reports and
live snow cams.
Thredbo forecasts,
snow reports and
live snow cams.