AUSSIE WEEKLY SNOW JOURNAL – The Transition
August 24th, 2011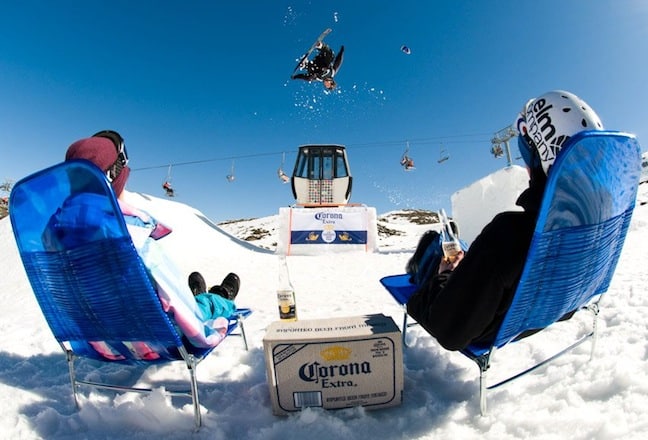 What to do when it's sunny and warm? Beers by the Stylewars hits of course Image::Courtesy of Stylewars
Aussie Weekly Snow Journal | Alex Horvath
It seems to be official now; spring has 'sprung' early (sorry, I had to!). The sun has been shining upon the mountains since Saturday when the clouds broke to what became an amazing weekend, or would have been if it were September already.
Not a whole lot of variation to report on weather wise this week, the snow did arrive as expected on Thursday night although unfortunately Friday's rain was hot on its heels and quickly superseded any benefit from the fresh that fell on Thursday. A pattern that we have seen a lot of recently, if we are lucky the next system will be organized a little better! The The Grasshopper provided his best guess at what is in store for September, a great insight, check it out HERE
For now though the clear days and clear nights are definitely making the mountains a pretty fun place to be. The parks are in all time good shape and morning corduroy is making for some very nice early morning burners. The biggest saving grace for our season at the moment is the capacity for clear skies to provide ideal conditions for snowmaking. All resorts are keeping a sharp eye on those weather stations and automated systems are running whenever the relative humidity and temperature readings align. Temperature inversions in the valley are also enabling deep freezes each night, this is helping to preserve the snow pack down low where conditions are really becoming very warm during the day.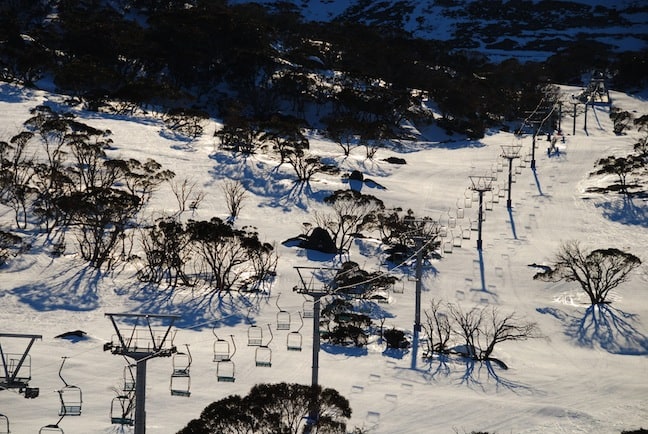 Sunny spring days in August Image::Courtesy of Perisher
Weather for the remainder of the week
The persistent ridge of high pressure that has brought about all this warm sunny weather is going to continue to hang about for the next few days. There is a cold front that until this morning looked promising to deliver some snowfalls on Monday and Tuesday, at the latest model updates it seems that this system will be pushed south and will only result in small snow flurries, something to keep an eye on anyway. Another high pressure ridge will re-establish over SE Australia by Tuesday bringing a return to fine weather.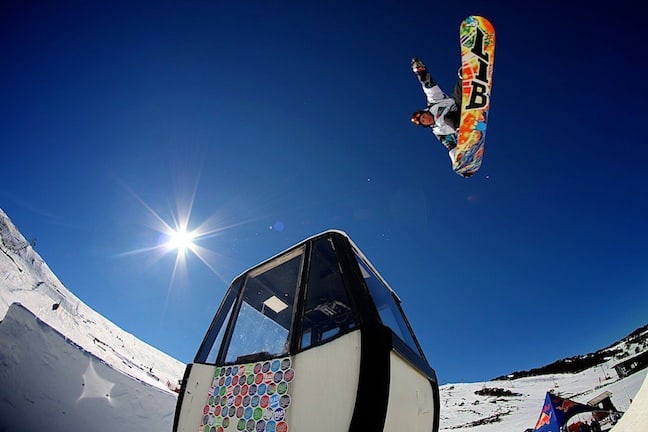 The parks are the place to be in Falls at the moment Image::Courtesy of Falls Creek
Resort breakdown
NSW
Perisher Perisher has been experiencing some all time weather over the last few days, Plenty of terrain parks on offer and the longer runs at Blue Cow and Mt Perisher would be my picks over the next period.
Thredbo Lots of melt-freeze cycles are aiding Thredbo's lower lying slopes to resist snow loss during this warm spell. The higher lying alpine areas are definitely worth a look early. The Anton's and High Noon parks are in incredible shape. Keep an eye on the progress of the One Hit Wonder jump above the Cruiser chair, if previous years are anything to go by this will be one impressive feature!
Charlotte Pass Once again Charlotte is loving their higher perch over surrounding resorts. Helping them to enjoy slightly cooler weather. Get out early to avoid the slush.
VIC
Falls Creek Springtime already in Falls Creek, Stylewars has ensured that the terrain parks are in great shape at the moment. Word is that Southside is the pick during these conditions so check that out. The Stylewars rail jam is on tonight so check that out for some good times!
Hotham Sunny and warm in Hotham just like everywhere else at the moment! Stick to man-made areas as Hotham is making snow at every opportunity, the natural only areas are wearing thin so stay away if possible. The Heli-Link to Falls Creek is running, the fine weather would make for an amazing flight.
Mt Buller Buller's snow pack is struggling a bit with all this sun and their low lying position, average natural base is sitting at only 15cms with 80cms in snow making areas. The Summit Park is in great shape; get out early to take advantage of firmer and faster conditions.
EVENTS THIS WEEK:
TTR Event 'Stylewars' will hold their 28-Stair Rail Jam under lights in Falls Creek tonight
Boarding Against Breast Cancer takes place in Thredbo Saturday 27 August in Thredbo
Australian University Snowsports Championships take place in Thredbo Sunday 28 August – Friday 2 August
Plenty of opportunity to work on the spring time tan this week, cross all your fingers and toes for snow early next week!
Perisher forecasts,
snow reports and
live snow cams.
Falls Creek forecasts,
snow reports and
live snow cams.
Mount Buller forecasts,
snow reports and
live snow cams.
Charlotte Pass forecasts,
snow reports and
live snow cams.
Hotham forecasts,
snow reports and
live snow cams.
Thredbo forecasts,
snow reports and
live snow cams.