AUSSIE WEEKLY SNOW JOURNAL – Unfavourable Elements
August 17th, 2011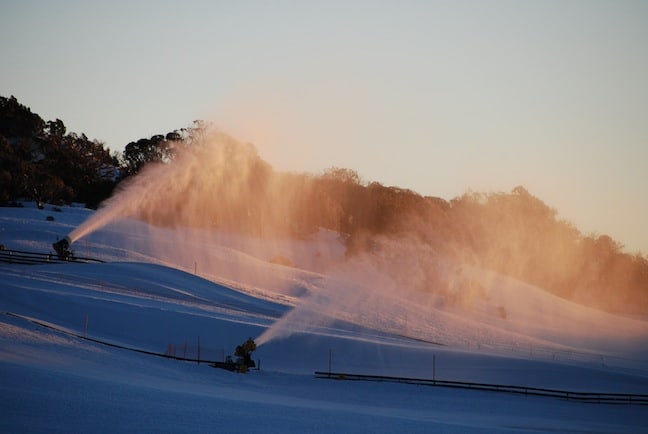 Sunrise snowmaking Image::Courtesy of Perisher
Aussie Weekly Snow Journal | Alex Horvath
The way that the weather patterns of August have been shaping up it's becoming increasingly difficult to remain optimistic about the month that usually delivers the best snow quality of the season. The front that is passing over the alps as I write is unfortunately coming from a less then perfect direction and we are seeing a repeat of the 'just too warm temperature trend'.
The last week has been a mixed bag of conditions, after the snowfall last Wednesday the wind turned southeasterly as expected and resulted in a rise in freezing levels as the dreaded rain arrived. Luckily on Friday conditions mostly cleared and we saw a mix of high cloud, light winds and sunshine over the weekend and into Monday/Tuesday.
The rest of today is likely to be a bit of a waiting game, fingers crossed the peaks are able to dodge the heaviest moisture bands showing up on the radar and the damage isn't excessive. Freezing levels will drop tonight and we should see some snowfalls with accumulations around 10-15cms likely.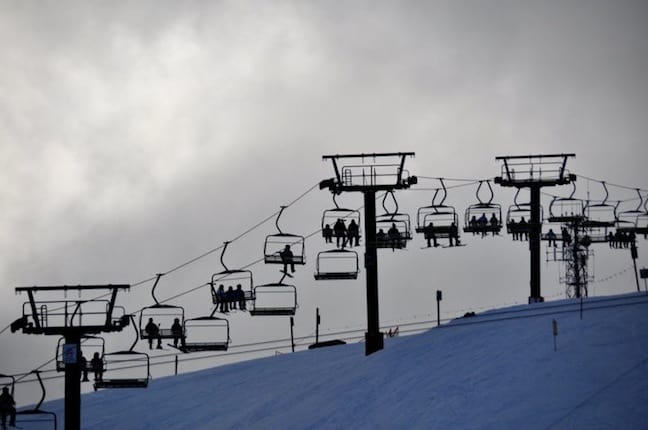 The Front Rolls in yesterday afternoon Image::Courtesy of Mt Hotham
All time in NZ
Meanwhile, across the Tasman New Zealand is experiencing what experts are calling a 1in50 year storm. This snow is yet to clear and reports are slowly coming in, I am sure when it does most lucky enough to be over there will be raving about it for a long time to come! After our solid start to the season, and New Zealand's shockingly dry June I guess it really is a case of taking it in turns this year, as they say, it's always snowing somewhere! Check out our explanation from The Grasshopper here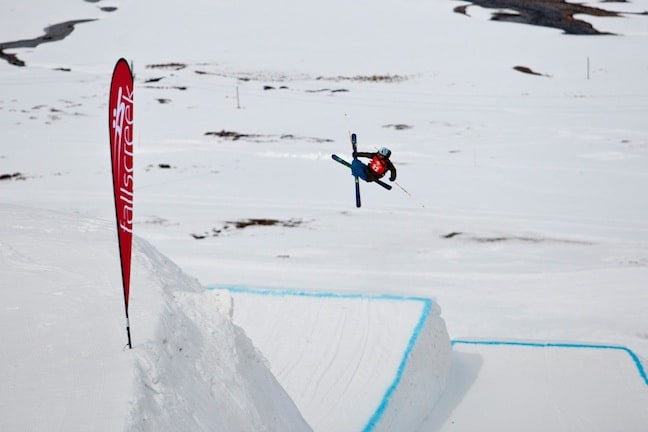 Watkin winning the Falls Creek Big Air last week Image::Courtesy of Falls Creek
Weather for the remainder of the week
As I mentioned we are anticipating some snow falls around 10-15cms tonight, this should be followed by light snowfalls on Thursday before another rise in freezing levels as the low spins eastwards and a ridge establishes itself over SA turning the wind from the southeast. This will likely have some more rain associated, which will then clear into a mostly fine and warm weekend.
Resort breakdown
NSW
Perisher The higher elevations at Perisher are a worthy asset helping it to fair much better with the higher freezing levels that will be hanging about over the next few days. I would stick to the peaks, Blue Cow, Guthega and up high on Mt Perisher will be where the best snow quality will be. Avoid northerly aspects on the weekend when the sun comes out, cooler temperatures at night time should enable Perisher to make the most of their snowmaking systems.
Thredbo The lower lying and high traffic areas in Thredbo will take a beating from all this rain. Head high up to the Basin/Karels for the best snow, there should be some fresh about tomorrow once the freezing levels drop. Warm and sunny for the weekend so stay on the groomers and get out there early. The parks Charles Beckinsale has been building are in perfect shape so make the most of them while it is soft and warm.
Charlotte Pass Charlottes is situated well to sit out the warmer weather, their high elevation should mean that overall more snow then rain falls over the next day or so. Be sure to head out as early as possible over the weekend because it will likely be heavy going in the afternoon.
VIC
Falls Creek We should see showers for the rest of today swinging to snowfalls above about 1500m tonight. Hopefully today's rain at Falls won't deal too much damage to the snowpack. Make the most of tomorrow and enjoy the sunshine in the park on the weekend.
Hotham Rain tending to snow tonight at Hotham, it should make for a some fun in the morning. Luckily for Hotham they look to be mainly out of the firing line of Friday's rain, could be a good option if your super motivated. Sunshine and warm for the weekend making for some great spring like conditions.
Mt Buller The rain today is unfortunately likely to do some damage to Mt Buller, hopefully when the cold air arrives it repairs the damage.
Mt Baw Baw The warm weather of late has really affected snow cover in Mt Baw Baw, they are down to only 15cms average snow depth in snowmaking areas and only 7cm elsewhere. There are still 3 lifts operating, unfortunately its looking like Baw Baw's elevation will be too low to gain any snow tonight so fingers crossed they don't lose the rest of the cover.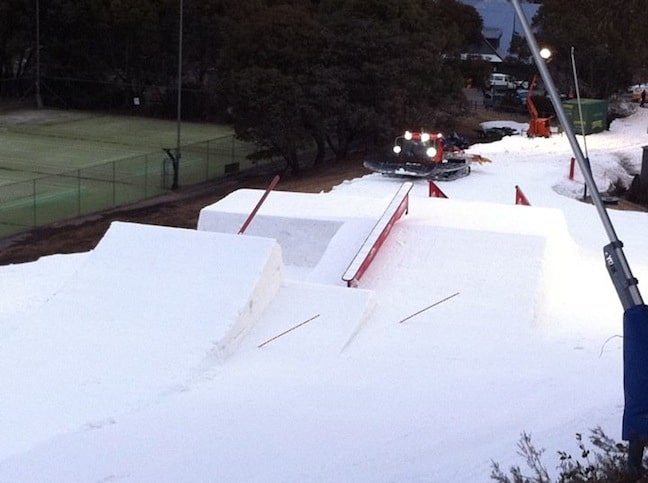 A Super tech set-up for the Rip-Curl Freeride Throwdown Image::Charles Beckinsale
EVENTS THIS WEEK:
World Rookie Fest kicks off in Thredbo tomorrow, Thursday 18 August
Australian Freestyle Moguls Championships in Perisher 18-20 August
Subaru NSW State Interschools Championships 25-28 August
TTR Event 'Stylewars' kicks off in Falls Creek 21-24 August
While things are definitely looking a little bleak today there is hope on the horizon. If you are heading out to the mountains over the next few days just remember that rain, hail, snow or shine any day on snow is better then a day off snow!
Perisher forecasts,
snow reports and
live snow cams.
Falls Creek forecasts,
snow reports and
live snow cams.
Mount Buller forecasts,
snow reports and
live snow cams.
Charlotte Pass forecasts,
snow reports and
live snow cams.
Hotham forecasts,
snow reports and
live snow cams.
Thredbo forecasts,
snow reports and
live snow cams.
Mount Baw Baw forecasts,
snow reports and
live snow cams.