Boothy's Blog – Let's buy Charlotte Pass
June 23rd, 2014
Mountainwatch | Chris Booth
The head lease held by Charlotte Pass Village Pty Ltd (CPV) is up for renewal at the end of the week. So if you've ever bemoaned the Australian ski resort experience, now's your chance.
This wasn't something you could really do before, because the resort operators, like CPV, negotiated the head lease directly with the National Parks and Wildlife Service (NPWS) so it would basically just roll over. But thanks to the Eddie Obeid (and other) leasing sagas (including Sydney Harbour Foreshore Development Authority with the Gazal's) the Government has restructured the NPWS and taken a different approach to transparency in leasing national parks/public spaces, mostly through "open tendering".
While the uncertainty of an open tender is a headache for CPV, and every single club lodge holding a sublease in Charlotte Pass, this is a gold-plated opportunity for us; the ski bums, the dreamers, the drop outs, and pretty much anybody who ever looked past the resort boundary and wondered 'what if'.
We actually already wondered 'what if' earlier this year when we gave you Mt Harmonia, Australia's Ultimate Ski resort, in our latest issue of Chillfactor.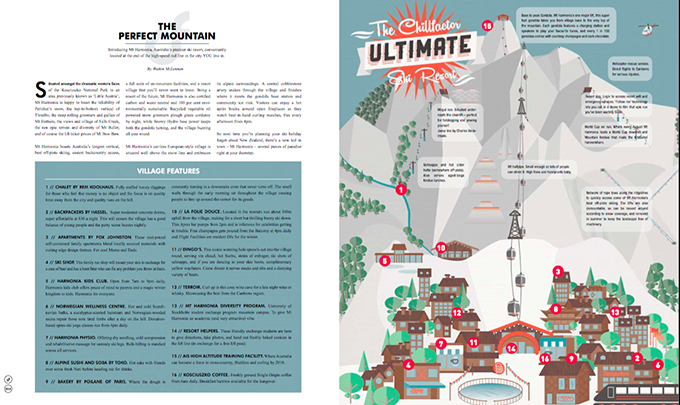 The guide to the Ultimate Ski Resort, only in the latest issue of Chillfactor Image:: Annie Timmins
But we're going legit this time, let's buy Charlotte Pass.
To show that we are serious we have already incorporated, you can join the Ski Kosciuszko Independent Brotherhood of Uber Mountain Shredders Pty Ltd ('SKIBUMS Pty Ltd') here, and although it's only early days, but SKIBUMS Pty Ltd already have big expansion plans.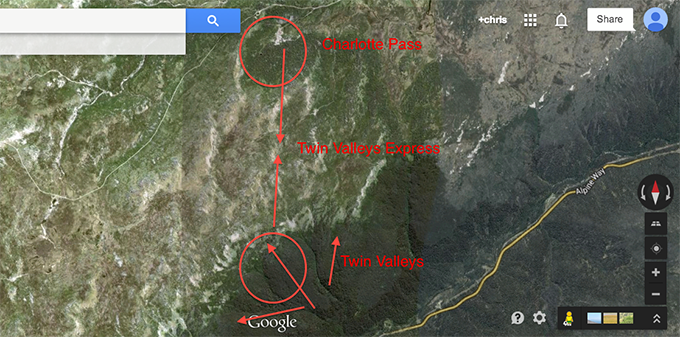 Phase 1 of the SKIBUMS Pty Ltd Master plan Image:: Supplied
Phase 1 – link Charlotte Pass to the Twin Valleys
The Twin Valleys has good advanced skiing on a range of different aspects and can be easily linked from Charlotte Pass. This area was originally earmarked to be the site for Blue Cow Mountain, but instead the decision-makers opted for the sheer epicness of it's current location with the promise of a ski tube – the train of the future. Our Twin Valleys Express opens up this exciting new zone and quintuples the current resort area. Charlotte just got mega.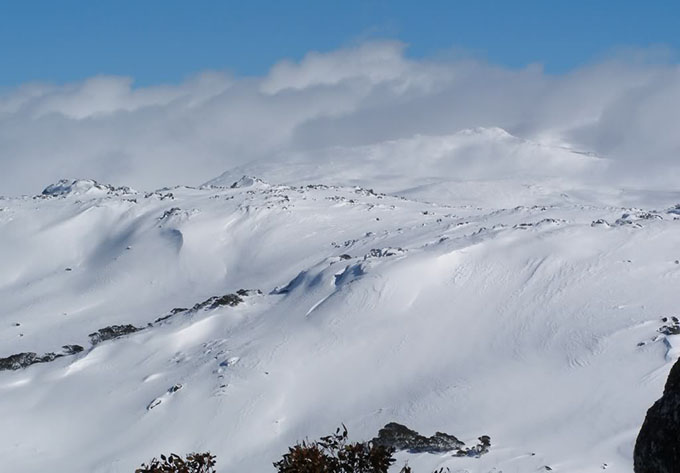 Twin Valleys offers an incredible amount of stunning terrain, it's like our untapped Seventh Heaven Image:: Supplied
Phase 2 – link to Perisher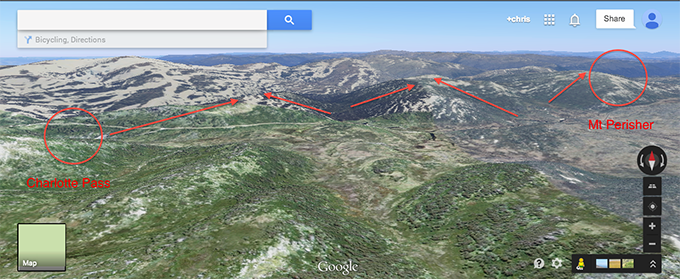 Phase 2 creates the mega-resort, you think Packer will be keen? Image:: Supplied
Charlotte Pass enters into a joint partnership with Perisher Blue to link the ranges above Spencers Creek and the Paralyser, to Mt Perisher. These ranges are all on the right aspect and each have a playfulness reminiscent of Eyre and International T-bars – just on a grander scale. With the clever use of a few low-traffic T-bars 'borrowed across' from Perisher, the Charlotte/Perisher mega link can become a low-cost reality. Together with Phase 1, this would make Perisher/Charlotte one of the biggest ski resorts on earth. It would be simply too big to ski in a single day – imagine that. You could even do ski safari packages where you ski and stay from resort to resort. Imagine the curiosity that would get, not just here at home, but also from abroad.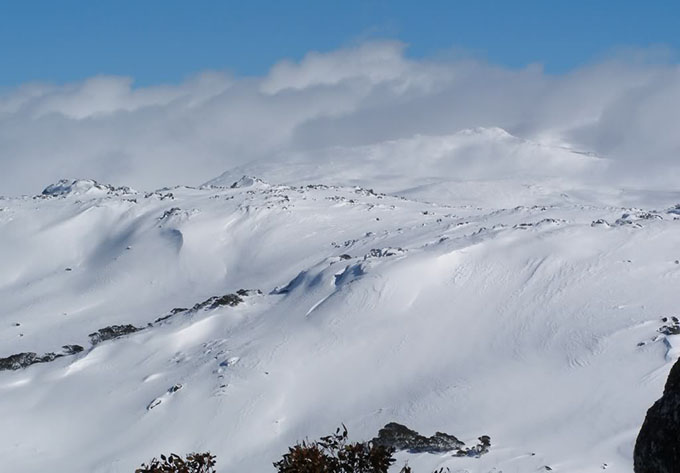 Imagine the potential! Image:: Supplied
We anticipate resistance to any expansion of Charlotte Pass, but luckily the NPWS love money, anyone remember the year they unilaterally doubled, no, tripled the price of Park entry? SKIBUMS Pty Ltd have this covered, we'll take a fraction off the top of all lift tickets sold each year and create a modest little Slush Fund, no wait, Pow Fund, and that money can go into NPWS consolidated revenue somewhere and maybe buy someone a nice holiday house one day, maybe even at Charlotte Pass! Problem solved.
Funding the expansion could be tough, but luckily SKIBUMS Pty Ltd will soon have a booming membership of like minded folk who are happy to band together to make this dream a reality. Plus haven't you heard of Kickstarter? You can launch a burping Furby on there and make like a million dollars in a day. Easy.
Impossible you might still say, but we're standing against a tide of bureaucracy that wants skiing in Australia to slowly decline. Now's the time for big ideas.
We've only got a week 'till the tender is closed though, so we're holding an extraordinary members meeting at the SKIBUMS Pty Ltd headquarters in Sydney this Tuesday at 5pm. It's at level 62 Governor Macquarie Tower, no. 1 Farrah Place. Just slip through the security entrance, should be fine. If security do pull you up though just tell them you're with Reggae Ellis. We'll serve Jaeger Tea on arrival and maybe have a little bit of a chin wag, but after that it's straight down to business. After all, we have a ski industry to save.