Boothy's Blog – The 11th Most Underrated Move in Skiing
August 10th, 2014

Mountainwatch | Chris Booth
The other day I went skiing with my dad at Mt Hotham. I had a few days to kill on my way from Sydney to Melbourne, before boarding a ferry to Tasmania to ski Australia's most epic and untapped ski resort – Ben Lomond – and the old man thought he'd skip work for a couple of days and join me for the drive. He hadn't had a day off since May and was yet to make a single turn all winter.
It wasn't always like that, dad used to take me and my sister down to Perisher every weekend. When it was good he'd call mum on Sunday arvo and say something like "the kids really want to stay another day, seriously, it never gets this good." He'd put us on speaker and we'd be in the back just begging to let us have Monday off. It was a total cop out but it always worked on mum.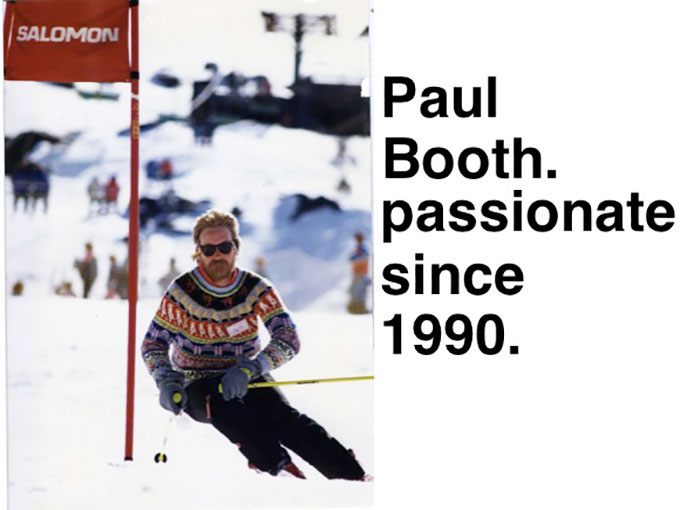 Back in the day dad used to stand in as a stunt double for Chuck Norris when he was too scared. The old man tearing it up in the early 90s, mum knitted that sweater for him.
We drove from Sydney after work and made Albury by 11. We got a couple of beers and booked the cheapest motel we could find, one of those ones with electric blankets that could burst into flames at any moment and where the carpet is thick maroon and has the faintest whiff of cigarettes. When we got up to Hotham the next morning it was kind of mucky and dank, the warm beginnings of another classic winter storm. I watched as a chairlift came up out of the fog, passed overhead, and continued on into the fog. I wasn't all that keen, but dad was just frothing, even just to be out of the city.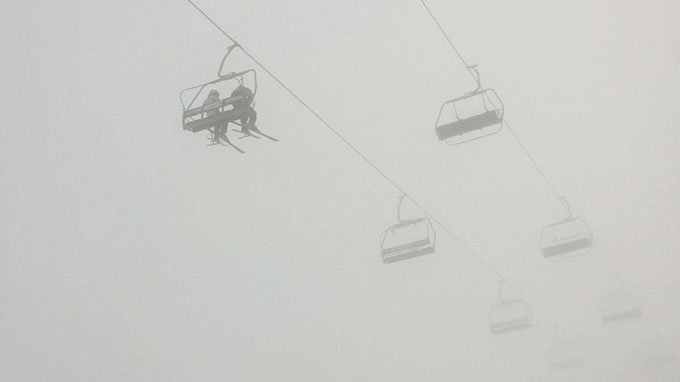 The chairlift to infinity.
We headed straight for Heavenly valley chair. It was a full whiteout at the top with a crusty layer of drizzle-freeze. Lower down the snow had a wetter, creamy feel about it. "Seriously how good is this", dad said looking out from the chairlift, "it never gets this good."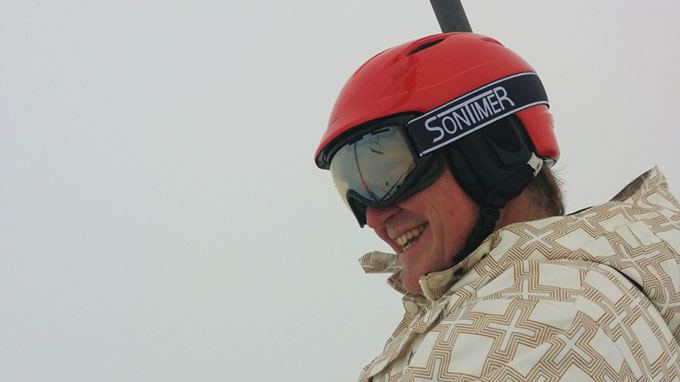 Dad was just plain excited to be out cruising his favourite hill – gives you some perspective for next time you look outside and can't be bothered.
After a few thigh burners we traversed out to Gotcha Ridge and Mary's Slide. It was variable but once you got into it there were some great turns. I skied behind dad and tried keeping in with the same turns as him. I remembered how much I used to love doing that, trying to stay in his tracks and make big sprays with my skis like he would. It struck me that I hadn't gone skiing with him in over ten years.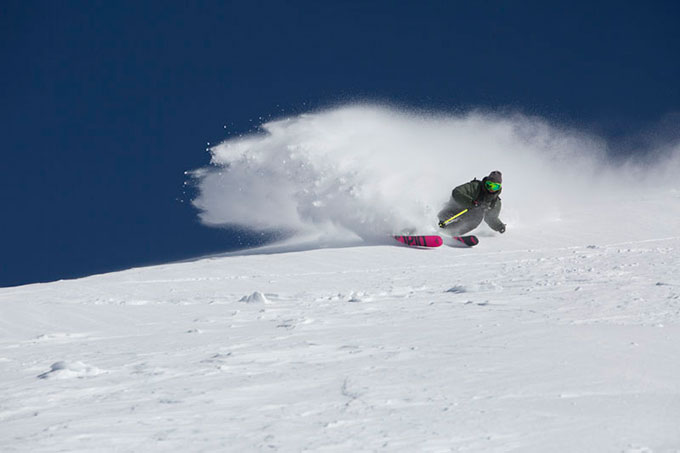 Same hill, different day. Trying to make turns like my dad.
Image:: Dom Kieler/Rip Curl
Dad got prostate cancer two years ago. It was pretty brutal. He made it, but it took its toll, and for a while there he just seemed a lot, I don't know, older. We skied out through the gully on the return to Heavenly chair, and as I passed him along the trail it occurred to me that for a moment there it didn't look like I'd have the chance to go skiing with my old man today.
"Another one?" I said back at the lift line. "Yeah but this time I want to go wide out off Orchard," he said, "you see Spargo's on the way out? It's all groomed but no one's skied it."
I had seen it, but I guess in the average conditions it still didn't really appeal to me get out there. I'd been spoiled by so many good days this winter that I really wasn't that psyched on the day. Dad's froth was a real reminder about just how lucky we are to be up in these mountains at all, and not in the city, or worse, some hospital bed somewhere.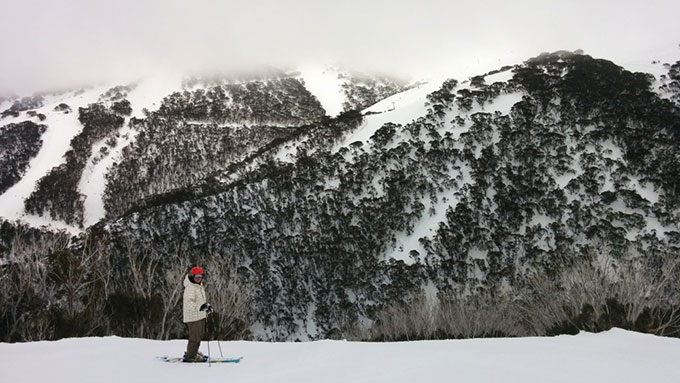 Day of the season. Dad got first tracks on every fresh groomer Hotham had open.
When we got to Spargo's I cruised halfway down slope so I could get a few phone pics of him. He blazed right past me, yewing himself as his turns opened out with increasing speed. I followed. The snow was untouched corduroy, but with a creamy, forgiving texture brought about by the humid air and fog. There was an extraordinary feeling of smoothness you don't usually get. With more speed I cranked deeper into my turns and, by the bottom, was making some of the best of the season.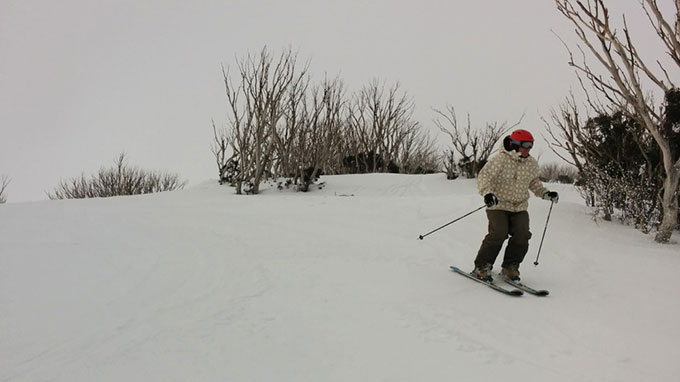 By the time I got my phone out to snap a pic dad was already coming down, this was the best I could do.
"How insane was that!" said dad looking back uphill from the gully, "surely this has to be one of the days of the season! I reckon I'd prefer that over a pow day."
For another opportunity to go skiing with my old man, I'd probably take that over a pow day too…
In this year's issue of Chillfactor we named the Ten Most Underrated Moves in Skiing. I reckon the list covers the field pretty well, but I think I might have found number 11: Go skiing with your dad.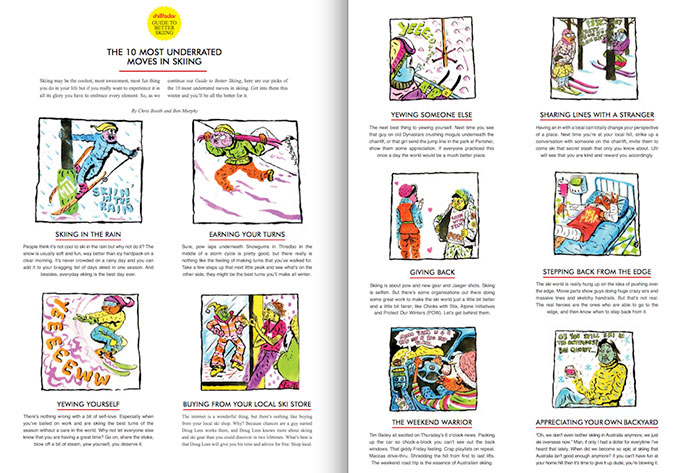 As featured in Chillfactor, on all good newsstands now, illustration by Nanda Ormond
There's still plenty of winter left. Give your dad a call and ask him if he wants to go for a ski. Or if you're a dad, maybe it's time you call your kids and invite yourself on their next trip? And if for some reason your dad won't go skiing with you, give my old man a call, he won't say no.
Being the best day of the season, dad and I skied from first lifts to last lifts, because a day spent in the mountains is always the best day ever.
Boothy's blog is supported by: