Buller's Massive Infrastructure Summer – New Six-seat Express Chair Set to Spin on Opening Weekend
May 3rd, 2019
Mountainwatch | News
With just five short weeks to the official kick off of the 2019 snow season Mt Buller is pulling out all the stops with some massive infrastructure projects on the docket.
The towers for the new Bourke Street Express 6-seater went up over the weekend and the top and bottom stations of the $6m Doppelmayr lift are both looking close to ready – just the cable and some electrics to go and Buller have promised it will roll on opening weekend.
The new lift is a match for the Mercedes-Benz Express that runs further up Bourke Street.  It will take skiers and boarders up to Baldy in around two minutes and in good news for beginners, there are now less towers on the Bourke Street run opening up a clearer path on an often-busy zone.

Those watching the webcams to see the lift towers go up on the weekend noticed the snow piles popping up on Bourke Street, including a rapidly growing white pile inside the tennis courts.  On the back of the success of the SF220 Snowfactory that launched with much fan fair a few years ago (and some test skiing in March!) Mt Buller has invested in a second smaller version.  The SF100 started work outside the Ski School last week and can be moved to wherever snow is needed.  This smaller Snowfactory can make snow at any temperature and is working to build the cover for the beginner lesson area.  It will then likely move down to the snow-play slope in the village where it will boost the cover for kids wanting a toboggan ride on opening weekend.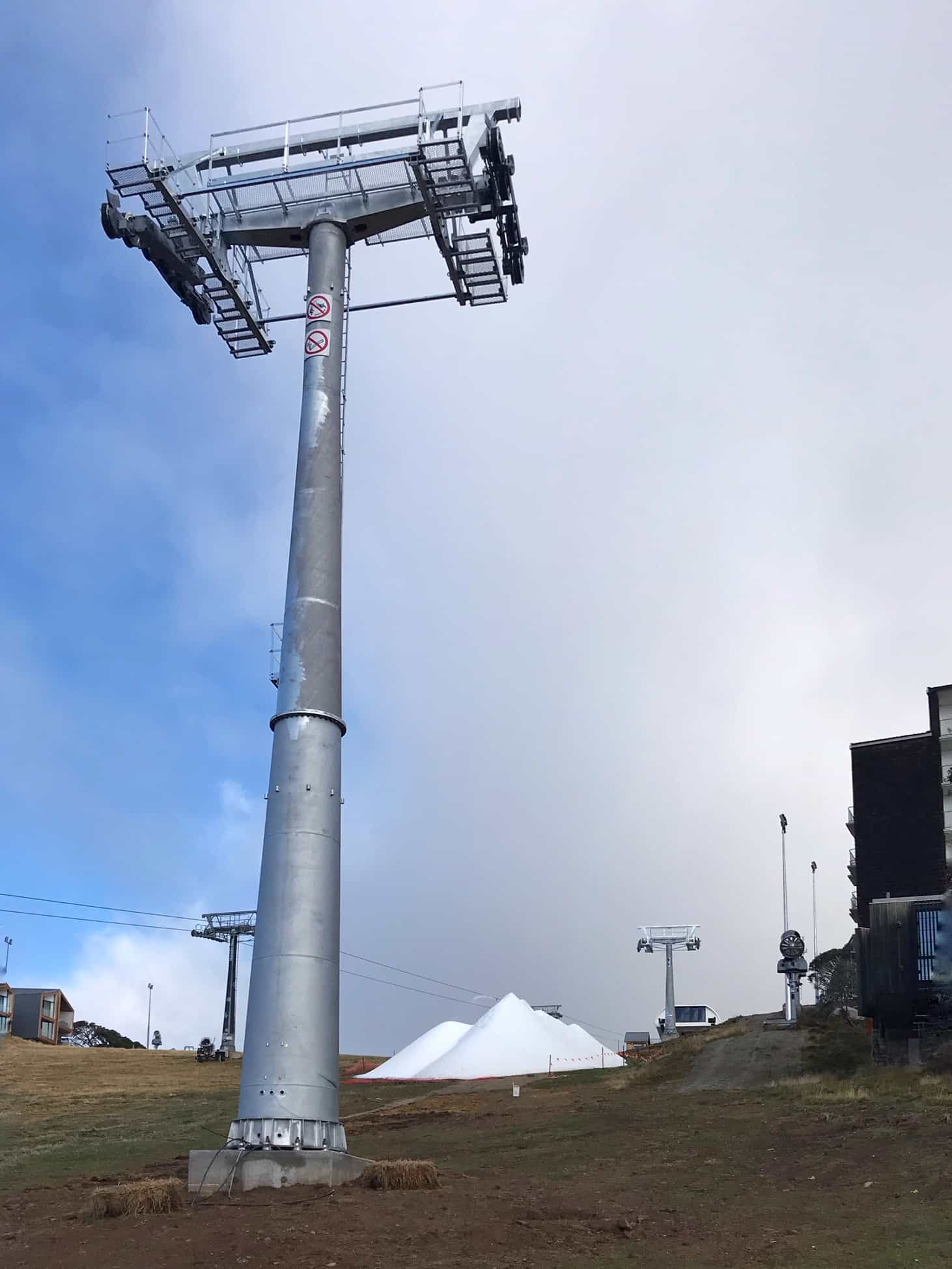 Both Snowfactories have been running for a week so far and the results are on the ski run.  It's part of Mt Buller's promise to offer skiing and boarding for the opening weekend and they will add to it with traditional snowmaking later this month when the temperatures allow the guns to kick on.  New guns have also been installed in over on Men's Downhill for this winter and with the work to start on a new water storage dam in October 2019 there are plans for even more snowmaking over on Standard and Wood Run when there is more water available in coming seasons.
The other big project everyone is watching closely on Mt Buller is the Kooroora redevelopment and while the retail and accommodation won't be finished for the 2019 season, word is the new pub will be open this winter. So, don't panic.
While the Snowfactory will guarantee skiing for beginners on the opening weekend, let's hope mother nature kicks in with some cold nights and snow-bearing storms over the next five weeks.  Only 36 days until opening weekend!