Charlottes to Carruthers, Exploring the Aussie Backcountry in Late May – Trip Report
June 6th, 2019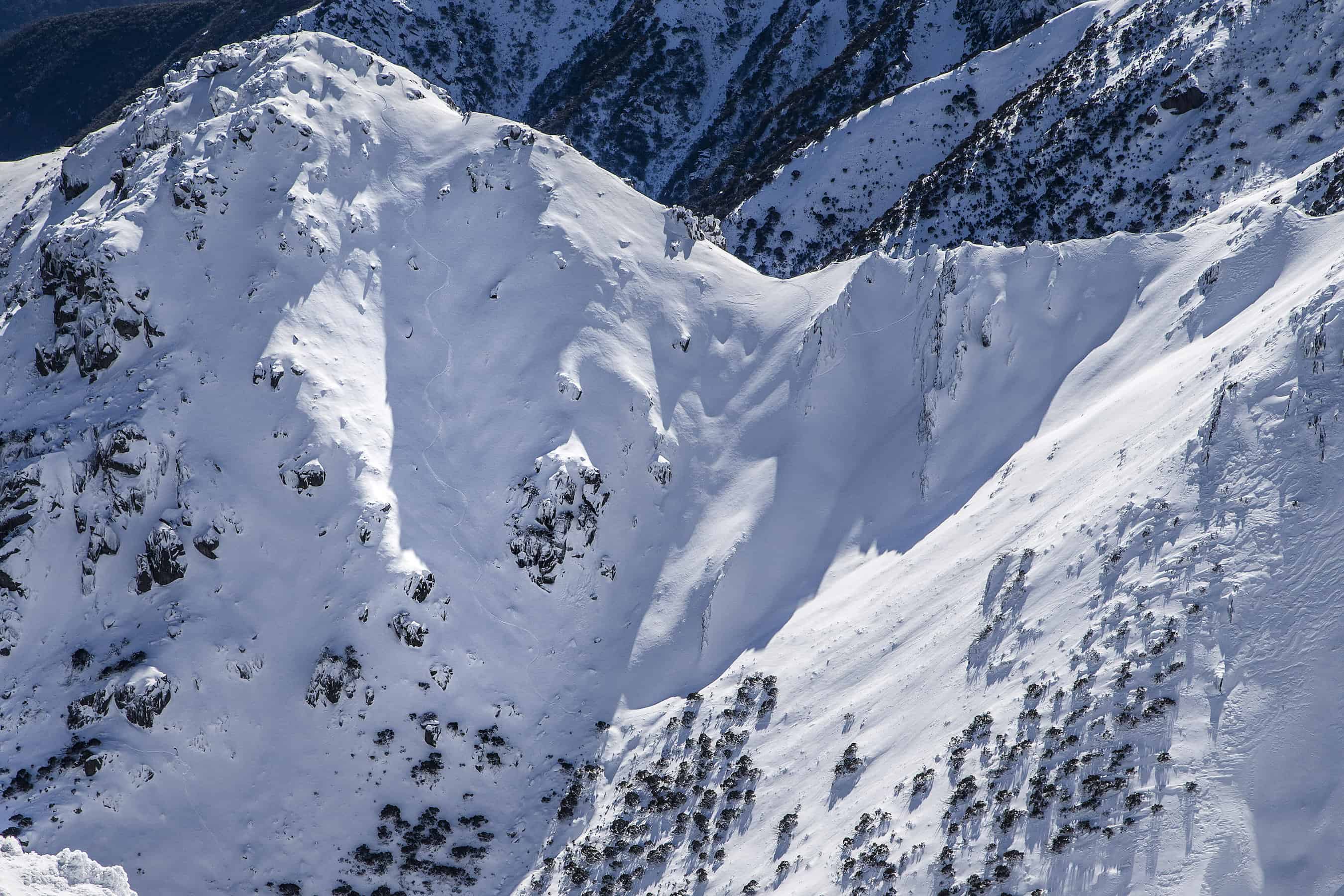 Mountainwatch | Words and Photos Jake Sims
EDITOR'S NOTE: Jake Sims and his touring partner Erryn Reeder are not afraid of a solid slog to make the most of the early season conditions we've seen in 2019.  Last weekend, they geared up on mountain bikes and pedalled their way from Perisher to Charlotte Pass, where they donned their splitboards and toured from there out toward the Western Faces.  This is a short recount of their mammoth day.
With the recent snow piling up faster than anyone can remember in recent years, it didn't take much to convince us that it was going to be worth a slog to get out and ride some of Australia's best terrain. Our crew set off well before sunrise from Canberra, hoping to make it to the car park by first light. 
Given there's been a lot of noise about the snowfall, we expected there would be a bit of a crowd out there last weekend, so we made the call not to do the slog from Guthega in an attempt to avoid the shrubs that poke through the skin track to Illawong this early in the season.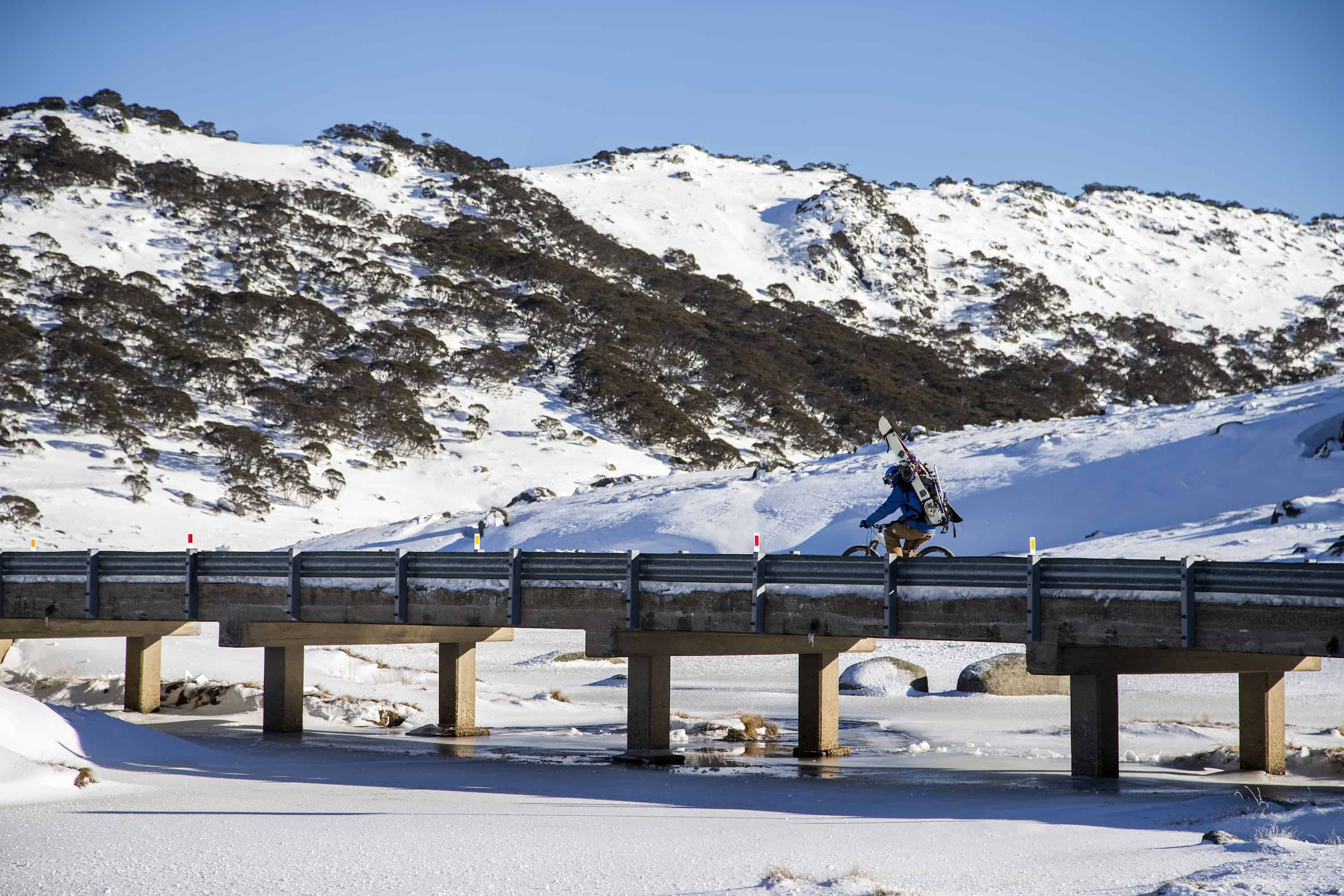 This meant we only had one option: to saddle up the bikes and pedal out to Charlotte Pass.  The road gates were closed from near Eyre T-Bar in Perisher, but we spotted a snow plough clearing the road.  We followed old mate in the plough from Perisher to Charlotte Pass.  He must have spotted us following him in his rear-view. By the time we hit Charlotte Pass village he kept going all the way to the top of the road – he was clearly stoked on us getting out there!  We've used mountain bikes before, but usually we do it in the spring when the road is totally cleared. It definitely made it feel like more of an adventure. Trying to ride straight uphill on icy roads is tough – especially with a 20-kilogram camera pack on your back.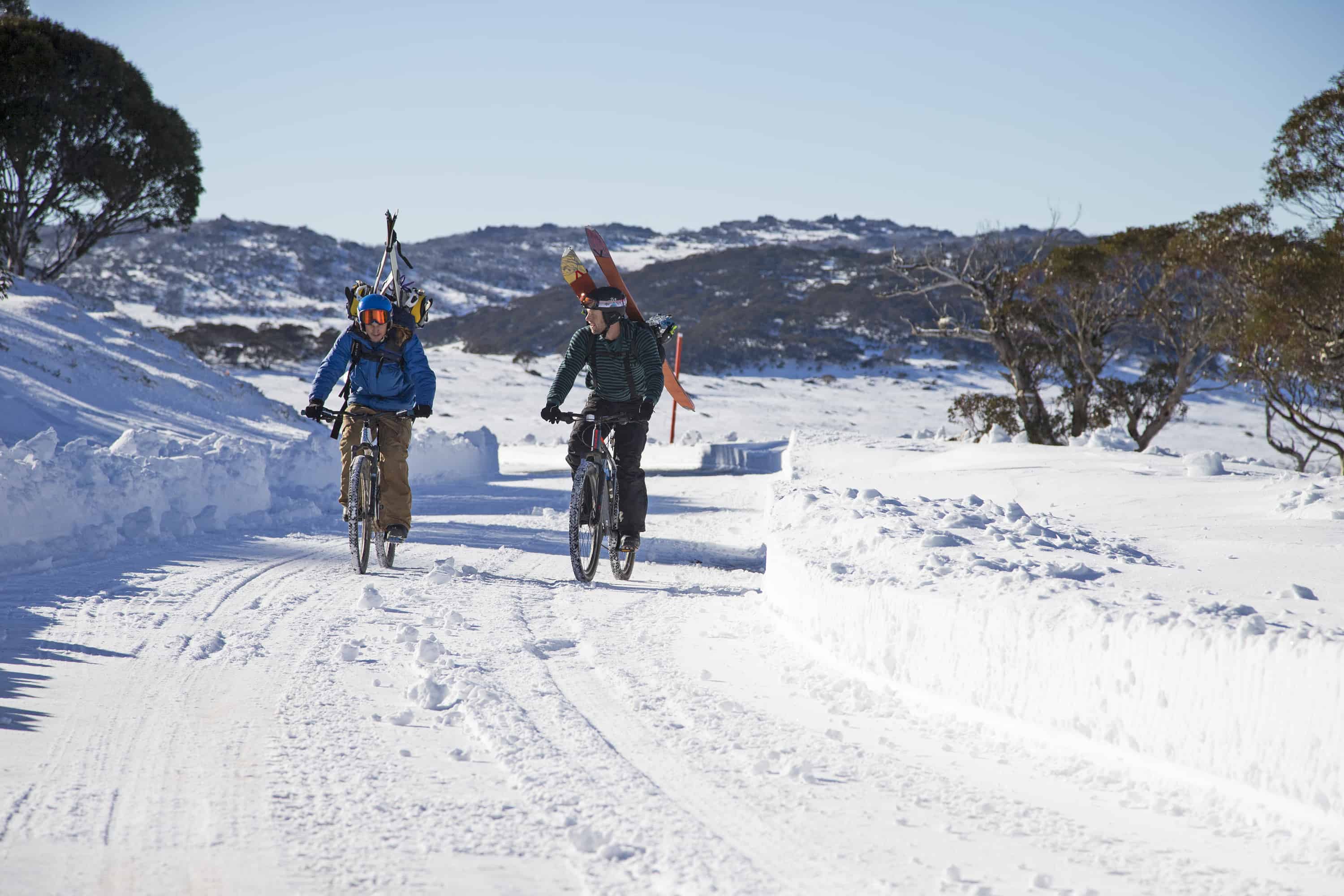 We set off on our splitboards from Charlotte Pass with the aim to head straight up to the top of Carruthers, via the Carruthers ridge line.  Going this way means there's a lot less vertical to deal with as you make your way past Blue Lake.  You can follow the ridges straight up to Carruthers.
Once we had made it out to Carruthers we scoped out a super gnarly chute that is about a board width wide.  Erryn patted down a step so he could check if there was enough snow on it to ride it this early in the season.  Luckily, Erryn made the call it wasn't safe owing to the fact that a lot of ice-fall was running down the chute and taking snow with it. In the end, we dropped into another wider chute that was a much safer call and enjoyed our first few turns for the day.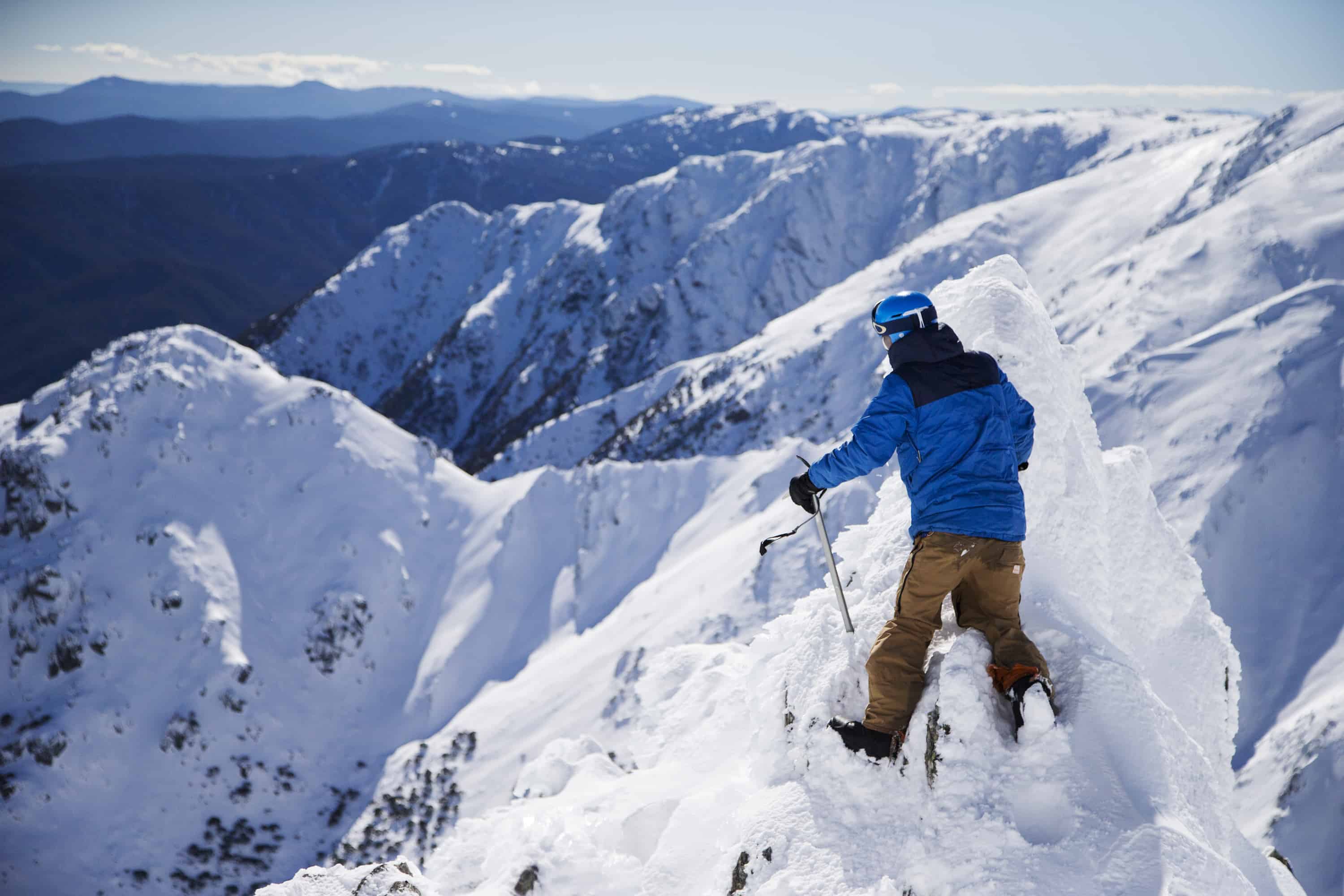 Once we dropped some elevation, we got a look back up at the chute Erryn had scoped and noticed that under the blind rollers at the top there was just bare rock, the snow had been churned by the ice-fall.  It was a solid call in the end.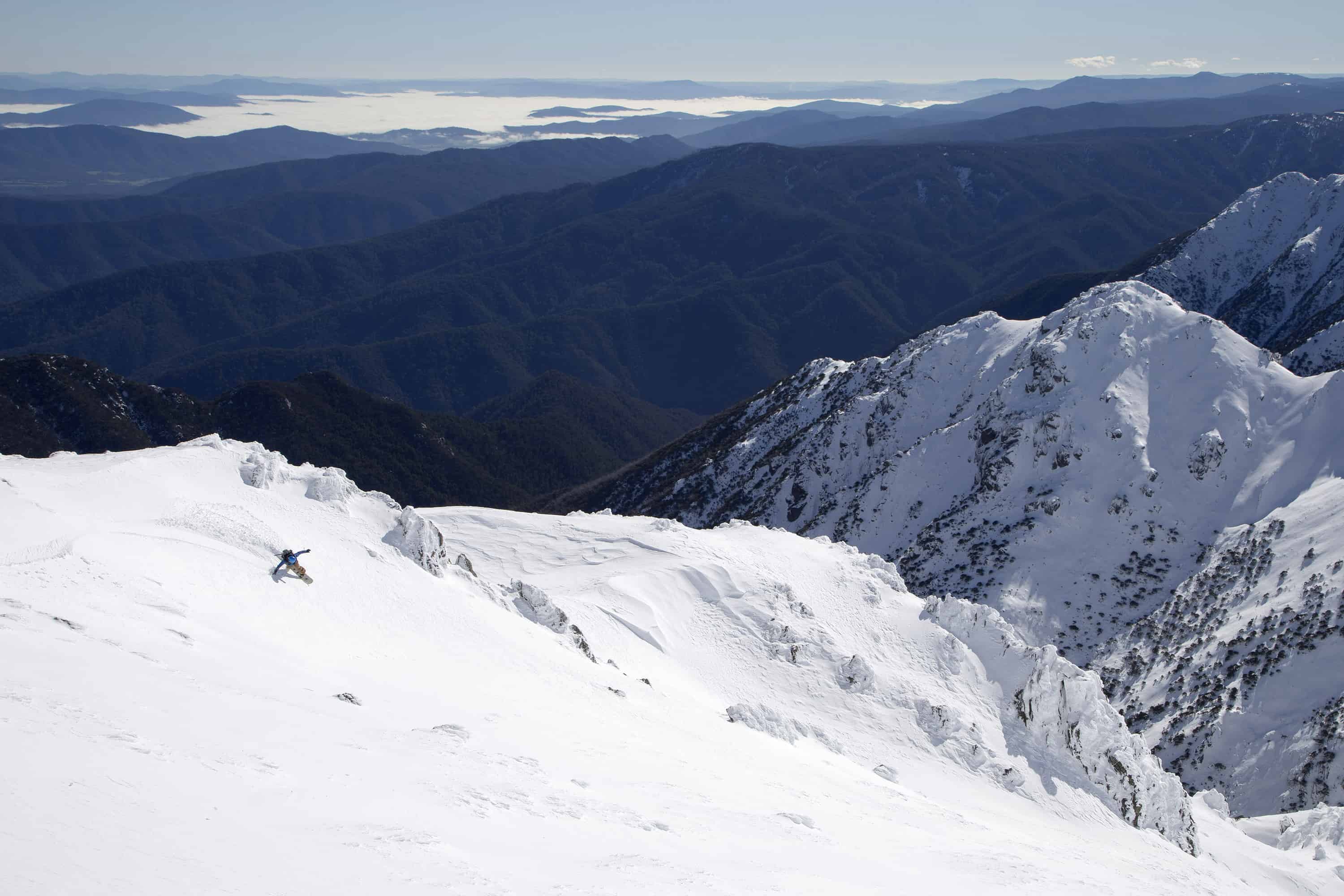 From the top, Erryn could see one grass patch, and he thought it didn't feel right. Once we were under it, we could only see bare rock.  If he dropped in he would have been fully committed and would have been in big trouble. This situation really reinforced that calculated decisions are important in the mountains.  We trust each other with our lives, so we make sure we listen to each other's calls without questioning each one another – that's what's important in a good backcountry touring partner.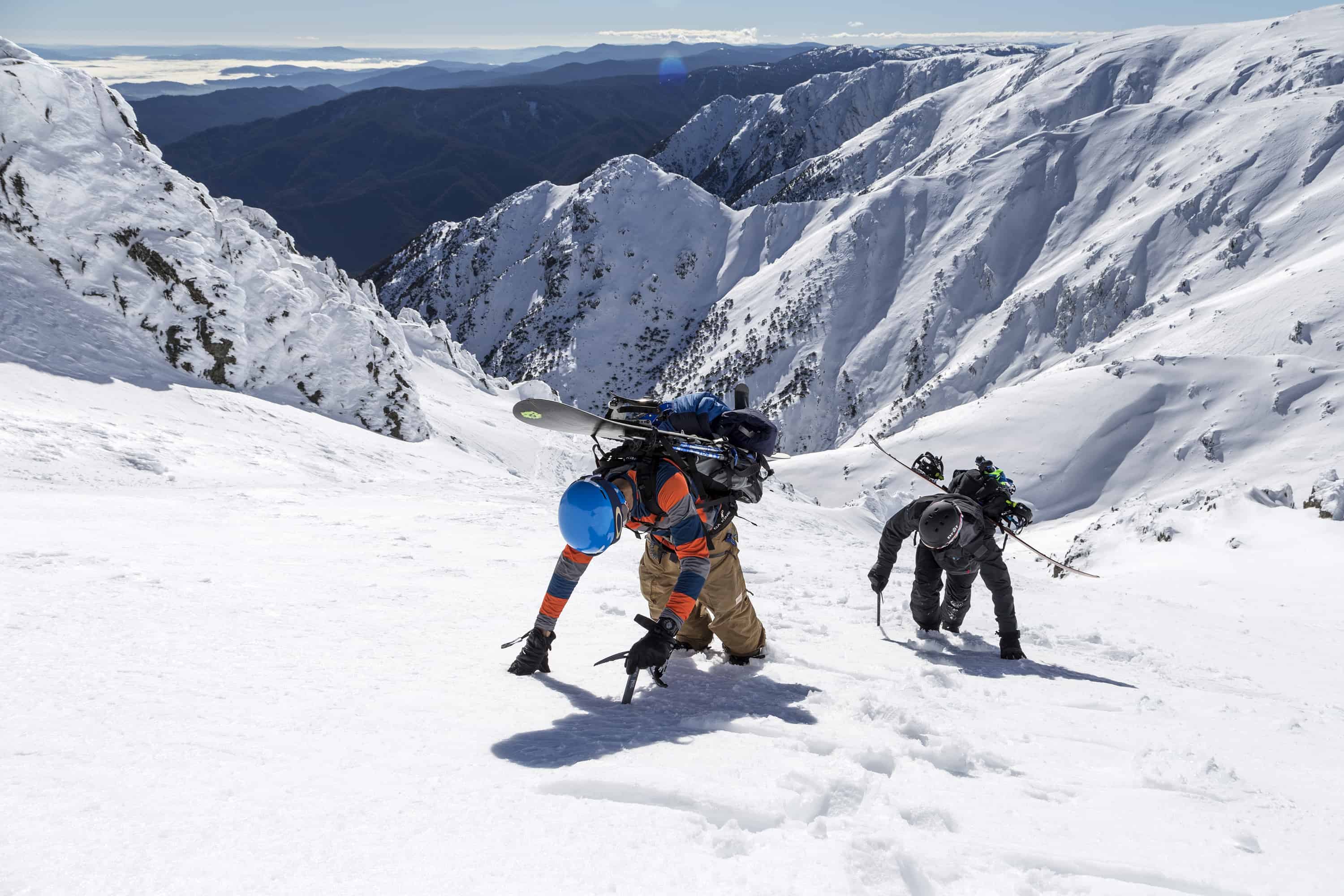 After we'd made our way back up, we ended up finding a nice little ollie pad into the north aspect of Carruthers peak. It was solid well-packed wintery snow, with only a few ice patches underneath. While I waited to drop, all I could hear was Erryn whooping and hollering on his way down which speaks for how good it was. The snow was almost like spring corn, but fresh and sun-affected.  We didn't hit any rocks over the whole day, compared to a week or two earlier, it seemed like the base had frozen nicely.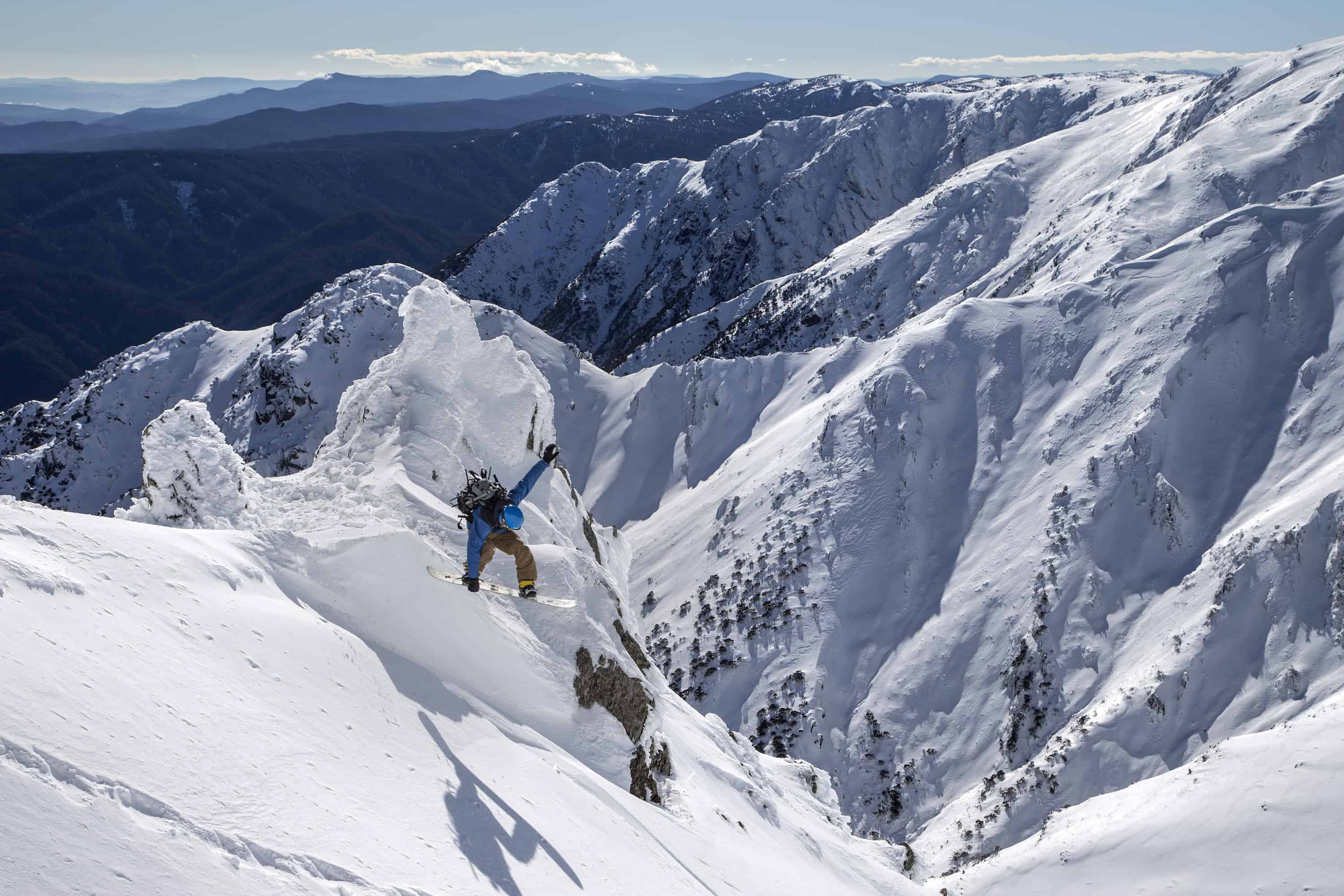 Erryn's neighbour Trent joined us on this trip for his first tour in the Aussie backcountry.  He's done a few seasons overseas in Chamonix and Chile so he knows what's up.  He's an Aussie who'd never been out backcountry before, but by the end of the day he said it was the best day he's had in 10 years – he never expected to ride terrain like that in Australia.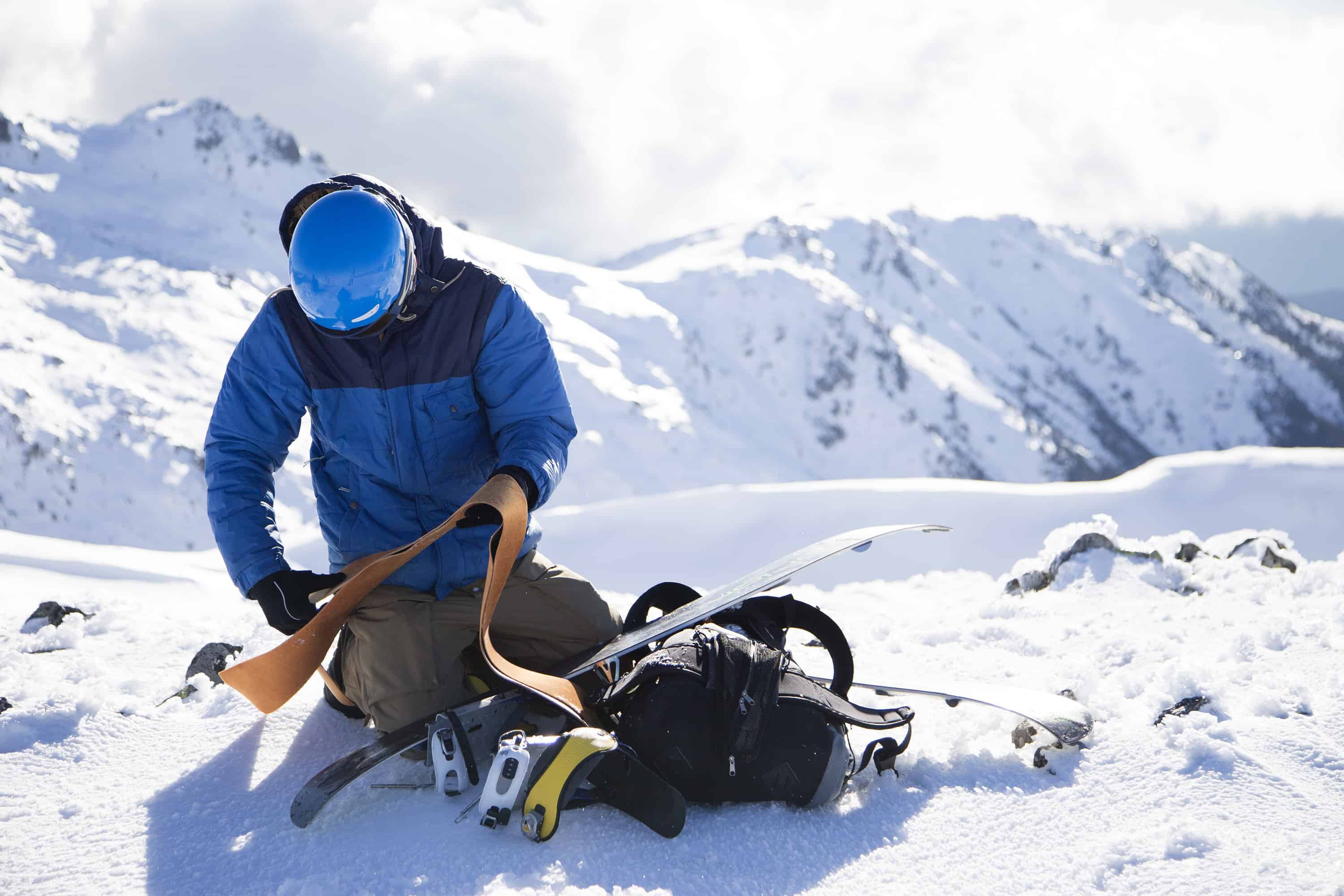 By far the best part of the day, was our next run when we climbed out of the North face of Carruthers and looked out straight over the top of Club Lake. Erryn had his ice axe out, so he agreed to drop first and called over the radio that conditions were prime.  It was the best run of the day for sure. I've ridden the same chute in proper powder once before, and it wasn't quite the same.  But the snow was perfect that day, it was so consistent that you didn't need to check speed over ice or anything.  After that we had a quick lunch and soaked it all in.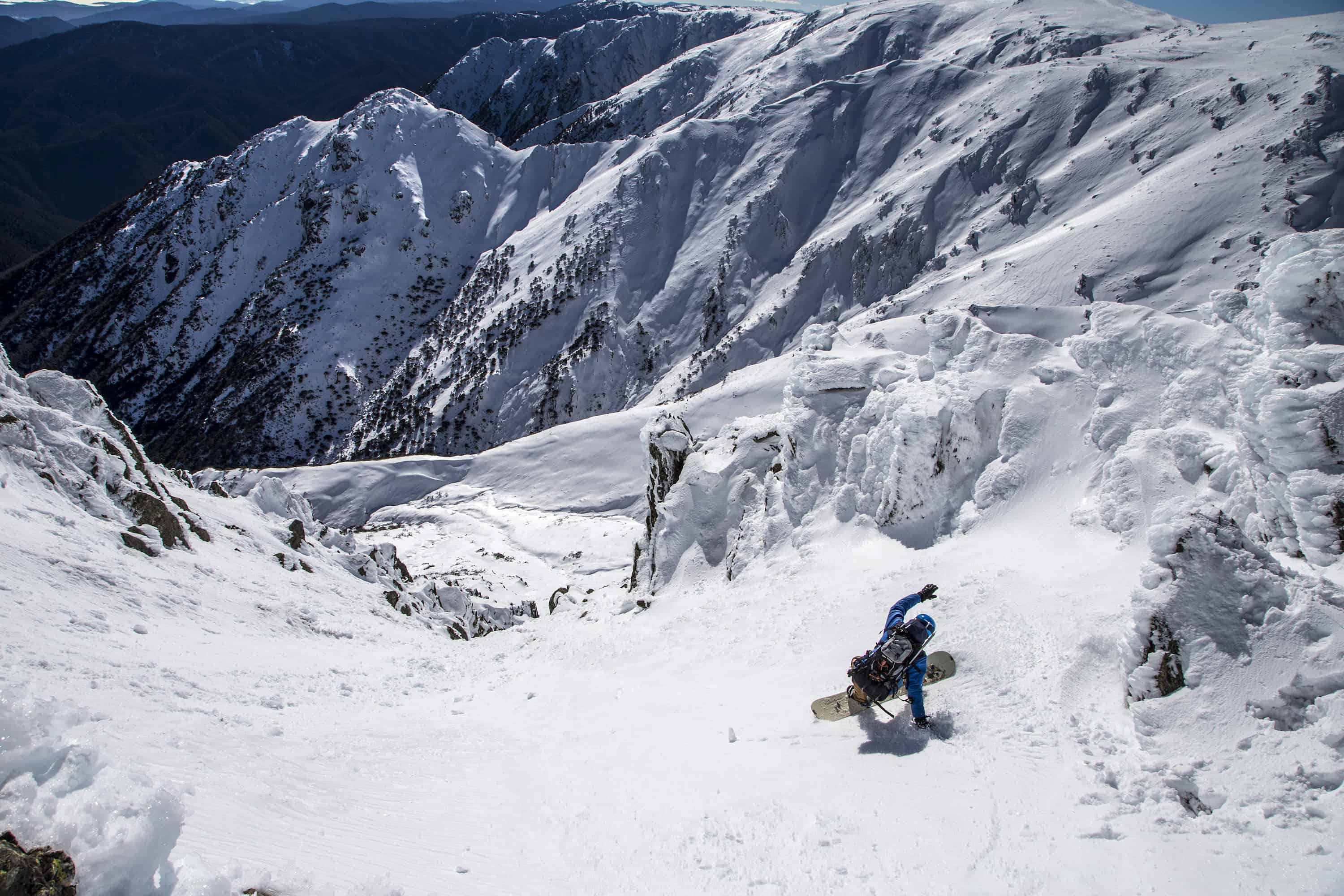 The Club Lake chute is usually an ice rink in winter as it gets loaded up with snow quick but gets really wind affected as most of the storms in Australia come in from the south-west.  I'd say there was a metre base in there already.  During the storm last week, the wind turned a little more westerly that just kept it beautiful and fresh without getting blown out.  Hopefully that's a sign of things to come in the next few storms.
We got back to the bikes at dark.  It was pitch-black, aside from the glow of our headlamps.  We had to saddle up the bikes and ride back to the cars on a black-ice road which was super sketchy.  I tried to just keep the bars straight, keep my feet off the pedals while trying to feel for black ice and yell out for the guys behind me who were following my lead. We were laughing at the situation the whole way down.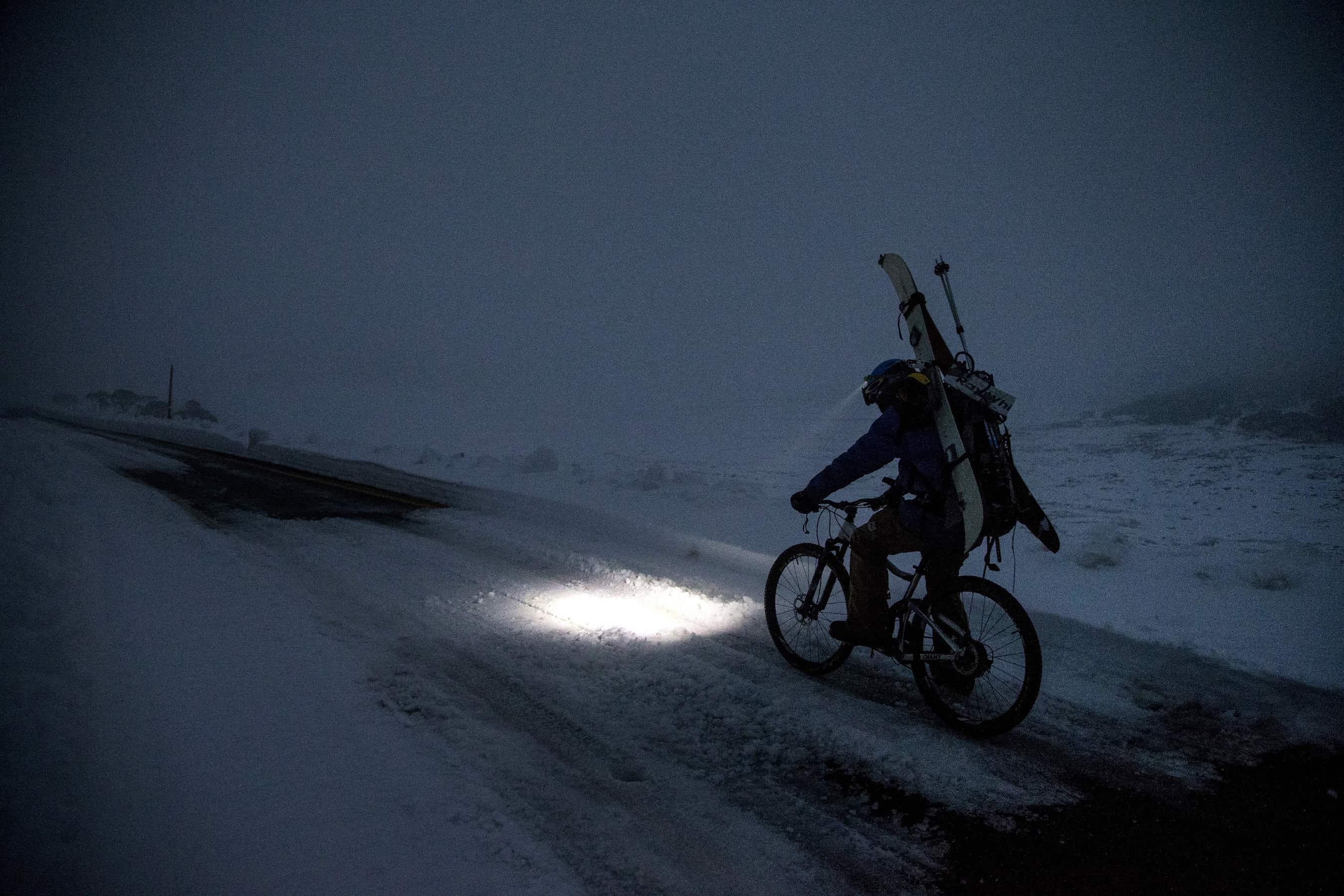 In the end we got four big lines in for the day, the tour ended up being 26 km return, over a 12-hour day with a 16 km return mountain bike ride to the cars. It's a huge commitment, but nothing beats the stoke you get out there, and we can't wait to get back out as soon as leave-passes from the wives allow.
Follow the crew on Instagram: @australian_backcountry