Chillfactor Magazine's Guide To The Best Men's Skis For Australia
June 29th, 2017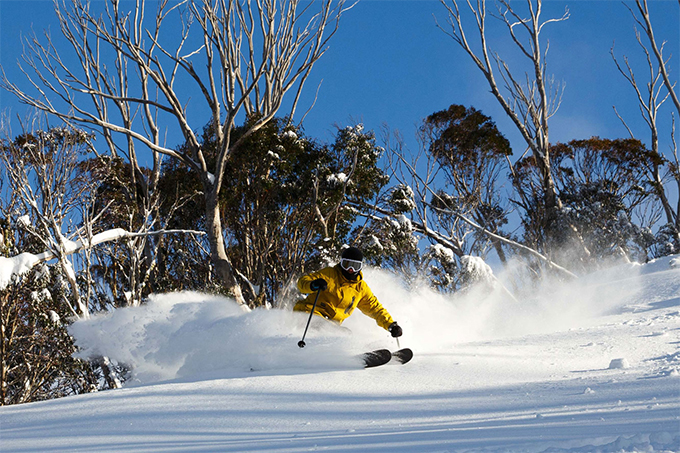 Adam Kroenert jams one under the snow gums… It's not skiing in Oz without gum trees after all! Image:: Thredbo
Mountainwatch | Reggae Ellis and Matt Wiseman
The snow is starting to fall and as more terrain opens up at your favourite resort, now is the time to think about new skis to get the most out of your time on the hill. While we all love the idea of having a quiver of skis for all types of snow, that isn't possible for many of us and the quest is for that one ski that works in all types of conditions from high speed groomers, to heavy fresh snow, crud and spring slush. So we've gone to the top ski brands to find out what they recommend from their range as the perfect One Ski Quiver for Australia.
Here is the Mens' One Ski Quiver and we'll have the womens' quiver next week.

Soul Skis 'Blue' (from Blackbird Bespoke Skis)
Dimensions: 142-94-126
Lengths: 178, 183
RRP: $1187 (including free delivery in Australia)
When you're looking for a ski that's potent enough for some high speed runs on the piste, and can handle a powder run when needed, this handmade Swedish gem is your friend. It makes you wanna skip lunch and just keep on skiing. If 'All Mountain' means playful, easy carving, high speed performance and incredible off piste capacity, all in the one ski, then this is your toy. Light weight and super easy to manoeuvre, from the hard packed morning slopes, to slushy chutes in the afternoon. A small camber for maximum edge grip and bullet proof edges for when it's getting tougher. And it looks really good too, year after year. Classic!

Black Crows Navis
Dimensions: 131-102-118
Lengths: 169, 179, 185
RRP: $629.95 (Euro)
With medium width, moderate flex and alpine drive, the Navis is a big player. The Navis is an affable, autonomous and high-performance ski, which carves really well, has quick edge-to-edge transition and is very stable on all types of terrain.

Dynastar Legend 88
Dimensions: 125-88-109
Lengths: 166, 173, 180, 186
RRP: $1,299.00 (inc binding)
The Dynastar Legend has returned with a brand new construction for all mountain performance. The "Powerdrive" technology uses a Paulowina core with vertical side walls. The result, smooth powerfull turns in all conditions on any terrain. It's the perfect "Ozzie ski" for charging both on and off the groomers.

Elan Ripstick 96
Dimensions: 134-96-113
Lengths: 167, 174, 181, 188
RRP: $999.00
The Ripstick 96 is wide enough to get some in the deep stuff, but still narrow enough in the waist to rip up the front side. This ski's Amphibio profile offers skiers exceptional maneuverability and edge grip, while SST sidewalls ensure direct power transmission, and TNT technology provides dynamic power and a ride that's as smooth as butter.

Faction Prodigy 2.0
Dimensions: 129-96-116
Lengths: 168, 174, 178, 184
RRP: $949.00
The Prodigy line represents everything that Faction is about. Confidence-inspiring performance, responsive wood cores, progressive twin tip shapes and versatile camber lines. The 2.0 is the "do it all" ski that's perfect for any mountain on any day. Weather its Pow or piste, steep or deep, this is the one ski quiver.

K2 Pinnacle 95
Dimensions: 132-95-115
Lengths: 170, 177, 184, 191
RRP: $ $999.00
The K2 Pinnacle 95 is your quiver-of-one freeride ski this season. K2 Konic Technology and a featherweight Nanolite composite core make for seamless transitions out of bounds and unparalleled charging power for a ski with universal waist width. Connect tight turns through the trees and take full advantage of powder days, then carve firmer, variable snow on the same freeride ski – the Pinnacle 95 is the Jack of all terrain.

Line Sick Day 95
Dimensions: 130-95-115
Lengths: 172, 179, 186
RRP: $949.00
Taste sweet, sweet solitude by getting ahead of the masses on the LINE Sick Day 95. Slightly more rigid than the 110 and 102, the 95 is an all-mountain ski poised for speed and bred for steepness both on piste and all over the resort. As Sick Day mastermind Jeff Curry says, "Getting back on a directional ski has brought me back to the feeling that made me first fall in love with skiing." Charge sick LINEs all over the mountain on the Sick Day 95 – cause that's what "calling in sick" means, right?

Volkl Kendo
Dimensions: 127-90-110
Lengths: 163, 170, 177, 184
RRP: $1099.00
This ski has a perfect blend between front side carver and versatile all mountain blaster. With one sheet of Titanial, moderate taper and Tip and Tail rocker, this ski can handle the hard pack terrain and is equally comfortable shredding some fresh turns.