Finding the Real Mammoth Experience – Snow Journal
February 11th, 2016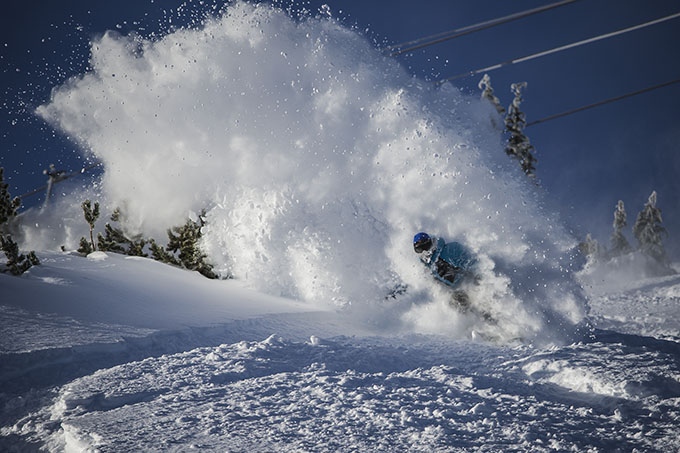 Yeah, it really was that deep last week. Image:: Mammoth
Mountainwatch | Reggae Elliss
A year ago I was in Mammoth with my family and California was in its fourth year of drought and the Sierra Mountains were suffering with a well-below average snowfall. However, thanks to a few early season storms, Mammoth was faring better than other resorts in California and despite a dry January it had plenty of terrain open with a base of one to one-and-a-half metres. Cold nights and snowmaking ensured quality snow on the groomed runs, the parks were in great shape and there was plenty open off-piste, including some of the steeper terrain accessed from the top of the Panorama Gondola. We had a great time, but Mammoth usually has an annual average snowfall of ten metres and the locals were almost apologising for the lack of snow, telling us we had to come back when it was good to get the real Mammoth Mountain experience.
There was enough terrain open last year to give us a taste of what the real Mammoth experience might be like, but we knew we had to come back when it was on. As I wrote in a story for Chillfactor mag last winter, Mammoth is: "… amazing; the variety of terrain leaves a lot of resorts that Australians typically choose for an overseas ski holiday for dead. No doubt it is mind-blowing when the place is fully open with 50cm of fresh powder."
When we saw how good the snow was this winter, we decided to we had to head back to Mammoth and we were not disappointed. After the past few days I can tell you Mammoth is mind-blowing when 100% of terrain is open and it's had 50cm of fresh snow.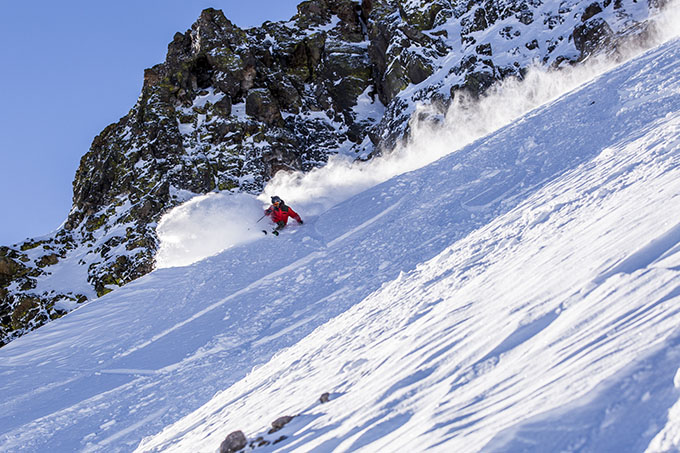 The locals know where to head to make the most of it. Image:: Mammoth
The long California drought appears to have finally broken, and the snow has been consistent this winter with an average of one storm a week since late November. The season is now at the half way mark and Mammoth has a base of two-and-a-half to four metres and a cumulative snowfall this season of six metres, or 20 feet. The most recent storm to hit California dropped three to four feet on Mammoth over a 72-hour period on Jan 29-31 and we arrived from Squaw Valley on Feb 1, to find the entire mountain covered with deep, dry snow.
Fortunately, we had the chance to hook up with a local to show us around, red-hot skier and Mammoth groomer Bernie Rosow who spent a few years working in Thredbo. Bernie was our "mountain guide" last year and he was more than happy to show us his mountain at its best and he tipped us into the best lines on the hill and we enjoyed some sensational skiing, the cold sub-zero temps maintaining the snow quality. Mammoth's iconic black and double-black diamond runs like Dragons Tail, Dave's Run, Paranoid Flats, Cornice Bowl etc., were at their best and when you score powder on terrain like – well, it is skiing at its best.
Mammoth's huge variety of terrain means there is something for everyone and every standard of skier and boarder. The open bowls and wide gladed tree runs offered some incredible soft snow and windblown stashes and the groomed runs are in perfect shape, flawless dry corduroy waiting for some high speed early morning turns.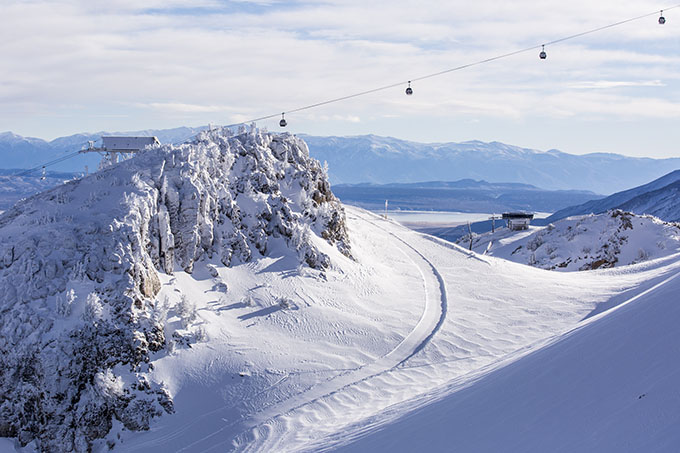 Mammoth mountain, back to its true self. Image:: Mammoth
While Mammoth's terrain offers plenty of jumps and natural features, the resort is also famous for its Unbound terrain parks. These parks have a long-standing reputation for being among the best in North America and accordingly attract some of the world's leading skiers and snowboarders each season. Again there's something for everyone as there are nine parks in Mammoth, ranging from a beginners' park for kids up to Main Park, with it's impressive pro-level jump line and 22ft Superpipe.
The mountain is complemented by a cool central village that is well serviced with a gondola from the village centre to the base of the mountain at Canyon Lodge. Mammoth Village comes to life in the afternoon with live music, open gas fires and a variety of restaurants, bars and shops all within a short stroll of each other. The town of Mammoth Lakes is a few minutes away and with free shuttles running around the entire area from 7am until after midnight, it is easy to get around without a car. That also makes it easy to access the huge variety of accommodation available, from large standalone luxury houses to apartment complexes, smaller condos and a number of hotels.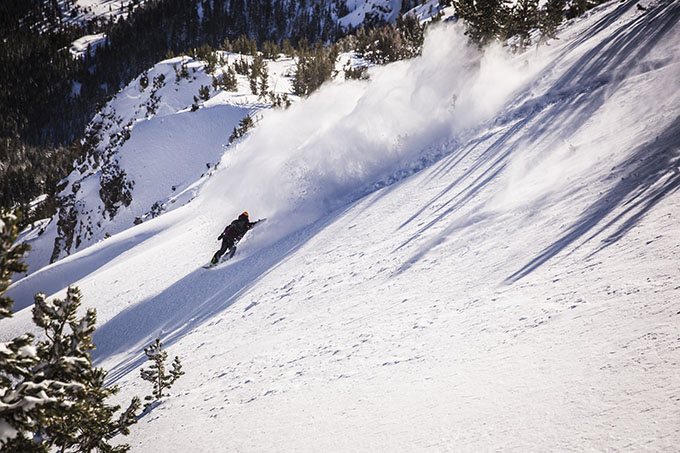 Steep, and deep. Image:: Mammoth
We stayed at the perfectly located 1849 Condos, across the road from the Canyon Lodge base area. The apartments are big and roomy, great for a family or group, and just a two-minute walk to the lifts.
Australian skiers and boarders are renowned for travelling each year to get their northern hemisphere snow fix and there is a lot of choice out there, but for me Mammoth rates up there as one of the world's best destinations. Getting there is easy with the choice of twice-daily flights from LA airport, or the scenic five-hour drive from LA through the Mojave Desert, making Mammoth a perfect destination for Australian skiers and snowboarders. It doesn't matter if you're a hardcore rider looking for challenging terrain or a family on your first overseas ski holiday – Mammoth is the perfect destination.
Traditionally March is one of the snowiest months of the year and storms continue well into April, so the second half of this season could be incredible. Now is as great time to get over there and experience the real Mammoth.
MAMMOTH STATS
Peak elevation – 11,053ft (3369m)
Base elevation – 7953ft (2424m)
Vertical rise – 3100ft 9945m)
Skiable Terrain 1416ha
Longest Run 5km (3 miles)
Annual average snowfall: 400ins (10m)
Beginner 25%
Intermediate 40%
Advanced 35%
Total Number of Trails: over 150 named trails
Mammoth forecasts,
snow reports and
live snow cams.