Grasshopper's Weekly Japan Snow Forecast, December 23 – A Snowy Week Ahead
December 23rd, 2021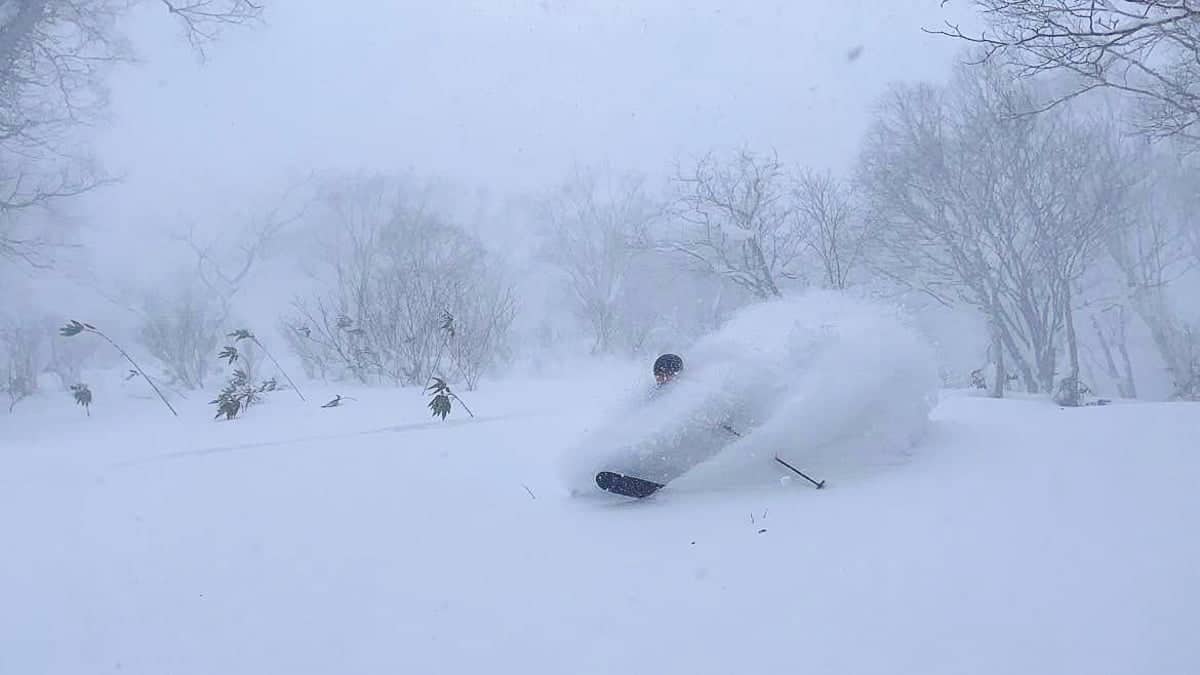 Mountainwatch | The Grasshopper
Valid 23 to 30 December 2021
It has been quite a productive week for ski resorts around Japan with some good quality early season pow days to be had. The good news (or bad news for those of us who can't get over there) is it's showing no signs of slowing down!
The 10-day ECMWF snowfall accumulation heatmap is pictured below and once again shows a promising forecast for the days ahead, particularly in Honshu. Areas in red are looking at over one metre with maximum totals predicted at around 1.5m. The bulk of this snow for Honshu will fall later in the weekend into midweek next, before another stormy weekend which we'll have a closer look at next week. For Hokkaido we should see best falls on Sunday through Monday, but as with last week is looks to be central Honshu areas coming out on top.
The week ahead looks to be dominated by a northwesterly flow which is good news for colder temperatures and generally snowfall (as we can see below). Over this weekend low pressure moves northeast on through the Pacific just to the east of Japan. Once it reaches just about level with central Honshu it works with another low-pressure system further north which helps direct this north/northeasterly flow over areas like Hakuba/Myoko. This low pressure further north will direct reasonably constant cold temps and snowfall over Hokkaido.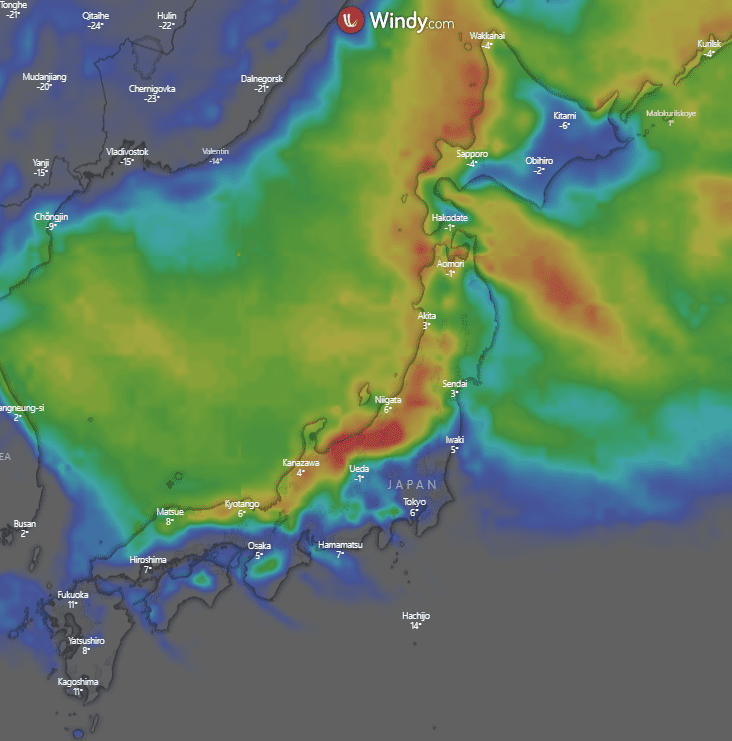 Forecast
Thursday, Dec 23- Friday, December 24:
Honshu should see some sunshine today with temps not too cold and no substantial precipitation expected. West/northwesterlies around Hokkaido with some snow, around 5-15cm.
On Friday expect westerlies around Honshu with not much precipitation expected and relatively warm temperatures. For Hokkaido westerlies should accompany steady snowfall, totals around 5-15cm.
Saturday, December 25 – Sunday, December 26
Around Honshu northerly winds bring cold temps and snowfall, totals look around 10 25cm+.  Westerlies initially around Hokkaido should turn northerly later in the day with chance of some good snowfalls overnight. Some disagreement in the models but we could see 10-25cm.
Sunday is the pick of the weekend for Honshu with winds predominantly northwesterly and good snowfall should see around 12-30cm+ in parts. For Hokkaido some fresh snow over night should see a great day out with snow expected through the day and heaviest into the evening. Totals 5-15cm.
Monday, December 27 – Wednesday , December 29
 Should be a a great day out in Honshu following Sunday's snow and more is expected through the day. Winds shouldn't be too strong early, getting stronger through the afternoon. Totals 10-25cm. Up north more steady snowfalls around Hokkaido with winds mainly west northwesterly. Totals also around 10-25cm.
Initial northwesterly winds on Tuesday turn southeasterly as clouds clear a bit in Honshu after some decent snow in the morning continuing on from overnight. For Hokkaido, you guessed it, more snow with temps warming a little as the winds shift from west northwesterly to southeasterly. Totals around 4-12cm.
Winds from the south and a cloudy day around Honshu areas on Wednesday with possible rain in the afternoon due to warm temperatures but it should turn to snow overnight. Totals look to be 10-25cm overnight setting up Thursday when the sun should make an appearance.
Extended Outlook
Once again it is going to be good week around Japan's ski fields with consistent snowfalls across many resorts taking us right through into next week. Some good totals on the way over the weekend for both Honshu and Hokkaido areas should provide some nice pow days to be enjoyed.
Stay tuned for next week's update to see how things are shaping up as we head into the New Year. Take care and Merry Christmas.