Here's Why Vail Should Be The Top Of Your Bucket List
September 19th, 2018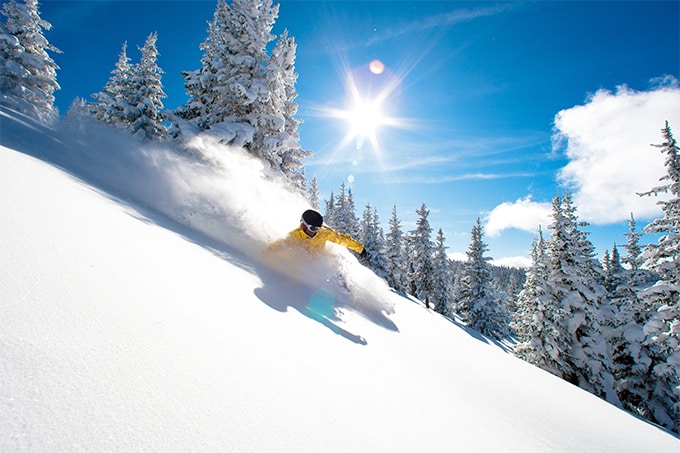 Mountainwatch | Kate Allman
It's the Colorado giant that other resorts love to hate – and once you've skied there, you'll understand why. Sheer vastness, epic back bowls, powder and sunshine have rightfully earned Vail its unofficial crown as the King of American ski resorts.
My skis draw parallel divots in the snow as I cruise off a deserted chairlift at Vail resort. High-powered beams of sunshine are piercing the bluebird air, forcing me to squint through ski goggles as I gaze across never-ending ranges of untouched Colorado powder – powder which lies waist-deep in stashes after a solid 40cm dump overnight.
I pause to focus on a couple of moving black specks in the far distance. They look like worker ants travelling in a line uphill toward the brilliant white horizon.
"What's that?" I think out loud. One of the lifties brushing snow off chairs overhears me and begins to chuckle as my jaw drops. More squinting has revealed the tiny worker ants are actually the chairs of a ski lift ascending a peak.
"That? That's Vail!" laughs the man.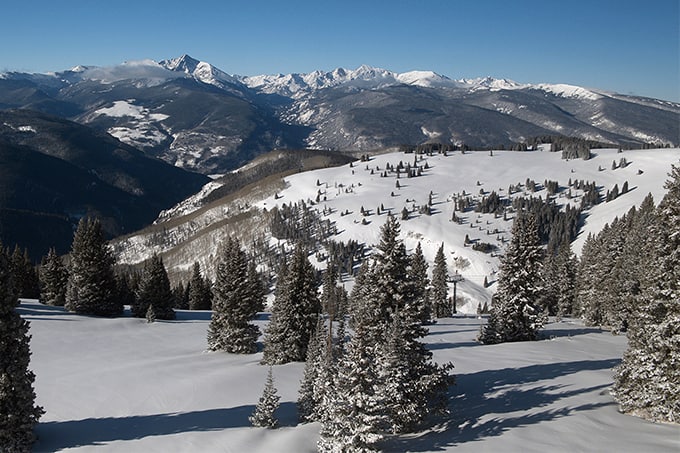 It's 9.30am and I've already caught four chairlifts – and skied a decent run between each – to reach the 3,420-metre-high peak of Two Elk Lodge in Vail. It seems miles away from the village base where I started my morning, and yet there are still miles of terrain to ski before I can reach the tiny worker ants at Vail's furthest peak, Blue Sky Basin.
I had been told Vail was "big" but it's quite a different thing to experience this vastness for yourself. "Colossal" or "monolithic", would be more apt terms to describe the place. And at 9.30am, I was only just getting started.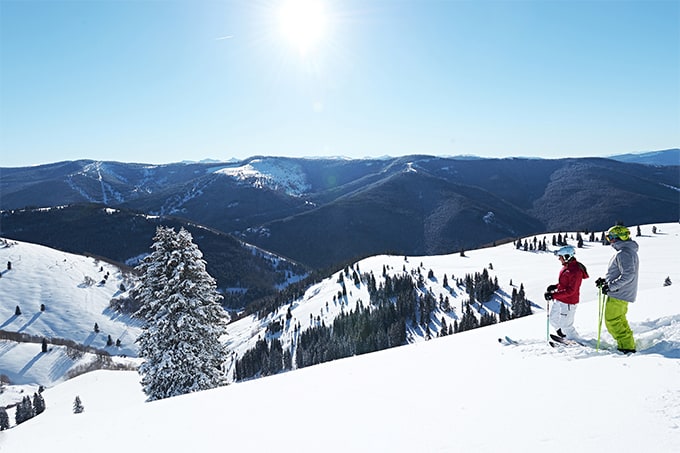 Why Ski Vail?
Over its 56 years of existence, Vail has built a reputation as one of the "must-ski" resorts internationally. Forbes magazine called it the "King of American ski resorts", and Vail marketing campaigns constantly laud its 5,289 acres of skiable terrain (compare that to just over 3,000 in Perisher). What's more, with almost ten metres of average annual snowfall and an average 300 days of sunshine each year, you're more than likely to experience this paradise under the bluebird skies I did.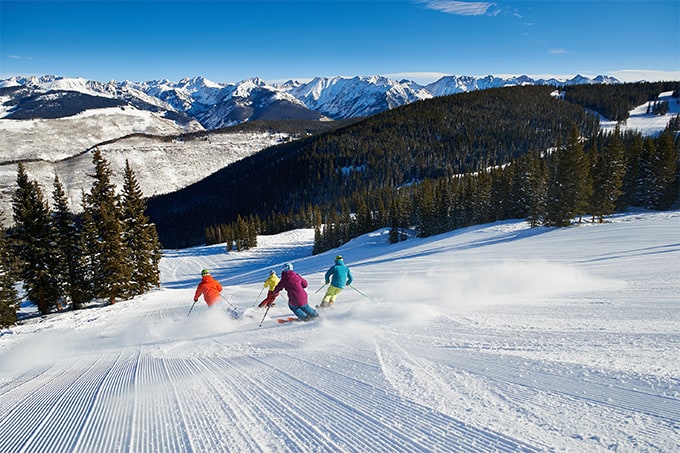 As Vail's mother company Vail Resorts expands its Epic domination of ski fields around the globe, there remains plenty of scepticism among Australian skiers and snowboarders as to whether the original Vail is truly what it's cracked up to be. Surely the resort that gave birth to the Epic octopus is just as mass-produced and greedy as the pass gobbling up its smaller neighbours?
You might think so. But you'd be wrong. I was hesitant to write this article and let the snowcat out of the bag on this topic, but as a skier and travel writer I felt it my citizen's duty to enlighten all of you who had dismissed Vail from your ski itineraries. Here are five reasons why you need to put Vail at the top of your bucket list.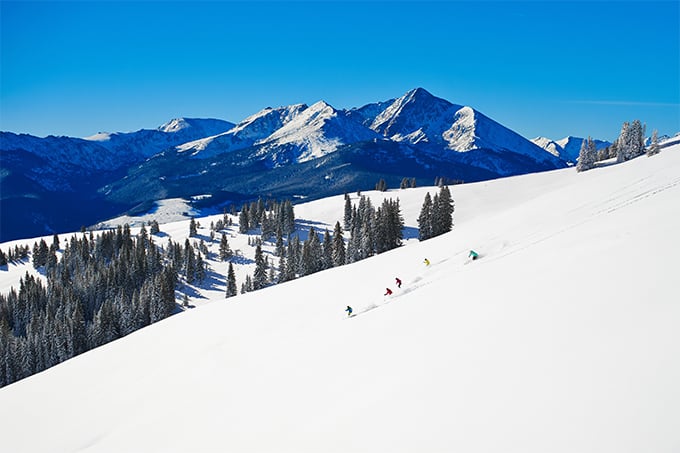 1  The Sheer Size
In metric terms, the little ants I saw crawling up the chairlift at Blue Sky Basin are 8km as the crow flies from Vail village. In less official measures, that equals a whole lot of leg-burning powder turns to get there.
Vail claims 5,289 acres of skiable terrain with nearly 200 runs and more than a kilometre of vertical gain from its village base at 2,476m to the highest peak at 3,527m. It's difficult to visualise these immense numbers until you try navigating your way around a trail map – you'll need to decipher three separate maps for each of Vail's three faces. One map is dedicated entirely to Vail's seven back bowls, which become powder-laden fields of joy after a snowfall. The vast area across these bowls means any early powder hounds will be well dispersed, and you can always find your own lines – even after multiple runs and days between snowfall.
"There's truly something for every type of skier or rider at Vail," says local Vail skier Julie Kapala, who has been returning to Vail for more than 15 years. "With more than 5,000 acres it would take you days to ski the same run twice. You'll never get bored on a ski vacation to Vail."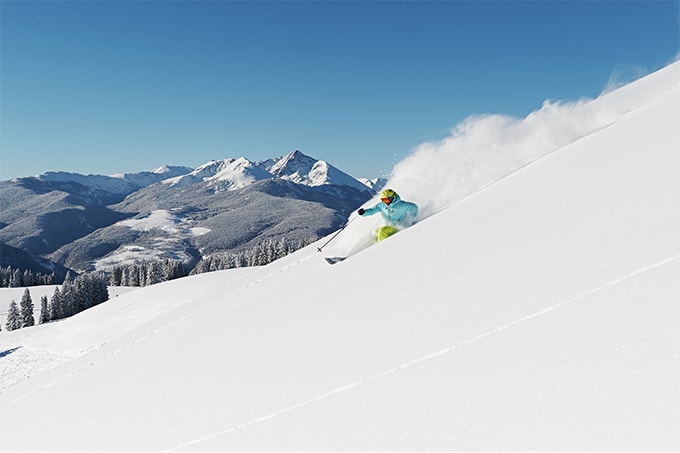 2  Powder (And bluebird days)
Vail claims an average 9.4 metres of average snowfall annually, meaning you are more than likely to see a decent powder day (or five) if you book a week's stay there. The back bowls offer myriad options to make deep turns between trees and glades. But perhaps best of all, you don't have to cop the white-out blizzard conditions that are expected at snowfields in Japan and Canada. Vail has 300 days of sunshine each year and it is quite astounding how often the snow gods seem to wait until nightfall to dump powder over the mountain, then clear off again for blue skies 12 hours later.
My insider Kapala notes that the weather makes ideal conditions for barbeques at aptly-named Blue Sky Basin.
"One of my favourite things to do is to pack a picnic and grill up at Belle's Camp in Blue Sky Basin," says Kapala. "There are a couple of grills that are free of charge and available for anyone to use. Grilling fajitas is my personal favourite. There's lots of picnic tables and some of the most breath-taking views on the mountain. The most fun part is the long trek – seven or so miles – getting back there on a snowboard or skis."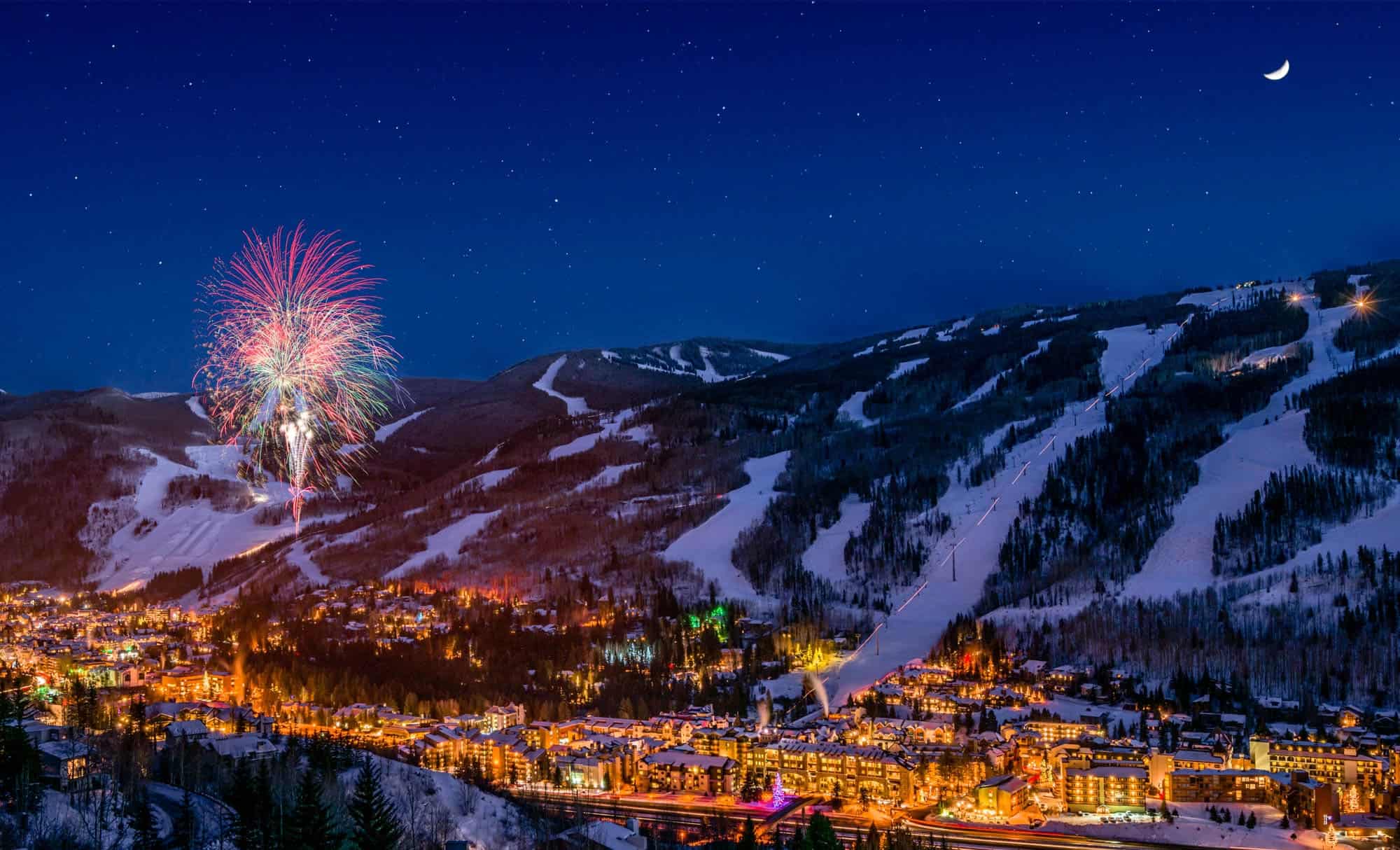 3  Apres Skiing
It's almost impossible not to fall in love with the European-style village and heated (yes, heated) cobblestone streets that epitomise Vail's village. And while some might assume Vail to be too posh to suit down-to-earth Aussies, it is useful to remember that the village didn't exist before the ski fields did. Vail village was purpose-built to cater for skiers – and thus it's quite acceptable to come straight off the slopes and party in ski boot-friendly bars until the early hours.
Unlike towns like Aspen, no one is turning their nose up at you when you arrive at a swanky cocktail bar fresh off the mountain. Drinking and dancing in snow gear is the standard, according to Colorado realtor Brian Flickinger, who has been skiing (and après-skiing) at Vail since he was seven years old.
"Schedule some après drinks at the Red Lion for a lively singing and dancing crowd," tips Flickinger. "Then clean up and head to Mountain Standard for dinner. Make sure to order the Bone Marrow so that you can follow up with the whiskey shots through the bone. To turn it up, head to shake down afterwards for live music or if you want to wind it down, grab a mudslide at Bully Ranch."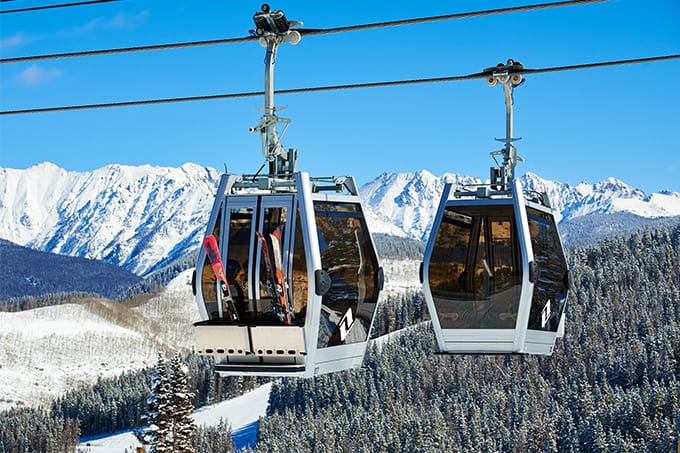 4  It's Cheaper Than You Think
Once upon a time, getting to Vail was out of reach for the average Aussie ski bum. But with international flights getting cheaper and Airbnb-type accommodation options taking over US ski towns, the once-exclusive resort is becoming more of an "everyman" destination.
International flight sales offer Sydney to LA return flights for as little as AU$900. If you're heading to Vail, you'll also need an internal flight to Denver, plus ground transport for the two-hour shuttle bus ride from Denver to Vail. AU$1,300 is a good estimate for transport costs if you can find sale flights, which are usually available in early February – outside of school holidays, and often the best time for fresh snow.
Try Airbnb for affordable accommodation options, as well as the US holiday rental site HomeAway.com. If you book early you can find great value on condos in the village for much less than you'd pay at a hotel, and you'll be able to save extra by cooking your own meals in the condo kitchen.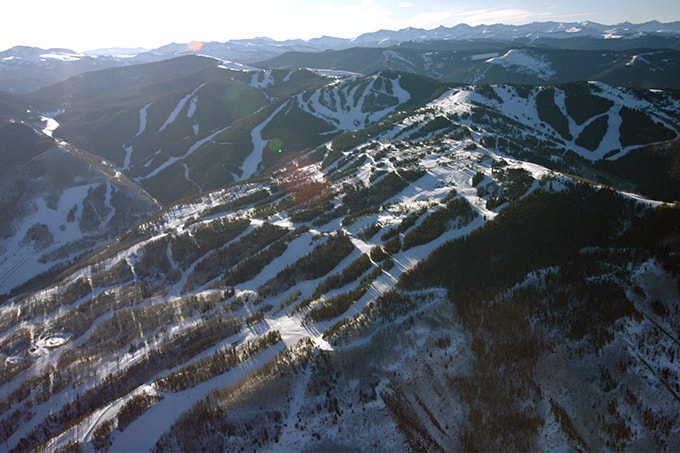 5  Ski More On The Same Ticket
By now you've heard of the Epic Pass, and the immense value it offers for Australians who like to ski and snowboard year-round. If you buy the unrestricted Epic Pass in advance of Vail's season for about AU$1175, you can ski all 5,000-plus acres of the resort as much as your heart desires (or legs allow). You can also try out neighbouring Beaver Creek (just 12 kilometres away from Vail), plus all 19 Vail-owned resorts in North America and Japan. These include the equally epic Whistler Blackcomb in Canada, Hakuba in Japan, and the largest resort in the US, Park City.
Once you're all done up north, you can head home and ski Perisher for the following Australian winter months on the same pass. If you still aren't seeing value here, let me put it this way: a one-day ticket to Vail costs the equivalent of about AU$200. You'll ski your money's worth in about five days. Any other resorts are an added bonus.