Iconic Lift KT-22 – The Soul of Squaw Valley
March 28th, 2018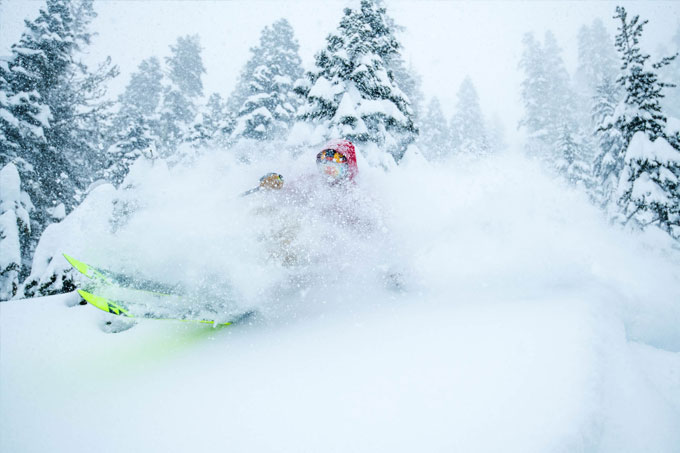 Squaw local, Chuck Patterson, bursting through a pillow of fresh powder
Mountainwatch | Reggae Elliss
Photos by Tony Harrington
The past month has been pretty amazing in Squaw Valley, "Miracle March" delivering almost 19 feet of snow – that's 5.7 metres – thanks to three big multi-day storms. It has turned around what has been a well-below average season and it looks like Squaw is in for a great spring.
By all reports there have been some epics powder days with some of the best action happening in the terrain accessed by the KT-22 chairlift, known by many Squaw skiers as "The Mothership". It has been voted the best chairlift in North America, not sure by whom, but once you ski the terrain accessed by that lift, you can understand why.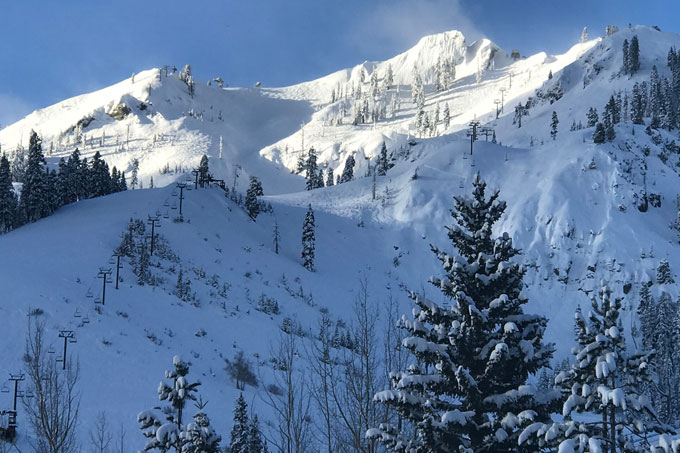 KT22 is the chairlift on the right and this photo shows about half the terrain it accesses.
Squaw Valley is renowned for its steep challenging terrain and names like the Palisades, Silverado, and The Slot have earned a kind of infamy with skiers worldwide. It's also well-known that Squaw Valley has plenty of cruisy intermediate family-friendly terrain, but when it comes down to it, the place offers some of the best and most varied in-bounds terrain in North America. Much of that terrain is found off KT-22.
Many of the cliffs, chutes, and steeps of KT-22 are right under the lift, and you witness some pretty amazing skiing from the locals as you ride the chair up. Squaw has been referred to as Squallywood, a term derived from big-name local skiers like Scott Schmidt, Shane McConkey, JT Holmes, Brad Holmes, and Aaron McGovern throwing down in full view of the crowd on the chair.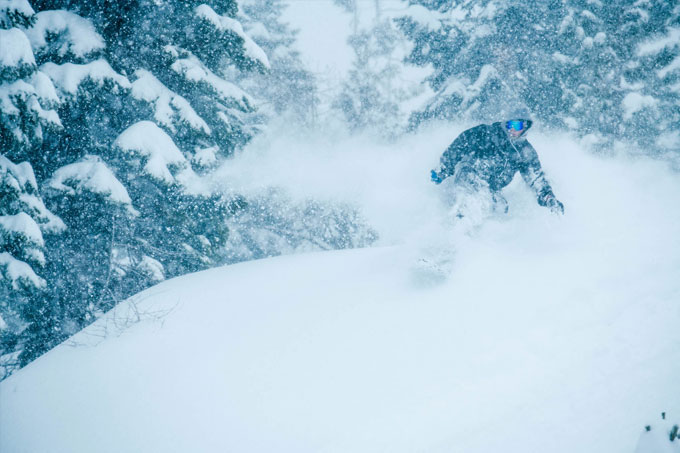 There's nothing like shredding on a storm day.
Things haven't changed, and the current young crew are right amongst it, heading straight down the nose, before hitting the Fingers, a cliff band with narrow chutes not far up from the base.
Someone told me that KT-22 is like the soul of Squaw Valley. At the very peak an eagle sculpture sits as a memorial to Shane McConkey, one of Squaw Valley's favourite sons who died in a ski base-jumping accident in March 2009. The eagle is perched above the drop-in to a super steep called McConkey's. You can hike up to the eagle from the back side of the peak and if you do, you'll understand the "Squaw's Soul" reference, as the views are amazing.
However, while 83 per cent of the terrain off KT-22 is classed as expert, it's not all cliffs and technical chutes. The terrain is steep, but lines like Chute 75, Tamara's, and GS Bowl are fun, turning on a challenging, exhilarating run.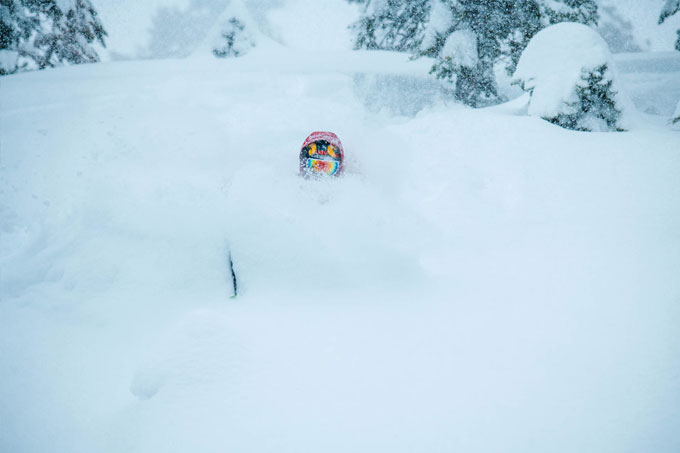 When big storms hit Tahoe, huge snow totals are the norm, and some days like March 17 are neck-deep. Chuck Patterson, having fun off KT22
There are also couple of groomed runs off the top of KT-22, which also access some mellower off-piste terrain, and it is worth exploring as you can move into different degrees of difficulty as your confidence grows. That is the beauty of Squaw – regardless of your ability, you can stay in your comfort zone, or you can progress and climb out of it.
When it's a powder day, Squaw's terrain and tree-skiing takes it to another level – score a foot of fresh snow on this mountain and you are in for one of the days of your life. It is world class.
Australian photographer Tony Harrington has spent a lot of time in Squaw over the years and turned up two weeks ago, just in time for the storm of the season. It was dumping the day he arrived, dropping half a metre overnight. However, the wind was blowing "too much snow around" to shoot photos, so he had to go skiing. Bummer for Harro!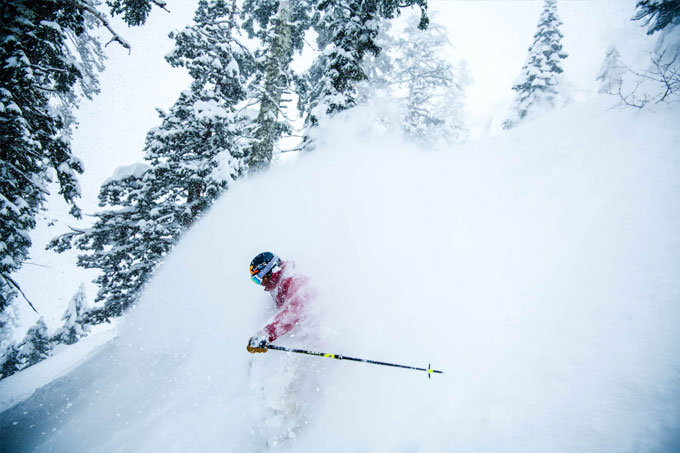 Another one of Chuck, leaving a plume of dry snow through the trees.
"Mate, it was unbelievable. Waist deep and bottomless at times. On the steeps, the snow was just flying over my head."
Fortunately for us, Harro did get out there for a day's shoot and it was still dumping.
His timing could not have been better, the storm from March 15- 18 dropping over two metres of snow. These shots were taken on March 17.
"It was full-on storming, so I could only shoot tight. KT opens up so much terrain when you flank around the left and right. It's not all just about down the front face. Some of Squaw's best tree skiing is serviced from this lift. That's where these shots were taken."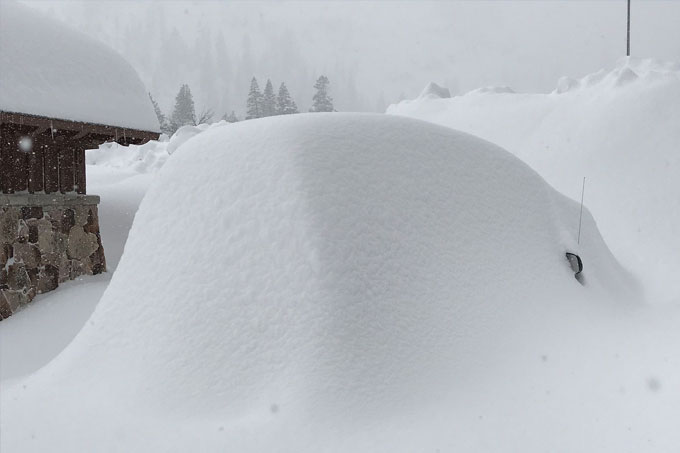 Dude, where's my car? Scenes like this were common in Squaw over the past month.
On a powder day, things can get frantic at the base at KT and people start to line up a couple of hours before the lift opens. The busiest days are mid-season and if it is bluebird and a weekend, the crowd can be ridiculous.
However, it can be a different story if it is a stormy mid-week day and later in the season. That's what Harro experienced, and he reckons the crowds were mellow, especially in the afternoons when it was snowing hard. You've got to love fair-weather skiers who stay inside on the best days.
For Australian skiers, Squaw Alpine is easy accessible, with daily flights direct from Sydney to San Francisco. Then it's an easy four-hour drive to the resort via the I-80 freeway. Alternatively, you can grab a connection from LA or San Francisco to Reno, which is a short one-hour drive from Squaw and the other Lake Tahoe resorts.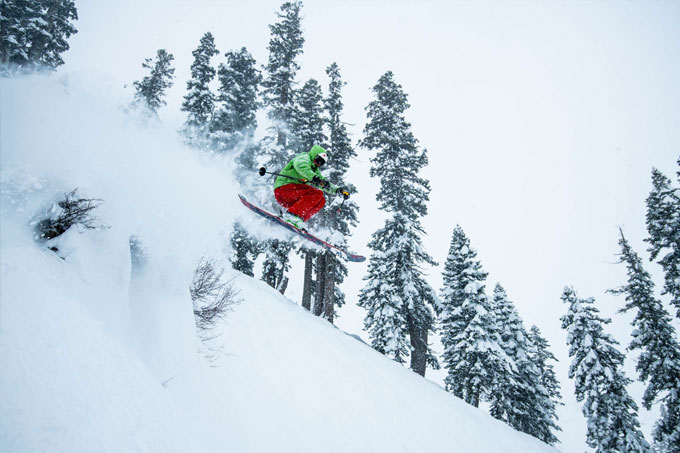 New Zealand skier Oscar Halliwell, making the most of his time in Squaw valley. It's all about timing.
After a few visits to Squaw I reckon it offers everything you'd want in an overseas destination, but the main ingredients are quality snow and good, challenging terrain. Like anywhere, the snow can be a matter of luck, especially in a season like this when it was dry for much of December and January.
However, when Squaw Valley is on, the place is hard to beat. This past month it was definitely on and KT-22 was at its legendary best.