Jakara Anthony And Ben Tudhope Claim 2022 Snow Australia Athlete of The Year Awards
April 29th, 2022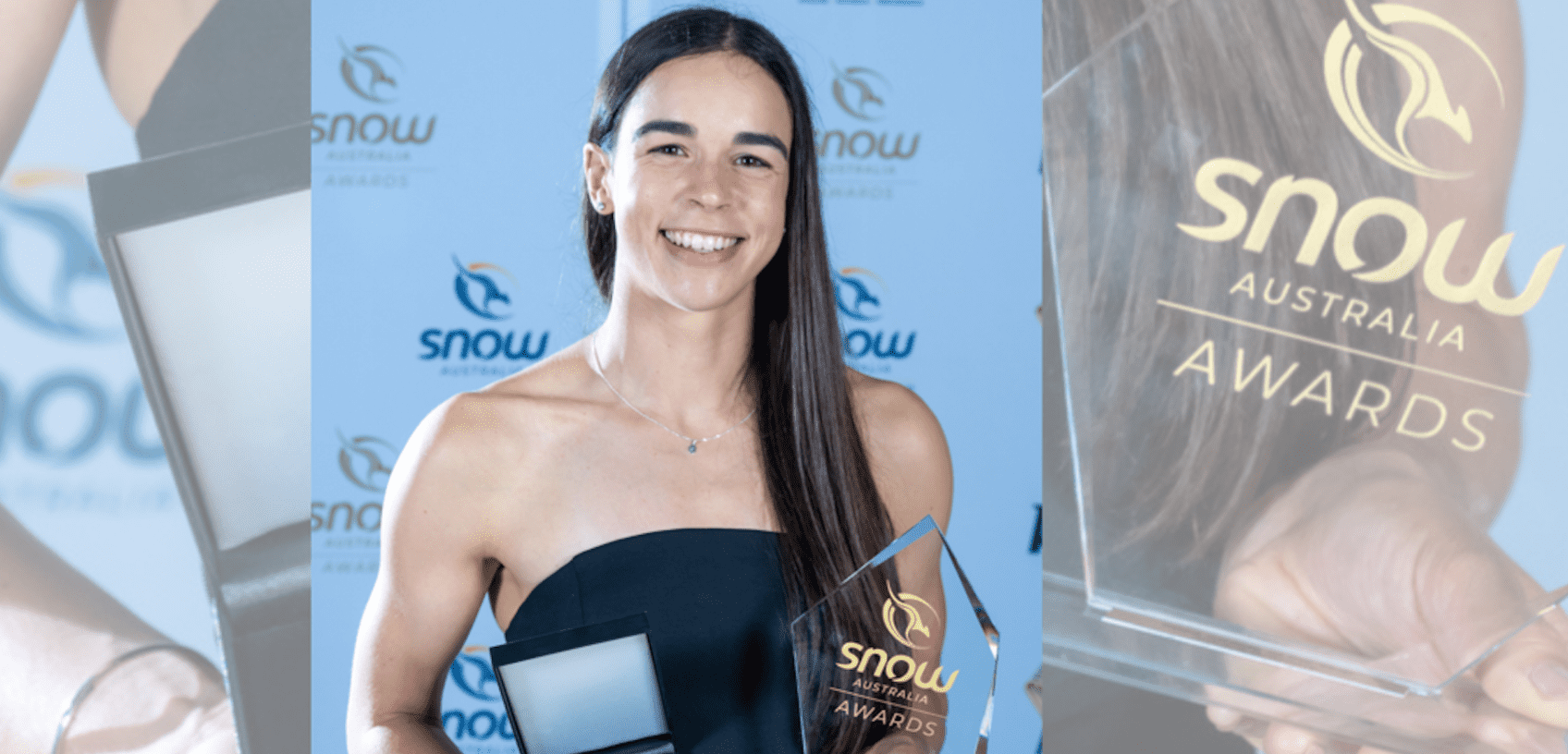 Mountainwatch | Press release
Olympic and Paralympic medalists shone bright last night in the 2022 Snow Australia Awards, with a gala event in Melbourne celebrating the best snowsport athletes and performances of the 2021/22 season.
Mogul skier Jakara Anthony was presented with the Athlete of the Year Award (Olympic Disciplines), claiming yet another accolade after winning the gold medal at the 2022 Beijing Olympic Winter Games and two FIS Crystal Globes, including the overall moguls World Cup title.
Anthony was recognised for her sensational 2021/22 campaign, the most successful season by an Australian winter sport athlete in history, during which she won 11 World Cup medals from 12 starts and became the first Australian Olympic Champion since 2010.
"It's still very cool every time I hear the words Olympic champion, and I always think did that really happen," Anthony said. "But it did, and it's been a really incredible year and I'm still lost for words for how to describe it, but I couldn't have done it without the Moguls family. The moguls athletes, support staff and coaches are a pretty unique crew, and I wouldn't be where I am without all of them.
"To have won the Olympic gold medal, two Crystal Globes and now the Snow Australia Athlete of the Year Award – it's been an amazing season," she said.
In the Paralympic disciplines, Ben Tudhope made it three in a row taking the Athlete of the Year Award, after winning in 2020 and 2021. The 22-year-old snowboarder edged fellow award finalist para-alpine skier Josh Hanlon courtesy of six World Cup medals (including five golds) which paved the way to his second consecutive Crystal Globe as overall World Cup para-snowboard champion.
Tudhope, who also won two medals at the World Para Snow Sports Championships in Norway and claimed the men's snowboard cross SB-LL2 bronze medal at the Beijing Paralympic Games, could not accept the award in person as he is currently based overseas, but sent a video message to thank the Australian snowsport community for the award.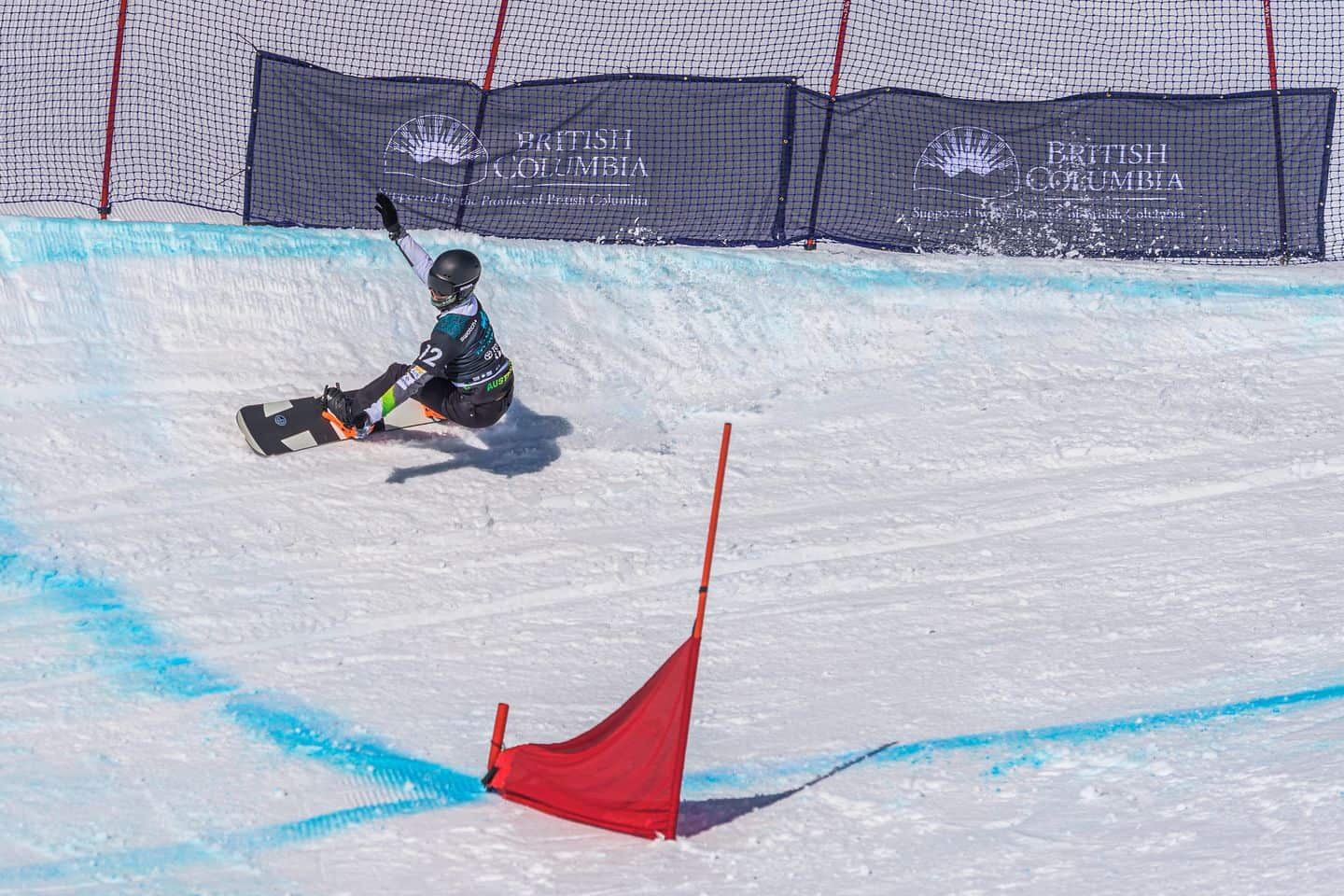 "What an honour it is to win this award – it's an honour to be recognised alongside some of Australia's best winter athletes," Tudhope said. "There are so many people who put my interests before their own, and it all goes in to helping me get where I am today.
"It takes an army of people to succeed as a wintersport athlete in Australia, so I'm really grateful for this opportunity and this award is for them too," he said.
Beijing medalists Scotty James and Tess Coady were recognised with the Alex 'Chumpy' Pullin Outstanding Achievement Award, honouring the memory of the two-time snowboard cross World Champion who tragically passed away almost two years ago.
After bringing home bronze from PyeongChang in the men's snowboard halfpipe four years ago, Scotty James was able to better himself and win silver in Beijing, becoming one of only five Australians to ever win multiple medals at the Olympic Winter Games.
The 27-year-old Victorian shared the award with 2022 Winter Olympic Games snowboard slopestyle bronze medalist Tess Coady, who made a remarkable Olympic debut in Beijing and got some redemption after missing the PyeongChang Games due to a heartbreaking ACL injury suffered in a practice run, just a few days before the event.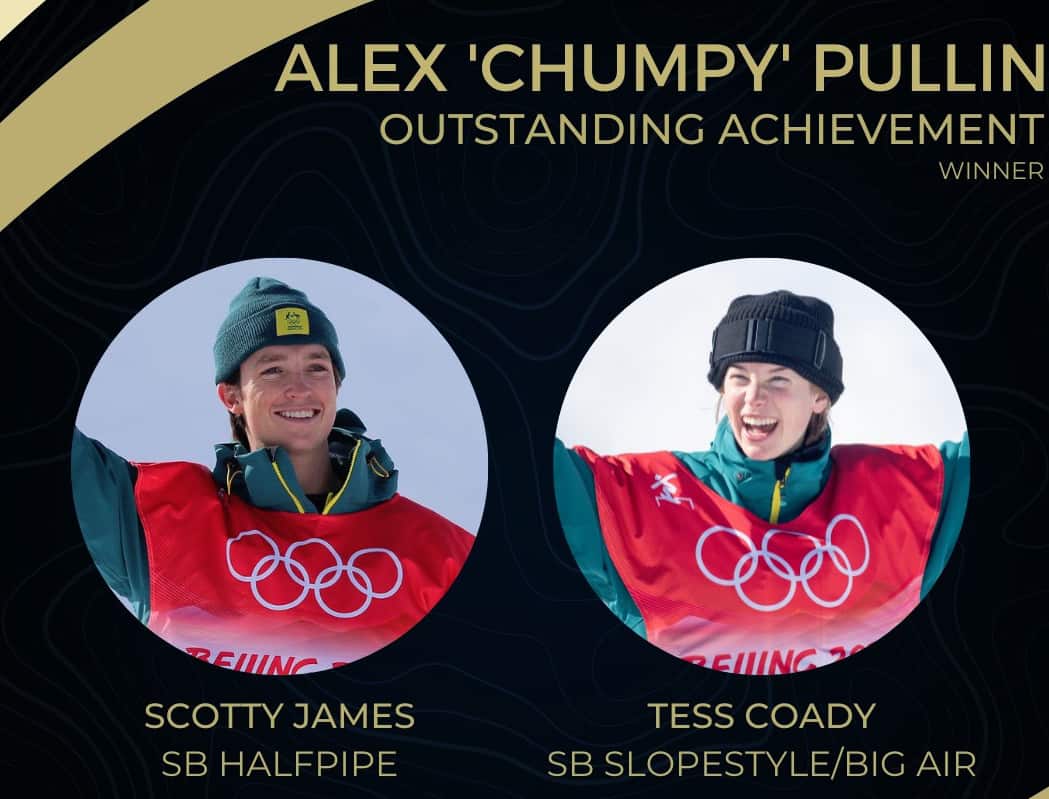 The Award was presented by 2021 winner Danielle Scott who said: "This is an award that we all hold so close to our hearts and Chumpy's legacy will forever shine bright.
"This Award meant so incredibly much to me, and I know how much it will mean to Scotty and Tess, and is a fantastic recognition of their achievements," she said.
Snowboard halfpipe prodigy Valentino Guseli topped an impressive Junior class, which also included FIS SBX Rookie of the Year Josie Baff, to claim his second consecutive Snow Australia Junior of the Year Award.
In just his second year on the FIS World Cup circuit, the 17-year-old secured the first two podiums of his promising career and put his talent on display in Beijing, where he finished sixth on debut in a star-studded snowboard halfpipe final.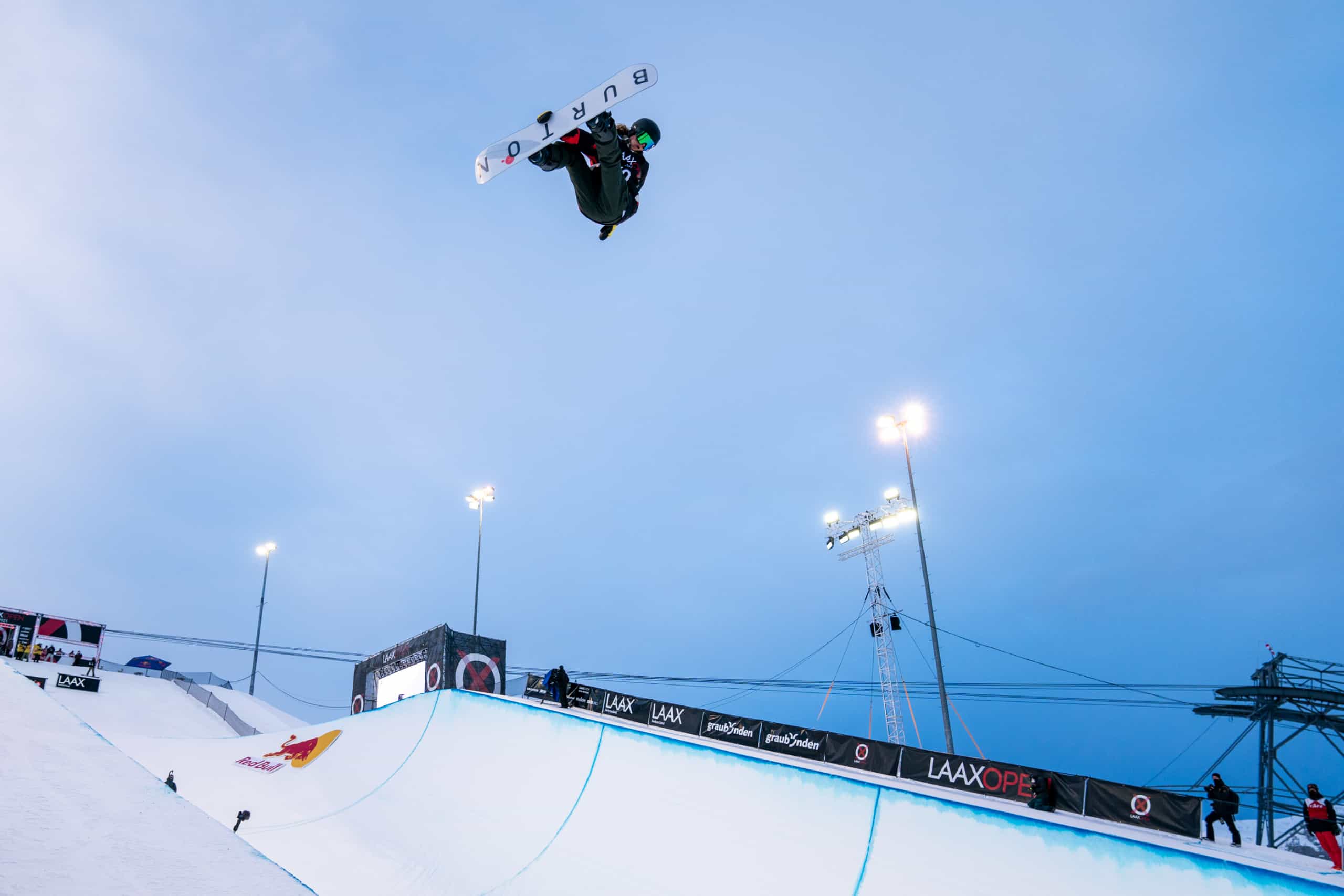 "I'm super happy to be sitting in this position – it's been a great year and it's a privilege to win this award," Guseli said. "I'm living out my dreams every day and being in that Olympic final in Beijing was one of those.
"All I wanted to do was show the world how I could snowboard and I was happy that I was able to do that," he said.
Coaching awards were also presented during the night, with Par Sundqvist (Paralympic Disciplines) taking the award for the second time in a row for his outstanding work with Ben Tudhope, while Australian mogul team coaches Peter McNiel and Katie Blamey were recognised in the Olympic Disciplines category for their contribution to Jakara Anthony's extraordinary season and the men's moguls team results.
Snow Australia CEO Michael Kennedy congratulated all award winners and nominees, highlighting how Australian athletes performed magnificently and represented our country proudly on the world stage.
"Despite the global pandemic still presenting significant challenges both domestically and internationally, the athletes performed magnificently, and we could not be more proud of how they conducted themselves both on and off the snow," Kennedy said.
"We worked closely with our high-performance partners including the Olympic Winter Institute, NSWIS, VIS, and the Australian Institute of Sport to provide our athletes with the best chance to compete at the highest level."
With Australian athletes claiming 26 World Cup podiums overall, four medals at the Olympic and Paralympic Games and four Crystal Globes, they certainly delivered.
"Their success tells us that we are on the right track as we will continue to work to provide the best possible training, pathway programs and opportunities for high performance athletes in the years ahead," he said.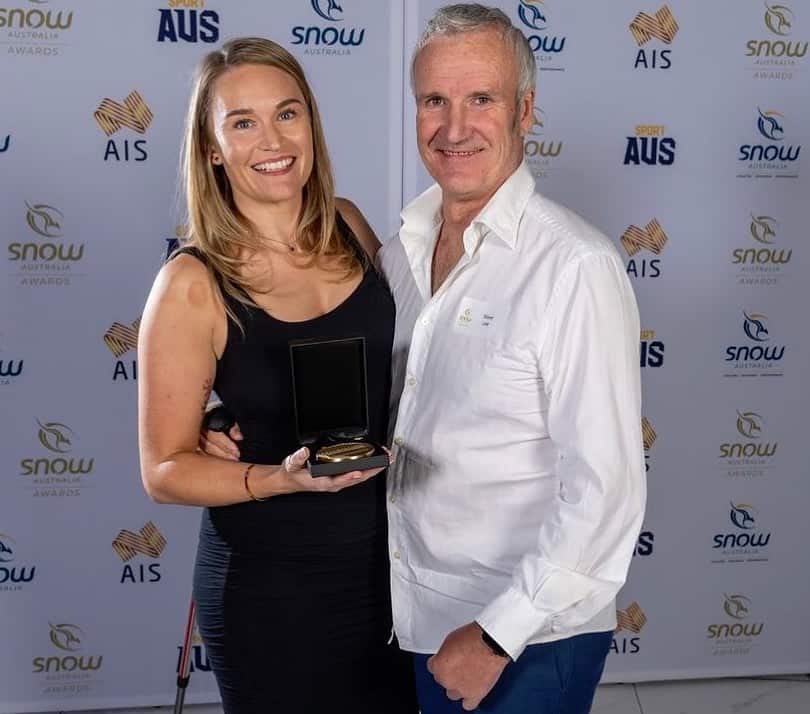 The gala night was also an opportunity to celebrate the careers of eight athletes who announced their retirement at the end of the 2021/22 season.
Para-alpine skiers Mitch Gourley and Mel Perrine, para-alpine guide Bobbi Kelly, mogul skiers Sophie Ash, James Matheson, Taylah O'Neill and Brodie Summers, and Ski Cross athlete Sami Kennedy-Sim were all presented with the Snow Australia Medal in recognition of their Games participation, service and outstanding achievements.
2022 Snow Australia Award Winners
Athlete of the Year (Olympic Disciplines): Jakara Anthony
Athlete of the Year (Paralympic Disciplines): Ben Tudhope
Junior Athlete of the Year: Valentino Guseli
Alex "Chumpy" Pullin Outstanding Achievement: Tess Coady and Scotty James
Coach of the Year (Olympic Disciplines): Peter McNiel and Kate Blamey
Coach of the Year (Paralympic Disciplines): Par Sundvist