Japan 2021-22 Snow Season Outlook – January Update
January 14th, 2022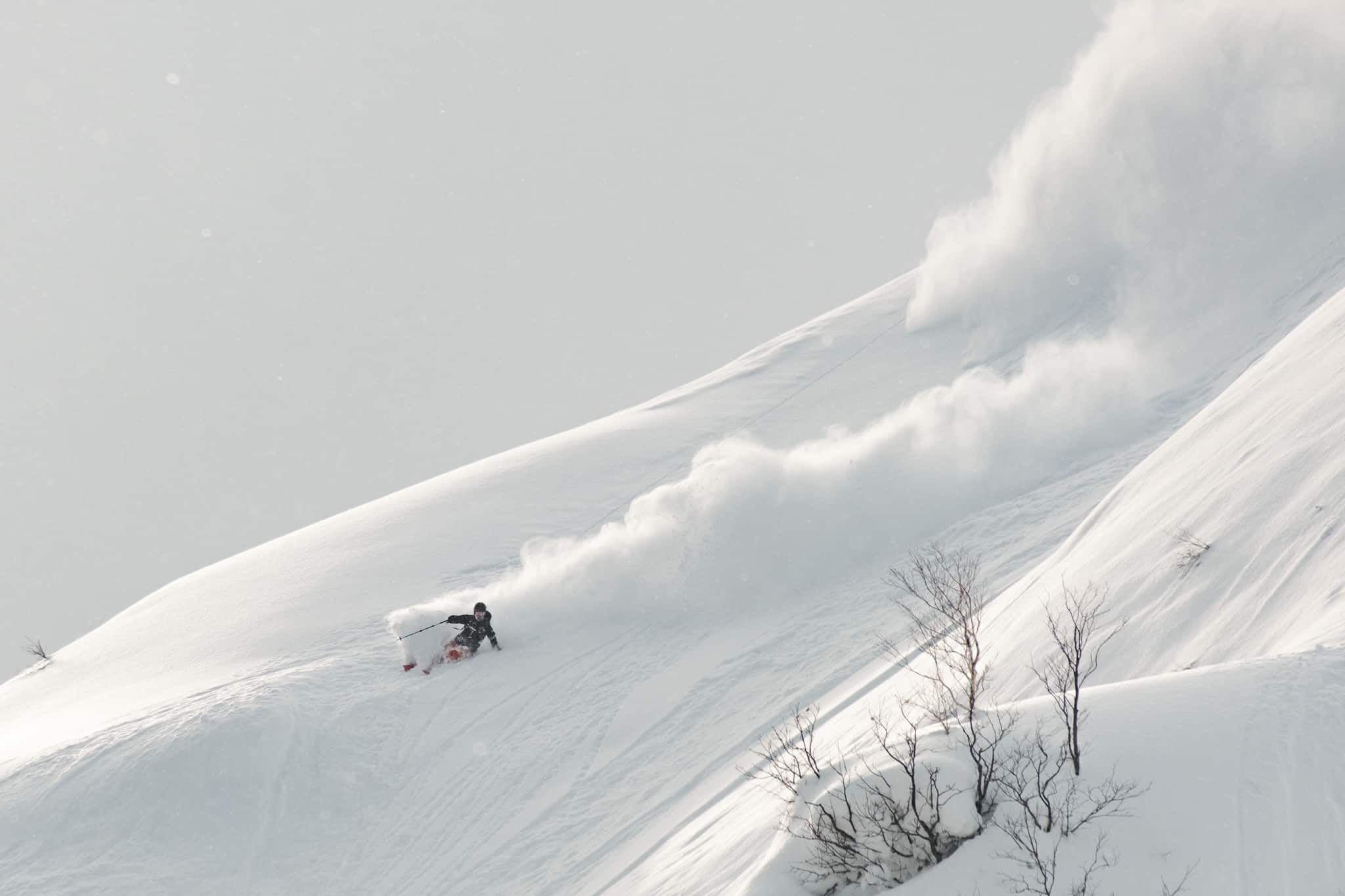 Mountainwatch | The Grasshopper
We've made it to mid-January and many popular Northern Hemisphere destinations are firing. It was a successful December around Japan with some consistent large storm systems hitting both areas of Honshu and Hokkaido.
In the north Niseko had consistent snow days recorded every day from December 15 through past the new year and the first half of January continued to turn on  some epic powder days.
With healthy bases around the country, what's to expect for the rest of the season? As you can see in the five-day accumulation map below there are some nice-looking snowfalls on the way this week, particularly for Honshu, which I'll cover further in my weekly forecast. As for the long term we'll explore that in detail below.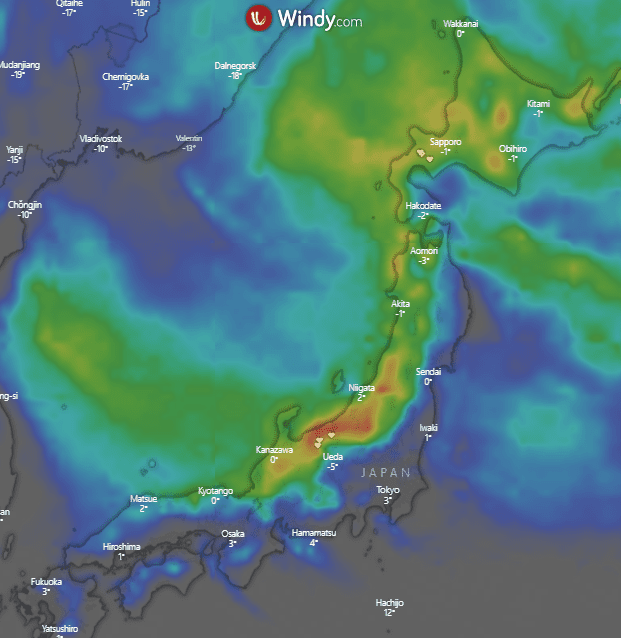 Pressure and Precipitation
At the beginning of the winter the overall outlook was for average to above average snowfall throughout Honshu and average to possibly below average in Hokkaido. The three-month seasonal outlooks for precipitation and mean sea level pressure are shown below and looks promising for average to above average snow for rest of season.
We can see a region of Low pressure over Japan which is promising and the area of anomalous high pressure around the Aleutian Islands has been a feature all winter. As mentioned in earlier updates this typically isn't great news as it means a weaker Aleutian low, but so far this season low pressure over Japan has mostly offset this effect. The precipitation outlook looks slightly above average around Japan, which is also a good sign. These forecasts are for January to March, taking us through to the start of spring.

JMA Update
The latest update from the Japan Meteorological Agencyis shown below and covers the next month. It doesn't really give much away, but it does show average snowfalls are expected across the country in the next month.  Depending on how optimistic you are, you may focus on the 30 percent chance of above average snowfall. This is a little different from what we saw last month and originally at the start of the season where there was a slightly better outlook for regions of Honshu compared to Hokkaido. Here we see best chances of average conditions all around the country.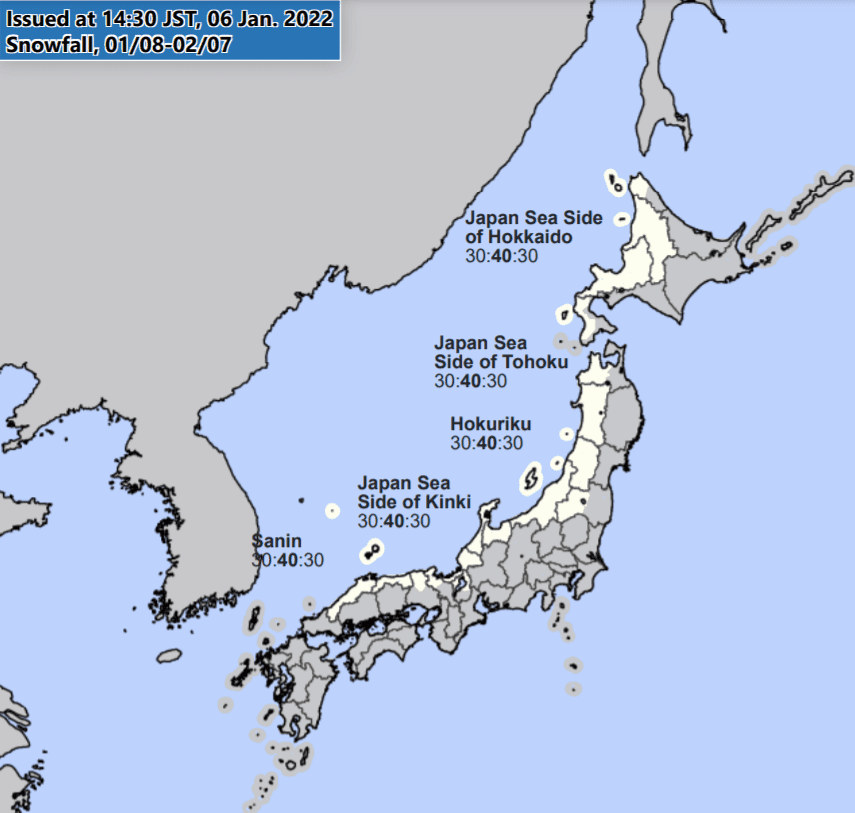 Has much changed?
In the time between the last month there hasn't been many new developments. The overarching theme is still average and for the next month we aren't seeing the difference between Honshu and Hokkaido which was present earlier in the season. It doesn't sound that exciting when you say average, but once again seeing some vision of the conditions so far this season, average for Japan is some of the best deep skiing in the world.
Conclusion
Unfortunately, due to the ever-dynamic nature of international travel over the past few years getting to Japan for a ski holiday isn't happening this season, but for those lucky enough to be in Japan right now this week should see some really good days around Honshu with a couple of good storm cycles rolling through. After that it looks as though average is the word of the day, which once again isn't a bad thing. It looks like for those stuck in the southern hemisphere there will be plenty of days to enjoy vicariously through social media and the Mountainwatch snow reports.
That's it from me folks. If you've got a different theory on what's going to happen this winter, or just want to provide feedback, then please hit me up on the discussion below. Or you can follow me on Facebook. Remember to check out my weekly forecasts for Japan every Thursday, giving you all the highlights and snowlights of the coming winter.