Japan 2021-22 Snow Season Outlook – December Update
December 17th, 2021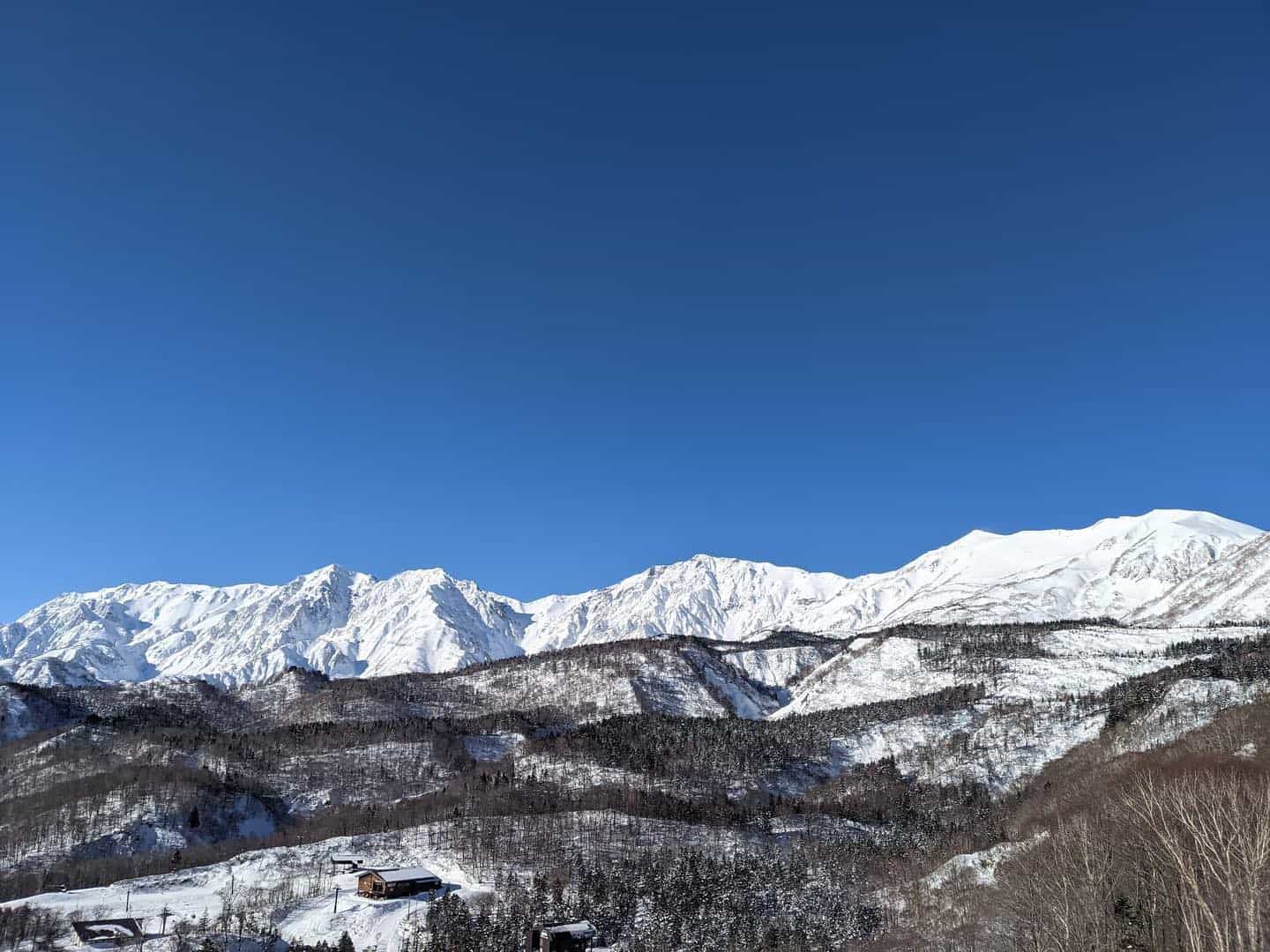 Mountainwatch | The Grasshopper
The Japanese snow season is starting to click into gear with some good snowfalls on the way over this weekend around the country and continuing over the next week and as you can see from the below image the 10-day accumulations are looking good (for more on this check out my weekly forecast).
But for now, it's time to revisit what to expect on a longer scale as we look to next year with the chance of a last-minute trip possibly still on the cards.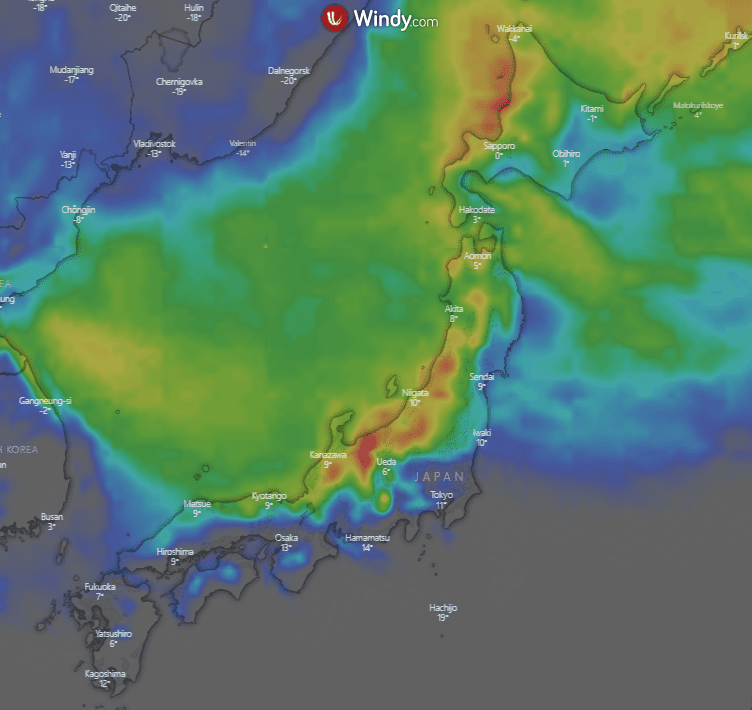 Pressure Maps
The image below shows last month's Dec-Feb (DJF) mean sea level pressure anomaly on the left and the updated forecast from this month for Jan-Mar (JFM) on the right.
I've outlined some differences between the two on this month's chart – we can see the strengthened region of high pressure which was present in last month's forecast. This mean a weaker Aleutian Low which generally isn't great news, but it's not the be all and end all when it comes to snow-bearing systems. Another difference is that there was a small but noticeable region of low pressure around the northern half of Japan in last month's forecast. This was also larger in the JMA's own contribution last month, but now there is virtually no low anomaly present.
Not much has changed in terms of the climate drivers over the last month, with ENSO ( El Niño-Southern Oscillation)still tipped to peak over Dec-Jan before moving back towards neutral in spring. We can see this below with the low-pressure anomaly around the Indo-Pacific indicating increased convective activity.
Overall, this isn't a massive change with the weaker Aleutian Low already eluded to last month and we are still looking around average snowfalls for Japan although it may be slightly better for resorts in Honshu

JMA Forecast
The left picture below shows the snowfall outlook on December 18 from the JMA (Japan Meteorological Agency) for the next month. The deep blue colour lines most of the country, meaning a good chance of above average snowfall is on the way. This suggests the nice snowfalls on the way over the next week will hopefully continue into January.
The next picture on the right shows the most recent winter snowfall outlook and suggests things might slow down a little, particularly up north, for the latter half of the winter. As in my first outlook we can see that it still looks better for central Honshu areas than areas further north. However northern Honshu and Hokkaido are now looking at a chance of a slightly below average season whereas before they were sitting on average. Keep in mind this is only slightlybelow average with average in this part of the world being some of the best quality riding you'll find anywhere.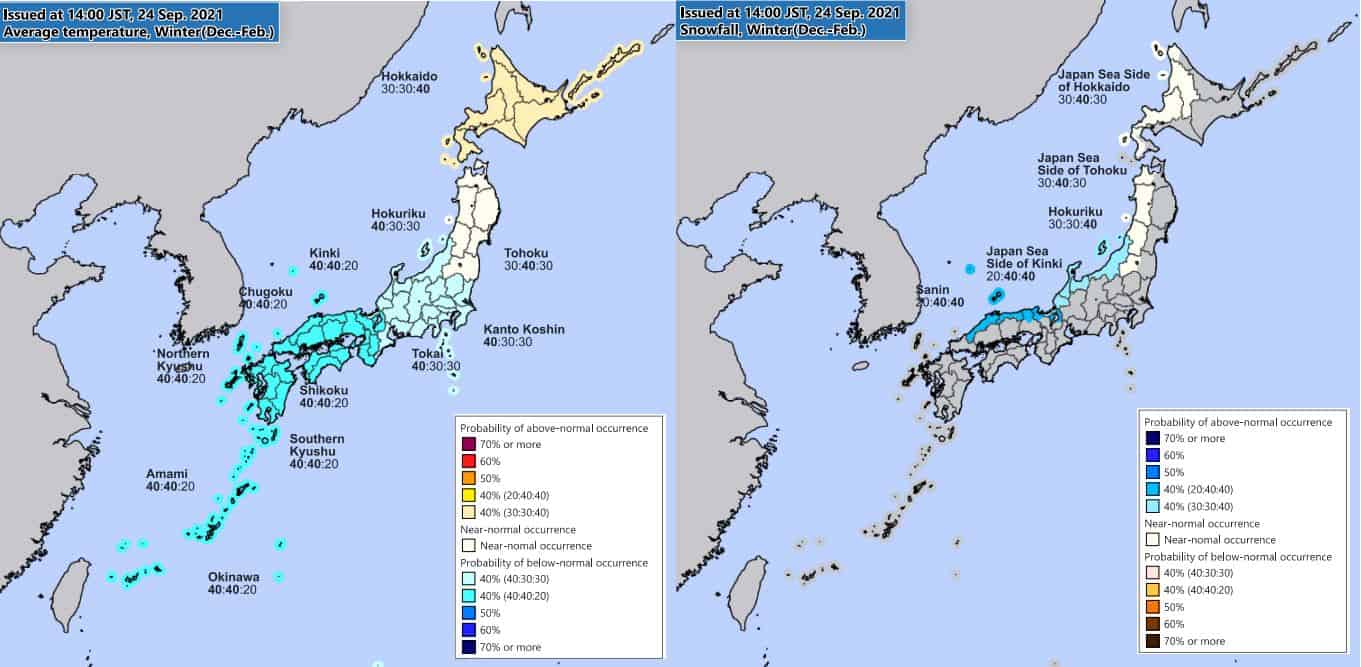 Conclusion
So, what have we learnt? Well, looking at the winter as a whole not much has changed with snowfalls looking around average to maybe slightly above average in Honshu, and average to slightly below average up north in Hokkaido. Interestingly the whole country is looking at above average chances of snowfall over the next month, which highlights the probabilistic nature of seasonal forecasts. I'm still liking average to slightly above average around the country, with average definitely worth a trip (governments willing).
That's it from me folks. If you've got a different theory on what's going to happen this winter, or just want to provide feedback, then please hit me up on the discussion below. Or you can follow me on Facebook. Remember to check out my weekly forecasts for Japan every Thursday, giving you all the highlights and snowlights of the coming winter.
Grasshopper
While it is looking like an average year for Hokkaido resorts, here's a taste of what Niseko was like last winter. This edit was shot within the resort's boundaries by Sea and Summit Media and will get you psyched for a trip to Niesko when borders reopen.