Let's Split – Trip Four, The Main Range
September 14th, 2018
Mountainwatch | Amine Yasmine. Photos: Jakob Kennedy
For TRIP 4 of Let's Split, a large and very enthusiastic group of shredders met at Dead Horse Gap car park, seven kilometres south of Thredbo, at 7.30am on Saturday August 25th, with the intention of hunting down some of the fresh snow that fell on the Main Range earlier in the week.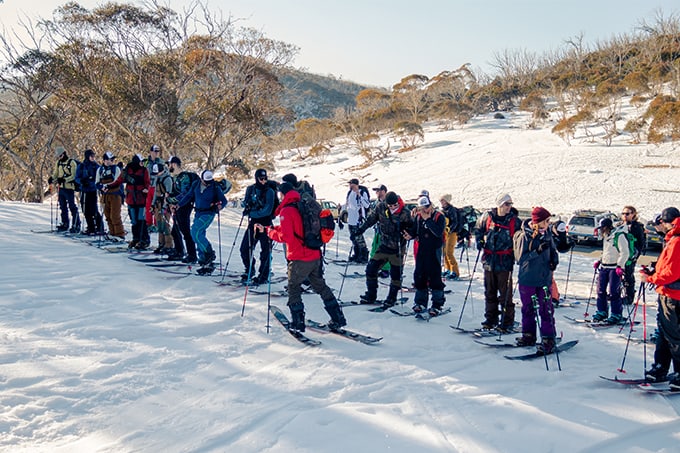 The group was also joined by some of the YES. Snowboards global team riders – David Carrier Porcheron (aka DCP), Helen Schettini, and Australia's own Clint Allan.
After the mandatory gear checks and safety briefing, the group started touring up Dead Horse Gap toward South Ramshead, making great time considering (a) the large group size and (b) that some people joining this trip had never been splitboarding before!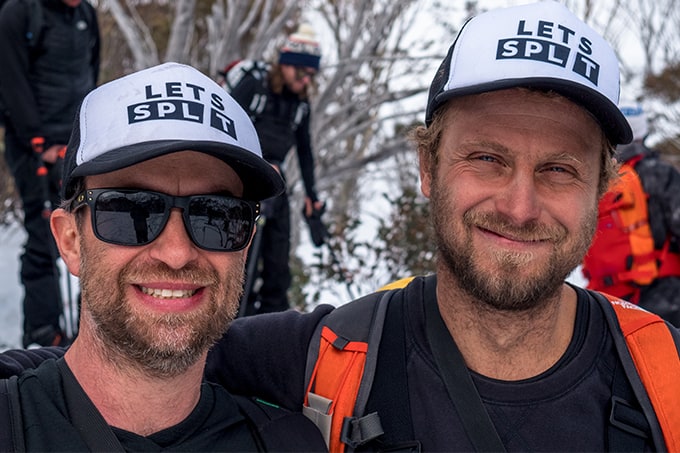 After assessing the snow conditions on the Ramshead Range, we decided to drop into Leatherbarrel Creek for our first run, where we were treated to some high-quality sun effected 'Aussie Pow' … and some nicely spaced trees for the group to ride down through.  We stopped down at the creek for our first break, refuelled, and then assessed where to next.
The next run saw us crossing over Leatherbarrel Creek and touring up toward The Simkin.  The snow quality on this aspect was amazing, and the runs back down toward the Creek were nice open faces allowing the group to spread out.  The view back toward the Ramshead Range from this side of the valley is incredible, and really gives some perspective for much terrain we have out there on Australia's Main Range.  The Lucky Country indeed!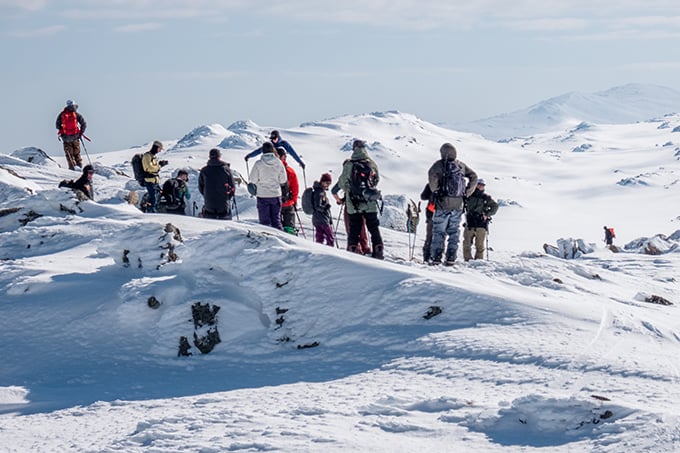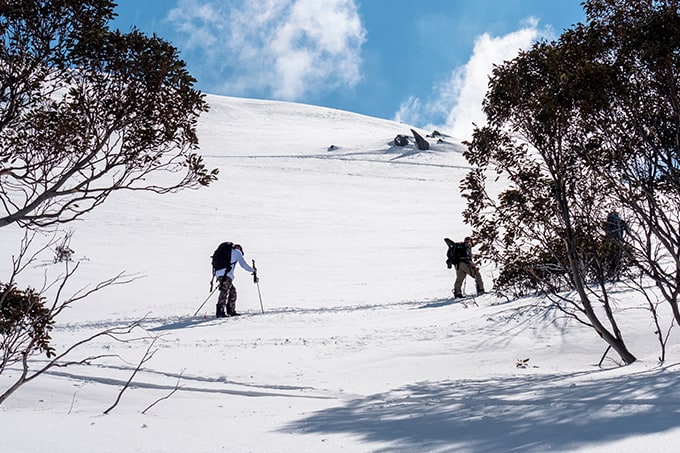 The group then stopped for lunch at Leatherbarrel Creek and re-fuelled for the incredibly scenic climb back out through Golden Gully.   Now there is no doubt that this a bit of a 'slog', so considering that we had some people joining us for this trip who had never splitboarded before, it was a very solid effort by all involved to push through with such tired legs.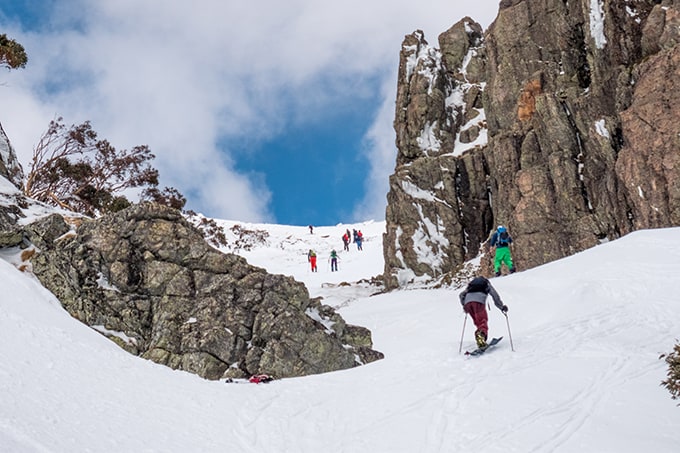 We all regrouped on top of South Ramshead, where Aussie snowboarding legend Tom Pelley kept the group entertained with his Hand Plant antics.  We then transitioned back into ride-mode and took our climbing skins off for the last time that day.  Given the stable snowpack on that aspect, our last run for the day was deemed a Party Wave down toward Bogong Creek – where the group clearly enjoyed the great snow conditions and group vibes as they surfed their way down together.
So, to everyone who joined us for TRIP 4 (and for any of the previous trips this year) we would like to thank you for your incredible support.  And for the group of people who helped shape and support this initiative, a HUGE THANK YOU to you guys as well.  Mountainwatch.  Twelve Boardstore, Pacific Prizm Boardstore and SlidePath.  And of course, our incredible media guru – Jakob Kennedy of PhootStep Films = thanks for capturing all the great moments that we were treated to for the inaugural year of LET'S SPLIT.
For enquiries about Let's Split go to http:slidepath.com.au/lets-split or email hello@slidepath.com.au