Mountainwatch Guide To Revelstoke
December 19th, 2018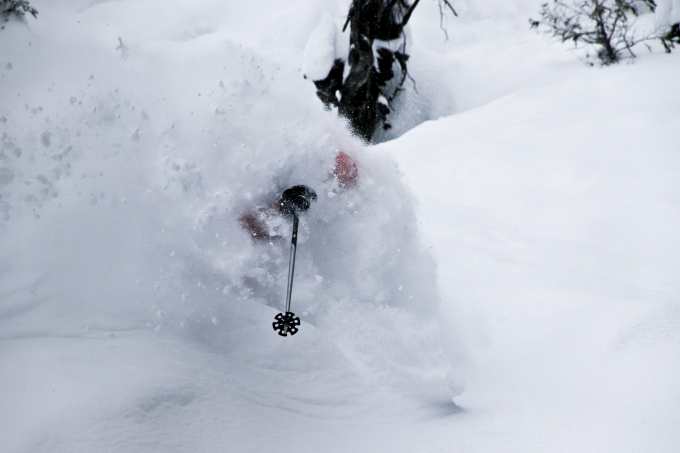 Mountainwatch | Nat Segal
You know the name, you may have skied the powder but there is a lot more to Revelstoke than what you might find on a powder day.
While Revelstoke Mountain Resort has gained exponential popularity since its debut in 2007 and is renowned as having the 'most skiable vertical' (1713m) in North America and record-setting annual snowfall, skiing in Revelstoke dates back to over 100 years and has a long history in the local community.
The first ski jump was built in Mount Revelstoke National Park in 1916 by the Revelstoke Ski Club, bringing celebrated athletes from around the world to interior BC to compete up until 1975. Although the ski jump is now closed for high speed manoeuvres, Revelstoke has been an epi-centre for skiing ever since, including having the longest running ski club in Canada and is surrounded by some of the first backcountry and heli-skiing operations in the country.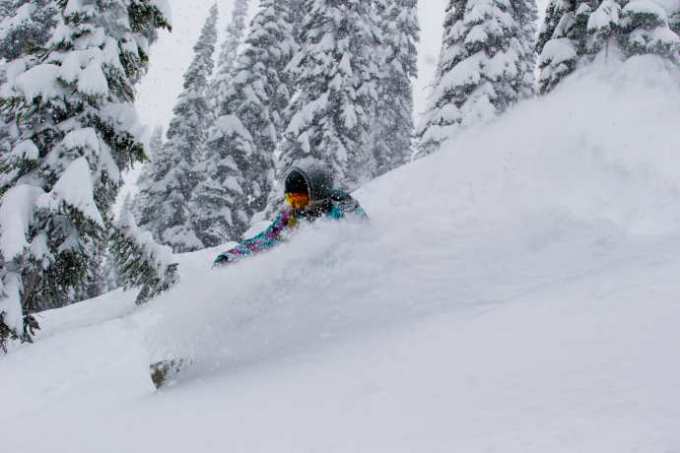 Located in the valley between the Monashee Mountains and Selkirk Mountains, the Revelstoke township is surrounded by the world's only inland temperate rainforest. Sandwiched between the Coast Mountains (Whistler) and the Rockies (Banff, Lake Louise) this region gets to share in a mix of the large amounts of precipitation coming in from the south-west on Pacific storm systems with the added bonus of a colder temperatures. As a result, Revelstoke is in the perfect geographic and topographic position to receive tonnes of dry winter storms. Yep, that's a lot of face shots.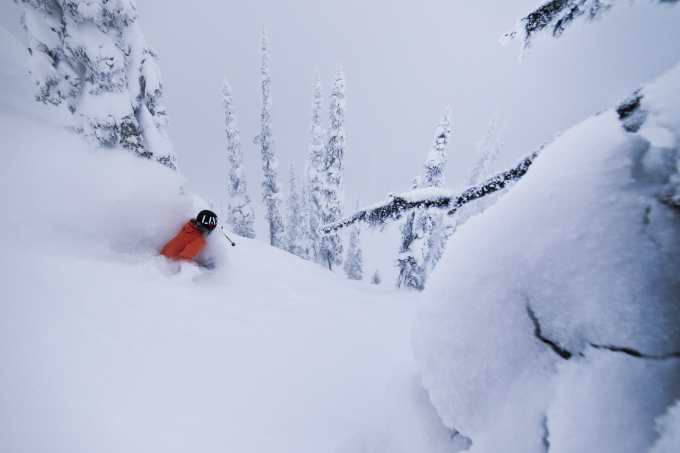 REVELSTOKE MOUNTAIN RESORT
Revelstoke Mountain Resort is part of both the Mountain Collective Pass and the Ikon Pass. Now in its eleventh year of operation, RMR is located a quick drive from the heart of downtown Revelstoke. On paper, RMR is a pretty sweet resort – 1713 metres of vertical, one long gondola, two chairlifts, a mix of advanced and intermediate runs and two areas for beginners. In reality, it is hands down one of the best ski resorts for powder snow and glade skiing that I have visited. Over the winter the accumulation of snow turns the place into a veritable playground of pillows, cliff drops and steep trees.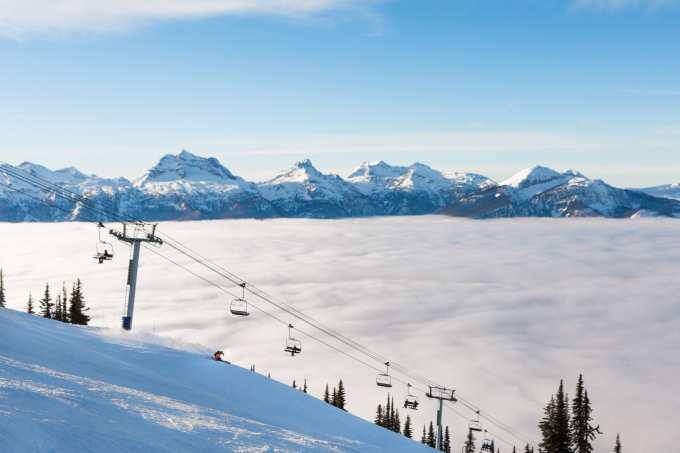 Don't be put off by the small number of lifts as from the top of the Stoke Chair (2225m) the options can be endless, meaning that you can lap the same lift all day without getting bored. Up high there are four inbound alpine bowls that with a quick hike will offer enough steep turns and chutes to get you nice and puckered before your après. Alternatively, you can punch into cruise control and take on the groomers. From the top of The Stoke Chair to the lower lifts there is access to a variety of green, blue and black groomed runs including the Last Spike, 15kms of green groomed slope that runs from the top of the mountain down to the base.
MUST DO:
– Ski from the top of the mountain to the base – any variation
– Hike up to the top of Sub Peak on a sunny day to check out the view
– Follow the Lemming Line to the north side of the resort and explore the trees on Three Bears and Gracias Ridge
– Take a turn on the Ripper Chair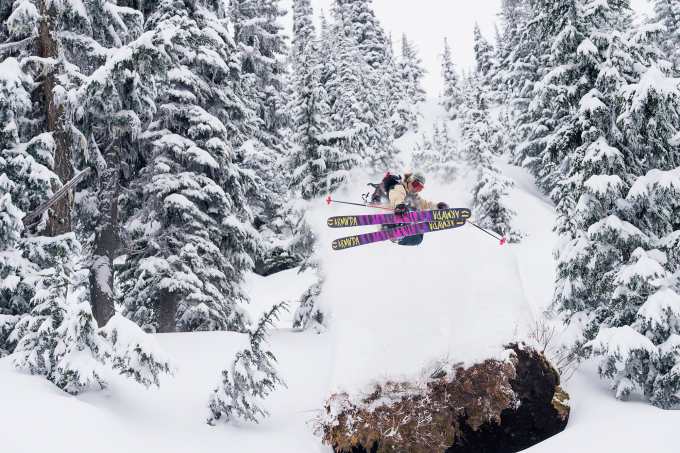 BACKCOUNTRY
Long before the ski hill was spinning, tracks could be found throughout the backcountry surrounding the town of Revelstoke. However, some of the easiest accessed backcountry terrain can be found off the side of Revelstoke Mountain Resort. A quick skin through the north or south backcountry gates of the resort opens up days of terrain to explore. For the more adventurous, there are a lot of backcountry zones to explore, from sled-accessed skiing to ski touring in Rogers Pass (Glacier National Park) or overnight trips to backcountry lodges.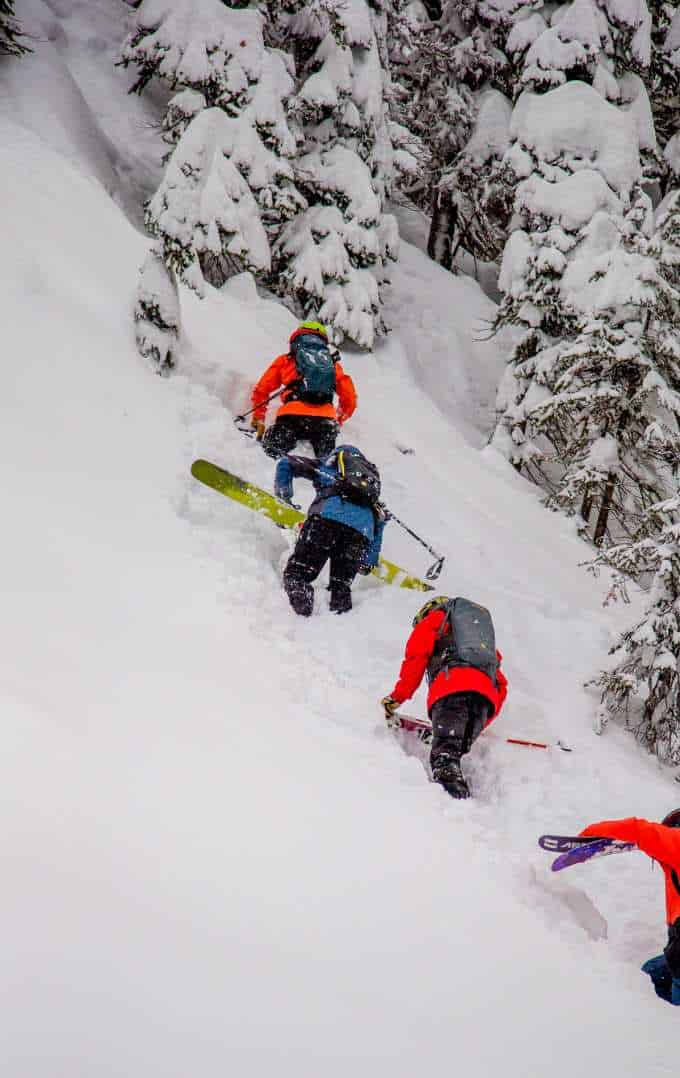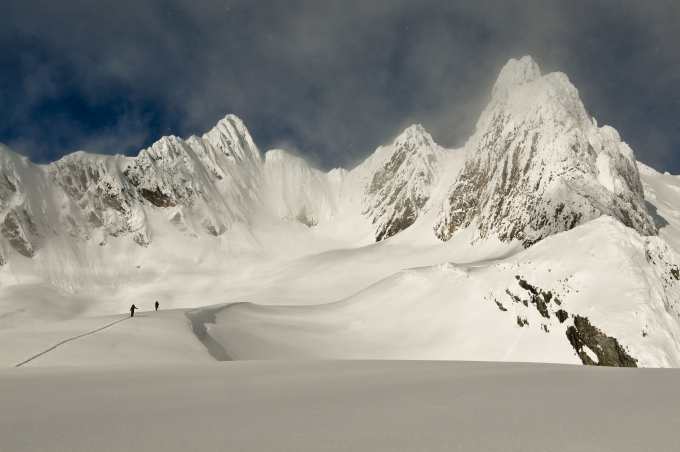 A FEW QUICK TIPS BEFORE YOU HEAD OUT:
– Know before you go – Make sure you have the knowledge, experience and skill to go into the backcountry. If not, hire a guide or take an avalanche course. You'll learn a lot and still get to ski pow.
– Check the avalanche forecast – Avalanche Canada
– If you are going to ski in Rogers Pass make sure you check into the Discovery Centre to pick up a parking pass and a winter permit. More info here. It is also worth checking the roads are open.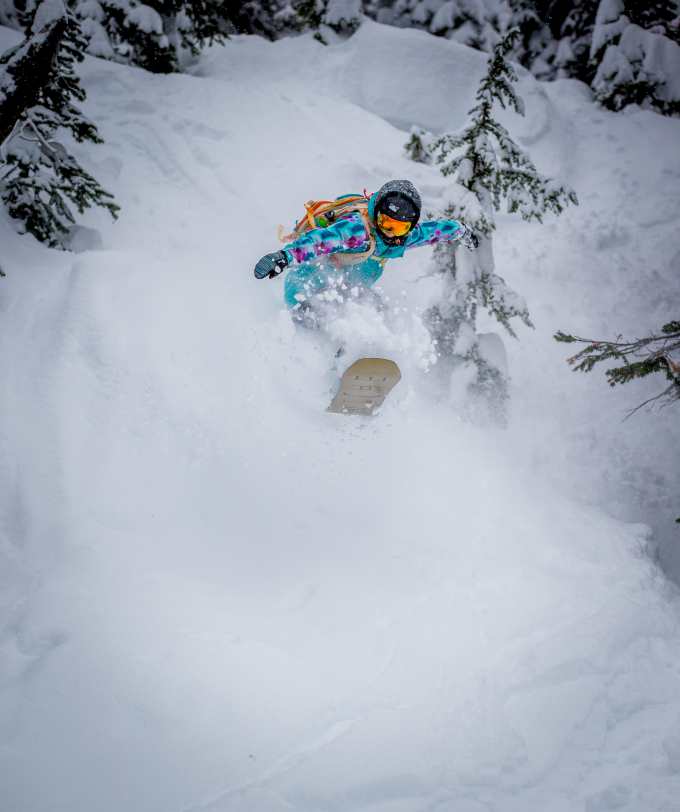 MECHANISED ADVENTURES
If you are going all in, Revelstoke is home to an incredible variety of mechanised ski and snowboard operations. From heli-skiing to cat skiing and my personal favourite, heli-accessed touring. Operations include:
– Selkirk Tangiers Heli Skiing
– CAPOW
– Eagle Pass Heli
– CMH
– Mica Heli
– Mustang Powder Cat Skiing
– K3 Catskiing
– Revelstoke Backcountry Guides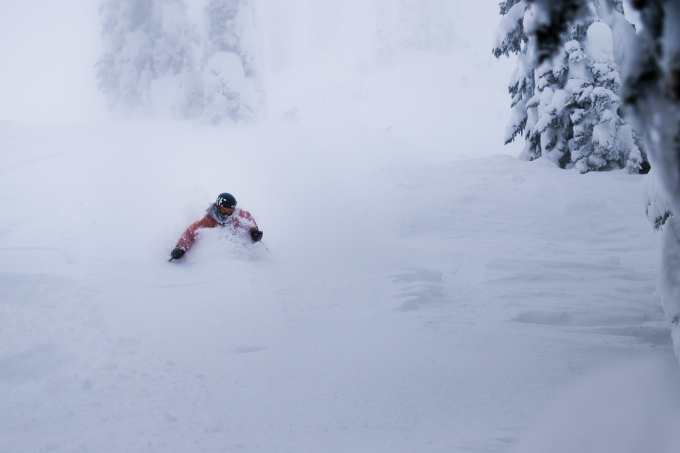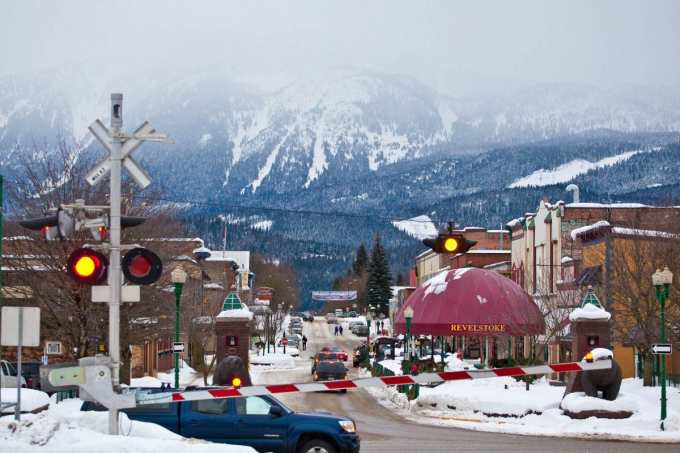 WHERE TO STAY
Accommodation in Revelstoke comes in all shapes and sizes, from downtown motels, hotels, boutique hotels, and cosy B&Bs nestled in the woods around the resort. Closest to the resort is the Sutton Place Hotel. There is a Resort Shuttle that will deliver visitors between the resort and downtown from 6:15am-11:30pm, so if you don't have a car you it is easy to get to and from the resort.
https://www.revelstokemountainresort.com/accommodation
WHERE TO EAT
Revelstoke has a growing food scene with a lot to choose from, my personal favourites are:
– Dose – Coffee (made as good if not better than a Melbourne Latte), Breakfast, Lunch
– Main Street Cafe – breakfast nook
– La Baguette – All day deliciousness with coffee to boot and homemade ice-cream
– Bierhaus – Mac & Cheese and Salad delight and an extensive beer list
– Paramjit's Kitchen – Indian, German & Thai Cuisine (and the best chocolate cake in town).
– Burgers, pizza and beer – Village Idiot, Chubby Funsters, Big Eddy Pub
– Taco Club – keep it light with tacos or double down with a full plate of Enchilada
– Date night – Quartermaster, 112 Restaurant, Woolsey Bistro
– New to town (opening December) – Old School Eatery, Sugar Shack
DOWNDAYS
When your feet need a rest from ski boots, take a walk downtown. You could spend the morning checking out the Railway Museum or the Revelstoke Museum. Have lunch in town or drive up to Begbie Brewery on the Trans-Canada highway. Spend the afternoon checking out the downtown distilleries – Jones Distilling or Monashee Distillery. If you feel like staying active, you could also take a snow-mobile tour up at Boulder Mountain or for the adventurous, book a paragliding session off the top of RMR.
GEAR – Hardware + Repair
– Skookum Cycle & Ski (Ski, snowboard, boots + Nordic)
– Valhalla Pure Revelstoke – Ski, snowboard, camping, climbing, backcountry
– Pulse Boot Fitting – boots, boots, boots
– Powder Rentals – Skis, snowboard rentals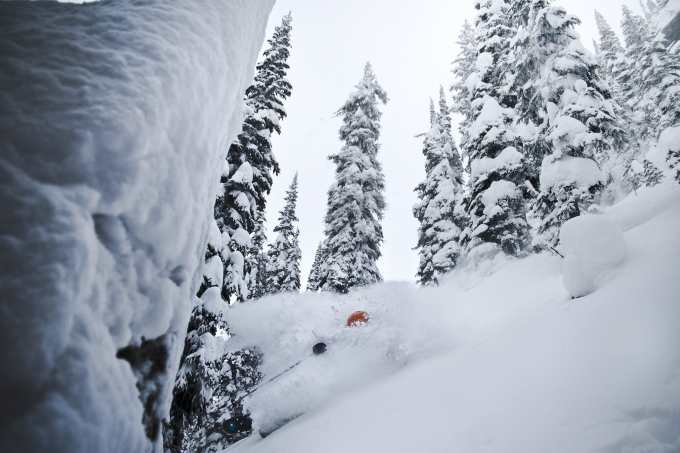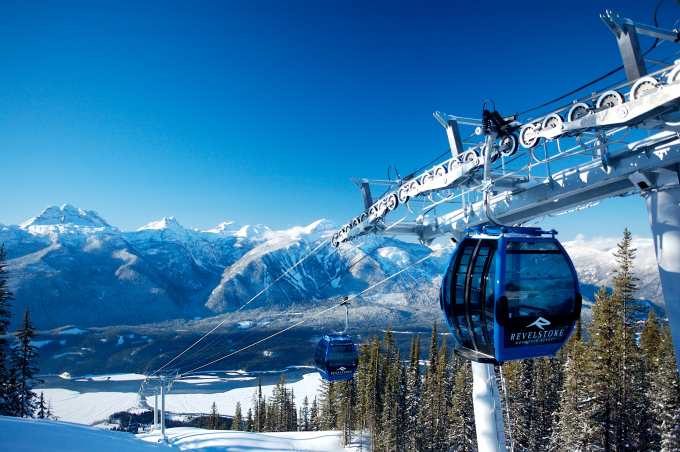 HOW TO GET THERE
– Smack bang middle on the Trans-Canada Highway. Drive west from Calgary or East from Vancouver
– Flights – Direct flights from Vancouver – Revelstoke (January 4th – March 18th) or 2.25 hours' drive from Kelowna Airport
– Airport Shuttles are available from Calgary or Kelowna
RMR MOUNTAIN STATS
– North America's greatest vertical 1713m
– 10-year Average snowfall is 10.5m
– 3121 acres of fall line skiing, high alpine bowls, renowned glazed terrain and endless groomers
– Longest Run – The Last Spike – 15.2km
– 3 lifts, 2 magic carpets
– Lift Top Elevation – 2225m (Stoke Chair)
– Bottom Elevation – 512m
– Sub Peak – 2340m
– Mt Mckenzie Summit – 2466m