Mountainwatch Ikon Tour Destination – Mammoth Mountain
August 27th, 2019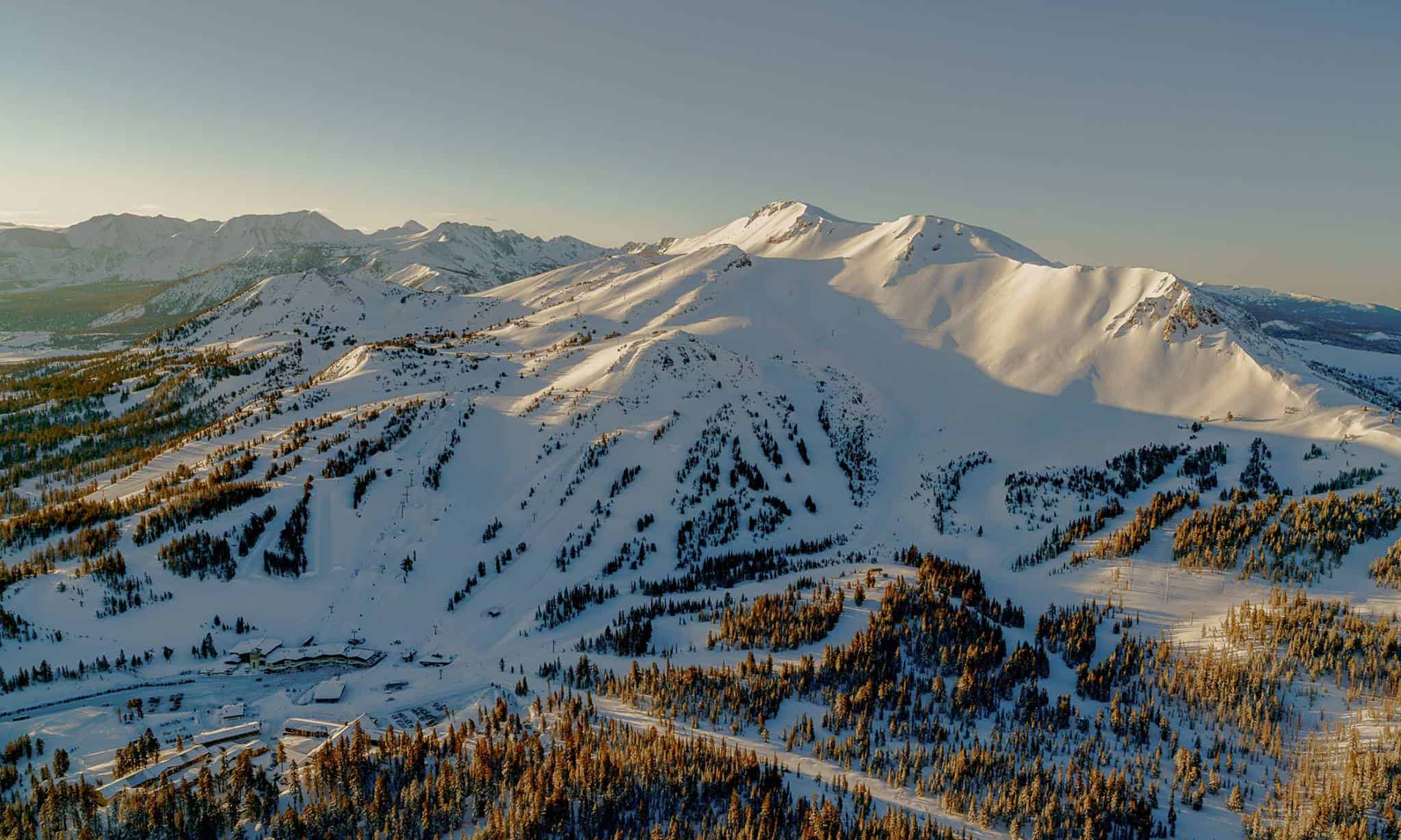 Mountainwatch/Reggae Elliss
The second stop on the Mountainwatch Ikon Pass tour is Mammoth Mountain, another destination which enjoys well-deserved iconic status as a true international resort and one of the best in North America. Mammoth is the second leg of the Californian section of the tour and is a 3.5 hours' drive south of Squaw Valley via the interstate 395 from Reno to Mammoth.
The drive is spectacular, taking in different landscapes and views, heading through the desert expanses of the Carson Valley with the snow-capped Eastern Sierras rising dramatically to the west followed by a winding drive up through river gorges into the Sierra foothills to the small town of Bridgeport. Not long after, the road sweeps around a corner and the spectacular view of Mono Lake is right in front of you. On a clear, calm day, the reflection of the mountains on the water adds to the spectacle. Finally, you take the turn-off for the town of Mammoth Lakes and the mountain itself comes into full view. It always makes me go, wow.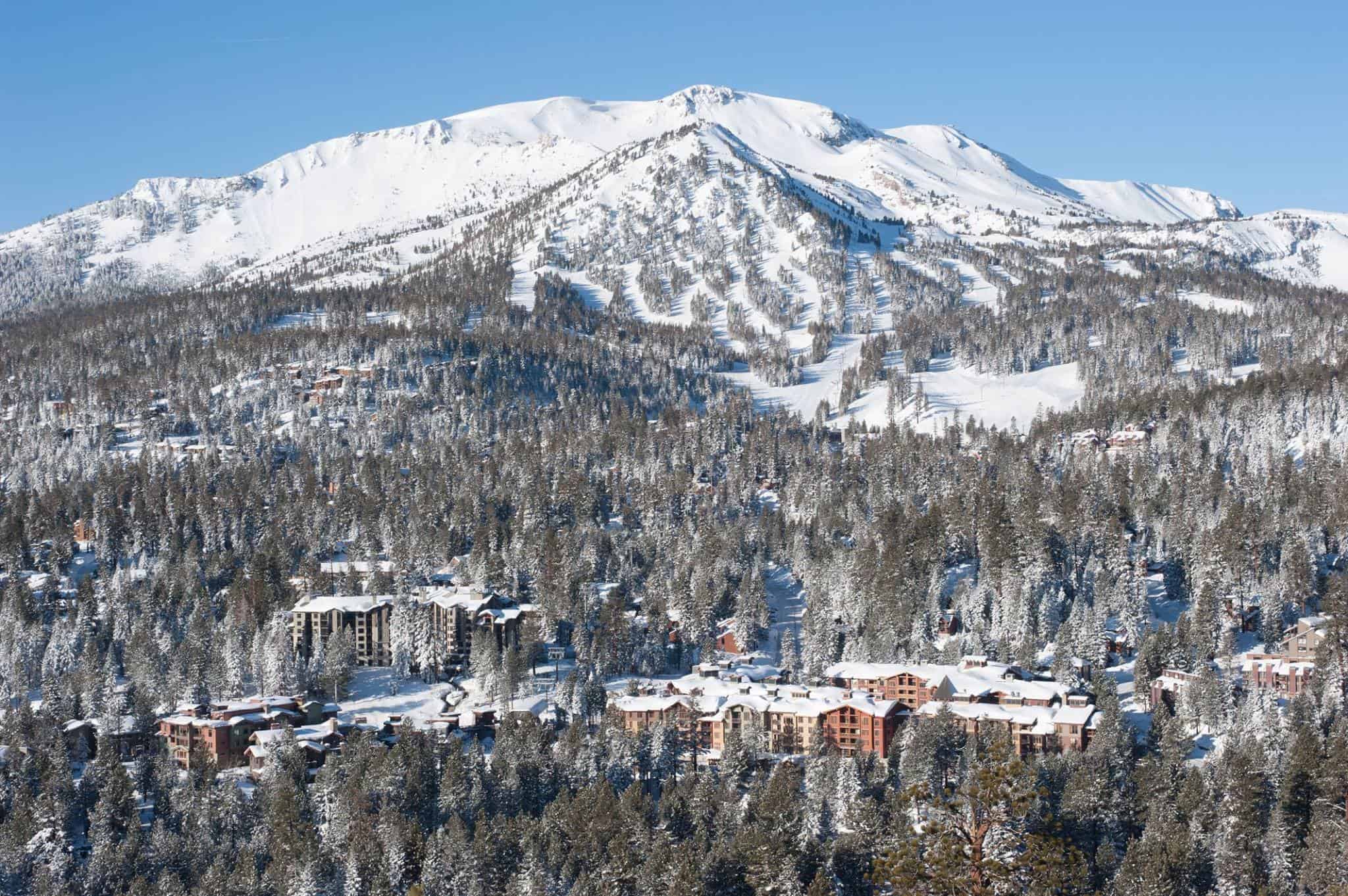 On my first visit to Mammoth, the first thing that struck me was its size – it is a huge mountain and the surrounding peaks of the Eastern Sierras create a dramatic outlook. Mammoth has long been a popular destination for Australian skiers and I've now been three four times, drawn back by the huge variety you find in 3500 acres of skiable terrain – the steep and fun off piste runs, long cruisy groomers and my kids froth on Mammoth's famous terrain parks.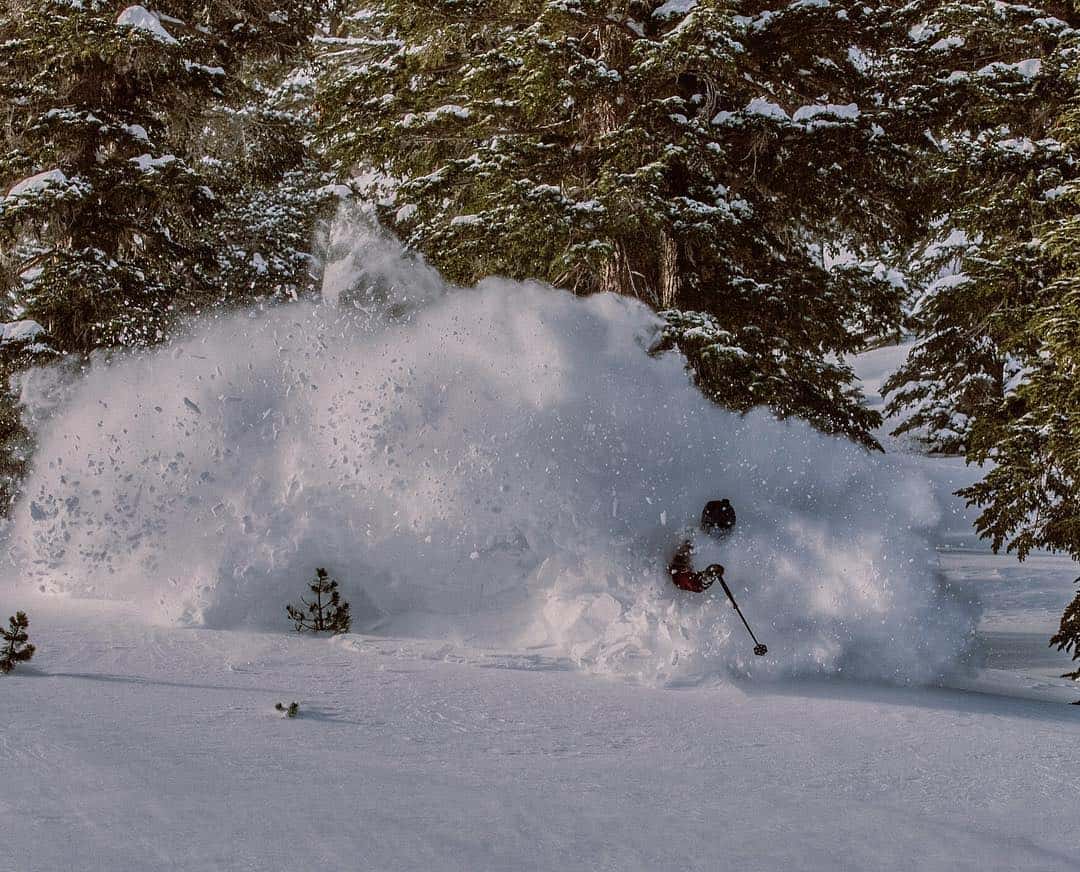 Mammoth has something to offer everyone, whether you are a core rider or a family on a ski holiday. While Mammoth suffered a few low tide winters in 2014 and 2015, the past few seasons have seen a return to above average winters, the past 2018/19 season was spectacular with a season total of 18.2metres, the lifts finally closing for skiing on July 28. During the long season there were some epic powder days and like the other Californian resort, February was a huge month for snow with a total of 226 ins with one storm dropping 94 ins in a four-day period from Feb 2-5. That was backed up a few days later by a 10-day total of 122ins from Feb 9-18. As you can see from the below video, the snow during those storms was something special.
That is a lot of snow, but when you consider Mammoth's average seasonal snowfall is 400ins (10metres) it is a reliable destination and its altitude is also a contributing factor to a reliable snow pack.  Mammoth is not only big, but also very high with a base elevation of 3935ft (2424m) and a peak elevation of 11,053ft (3369m), the highest  This means it not only receives more snow than other Californian resorts, but it is colder and holds the snow for longer.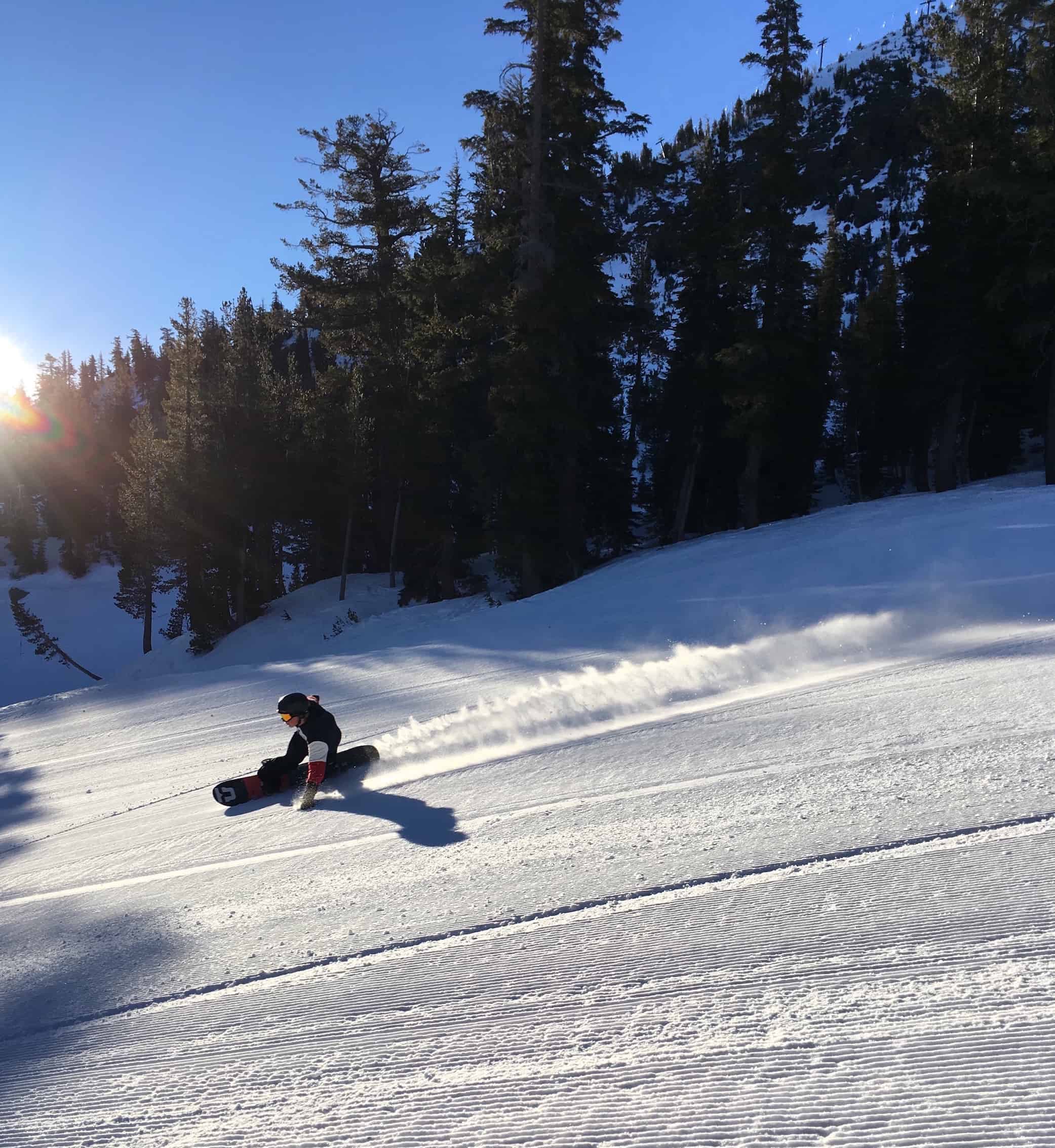 My last visit to Mammoth was in February 2018 and we arrived the day after a 70cm snowfall and it was awesome. The open bowls and wide gladed tree runs offered some incredible soft snow and windblown stashes. The groomed were flawless, long corduroy highways perfect for some quick early morning warm-up turns.  There is so much terrain to choose from and when you take the Panorama Gondola to the top you are blessed with a lot of choice.
Fortunately, we had the chance to hook up with a local to show us around, red-hot skier and Mammoth groomer Bernie Rosow who spent a few years working in Thredbo. Bernie has been our "mountain guide" on each visit and he was more than happy to show us his mountain at its best. He tipped us into the best lines on the hill and we enjoyed some sensational skiing, the cold sub-zero temps maintaining the snow quality. Mammoth's iconic black and double-black diamond runs like Dragons Tail, Dave's Run, Paranoid Flats, Cornice Bowl etc., were at their best and when you score powder on terrain like – well, it is skiing at its best.
Heres a POV video of Bernie having  a great time on Feb 17, 2019:
The Sierras are fed by big storms out of the North Pacific and when it dumps it really dumps, storms regularly dropping over two metres of snow in three days. With its natural terrain, off-piste steeps and tree skiing, Mammoth is regarded as a free riding paradise and has an obvious attraction for core skiers and snowboarders.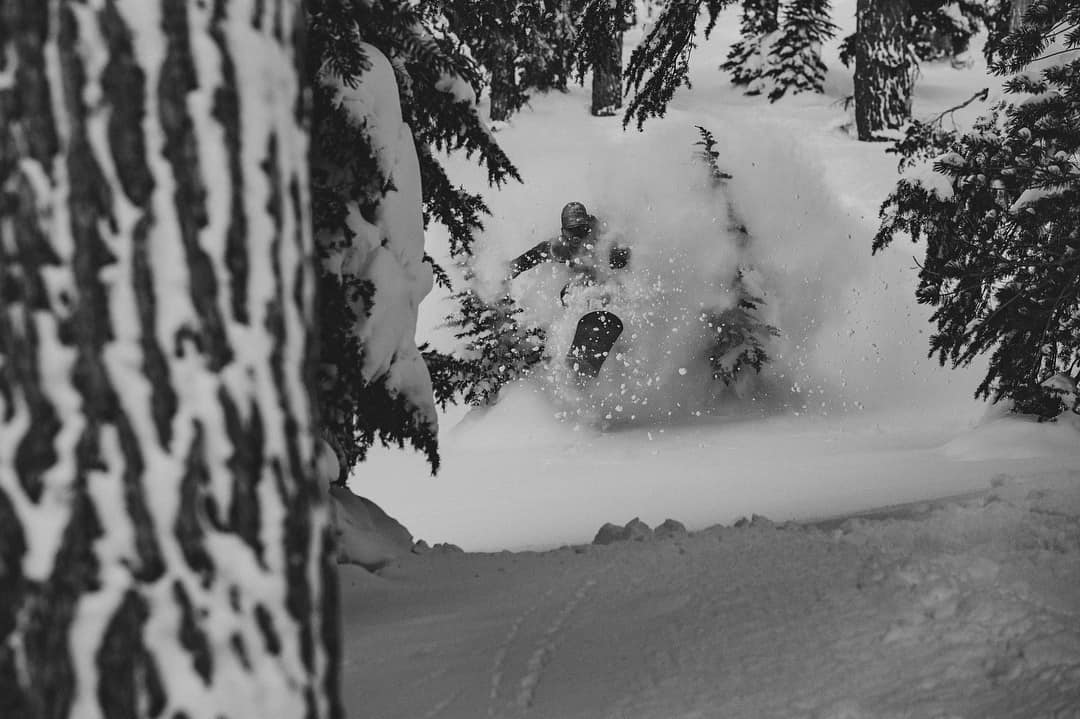 However, you don't have to be an expert skier of boarder to enjoy Mammoth with the huge amount of terrain offering great skiing and snowboarding regardless of your ability with 25% classed beginner, 40% intermediate and 35% advanced. Mammoth is also renowned for its impeccable grooming, but the terrain parks also have along-standing reputation for being among the best in North America and again, there's something for everyone. Mammoth usually has nine parks, ranging from three beginner-friendly parks, through to the advanced Forest Trail Park and then the action-packed Main Park, with its impressive pro-level jump line and 22ft Super Pipe.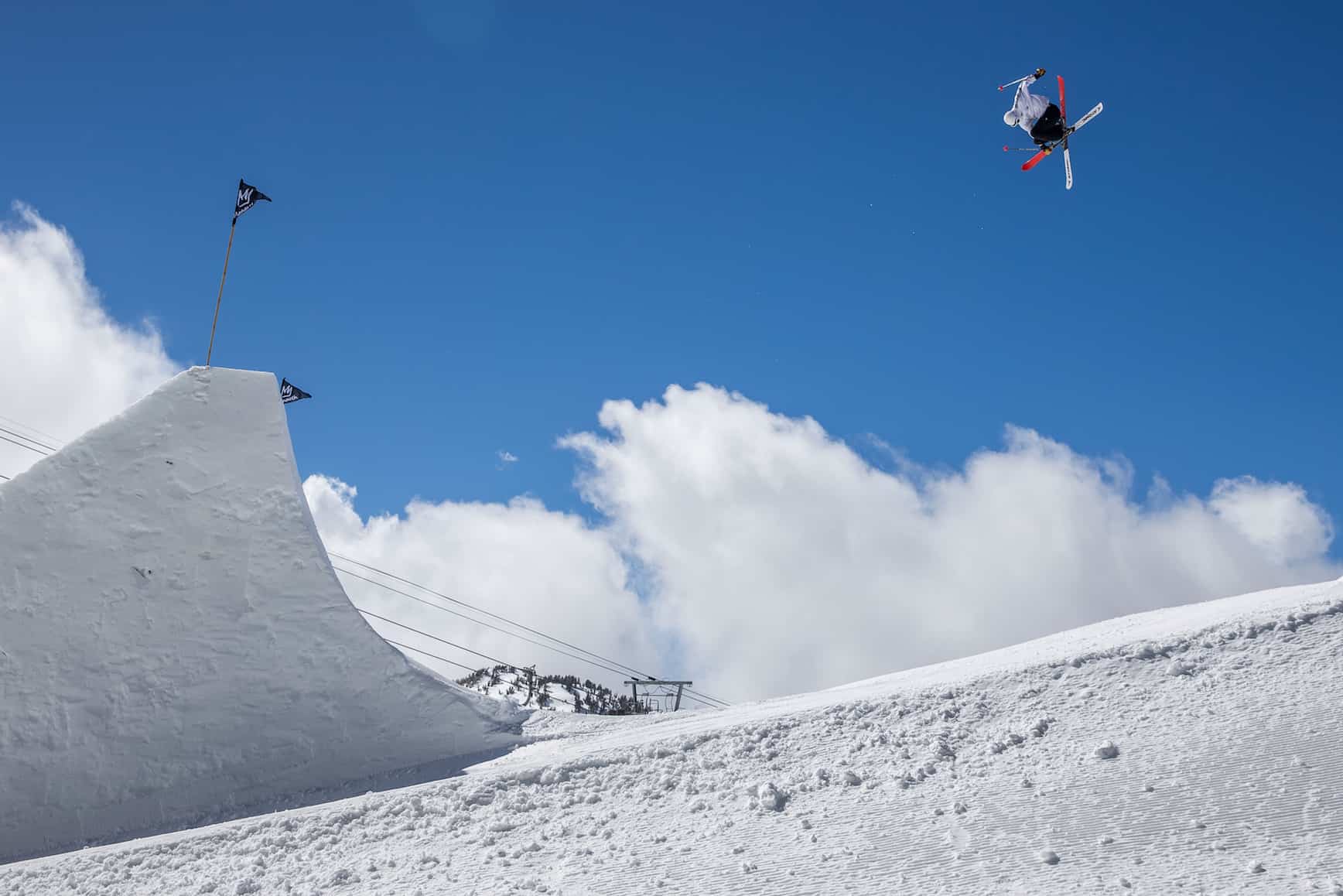 Given its parks and natural freeriding terrain, Mammoth is home mountain to some of the biggest names in snow, including Olympic halfpipe champs Shaun White and Cloe Kim, freeride skier Chris Benchetler and the legendary Glenn Plake.  Mammoth's season usually lasts into June, and the resort is a spring-time mecca, attracting skiers and boarder from all over the world, including Australia.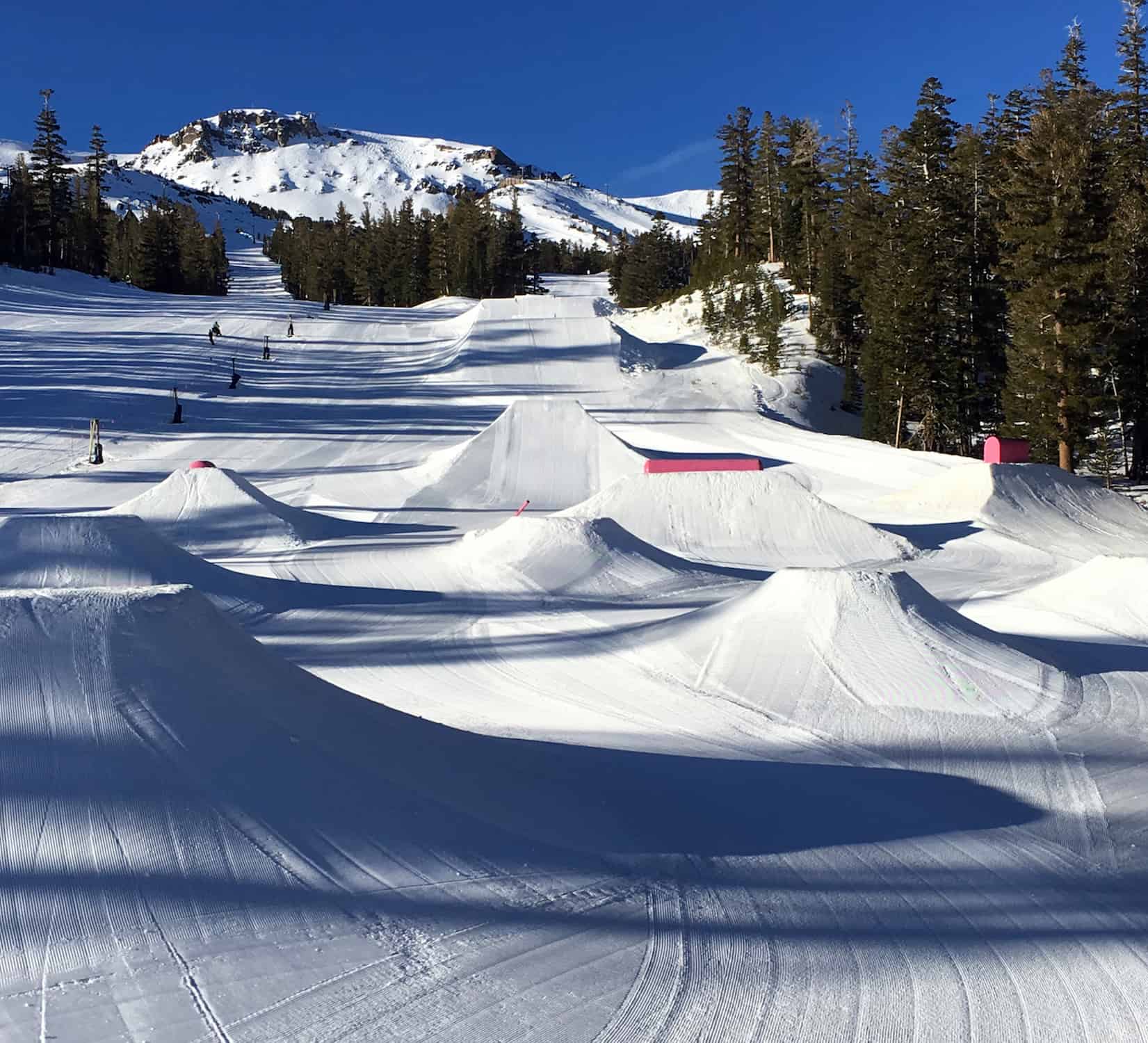 The mountain is complemented by a cool central village that is well serviced with a gondola from the village centre to the base of the mountain at Canyon Lodge. Mammoth Village comes to life in the afternoon with live music, open gas fires and a variety of restaurants, bars and shops all within a short stroll of each other.
The town of Mammoth Lakes is just a few minutes-drive away and with free shuttles running around the entire area from 7am until after midnight, it is easy to get around without a car. That also makes it easy to access the huge variety of accommodation available in town, from large standalone luxury houses to apartment complexes, smaller condos and a number of hotels.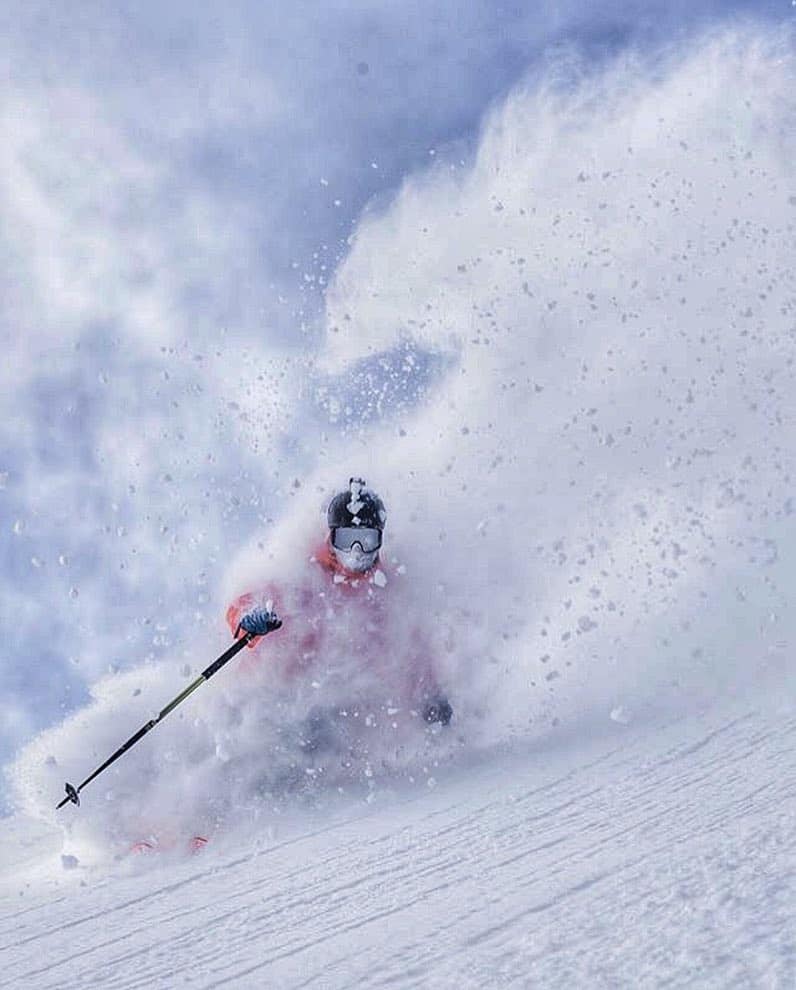 Accommodation:
The tour is staying at the Mammoth Mountain Inn, perfectly located at the bottom of the mountain, across from the Main Lodge base area. It is an old-school A-frame hotel, with a common area with a big open fireplace and is a two-minute walk from the base of the gondola. The hotel has a free shuttle into the village and town from 345pm to 120,30 pm and there is also free public bus/shuttle from Main Lodge into town during the day.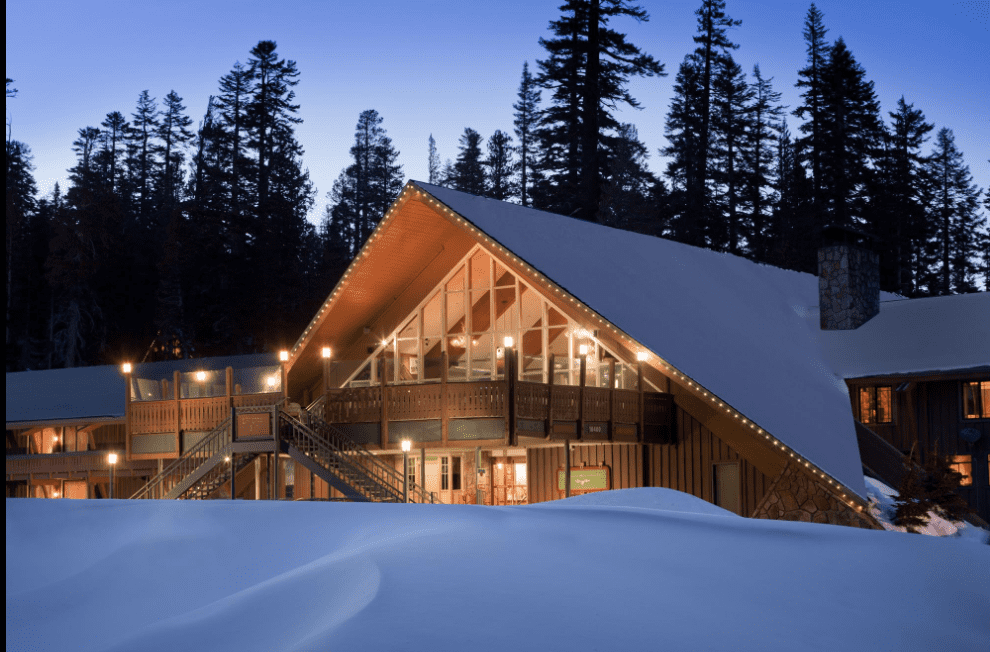 If you like unwinding with a bit of retail therapy after a day on the mountain there is plenty of opportunity. Both the village and town have good mix of retail outlets, including fashion stores, specialist ski and snowboard shops and galleries.  There are also plenty of options for après including the Dry Creek Bar in the Mammoth Mountain Inn and Yodler, which is right next door. In town the Mammoth Brewery, Clocktower Cellars popular with the locals.
There is also plenty of dinner options in both Mammoth Village and Mammoth Lakes with Gomez's the go for Mexican, great pizza at John's Pizza Works,  Mammoth Tavern for classic pub food whilePetra's at the Alpenhof has excellent food and the best wine list in town.
While the Ikon tour to Mammoth is all about the skiing and snowboarding, there is also a good choice of off-snow activities close by, including snowmobiling, tube parks, ten-pin bowling or just exploring the area and taking in the Sierra Mountains incredible scenery. It is definitely worth checking out the surrounding alpine lakes and hot springs, including the spectacular Mono Lake, a salt-lake that has strange "tufa towers", calcium-carbonate spires, rising from its shallow aqua-coloured waters.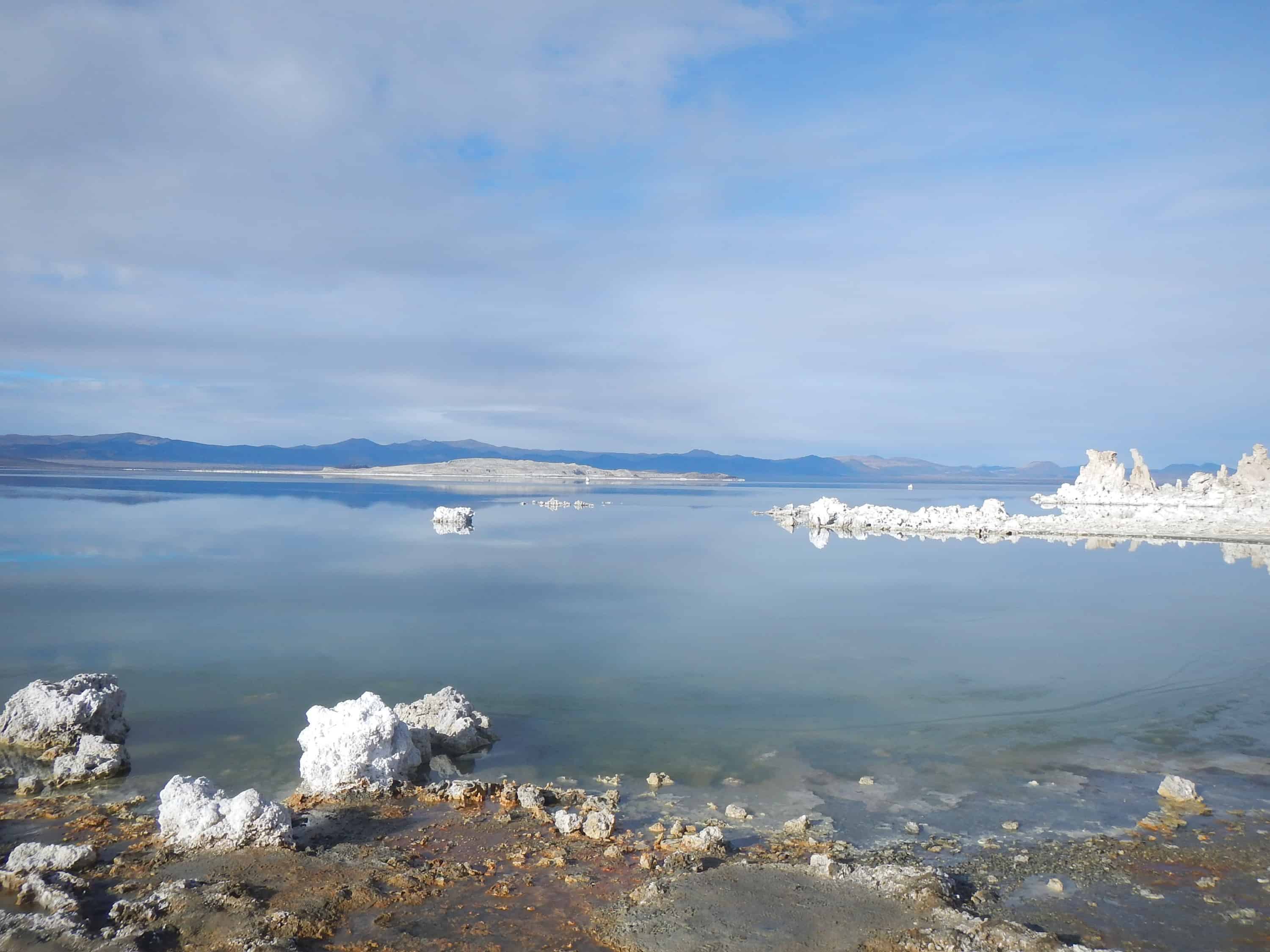 Mammoth is a mountain that more than lives up to its reputation, the big mountain terrain, reliable snow, great vibe and friendly locals contributing to its status as one of the iconic resorts of North America. If you're keen to check it out yourself, the Mountainwatch Ikon Tour is the perfect way to do it.
https://www.themammothmountaininn.com/
Website: https://www.mammothmountain.com
Forecasts/conditions: http://www.mountainwatch.com/snow-forecasts/USA/Mammoth
MAMMOTH STATS
Peak elevation – 11,053ft (3369m)
Base elevation – 7953ft (2424m)
Vertical rise – 3100ft 9945m)
Skiable Terrain 1416ha
Longest Run 5km (3 miles)
Annual average snowfall: 400ins (10m)
Beginner 25%
Intermediate 40%
Advanced 35%
Total Number of Trails: over 150 named trails