Mountainwatch Snow Depth Chart – Ranking A Decade's Worth Of Snow Depths
July 31st, 2018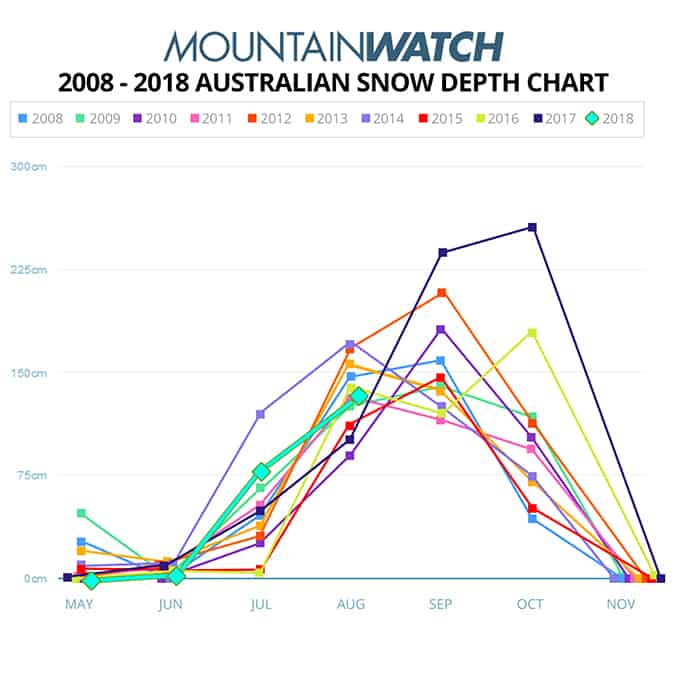 Mountainwatch | Snow Depth Chart
As today marks roughly the mid-point of the 2018 Australian ski season, we wanted to get an idea on where the current snowpack ranks in comparison to the last 10 years.
Above you'll see we have plotted every year since 2008 from data collected up at Spencers Creek by the Snowy Hydro Scheme.
It's worth mentioning that the last data point on the graph for 2018 was taken last Wednesday on July 25. Since then, we've seen an additional 20+ cm's fall, so we suspect the snow depth to be a little deeper, perhaps nudging the year of 2008 shown in light blue.
This puts 2018 around fourth or fifth place on the table. Not bad, but there's definitely some room for improvement… and improve it will.
The Grasshopper put it best…
"This season is about to get a kick up the proverbial and be taken to a whole new level of epicness. The Southern Annular Mode is plummeting into a negative phase, bringing all that cold air and those juicy fronts up closer to the Aussie Alps. It's early days, but several snowstorms over the next ten days or so could see over half a metre of fresh powder accumulating in some areas. The current snow depth at Spencers Creek is just above 120cm, so we could see this skyrocket up close to it's seasonal average of 195cm." – The Grasshopper
It's also worth comparing 2018 to 2017 – which went down as one of the best years in recent memory – and noting how 2017 was well below where we are now for the end of July/beginning of August.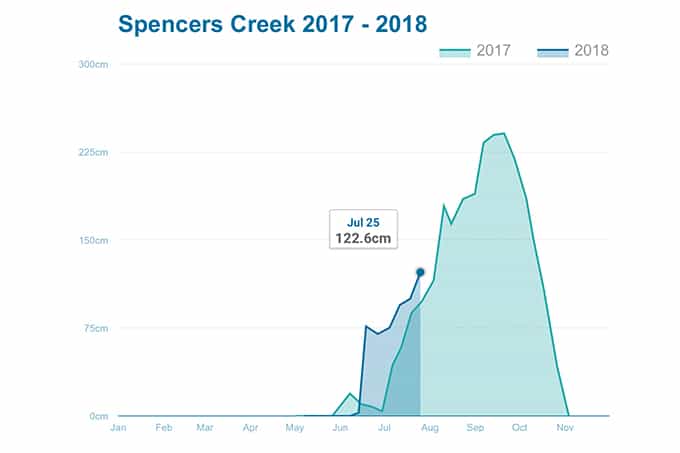 Indeed it's worth mentioning that all three 'Blizzard of Oz' events, that captured the minds of Australia – the skiing and even the non-skiing public – and transformed the 2017 season, occurred in the month of August and September (commencing August 3).
Those storms registered as some of the biggest snowfalls Australia's ever seen but still didn't push 2017 into the ranks of the top five best Australian snow years.
Other interesting points we can take out of the graph include 2016; a year in which it snowed on the October long weekend, followed by another 60cm's the following week and culminating in a powder day on October 23. Unfortunately, it hardly snowed in September with just one 15cm fall, so those two storms came just a little too late to have much effect on the spring skiing scene that year.
How the rest of the season unfolds remains to be seen.
Check out The Grasshopper's daily synoptic outlooks and forecasts and stay tuned, as the word in the undergrowth is our 6-legged meteorologist will be releasing his August Season Outlook in the coming days!…