New Zealand Forecast, June 23 – Fine For Opening Days Down South, Light Snow For Canterbury, Then A Cold, Snowy Southerly Next Week
June 23rd, 2020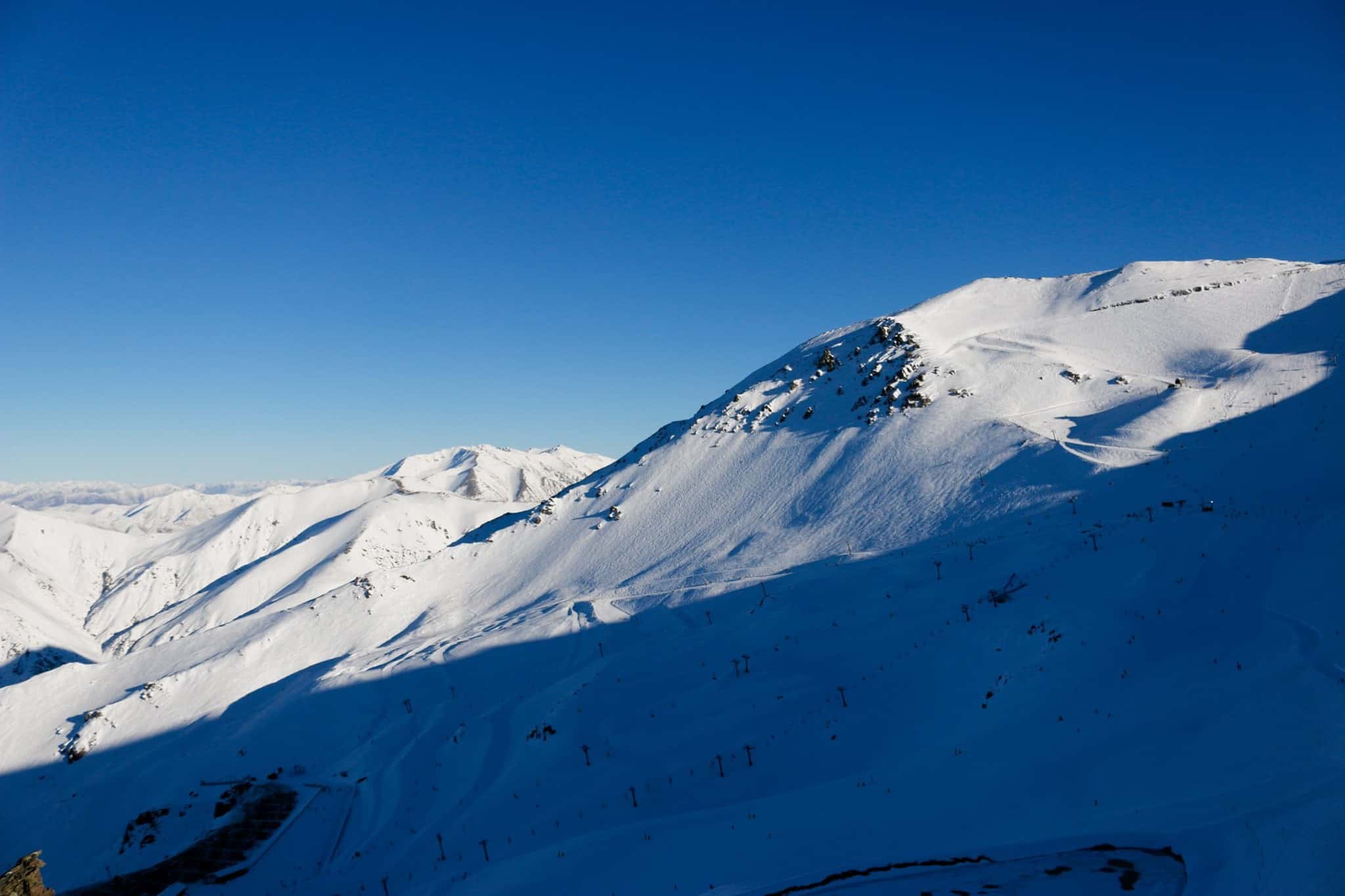 Mountainwatch | The Grasshopper
Valid Tuesday June 23 – Tuesday June 30
The 2020 snow season is underway in Aotearoa, New Zealand, and so we thought it was high time we put the spotlight on our southern comrades, who are quietly tucked up in their bubble with their resorts all to themselves.
Mt Hutt is flying out of the gates after 70cm fell last week, and is reporting a 1m-snow base up top with all five lifts spinning. 20-30cm also fell last week over the Southern Lakes, and fine weather is expected for opening days at Cardrona and Coronet Peak this Friday, and Treble Cone this Saturday. All other resorts are scheduled to open within the next two weeks.
Our synoptic charts over the next week will be dominated by a big ol' lumbering low. After giving Canterbury a dusting of about 5-15cm this Thursday into Friday, the low will cross the country this weekend, leaving the door open for a cold, snowy southerly early next week. The southerly is set to deliver anything ranging from a decent top-up to a big dump for all of New Zealand's ski fields.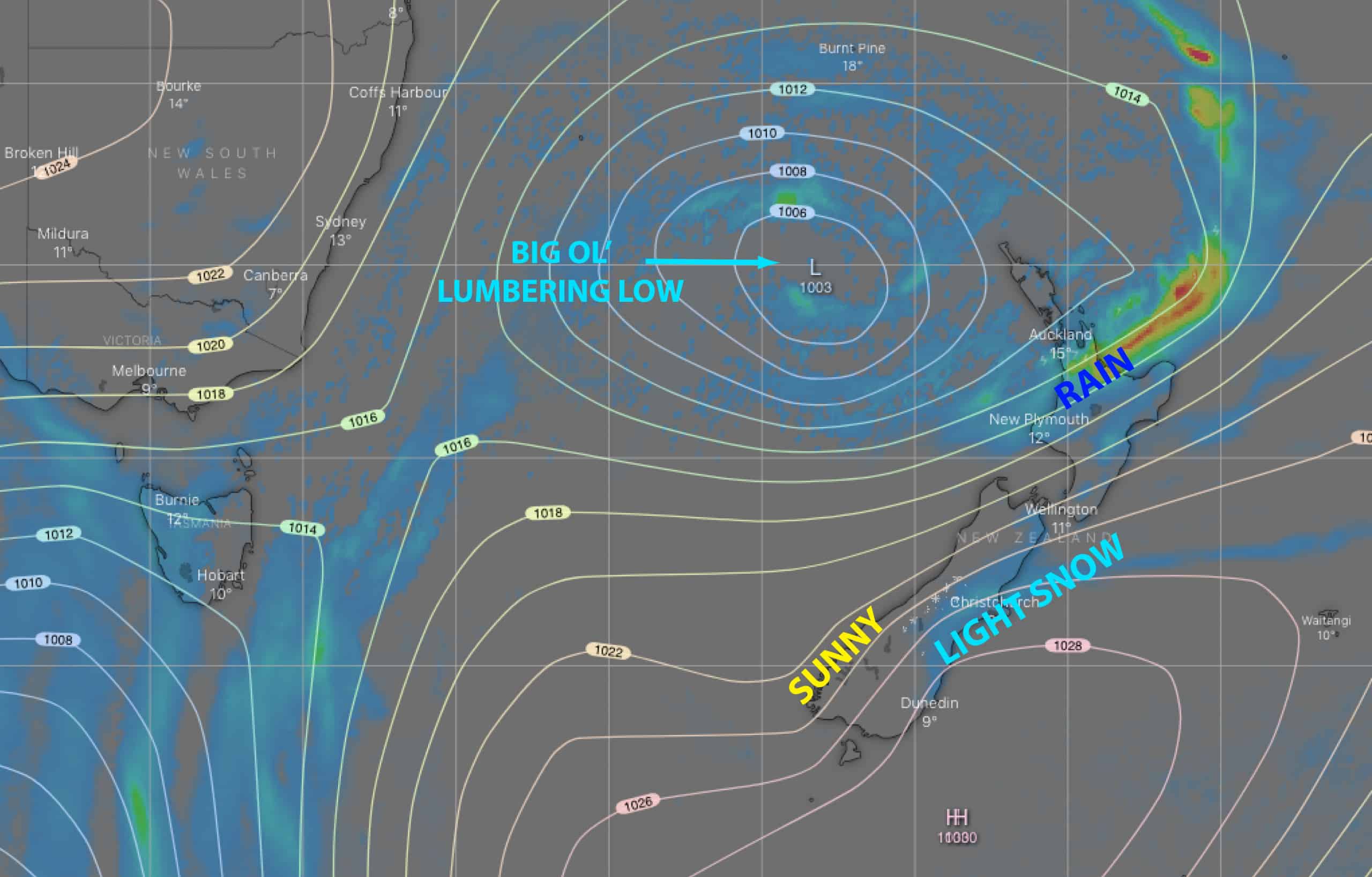 Tuesday, June 23 to Friday, June 26
Today we have crystal clear skies across New Zealand resorts thanks to the big fat high to the east, and it'll be much the same for Wednesday.
Thursday and Friday will see the big ol' lumbering low creep towards the top of the North Island, pulling an easterly flow over the country. While rain affects the North Island, temps will be cold enough to see 5-15cm of snowfall in Canterbury with low-vis, clagged-in conditions. Meanwhile, ski fields in the Southern Lakes district will remain calm and sunny above any low cloud – perfect for opening days at Cardrona and Coronet Peak on Friday.
Saturday, June 27 and Sunday, June 28
The low will start to cross the country this weekend. Saturday will remain mostly fine for the Southern Lakes above low cloud, but then light snow will fall during Sunday, although it's likely to be wet and drizzly on lower slopes.
Canterbury will be mostly cloudy this Saturday with a spot of drizzle, falling as light flurries on mid-upper mountain, turning to rain & snow for a time early Sunday before mostly clearing up later in the day.
Rain on Ruapehu this Saturday will turn to snow on Sunday.
Monday, June 29 and Tuesday, June 30
The lumbering low finishes crossing the country during these two days, opening the door for a cold, snowy southerly to come rushing through. Models vary on the details, but all ski fields are likely to receive anything ranging from a decent top-up to a big dump.
That's all from me folks, I'll hit you with the next New Zealand forecast next Tuesday, detailing all the highlights and snowlights of the week ahead, so be sure to check back in then.