NZ WEEKLY WEATHER BLOG – An Unexpected Dump
September 7th, 2012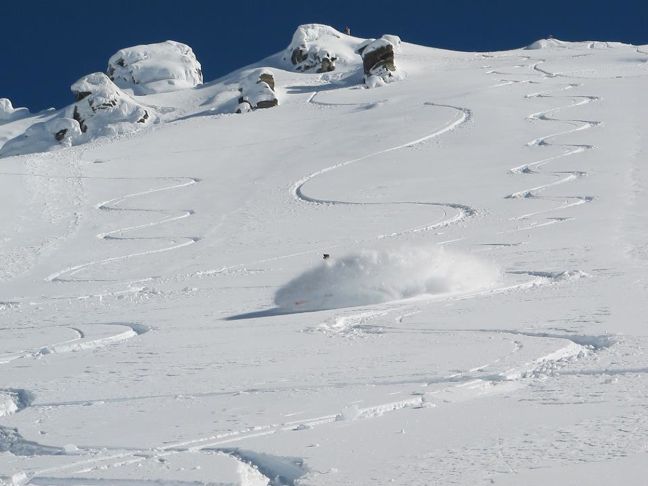 This is what 65cm fresh at TC looks like! Image: Treble Cone
Snow Journal | Matt White
Kia Ora Everyone
Well what a week its been, just when we all thought spring was over mother nature decided to offload a whopping 65 cm of fresh onto Treble Cone and on average 20 cm to the surrounding fields. Im not going to lie to you, Treble Cone was off the hook, knee deep powder all getting tracked out by snow crazed powder hounds!! It definitely seems like the seasons are getting later, however as I am typing this the mountains in the Wanaka region (at least) are all closed today due to very heavy rainfalls overnight. Theres more stormy weather to come and fingers crossed that its bringing snow… Lets take a closer look.
North Island
Whakapapa/Turoa/Tukino– Rain for tomorrow, heavy and thundery at times, snow lowering to 1300m with NW gales. Sunday-Tuesday we should see snow continuing to fall to 1300m (ish) with Gale force W winds. Wednesday looks set to clear into a nice sunny day but NW winds may creep back in bringing rain for Thursday.
South Island

Rainbow, Hamner Springs/Mt Lyford– Snow falling to 900 m Saturday with strong NW winds, continuing Sunday with winds changing to SW. Monday forecast to warm up a little raising snow level with W winds bringing the snow level back down into Tuesday. Wednesday looks set to be a lovely sunny day, however NW winds will bring the rain back for Thursday.

Temple Basin, Broken River, Cragieburn, Cheeseman, Mt Hutt, Porter Heights, Mt Olympus– Saturday will see rain turning into snow to 800m by the afternoon with gale NW. Winds will die down Sunday with snow lowering to 600m but by Monday NW winds will return to gale and snow level will rise to 1300m. Tuesday will see snow showers in the morning but clearing mid afternoon. Wednesday-Thursday will have scattered cloud with a few showers and NW winds.

Fox Peak, Mt Dobson Round Hill, Ohau– Snow to 800 m for Saturday with severe gale NW winds, lowering to 600m on Sunday with NW winds dying. Monday will see the snow level rise to 1300 m and the return of gale NW winds continuing through to Tuesday where things should settle down and clear mid afternoon. Cloudy patches with the odd shower and NW winds will see the rest of the week through.

Treble Cone, Cardrona, Snow Park/Snow Farm, Remarkables, Coronet Peak– Snow to 700m with strong NW winds for Saturday with patches of snow to 500m for Sunday with a moderate W wind.
Snow lifting to 1200m Monday with W winds rising to gale force winds and continuing through into Tuesday where things will start to die down mid afternoon. Light rain patches and cloud forecast for Wednesday/Thursday with N winds.

A nice 20cm top up for Ohau Image: Ohau
Here's how the resorts are shaping up snow-wise
Snow Bases across the country (cm)
Whakapapa 165
Turoa 210
Tukino 100
Manganui 45
Rainbow 47
Hamner Springs Closed for season
Mt Lyford 160
Mt Hutt 200
Porters 110
Mt Cheeseman 65
Mt Olympus 145
Cragieburn 82
Temple Basin On Hold
Broken River 85
Fox Peak Opening 8 September
Mt Dobson 200
Roundhill 90
Ohau 129
Treble Cone 161
Cardrona 90
Snow Park 25
Snow Farm 20
Coronet Peak 40
Remarkables 70
Queenstown Snowcats On Hold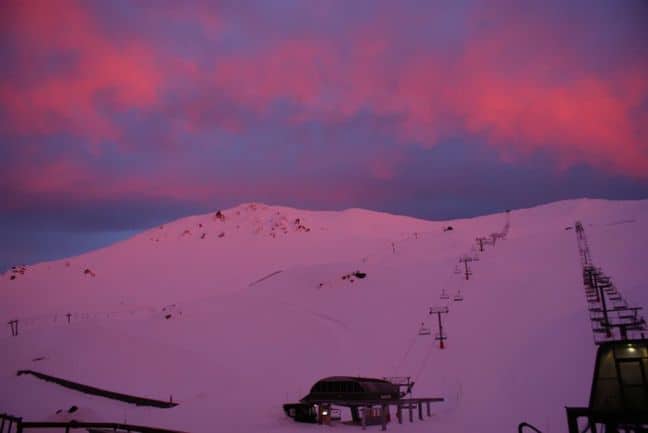 With spring comes crazy looking weather Image: Mt Hutt
Local Knowledge
This week so far is looking pretty grim in regards to bluebird days up the hill, sometimes snowy days can be epic, providing there is little wind. Unfortunately excessively warm springs and rainfall are something we have to be prepared for here in NZ, it doesn't happen too often but the good news is that the resorts have seen it all before and are pretty good at dealing with it.. by letting the rain drain from the snowpack we should find ourselves back up there in a day or so. Fingers crossed this front will do what it says its gonna do and we get some more pow pow A.S.A.P!! Let it snow!!
The Remarkables forecasts,
snow reports and
live snow cams.
Treble Cone forecasts,
snow reports and
live snow cams.
Snow Park forecasts,
snow reports and
live snow cams.
Cardrona forecasts,
snow reports and
live snow cams.
Turoa forecasts,
snow reports and
live snow cams.
Coronet Peak forecasts,
snow reports and
live snow cams.
Whakapapa forecasts,
snow reports and
live snow cams.
Mount Hutt forecasts,
snow reports and
live snow cams.