Nz Weekly Weather Blog – It's Warming up Nicely!
August 29th, 2011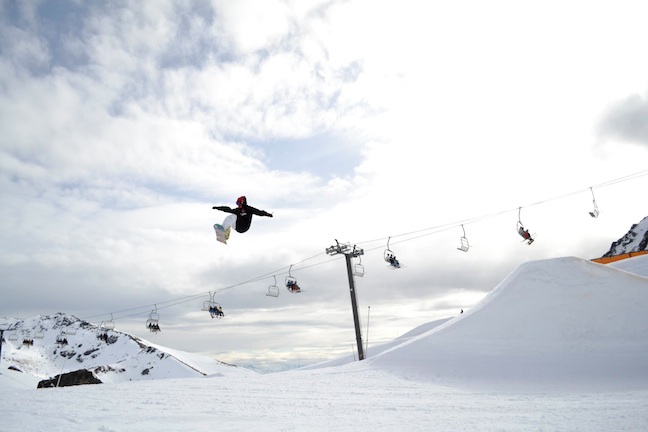 Perfect weather for terrain park antics, The Remarkables 29 August. Image:: The Remarkables
Snow Journal| Matt White
Kia Ora everyone.. it's been a lovely warm week this past week, great spring like snow conditions and in some places a little dusting of powder! The snow has been softening up just nicely by around 10am and by non you're shedding layers… and by 3pm beers in the sun are being consumed everywhere you look.. it may not be officially spring just yet but it's definitely lurking.. and it's also being embraced!!
With the snow changing like it is at the moment you will definitely be noticing your speed slowing down significantly. This can all be changed by keeping your board/skis well waxed, you will find you need to do it a lot more often and there are also special springtime waxes you can buy that are designed to combat the warmer temperatures.
There's just over a month left to go before a lot of the resorts will be closing… unfortunately for us kiwis our winter season is much shorter than that of the Norther Hemisphere, it doesn't seem like very long ago we were all praying for snow to come.. now that it's here, all we can do is sit by and watch it melt away. The springtime can bring all sorts of variables into how your season ends.. Wind is a big player, so are the snow conditions.. basically all we want is sun, slush and good times. And more often than none we get it, but with the seasons being so erratic (e.g our late start to winter) you never know what you're going to get. I guess what I' trying to say is that if you feel like you still have a lot of skiing left in you then make the most of it while you can!
Looking at the weather for this week:
All this talk of spring being here and snow melting.. don't forget the epic snowfalls that can come in springtime.. last season it snowed all spring leaving the mountains covered yet closed. This week is looking good for some fresh snow to fall, the whole country has a similar weather pattern for the week and like many of other weeks this one looks good for the weekend warriors.. check out your desired region below for more…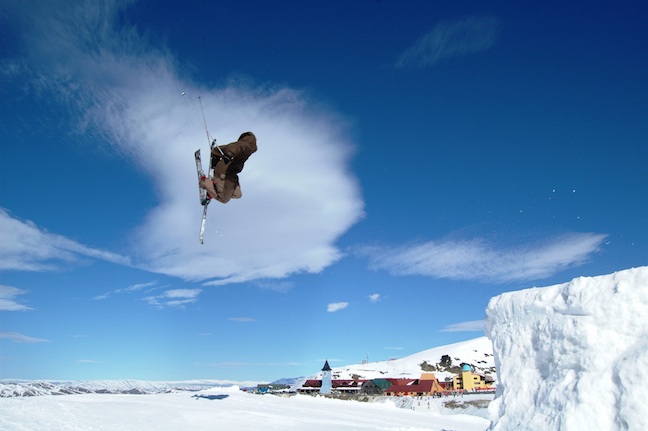 Sunshine at Cardrona late August. Image:: Cardrona
North Island
Whakapapa/Turoa/Tukino– Forecast is for snow showers and moderate N winds slowly turning to W winds until Friday becoming fine and sunny with little or no wind for all you weekend warriors out there!!
Maunganui– Snow showers expected Mon-Wed, as the freezing levels rise there may be rain for Thurs/Fri, hopefully clearing by Friday afternoon and looking like a lovely fine weekend of sunshine.
South Island

Rainbow– Might not be too many rainbows around, snow showers forecast from Monday to Friday with moderate N-NW-W winds. Expecting a fine sunny weekend with little or no wind.
Hamner Springs/Mt Lyford– Snow forecast to settle down to 1000m over the weekday period with moderate to strong NW winds that should blow out by Friday afternoon… yep you guessed it, it's looking like another fine and sunny weekend ahead!

Temple Basin, Broken River, Cragieburn, Cheeseman, Mt Hutt, Porter Heights, Mt Olympus-Expect moderate to strong NW winds and snow showers that could reach below 800m, both of these clearing in time for a clear calm and sunny weekend!

Fox Peak, Mt Dobson Round Hill, Ohau– Strong to gale NW winds easing off over the week, snow expected down to 1000m and clearing up for a sunny weekend… maybe even a powder day!

Treble Cone, Cardrona, Snow Park/Snow Farm, Remarkables, Coronet Peak– No surprises here, Strong NW winds with snow down to 1000m over the course of the week, clearing mid Friday to be lovely and sunny for the weekend.. woohoo!
Here's how the resorts are shaping up snow-wise
Snow Bases across the country (cm)
Whakapapa 178
Turoa 298
Tukino 340
Manganui 272
Rainbow 110
Hamner Springs 190
Mt Lyford 220
Mt Hutt 85
Porters 85
Mt Cheeseman 120
Mt Olympus 245
Cragieburn 155
Temple Basin 372
Broken River 165
Fox Peak 110
Mt Dobson 102
Roundhill 80
Ohau 105
Treble Cone 115
Cardrona 115
Snow Park 75
Snow Farm 75
Coronet Peak 127
Remarkables 70
Queenstown Snowcats 135
Events wrap up
The 100% Pure Winter Games came to a close over the weekend, with a Big Air Competition being held in Methven on Saturday, followed by a closing ceremony in Wanaka the next day.. i'm pretty sure all of the people involved will be enjoying some much needed rest time as it has been a very full on couple of weeks! The University Games and Freeski Open will be kicking off this week as the competition season edges closer to ending for 2011.
It's getting windy out there right now which can only mean one thing… the storm's rolling in and powder is on the horizon! keep your eyes on the Mountainwatch forecast for when the weather breaks, the way it's looking everyone is in for some fresh snow this week! Until next time, have an awesome week in the mountains!
Matt White