NZ Weekly Weather Blog – Powder Stashes
August 1st, 2011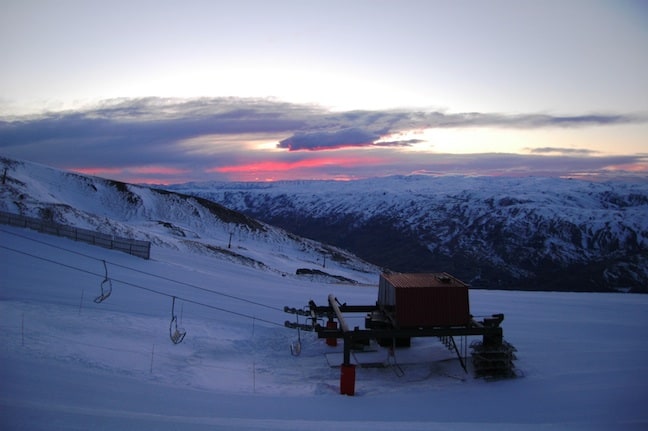 Sunrise over Cardrona's new Wells Pipe Platter lift. Image:: Cardrona
Snow Journal | Matt White
Kia Ora everyone, its time for another update from over here in NZ.
A mixture of wind, rain, snow and sun has changed the snow consistency somewhat. Northern aspects have lost snow whilst Southern aspects have accumulated more through the wind and natural snowfall. Rain has affected lower portions of the mountains creating a thick icy crust that softens as the day warms up.
Some epic powder is still to be had on the South facing aspects, as I experienced Sunday on a heli trip with Harris Mountain Heliski… If you are looking for a powder fix on a bit more of a budget there is still good powder stashes to be found if you're willing to hike! Remember to take your shovel, probe, transceiver and a buddy with you!
It's been the beginning of a very busy competition month. The World Heli Challenge has come to a close today.. I have two very exhausted athletes staying with me, after two action packed days of competition it sounds as though there will be some awesome footage for us all to watch when it is finished being edited.
See pics and more from the WHC freestyle day here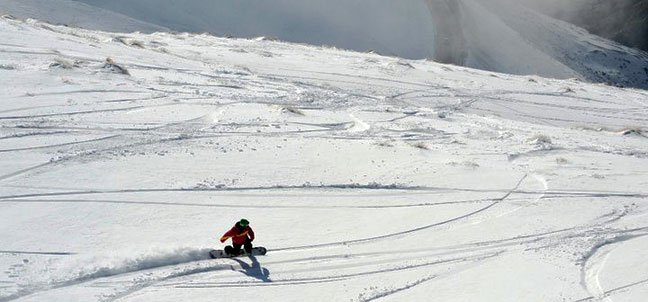 The Remarkables looking very inviting on Saturday morning. Image:: The Remarkables
The NZ Snowboarder Banked Slalom carried on the tradition of being held in nasty weather at Treble Cone, with a field of around 65 braving the snow/rain storm with at times almost zero visibility. Wanaka's Rebecca Sinclair came out on top for the women, and there was a huge upset in the men's with Aussie Scotty James taking the title off favourite Will Jackways.
The Electric 1/4 pipe also went down over the weekend at Snow Park, with yet another huge upset in the form of 13 year old Seamus O'Connor coming out of nowhere and taking the senior men's title!
One other newsworthy incident to happen last week was around 250 people snowed in at Mt Lyford for the night with a high avalanche danger on the road, everyone was forced to bunk down for the night until the road could be made safe the next day!!!
(Right)Harris Mountain Heli in action. Image:: Matt White
Looking at the weather for this week…
The NZ school holidays are over and with it comes warmer temperatures and sunshine across the country, possibility of a few showers here and there in the South Island.
North Island
Whakapapa/Turoa/Tukino – Looking set to be a lovely week of sunshine with the odd patch of cloud, freezing level to stay around 1600m and light winds.
Manganui – Potential rain showers for Tuesday and clearing to a sunny week ahead with some light wind.
South Island

Rainbow – Fine with light SW-S winds up until the weekend with potential rain showers Saturday-Sunday.
Hamner Springs/ Mt Lyford – Fine all week with showers predicted for Sunday.

Temple Basin, Broken River, Cragieburn, Cheeseman – Fine and clear all week with SW breezes, rain showers forecast for Sunday.
Mt Hutt, Porter Heights, Mt Olympus – Fine with light SW breezes up until Saturday evening with rain showers forecast for Saturday night/Sunday.

Fox Peak, Mt Dobson Round Hill, Ohau – Light SW breezes and fine sunny weather until Saturday evening changing to rain showers into Sunday.

Treble Cone, Cardrona, Snow Park/Snow Farm, Remarkables, Coronet Peak – Light snowfall for Tuesday, Wednesday/Thursday fine, switching to cloudy on Friday with a reasonable chance of rain for the weekend.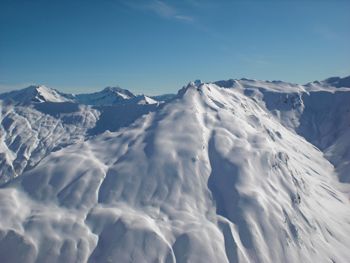 (Right) North Buchanans, Harris Mountain Heli Ski. Image:: Matt White
Snow Bases across the country (cm)
Whakapapa 136
Turoa 196
Tukino 325
Manganui 153
Rainbow 120
Hamner Springs 100
Mt Lyford 135
Mt Hutt 50
Porters 50
Mt Cheeseman 180
Mt Olympus 165
Cragieburn 153
Temple Basin 237
Broken River 125
Fox Peak 80
Mt Dobson 34
Roundhill 80
Ohau 80
Treble Cone 111
Cardrona 85
Snow Park 55
Snow Farm 120
Coronet Peak 103
Remarkables 60
Picks for this week…
Billabong Slopestyle Snow Park Saturday 6 August will be an awesome event to watch, some of the worlds best will be there throwing down!!
Cardrona have a lot more terrain to offer with their new double chair accessing the front country.
Queenstown Snowcats are a new operation offering a different way of getting to the top of the mountain, in a snowcat!
Well that's another week done and dusted folks, with it being the first of August and that being the month of snow, we can hopefully expect to get plenty of powder in the weeks to come.. fingers crossed! have an awesome week and ill see ya next week.
The Remarkables forecasts,
snow reports and
live snow cams.
Treble Cone forecasts,
snow reports and
live snow cams.
Snow Park forecasts,
snow reports and
live snow cams.
Cardrona forecasts,
snow reports and
live snow cams.
Turoa forecasts,
snow reports and
live snow cams.
Coronet Peak forecasts,
snow reports and
live snow cams.
Whakapapa forecasts,
snow reports and
live snow cams.
Mount Hutt forecasts,
snow reports and
live snow cams.