Opening Weekend Outlook 2016 – The Grasshopper
May 25th, 2016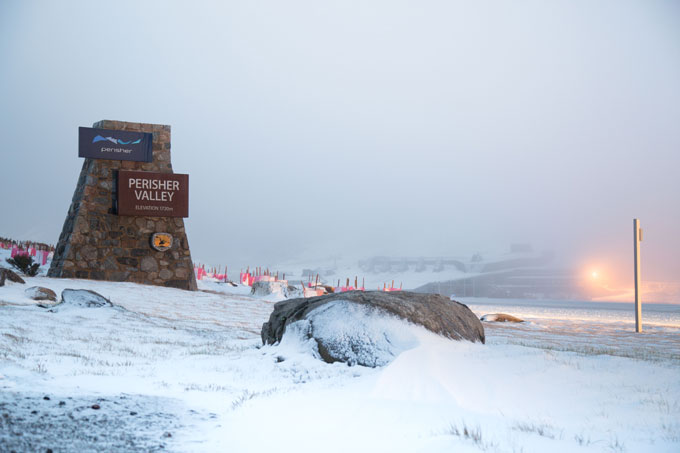 The snow that fell a couple of weeks ago was a taste, but we're ready for the main course. Image:: Perisher
Mountainwatch | The Grasshopper
Winter 2016 is nearly here. On the 1st of June we'll fire up our world famous daily detailed forecasts for the Australian Alps and bring those to you seven days a week until October. To tide you over until then, here's a little teaser for what we can expect when Opening Weekend kicks into gear on June 11.
The curtains are about to rise on what will surely be another drama filled season in Australia. From June the 1st yours truly will be typing away during the early hours as you sleep off your après ski excesses. I'll be providing forecasts seven days a week until the final curtain call in October.
Anticipation may well be at fever pitch but worryingly, the mountains are still as brown as a berry. This forecast will give you an idea on how the slopes will be shaping up before Opening Day, 2016.
We got a taste of winter a couple of weeks ago when a dusting of snow reminded us that the season is only a short hop, skip and jump away. We went crazy over 2cm of snow while our cousins across the pond have already had their first 1 metre dump! (Don't be getting jealous now). Of course, the dusting came and went in the blink of an eye and I found myself staring contemplatively across the snowless Aussie Alps writing this outlook with mixed emotions – check out the snowcams to keep up to date on conditions. In the very short term, a change is in the air – my antennae can feel it. The start of the 2016 season has to be better than last year's classic El Nino fizzle…. Or does it?
Finally some good news
It is about time we got some good news, so here it is: The fat high that has been pumping in mild north-westerlies over the last few days will be kicked out by a bullish cold front surging in from the west on Thursday. Rain showers will gradually turn to snow as the day wears on and colder air starts to dig in. This is where things get exciting. A decent of 10-25cm the white stuff will fall down to 1500m between Thursday night and Saturday morning as cold southerly winds funnel in between a low in the Tasman and a high over Western Australia. A few flurries will linger into Saturday evening as the high slowly builds in from the west.
Sunday to Friday: The High.
The title pretty much says it all. A monster high slides in hot on the heels of this week's snow and it is set to dominate the scene from Sunday the 29th onwards giving calm and settled conditions. Temperatures will gradually climb during this period but some snowmaking will be possible at night. From Wednesday the 1st to Friday the 3rd, the high will gradually meander east towards New Zealand. This opens the door to much warmer north-westerlies. Frustratingly, Temperatures across the Aussie Alps are likely to rise well above freezing damaging any snow left from this week and limiting snowmaking opportunities.
Saturday June 4 to Opening Day: Turning unsettled.
By the time we get to June 4, the snow set to fall over the next few days will be all but gone, but the outlook ends on an optimistic note. Although uncertainty is very high this far out and putting details on individual snowfalls is impossible, it looks like the high will finally get shunted out of the way by a string of cold fronts approaching from the south-west as we creep ever closer to Opening Day. I'd say that a period of intense rain will be followed by better chances of significant snow as colder air starts to dig in once again as winter makes its true arrival – just in time!
Finally, a word of caution before you throw away your skis. Early season snow is not a great indicator of the quality of the upcoming season. A couple of the best seasons on record were snowless to begin with and a couple of the early seasons were snowless one-hit-wonders.
So, that's all for now. To get the details on exact conditions during opening week you will have to check back for my daily forecasts from June 1.
Subscribing to my Weekend Forecast e-mail also gets you the first heads up on any big dumps heading our way over the next few months to you can plan those sick days cough cough!