Record Snowmaking Makes for Winter Wonderland
July 5th, 2010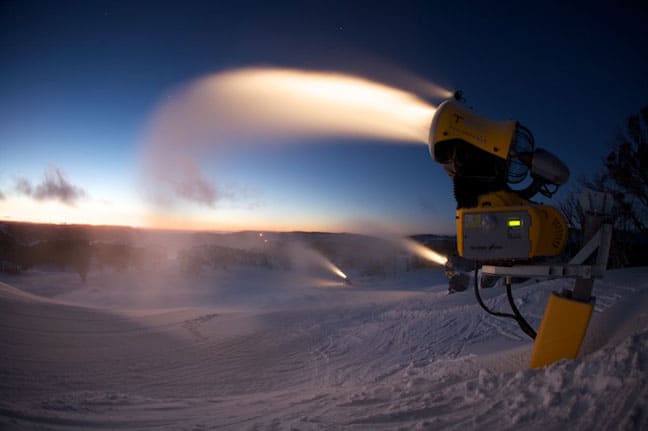 Night time snowmaking at Perisher. Image: Harro – harroart.com
Words | Steve Lee with Aaron Cook & Tess Cook
Last week snowmaking producing more than 1 million cubic metres of snow across NSW and Victoria as an extremely cold pool of Antarctic air smothered the Australian southeast bringing cold temperatures that broke records across states. In the resorts snowmaking teams discovered just what the state of the art snowmaking systems are capable of with night after night of record breaking production.
The record snowmaking numbers:
After 185 hours straight of operation Hotham produced 12,024 truckloads, or 120,410 cubic metres of snow.
Falls Creek ran its system close to full throttle for the week, covering Towers, Drovers, Tom Thumb and Cloud 9 kids areas as well as all 2.2km of Wombat's Ramble with an average of 70cm of snow. This is the first time there has been sufficient snowmaking to cover all of Wombat's Ramble for Opening Weekend.
Buller pumped ten million litres of water per day into the atmosphere to fall as snow. The math for 1 million litres of water into snow is 2000 cubic metres. So they have created over 100,000 cubic metres of snow.
Thredbo, who lead the way with automated snowmaking systems (guns that think for themselves – starting automatically when temps allow) have already produced more snow this season than the entire 2007 season, pre automation. This season (five weeks) has seen them pump out a staggering 270,000 cubic metres, by comparison, pre-automation 200,000 cubic metres in a season was considered good.
Perisher, Australia's biggest resort, had already made 300 000 cubic metres prior to this past week. Thanks to their extra altitude and of course size, this week they added 231,00 cubic metres, with the biggest 24 hours yielding an incredible 45,445 cubic metres.
"We have been very lucky," says Perisher Media Supervisor and Reporter Melissa Femia, "It has been perfect conditions for snowmaking. We have been able to make plenty of snow and open runs that wouldn't otherwise be open."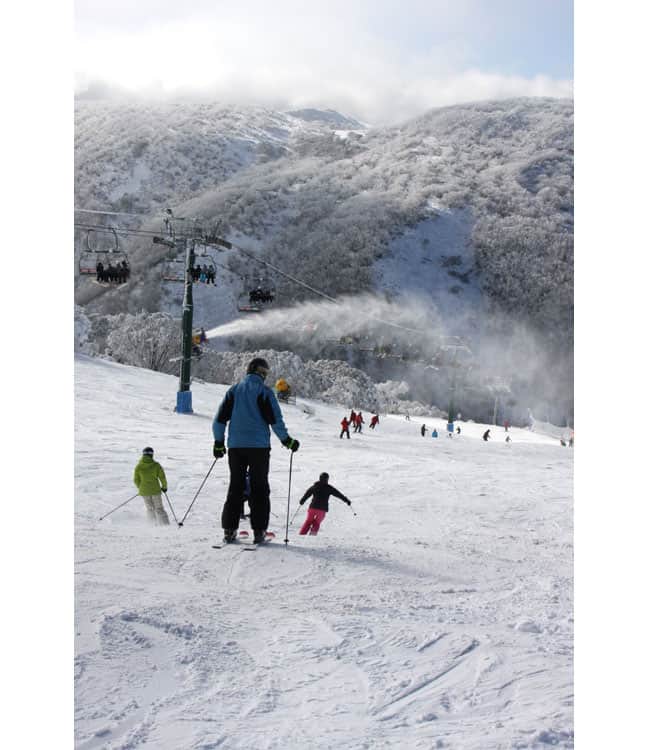 Perfect early season conditions at Hotham thanks to snowmaking. Image:: Jyothi Jaffray
As recently as the 80s most ski resorts around the world relied purely on the good grace of Mother Nature to provide them with all their snow. However she can be a cranky old biddy, quite often withholding the white stuff from us, especially in this country. We are, after all, in a drought. If we don't get rain in summer, how can we expect snow in winter?
Which is why snowmaking has become the mainstay of the Australian snow industry, with Australian resorts devoting millions of dollars annually to state of the art snowmaking systems that can achieve incredible things. Thredbo Snow Resort's French made York system can pump out snow when the temperature is above zero, if the humidity is low enough, says Thredbo Mountain Operations Manager Werner Siegenthaler. Snow can be made at plus three degrees Celsius if the humidity is at 15 per cent he explains.
Without innovative snowmaking none of us would have been out on the mountain these past couple of weeks having a blast, because there would not have been sufficient snow to slide on. Right now Aussie resorts are enjoying 50cm+ depth on a good selection of runs with heaps of snow lovers out enjoying themselves. Snowmaking keeps our industry alive, globally.
"In marginal conditions (snowmaking) is what gets the resort open," says Falls Creek's Marking Manager Nick Noble. "It's snowmaking that means we've got any skiing happening for the school holidays."

Falls Creek snowmaking. Image: Chris Hocking
Mother Nature has so far held back the big dump (last season's big dump started on the first day of July) but she has been blowing cold air for weeks. In fact two very significant cold spells this season have produced record numbers for snowmaking. The first just prior to opening got us off to a good start. This past week saw snowmaking production go 24/7 – well very close to the 7 part at least. From Friday 25 June all the way to Friday 2 July, pretty much a full week, snowmaking ran across the Aussie resorts at close to full capacity. Sensational.
And the quality of the snow is sensational too. Those enjoying early turns on the Supertrail in Thredbo on Thursday and Friday of last week raved about the light, dry cover the snowmaking team is creating.
"The cold temperatures makes it very easy to make the snow dry," says Thredbo's Siegenthaler. Thredbo has been making a base cover of heavier snow – "elephant snot" – on the unopened trails, Siegenthaler says, but on the open runs they are producing a dry cover. "It makes the sensation of skiing much nicer," he says.
Officially, snowmaking was discovered in the late 40s in a low temperature laboratory in Canada while studying the effects of icing on the intake of a jet engine. Water was sprayed in to the intake and the surprise effect was snow – most of the experiment time was then spent shovelling it out of the wind tunnel, no doubt a complete pain in the arse.
But one of the better myths about the discovery of snowmaking is the tale of a farmer in the USA who, in an effort to protect his orange crop from frost, rigged up his sprinkler system, adding compressed air, and blew a mist out over the trees. He thought raising the humidity would stop the frosting. It was a spectacular failure. Not only did his oranges freeze, he also covered them and the ground with a foot of snow. After the failed exercise legend has it he had a brainwave (or perhaps freeze) and started the first commercial snowmaking company.
So while Mother Nature withholds in one area she is keeping us happy in others. The upside is the snow is great, lots of good riding at all resorts and it's the holidays. Are the kids driving you crazy?? Need we say more!!
See Victoria's snowmaking through the lens in this snow journal
Snowmaking has meant great terrain parks, check out this video profile on Thredbo's terrain parks and terrain park Manager Charles Beckinsale
Keep up to date with Australia's snow cams, forecasts and snow reports
Video thanks to Thredbo Media
Perisher forecasts,
snow reports and
live snow cams.
Falls Creek forecasts,
snow reports and
live snow cams.
Hotham forecasts,
snow reports and
live snow cams.
Thredbo forecasts,
snow reports and
live snow cams.