Sami Kennedy-Sim's World Cup Season Cut Short By Injury – Interview
December 30th, 2020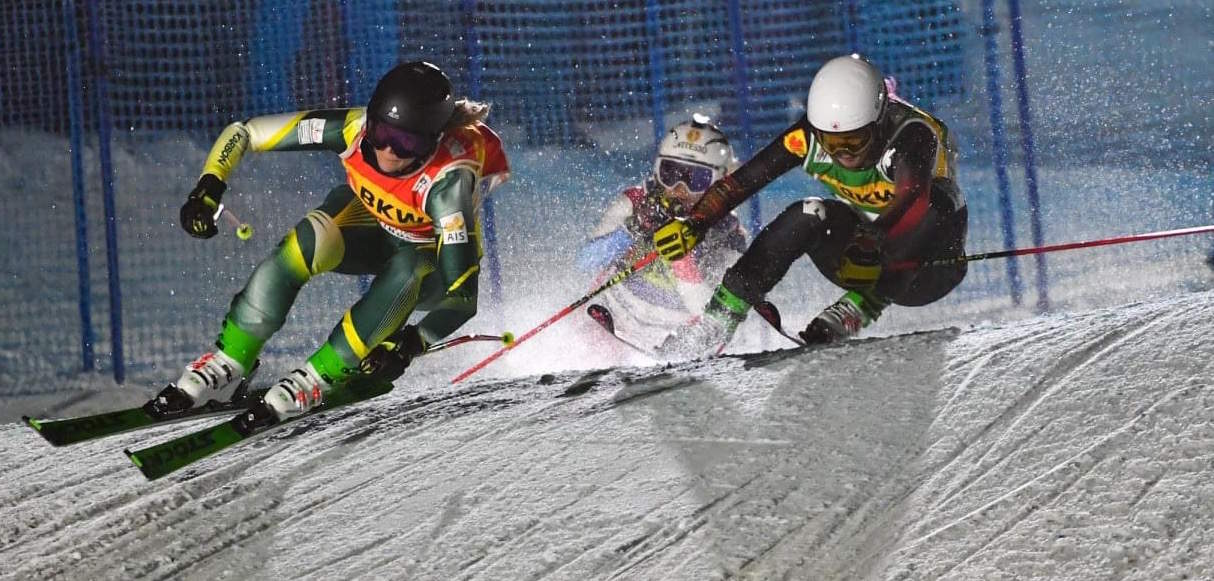 Mountainwatch | Reggae Elliss
Sami Kennedy-Sim had a great start to the 2020/21 World Cup tour, the Australian ski cross athlete qualifying with the fastest time for the first event of the year on December 15 in Arosa, Switzerland before finishing third in the final. It was Sami's first podium since 2017 and she backed it up the next day with a sixth in the second event of the season.
 For the two-time Olympian it was a welcome return to top form and Sami was feeling good in the lead-up to the next World Cup in Val Thorens, France. Then a crash in training turned Sami's season on its head, a badly dislocated elbow putting her out for the season and on a plane back to Australia and into hotel quarantine in Sydney.
Reggae Elliss caught up with Sami five days into her quarantine and as you'll see, she is maintaining her positivity under very difficult circumstances.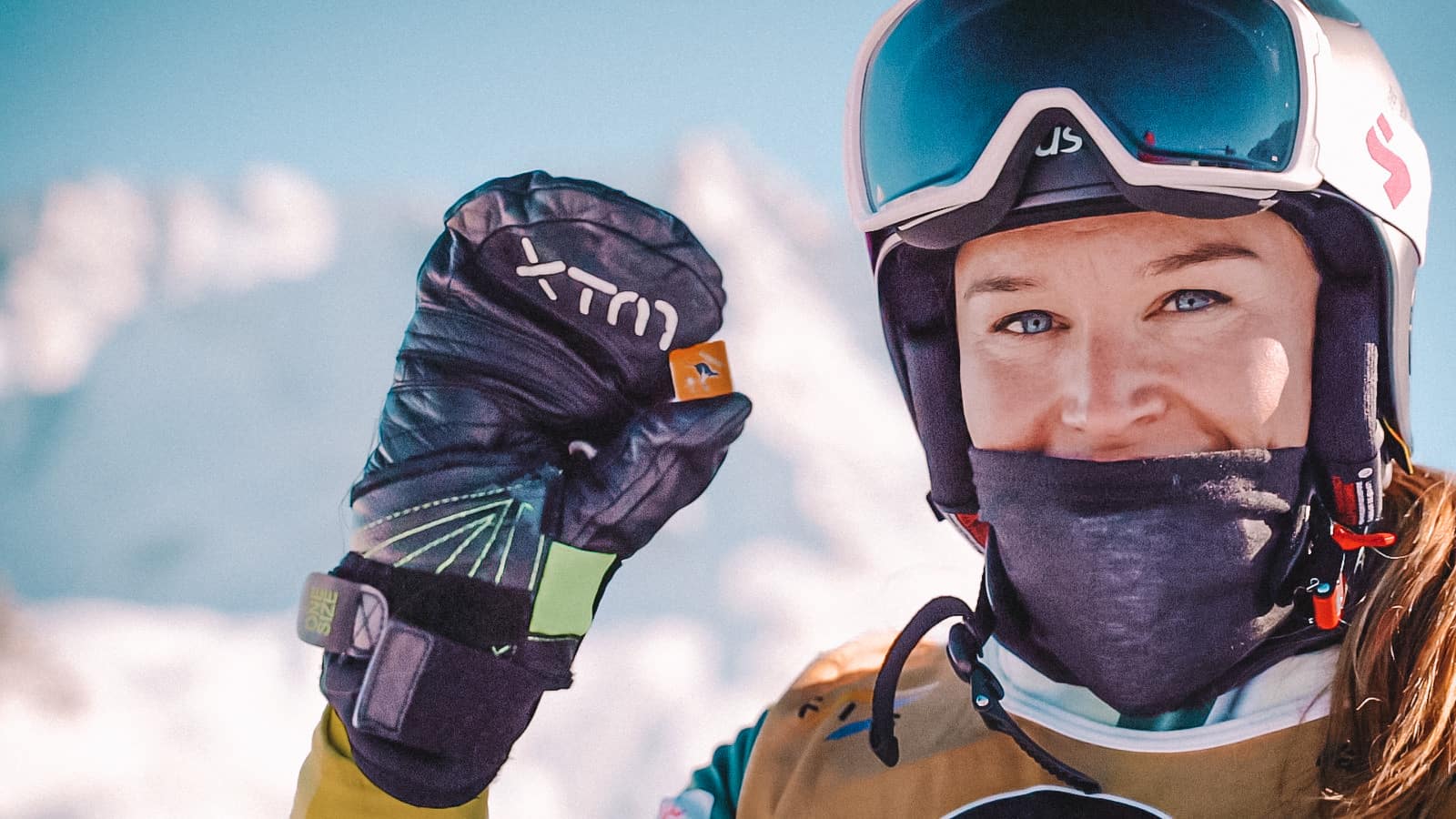 Sami, you're in quarantine in Sydney after flying home from Europe due to a bad injury you suffered in training only 10 days ago. How are you going?
This injury came out of nowhere. It was my first run of training at the Val Thorens World Cup, the third event of the season. Every element of my run up to my crash was flawless. The crash happened so quickly, and I would not wish the pain on anyone. Now I find myself locked in a hotel in Sydney, looking into an office building.
It sounds tough going – how are you coping in there on your own?
This is one of the hardest things I have ever done. I was very fortunate that a flight home was found quickly – but it has happened so fast that I really found myself unprepared for hotel quarantine. Being at home with an injury is never easy, but you can get assistance from family and friends where needed. Here, I am immobilised and essentially been shut away with no physical assistance, I am being well looked after by the OWIA medical team via tele -health. It's a daily battle but I am trying to stay as positive as possible. It's also the perfect setting to formulate my podium plan for Beijing 2022!!
Initially you thought you may be out for four weeks – now it's three months. What is the extent of the injury? Is there any chance back for any late season events?
Unfortunately, my rehab is looking like three months, ruling out the remainder of the WC season.  Initially, my doctor-googling said three to four weeks, but after meeting with experts in Switzerland and our medical team in Australia, the reality was defined. I am heartbroken/sad/frustrated, but as my sports psych pointed out- 'wow, what a shitty way to realise how much you love what you do'. It's been a rollercoaster 10 days for sure, but even though the plans shift, the goal remains the same.
 Can you do any kind of rehab in the hotel?
I am immobilised at the moment, with my arm in a fixed 90-degree position and I am in a sling. Right now, rehab is pain management and moving my fingers in my left hand. I will move into a different brace in a few days and as long as the pain is manageable, I will jump on my bike and do some time on Zwift. I can't tie up my hair and getting dressed is a challenge, so mastering these small tasks is my daily rehab… That and I have about six games of Words with friends (scrabble) going!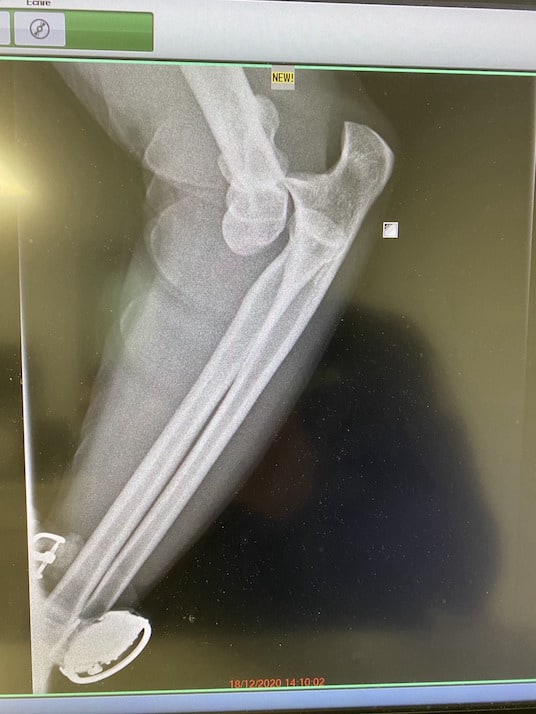 You had a strong start to the season with a third and a sixth in back-to-back World Cups in Arosa, your best results since 2017 – how were you feeling in Arosa? You were the fastest in qualifying so obviously skiing well.
I have been so consistent in my training for this season, building more and more speed and definitely skiing my best ever. Winning qualifying was amazing, but more amazing was looking at the clock and seeing I was .81 ahead! Racing is the best- I was so excited for my third place, but not satisfied at all. I know that on that day and that in my next events I was capable of more.
You're a two-time Olympian, finishing eighth in PyeongChang, and looking at qualifying for your third Olympics which puts you in an illustrious club. Do results this season count towards making the 2022 Olympics in China or is it all based on the 21/22 World Cup season?
The 2020/21 season is the beginning of Olympic qualifying. In ski cross, only the top 32 to qualify for the games. I need to stay in that top 32. I was ranked 3rd in the world after Arosa, but missing Val Thorens took me back to 13th. I mean, there is nothing I can do about the rankings now, but it fuels the fire to rehab the heck out of my arm and keep those good results coming in December 2021.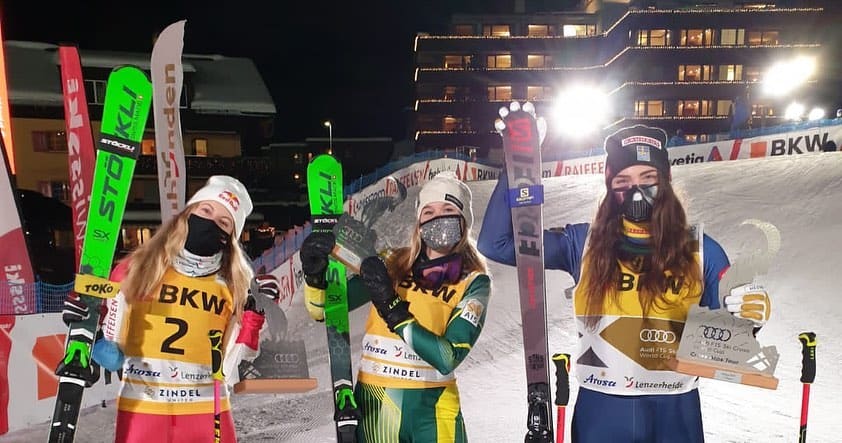 Going back a bit – you were originally racing alpine before making the switch in 2009.  Why the move to ski cross?
I raced/participated in alpine skiing from a young age, but was never ultra-competitive, I think I had the talent to be competitive, but I didn't LOVE racing. I tried a ski-cross event in Thredbo for fun and this fire ignited inside of me. I heard that it was going to be in the Olympics and I knew I found my calling. My journey to 'success' has taken some time, but I wouldn't have it any other way.
How old were you when you started skiing – how did it all start for you?
I was a toddler in Perisher car park! I recall seeing videos of my dad pushing me down the now toboggan slope. I was in tears at the top and in fits of laughter into my mum and sisters' arms at the bottom. Skiing is the one thing that we really did as a family – my sisters and parents played various sports but the common one for us all was skiing.
What was it like growing up – you trained with Perisher's winter sports club for a while before moving across to Thredbo.
I actually started at Mount Buller Race Club in maybe 1995 in the mini-squad. We were living in Melbourne at the time. Then we relocated to Sydney and I joined the Sport and Rec race club in Jindabyne.  When I turned FIS age, Sport and Rec had its funding pulled and I went to Perisher winter sports club. I loved skiing with PWSC, but with the rapid dropout rate of teenage girls in alpine skiing, I moved to TSRC in Thredbo to be with the other FIS aged girls. I feel lucky to have been a member of all these clubs as I feel connected with all these communities still!
 When you're back in Australia you live in Manly, but spend a lot of time in Jindy and Perisher during our winter. Do you regard our winter as the off season? Do you still train full-on?
I am so lucky to live between Manly and Jindabyne – I feel at home in both of these communities. In Sydney I am in the gym five-to-six days a week in preparation for my snow time.  I do see our Aussie winter as my summer, however I make the most of this time to do all my technical on-snow work (and as much ski touring as possible) so that when I get overseas for my pre-season, I can make the most of the head-to-head racing environment. I get to access Perisher for my training needs and I firmly believe this gives me an advantage over my northern hemisphere competitors.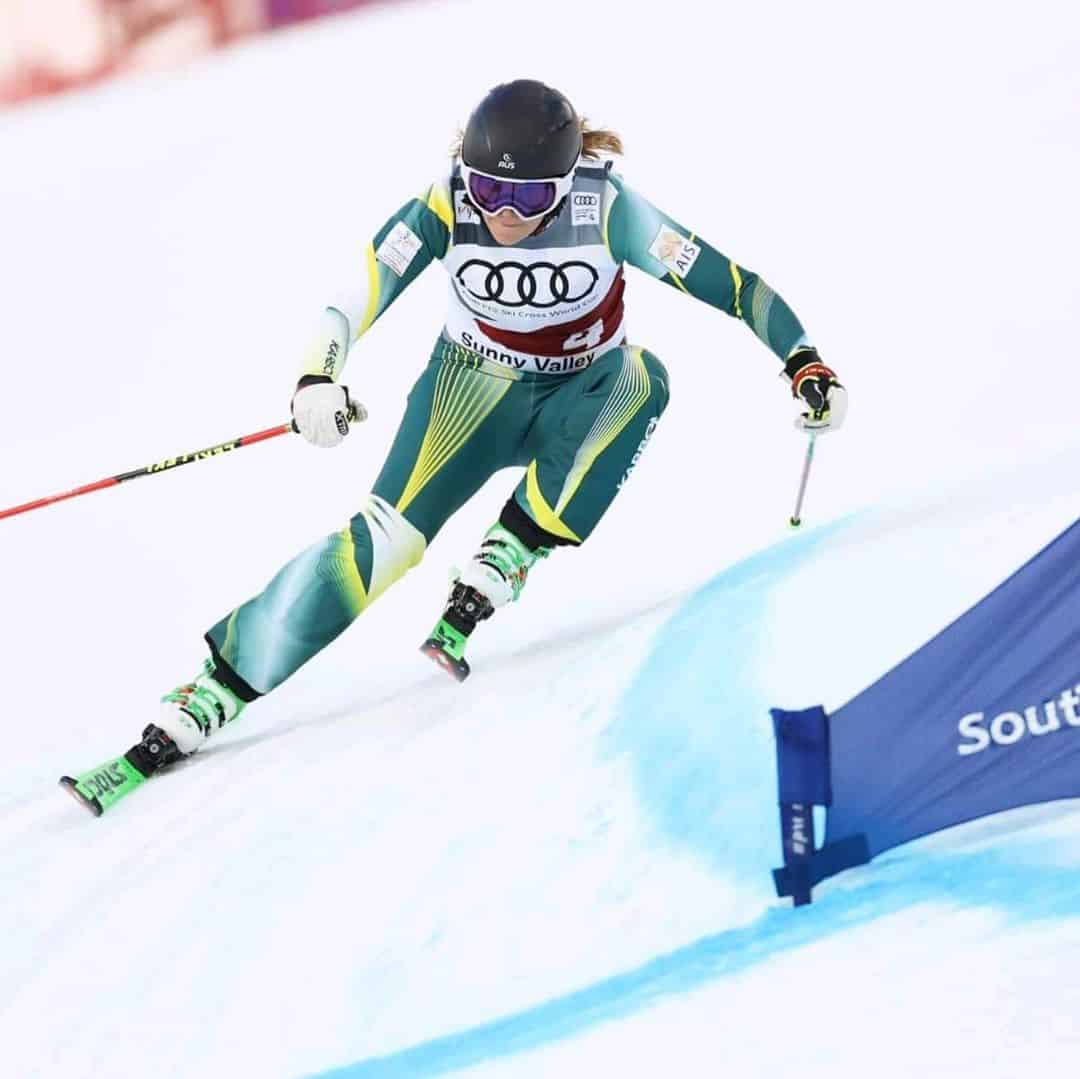 Life as a pro skier sounds pretty cool, but it is a demanding career and you spend a lot of time on the road. How long is the World Cup season? Are you on the road OS the entire season or do you head home at all?
Typically, the FIS Ski Cross World Cup has between 11 and 15 World Cups a season, from early December to April. Depending on the schedule, I would try to come home for Christmas or have my husband come to see me wherever I am. Some years (like this year – pre-crash) I am on the road with my ski cross family for over six months.
Who do you travel with?  You've been on the tour for a long time and a few of the long-term ski cross athletes have retired.
I am fortunate to have the support of the Olympic Winter Institute of Australia for my training and competition. Right now, I travel with my coach Shawn Fleming and our ski technician Sylwek Latus. We are fortunate to have some coverage from superstar OWIA physio Benny Pagett and chase the World Cup season. We have some promising athletes emerging onto the World Cup and Europa Cup circuits and enjoy interacting with and supporting them as much as possible. Because of the volume of races we have, my competitors are my training partners and peer group. We train closely with the Austrian, German and Canadian teams and are honestly this big travelling circus family!
I know you work really hard on your fitness and strength, but ski cross is gnarly and injuries are part of the game. How do you deal with injury and coming back to full strength?
The process is never linear, even if it's an injury you have had before. For me, I focus 100% on MY why. Why am I pursuing what I am? What is it that I want? Persistence and Passion are essential to successfully navigating any speedbumps one may encounter. My current injury is no exception, eyes on the prize!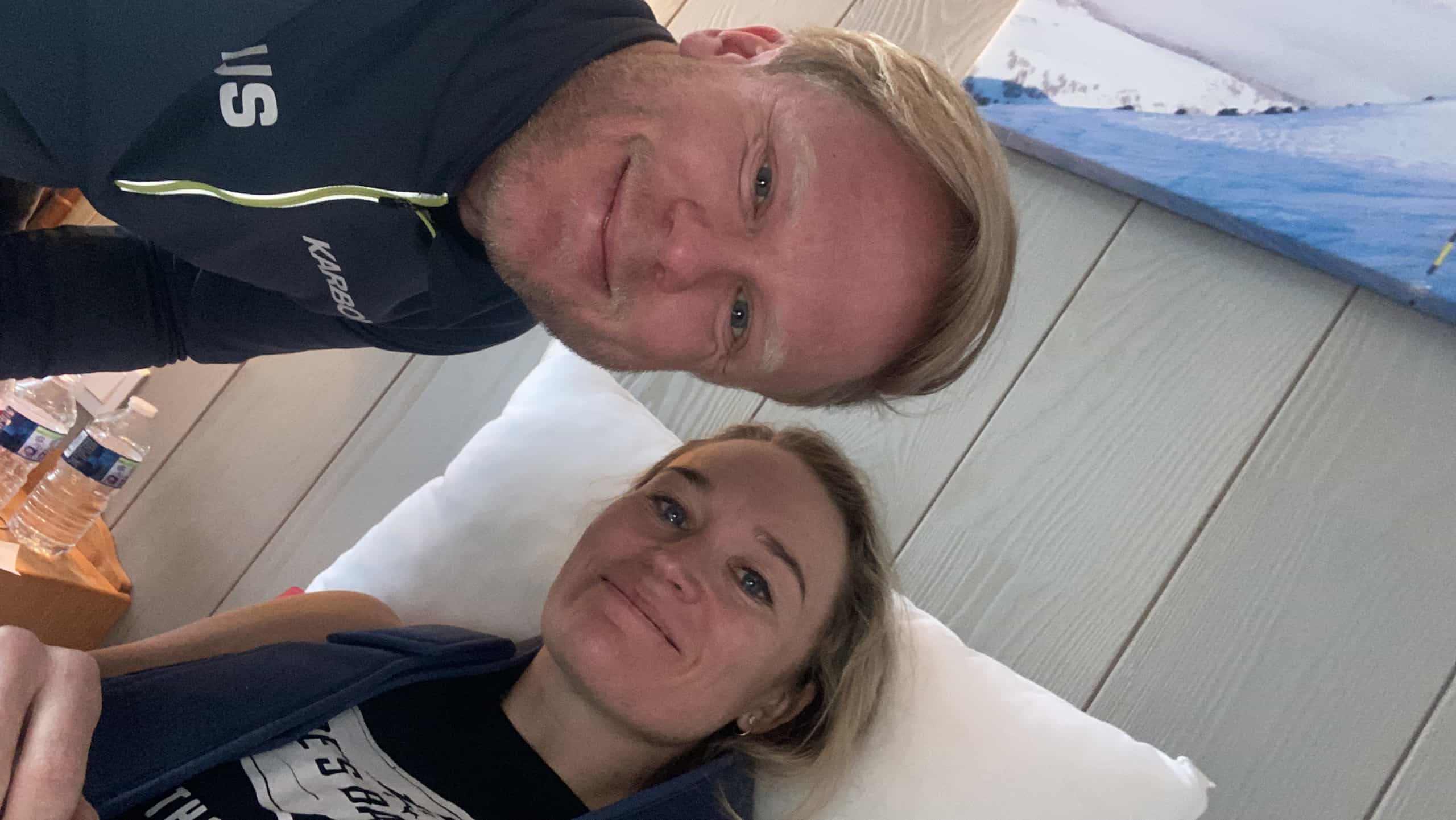 You had a small stroke back in 2013 – not long out from the Sochi Olympics. That was a scary time – do you know much about what caused it? Is it something you need to be worried about in the future?
This was such a scary time for me, my family and my team – so many unknowns at the time. I had a Meniscectomy in my knee to clean up a niggling injury. What we didn't know was that I had a small hole in my heart called a patent foramen ovale. These small holes/flaps generally close a few years after birth, but in some cases (like mine) they don't. A blood clot formed after my surgery and dislodged, making its way to my heart, passing through the hole and travelled into my brain – that is why I had a stroke. I managed the rehab with the support of the OWIA and made the 2014 games. Then, after the 2018 games, I had the hole closed up. This changed my life – no more medication, one less thing to worry about in the stressful life of an extreme sports athlete!
What's the plan when you get out of quarantine?   
I will buy a bottle of champagne to celebrate my great start to the season! Then it is back to work – strength and conditioning for my body and lots of rehab for my arm. I plan to make the most out of summer- it's only been about 12 years since I have had one!
Thanks for that Sami. I hope the rehab goes well and the arm is strong enough to open the bottle of champers and get into the waves at Manly.
Thanks Reggae, looking forward to a pumping 2021 Winter Down Under!!