SEASON SNOW OUTLOOK – Western United States
November 2nd, 2010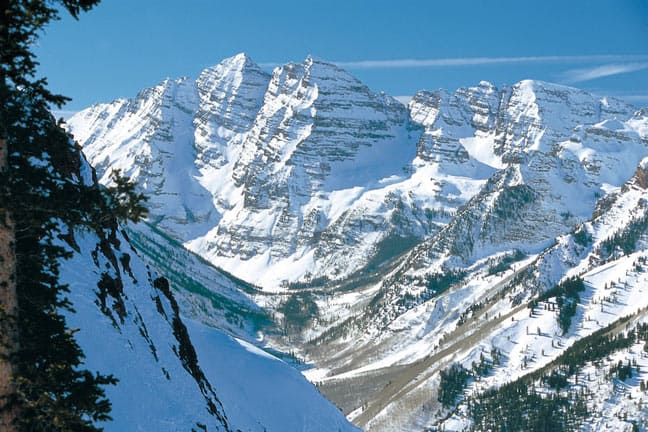 Aspen's Maroon Bells can expect more snow than usual this year. Image:: Aspen Snowmass
Forecast | 'The Grasshopper'
Ahhhh…. Winter. Here it comes. The year is streaming by. School has started. Thanksgiving is approaching. For sports fanatics the World Series is wrapping up and NFL and NBA are well under way. But for another breed of people the main thing on their mind is how much snow is going to fall at their favourite resort this winter. So let's take a look at what we can expect.
But first a word of warning: Remember that with all of the outlooks below we will be talking PROBABILITIES! One big storm, or the lack of it, can be the difference between above or below average snowfall. You can play the averages, but that doesn't mean anything is guaranteed. Kind of like playing Russian roulette with your season pass.

The Girl Child – La Nina
You've probably heard that a La Nina event is firmly established in the eastern Pacific Ocean. So what does that mean?
The point is that during La Nina colder sea surface temperatures thousands of miles away in the eastern tropical Pacific have a big effect on the pattern of high and low pressure systems that deliver weather to North America.
La Nina alters the position and strength of the pacific jet stream which is the driving force behind many of the really decent snowfall events. During La Nina it generally lies further north, delivering more storms to the Pacific Northwest.

From this northerly origin, the jetstream steamrolls east across the continent, causing above-average rainfall from the Pacific Northwest right through to the Midwestern states.
The southern states, on the other hand, experience less storm activity and generally see drier than normal conditions. The map below shows which areas get more rain during La Nina (blue shades) and which get less (yellow and red shades).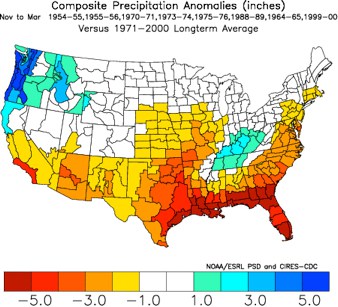 Figure 1: Effect of La Nina on precipitation
These effects vary with the strength of the La Nina and so because we're experiencing a moderate to strong La Nina event we can have more confidence that we will see a similar pattern this winter.
This explains the forecast map below from the National Weather Service. The green areas indicate where we can expect above-average rainfall, and the brown areas indicate where it is likely to be drier than normal.
Figure 2: Probability of above-average precipitation December to February
The next thing we can look at are some charts that look specifically at snow. The graph on the bottom right below looks at moderate to strong La Nina events from 1948 to 2006. What is shown is the difference in these years from neutral years, with the blue shades indicating more snow than normal and the yellow shades indicating less snow than normal. You can see the blues are concentrated around the Pacific Northwest, while the reds are concentrated around southern Colorado and the north-eastern states.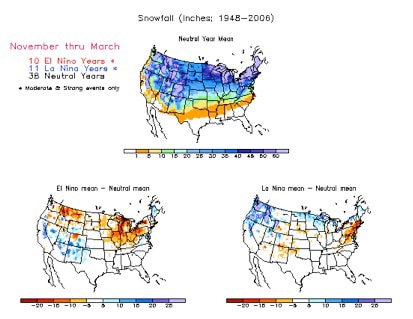 Figure 3: Snowfall averages during La Nina
All of these charts above give us the "big picture". But to get a resort specific forecast we need to go a bit further, because the unique landscape around each resort will dictate how it reacts to changes in the jetstream.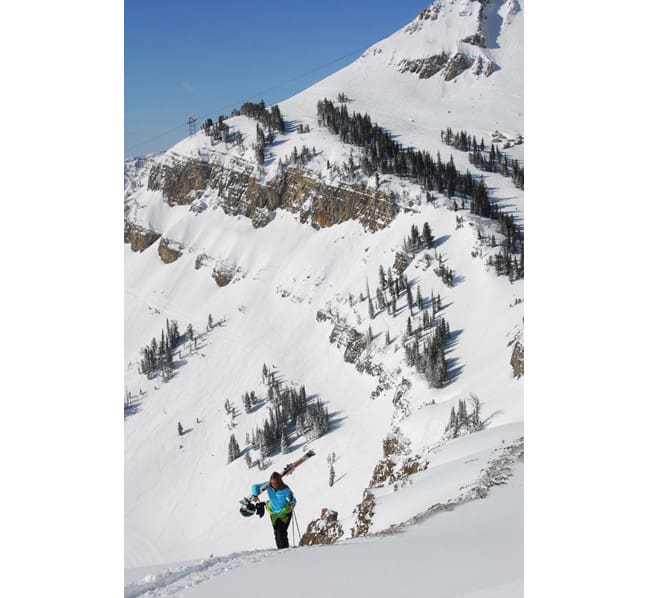 Jackson Hole – Wyoming can expect greater than usual snowfalls this season. Image:: Jackson Hole
Colarado
You will see from Figure 1 above that Colorado sits on the fence when it comes to La Nina; precipitation is about the same as the long term average. For this reason the NWS forecast in figure 2 above shows that from December to February, the chance of above-average precipitation is about 50 per cent for Colorado.
But this hides some important local effects which show up in the snowfall pattern of figure 3. During winter the Pacific jetstream to the north of Colorado gradually moves south so that it is clipping the north-west corner of the state. This can lead to heavy snowfalls for the north-west facing slopes of the central ranges, which is good news for the likes of Aspen, Vail and Steamboat.

As winter progresses the jet stream moves further south and becomes more westerly. Although this jetstream can be a little warmer and drier the mountains, should still see periods of good snowfall.
These two effects combine to tip the scales in favour of above-average snowfall in the north-west quadrant of the state. I'd put my money on about 10 per cent more snowfall than normal.
A bit further south, around the likes of Wolf Creek, things are tending towards drier than normal. But with an annual snowfall of over 300 inches in many locations around the state, if you've booked your holiday in Colorado you'll be away laughing as long as it gets close to average. There's no reason to be worried about buying a season pass in Colorado this winter, but if you want to be play the averages stay north.
Utah
Sitting north-west of the Colorado resorts, resorts near the Salt Lake should be more affected by that north-west jetstream that is often dominant during La Nina, and that's what we can see in figure 2 (precipitation) and figure 3 (snowfall).
Although resorts further south are hard to pick, I would expect above-average snow for the likes of Park City and Snowbird this winter. You can also throw in the marvellous "lake effect", a wonderful weather phenomenon which picks up billions of tonnes of moisture from the lake and deposits it in the mountains. With an average of 500 inches of beautiful dry powder each year, these resorts should be sitting pretty.

California
Californian resorts had it all last year, as an El Nino delivered storm after storm after storm. The bizarre thing is that during a La Nina snowfall can also be above-average from about Mammoth Lakes north. This is an important reminder that La Nina isn't the exact opposite of La Nina. South of Mammoth Lakes things could be a bit more sketchy, so if you want to play the odds head north.
Washington, Oregon, Idaho, western Montana and western Wyoming.
Sorry to lump y'all in together, but I have a good reason. There's a good strong signal for above-average snow during La Nina for the entire area, and it's likely to be quite a bit more than normal. I'll go all in on my pocket Aces against your pocket 7s that the majority of resorts in this area will see above-average snowfall this winter. Hold a gun to my head and I would say about 30 percent higher than average.
Go outside and play
That's about it. The further north you go the more likely it is that you will be able to cash in on La Nina. But don't get pessimistic if you ride further south. Resorts that get hundreds of inches on average will probably still get hundreds of inches – but maybe just a little bit less than normal.
Heavenly forecasts,
snow reports and
live snow cams.
Vail forecasts,
snow reports and
live snow cams.
Steamboat forecasts,
snow reports and
live snow cams.
Snowbird forecasts,
snow reports and
live snow cams.
Aspen Mountain forecasts,
snow reports and
live snow cams.
Park City forecasts,
snow reports and
live snow cams.
Breckenridge forecasts,
snow reports and
live snow cams.
Mammoth forecasts,
snow reports and
live snow cams.