Skiing Mt Buller in March
March 23rd, 2017
Mountainwatch | Reggae Elliss
Making snow in marginal conditions is a reality for Australian ski resorts and the bread-and butter beginner areas are particularly vulnerable. With that in mind Buller Ski Lifts has bitten the bullet and invested in snowmaking technology that works in warm temperatures and the result will be guaranteed snow on the Bourke Street area from opening weekend to closing weekend.
Buller has purchased an SF220 Snowfactory from the European snowmaking company TechnoAlpin. At $1.6million it is a significant investment and after installation and testing Buller unveiled the product on March 23, and the product is a winner.
To see people skiing and snowboarding on fun spring-like snow two weeks after summer is remarkable. It also means that Bourke Street will have a guaranteed good cover of snow in the first week of June. Buller took delivery of the Snowfactory on March 9, the installation completed by Techno Alpin technicians and the Buller snowmaking crew last week.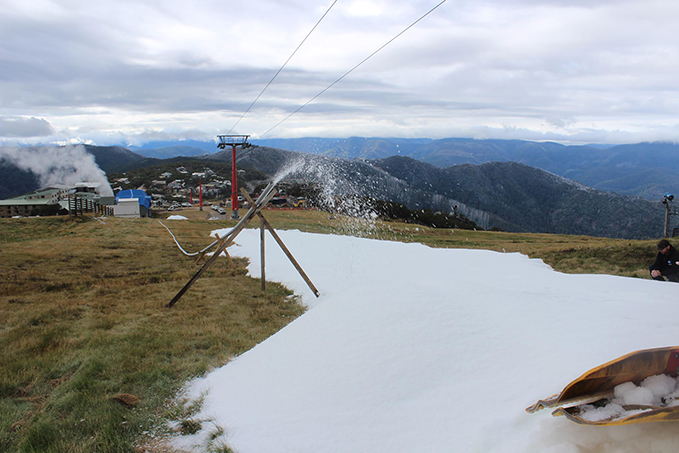 It might'n look like winter but this system will really come into it's element throughout the season. Image:: Reggae Elliss
After a few initial tests and while the TechnoAlpin people were still on site, they made snow for 72 hours in temperatures that are way beyond marginal snowmaking temps. The snow was pumped 150 metres up the hill into a big pile and the result was 500 cubic metres of snow, which was the pushed out and groomed for today's road test.
A solid crew of locals was on hand in anticipation of some March turns. The common question was, "What will the snow be like?" Well, I can tell you it was pretty good. The snow looks like shave ice as it comes out of the pipe, the texture changing into spring-like snow after an hour or so. However, once the cat had done its work, it felt and looked like groomed quality spring snow. Even with the temperature at 16 degrees today, the snow had that snow-cone texture, and was reasonably fast.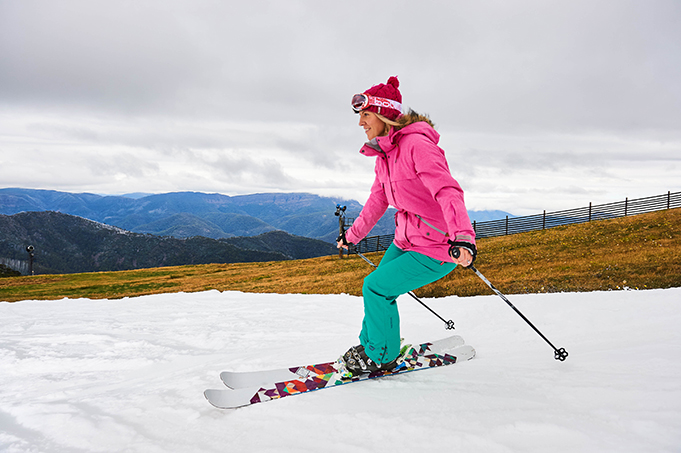 With a spring-like snowpack, there was plenty of fun to be had today. Image:: Provided
This technology has been around for a while and Buller Ski Lifts general manager Laurie Blampied said it has been something the resort has been looking at for a few years and is confident the $1.6million investment is worthwhile.
"This investment re-writes the script for the start of winter.  Instead of wondering when the snow will arrive we can assure our guests early season skiing and snowboarding from the beginning of the season."
The TechnoAlpin SF220 Snowfactory can continuously produce snow 24 hours a day, 7 days a week at temperatures well above freezing.  It uses cooling technology where an efficient hear exchanger cools water to its freezing point without using any chemical additives. The refrigeration unit, which actually looks like a massive slushy machine, remains closed in the process, so the outside temperature is not an issue.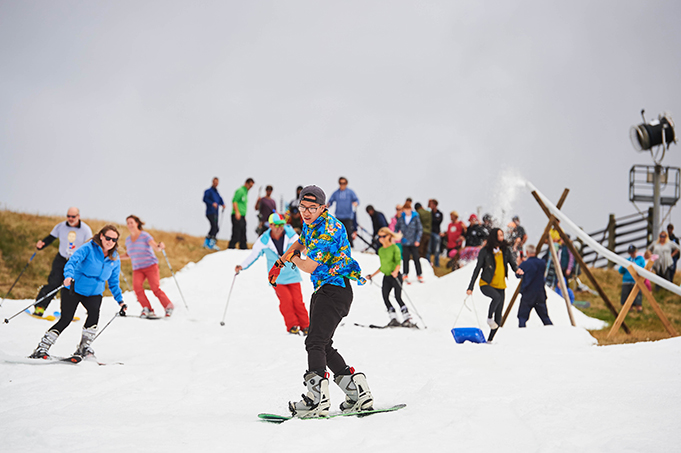 Tropic turns where had by this guy. Image:: Provided
It is capable of generating up to 220 cubic metres of snow daily at up to 15 degrees Celsius when the water temp is five degrees Celsius. This week the snow factory was operating with a water temp of 13.7 while the outside temp climbed into the high teens. It'll be interesting to see how much and what type of snow the Snow Factory produces when the water and air temps are in single digits.
"We are in a new era of snow management."
Buller has installed the SnowFactory on lower Baldy, above the Blue Bullet top station and were pumping snow out at a distance of 150metres.
Nick Reeves, Buller Mountain Manager, said the position was chosen as they can make snow on the cooler lee side of the top station then push it down Bourke Street, across to the top of Shaky Knees or across to the Skyline terrain park.
"We'll go into full production in late April, early May in preparation for the opening weekend. We'll make piles of 1000 cubic metres next to the Blue Bullet top station and also run the pipe down to across from the Abomb. We'll then push the snow out three days before opening."
Both Laurie and Nick say having Bourke Street open from the opening weekend to the closing weekend is the motivation behind the investment. Having guaranteed snow on Bourke Street has a flow on affect for lessons, ski hire and the Buller Village businesses
"We'll have a good snow cover, ready to go for beginners, kids and advanced skiers who want to get the legs moving," Nick said. "It is also a very good base for conventional snowmaking and natural snow. It is resilient and will give us a good snow pack on Bourke Street for the entire winter. We are in a new era of snow management and if needed we'll truck snow from the Snowfactory to other areas on the mountain, particularly exposed high traffic zones and for the snow play area."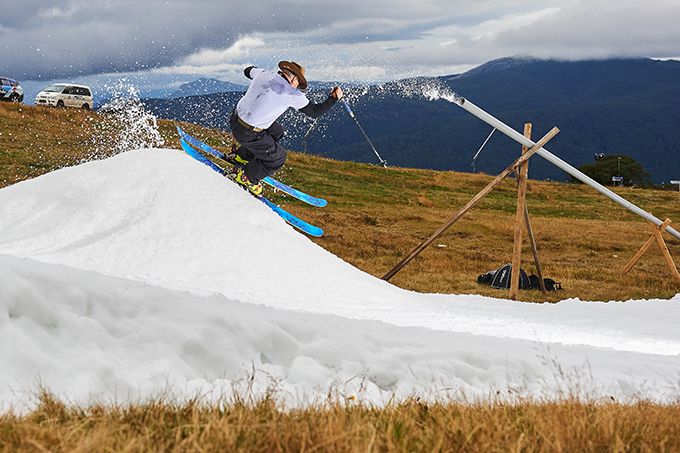 This humble mound allowed for people to still get epic. Image:: Provided
No doubt other ski resorts will be watching closely to see how this plays out for Buller. Mount Selwyn and Whakapapa on New Zealand's north island have already bought similar technology, again aimed at the beginners' area. Beyond that, this technology would be very useful for terrain parks, race courses and snow-play areas.
As Nick Reeves said, we are in a new era of snow management. It'll be interesting to see where it goes.
Watch the full video report here
Please enable Javascript to watch this video
Mount Buller forecasts,
snow reports and
live snow cams.