Snow Alert Aus – Updated – Up to 85cm expected this week
June 23rd, 2014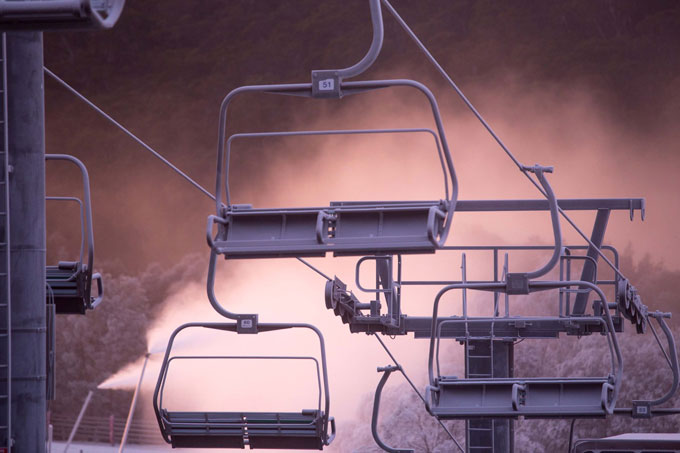 Snowmaking has been the key to any skiing so far, but it's all going to change this week with the storm of the season due, and then more on the weekend Image:: Thredbo
SNOW ALERT
It's on the way
Updated:June 23 2014
The Grasshopper has found another cold front looming on the horizon, as a result we are issuing a fresh Snow Alert for this week.This is in addition to the cold front expected to arrive today. 
We first alerted you to this system way back on June 17, a week on from then it's arrived, and the even better news is that it's better than The Grasshopper could have hoped: "D-day. Everything has gone to plan over the weekend. The low has maintained its structure moving through the Bight. The ridge of high pressure is getting out of the way to let a cold front smash through. The air behind that cold front is pure and unadulterated by any warmer air mixing around the low. The showers in that cold air will be smashing into the Alps at just right angle."
So, the big question now, is how much snow are we in for? "The model data is now talking 55 to 75cm by midday Wednesday, and our model is stronger than most two to three days ahead. But I still think the totals are a bit rich and I'm more comfortable talking 40 to 60cm up high. Plus, we have to give up 5 to 10mm to rain below 1650m while we wait for the freezing level to fall through the floor this afternoon."
Keep your eye on The Grasshopper's daily forecast over the next few days to see how this one tracks.
The Breakdown:
40 to 60cm across Monday (June 23) to Wednesday (June 25) thatcould go to75cm across the 48hrs  (Alert level: It's happening)
Another front is due on Thursday with5 to 10cmabove 1800m, but rain below 1600m.
Then,we're going to do it all again on Saturday with15 to 35cmdown to low levels.
Are you in the mountains this week? Tag a#mountainwatchon your photos onFacebook Instagramor email your shots toalexh@mountainwatch.com.