Snow Alert NZ – Revised – Up to 40cm to Fall Down South
June 30th, 2014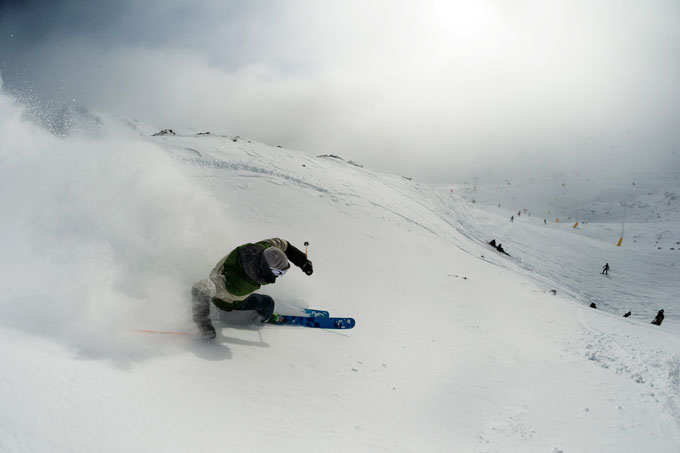 Powder days in the Southern Lakes have been few and far between so far, but this one coming up will be particularly special. Don't miss it. Image:: Vaughan Brookfield
UPDATE
Slight revisions are necessary today, so we're revising the snow alert. In today's forecast The Grasshopper said: "Unfortunately Sunday for Canterbury is not looking as good today as it did yesterday, but I still expect a nice period of snowy south-easterlies to deliver 10 to 20cm, and there is more deliciousness to come."
So what's that delicousness you ask? "Another bout of strong westerlies is likely from Tuesday," he said. "And this one is a bit colder so it should be especially good for the Southern Lakes, where we could see four or five consecutive days of accumulations around 5 to 15cm. Canterbury should see a little love too. Keep a close eye on this one."
In the comments section below we have been told of up to 20cm already accumulating at Ohau, if you're in the mountains over the next few days then let us know how much has fallen by leaving a comment below the cut…
SNOW ALERT
 Moderate confidence.
Updated:July 30, 2014
It's looking like we will finally see a break in the dominant high pressure systems that have keeping any fronts at bay over in the South Island. The Grasshopper is singing its praises and we are too. In today's extended outlook he says: "From Saturday night into Sunday morning a southerly change should bring 15 to 25cm of snow to low levels about the Southern Lakes, with 30 to 50cm possible about Canterbury. It's difficult to be confident about this as a lot could change between now and then."
But thankfully, that's not the end of the good news. He continued: "Another bout of strong westerlies is likely from Tuesday, and this one is a bit colder so it should be especially good for the Southern Lakes, where we could see three consecutive days of accumulations around 10 to 15cm. Keep a close eye on this one."
It's looking like New Zealand's luck is turning, finally…
Keep your eye on The Grasshopper's daily forecast over the next few days to see how this one tracks. And don't forget to jump onto that email database to get the Weekend Forecast delivered straight to your inbox.
The Breakdown:
10 to 20cm From Saturday night into Sunday morning for Canterbury, slightly less in the Southern Lakes. Then a healthy top-up mid next week. (Revised: July 31)
(Alert level:She's looking good, bro)

Are you in the mountains this week? Tag a#mountainwatchon your photos onFacebookandInstagramalexh@mountainwatch.com.