SNOW JOURNAL NZ – Bluebird in the South Island
July 12th, 2013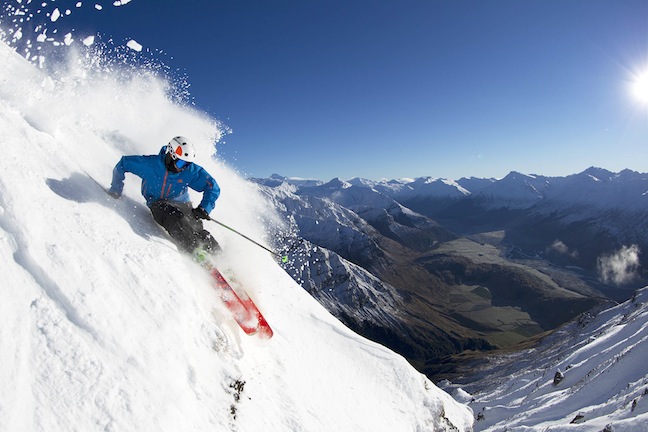 Fraser McDougall slashing some early July pow in Treble Cone Image:: Tony Harrington
Mountainwatch | Caitlin Reid
After an exceptional first month of the season, New Zealand's South Island mountains are completely coated in snow. Powder days already? Definitely. With 15 cm of fresh covering The Remarkables on Monday, riders are excited to indulge in bluebird days for the rest of this week.
News of the incredible snow on Queenstown's local hills has reached travellers from all around the globe. From the season's opening, the snow has been exceptional, enticing more riders in the past few weeks than the previous two seasons. All resorts have been busy with skiers, snowboarders, and visitors keen to get a glimpse of the beautiful peaks. Queenstown's WinterFest kicked off the migration, enticing tourists to the mountains.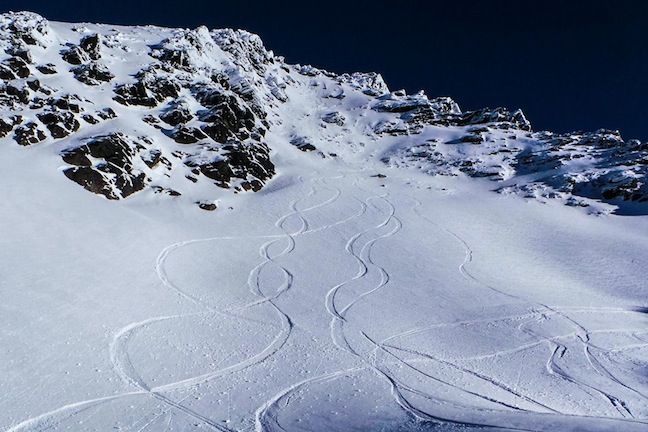 Signatures at The Remarks on Wednesday Image:: The Remarkables
The Remarkables
As I type, The Remarkables are laden with snow. An epic 61 cm fell in the past two weeks alone. This puts the avalanche risk at considerable, so take care! Ross Lawrence, manager of The Remarkables Ski Area, reminds everyone who is keen to stray from the piste (this includes sidecountry!) to be prepared with all backcountry gear; and never ride alone.
For the park rats out there, The Remarkables terrain park now has something for everyone. The beginner park has seven features currently up and running, perfect to try your hand at jibbing. The intermediate line currently houses ten features, the highlight being the 20ft kicker for those feeling gutsy. After the WinterFest Slopestyle competition, the Big Line is now also operational, featuring a 35 ft kicker followed by a 40 ft kicker that feeds into the intermediate line.
If you're not into park, there are plenty of challenges on-piste, with every single run boasting solid snow coverage. Craving a long ride? Homeward, a run spanning a 463 m of vertical drop over a solid 1.4km, has been open from day one, and allows for some relaxed turns to get the legs well and truly working. Occasional high winds have blown away the light snow in parts, so ensure your edges are ready for brief periods of icy crust throughout the mountain.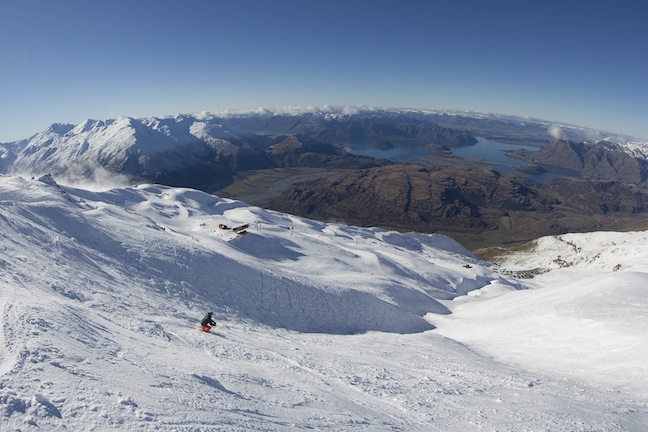 Bex Brosnahan finding his legs before this year's World Heli Challenge Image:: Tony Harrington
Treble Cone
"30 cm of super dry powder greeted Treble Cone skiers on Monday and three days later the mountain is still skiing beautifully" said World Heli Challenge director Tony Harrington. "There are still powder stashes not too far away from the lifts still to be found and packed powder everywhere else that is ripe for ripping lines all across the whole mountain."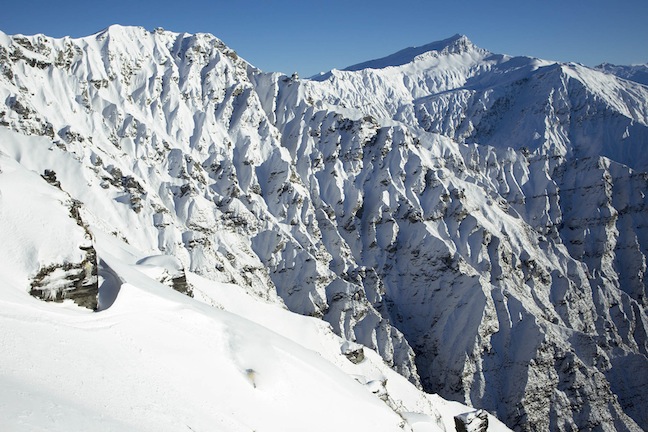 Spot Sam Smoothy on that ridgeline… How sick is the terrain at TC! Image:: Tony Harrington
Tony caught up with World Heli Challenge athletes Sam Smoothy and Fraser McDougall in the morning as they went about their daily routine of training for the upcoming event by free skiing what is arguably the best lift accessed terrain in Australasia. Asides from competing themselves, this year they will mentor over a dozen junior athletes already booked in for the Junior World Heli Challenge commencing on July 26th. This will involve 12-16 year olds competing in a one-day heli event during a week long window.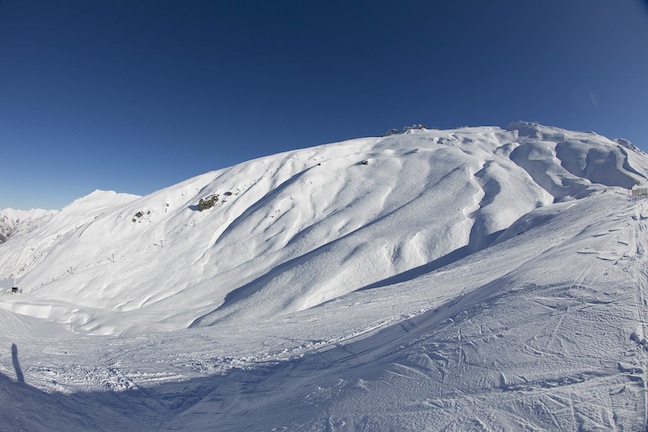 The Saddle Basin covered in pow! Image:: Tony Harrington
Coronet Peak
Coronet Peak is also receiving heavy snowfalls. However, the mountain's lower altitude has meant rainy days took a toll on the fresh snow, washing some of the powder away in low areas. Coronet Peak continues to crank the snowmaking guns to provide good coverage on all runs, with every lift and run open for action. The back bowls are open for advanced and experienced riders keen on making some powder turns. Monday saw heavy snow accumulate in these bowls, with some riders claiming it felt like riding in Japanese powder. That may be an exaggeration, but the snow was definitely deep in some places. Upcoming weather for Coronet looks great, with bluebird days expected.
Last but not least, night skiing is in full swing at Coronet Peak, running from 4-9 pm every Friday and Saturday. The perfect end to a busy week, night riding entices everyone from families to big groups of mates keen for a few apres and mulled wines on the mountain.
Overall, the snow and forecasts are looking incredible! Locals and Queenstown visitors have their fingers crossed that the predicted blue bird days will reach all the resorts, with some snow dumps over the weekend.
The Remarkables forecasts,
snow reports and
live snow cams.
Treble Cone forecasts,
snow reports and
live snow cams.
Coronet Peak forecasts,
snow reports and
live snow cams.