Snow Season Outlook 2015 – September Update – New Zealand
September 2nd, 2015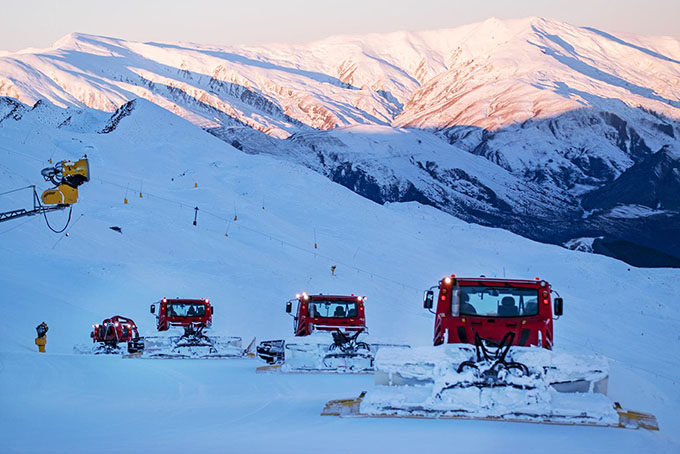 Where else can you get that good a view? Stunning South Island scenery Image:: NZSki/Coronet Peak
New Zealand Seasonal Snow Outlook | The Grasshopper
Brought to you by ESS Boardstores
After July was dominated by northerly winds, some of the resorts in the rain shadow of the divide were starting to get a bit thirsty. Luckily, August delivered just what the doctor ordered – we managed to shake off those persistent northerlies and get a bit more variety in the mix. Lows started to get to the east of the South Island more frequently. This opened the door to cooler air which has given a few shots of decent snow to all resorts. This is more in-line with what we would expect during an El Nino year.
The switch was flicked early in the month as a deep low moved south-east of the South Island on the August 8, while a high built over south-eastern Australia. This provided much colder weather for a time and a much needed dose of snow for Canterbury resorts. Since then we have been stuck in an eternal see-saw between highs and lows.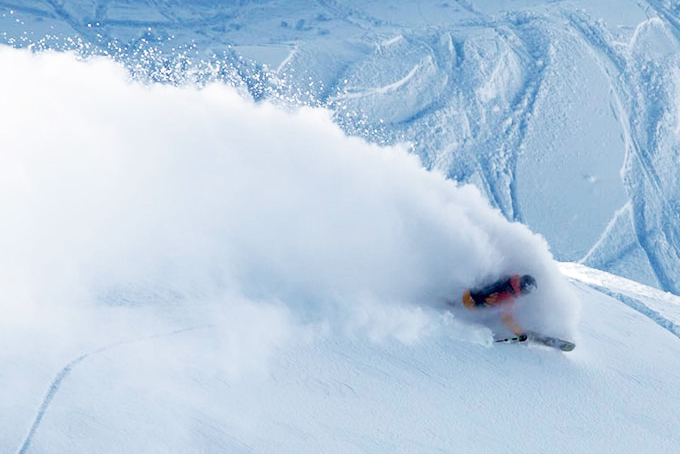 Do you think August 20 was the day of the season so far? Sam Smoothy does Image:: Treble Cone
A high from the August 10 to 13 settled things down and gave us one of the coldest weeks of the season with frigid nights and stunningly clear days. The snow pack was in good form and melting was kept to a minimum. Another couple of lows then rolled through from around August 14/15. They piled moisture onto the Southern Alps, giving us stormy conditions separated by a calmer interlude under a weak high. A jumbo high then built in from the August 20, and high pressure has been fairly dominant since then, with the exception of a low that arrived around the August 24.
Thanks to all this snow, base snow depths are now looking solid across the whole country. Treble Cone (320cm base) and Whakapapa (260cm base) are still leading the way as they picked up more snow from last month's northerlies but Canterbury resorts have clawed back some of the deficit. The upper base depth is now at 150cm or more in Mt. Hutt, Temple Basin and Ohau to name just a few.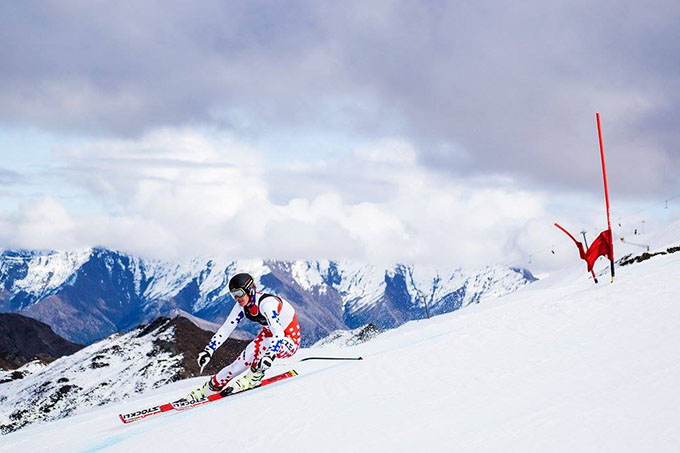 There was plenty of action up at Coronet Peak last week as part of the NZ Winter Games Image:: NZSki/Coronet Peak
What's Ahead?
We got a good thing goin' so lets keep it rollin'. September has sprinted off the starting blocks like Usain Bolt at the World Athletics Championships… But will the stray Segway win again?
There's a nice little touch up of snow currently hitting the South, we will then get caught in a cool south-westerly flow for a few days as a high builds in over the Tasman. The Spring skiing should be awesome. We have plenty of fresh snow forecast for this week which will fall on top of a solid base. All this goodness will be followed by cold but sunny conditions. There is a moderate probability that we will get treated to another low around the August 9, which will bring more significant snow before high pressure builds in again until mid-month.
It's likely that the second half of the month will be dominated by westerlies. Frequent fronts crossing the South Island will alternate with fine and sunny days. Keep in mind that our snow chances will be slowly decreasing and our rain chances increasing as we get closer to October
So all in all we are in for a sterling September. We should sail to the end of the season without too many worries – the base can afford to take a couple of hits of rain in the second half of the month. Canterbury resorts will do their best to play catch up with the rest of New Zealand and Mt Ruapehu will keep steaming on. Melt will be minimal and temperatures will be kept in check by a higher than average proportion of winds from a southerly and south-westerly direction.
2015 has been a good year in New Zealand. Australia experienced a few quick and dirty snow dumps but when all is said and done it has been a case of the tortoise and the hare. Patience and steadily increasing snow depths will see us well into Spring. My advice is that if you have a holiday booked or were thinking of getting up to the mountains then do it. It should be epic over the next couple of weeks.
This is my last seasonal forecast until next year but you can keep up to date with the snow due to arrive this week by following my daily forecasts. That's all from the Grasshopper. If you've got a different theory on what's going to happen this winter, or just want to provide feedback, then please hit me up on the discussion below. Or you can follow me on facebook.
SIGN UP TO THE GRASSHOPPER'S AUS/NZ WEEKEND FORECAST:

The Remarkables forecasts,
snow reports and
live snow cams.
Treble Cone forecasts,
snow reports and
live snow cams.
Cardrona forecasts,
snow reports and
live snow cams.
Turoa forecasts,
snow reports and
live snow cams.
Coronet Peak forecasts,
snow reports and
live snow cams.
Whakapapa forecasts,
snow reports and
live snow cams.
Mount Hutt forecasts,
snow reports and
live snow cams.